Narrowing down the best of the Berlin is a hard task, but sometimes you've only got enough time for the highlights. Of course, when you're thinking about what to do in Berlin there's an argument to be made that it's all highlights; however we at Orbzii are confident we've found the truly unmissable sites you have to hit when you're here for a holiday. If you're keen on finding out what are must-visit Berlin attractions, then read ahead for our guide to the ten best things to do in Berlin. 
Museumsinsel
When it comes to historically important spots in Berlin, there really isn't much that beats out Museumsinel (Museum Island, Berlin). This little patch of land is home to multiple museums, covering various facets of German history. The island itself is where the original city was founded, eight centuries ago, so the land itself is steeped in history.  
The largest museum is the Alte Museum, which is also one of the most important cultural centres in all of Germany. It's massive, beautiful, and packed full of artefacts and art from a wide range of times and places. Also, on the island are the Neues Museum, Bode-Museum, Pergamonmuseum, and many more.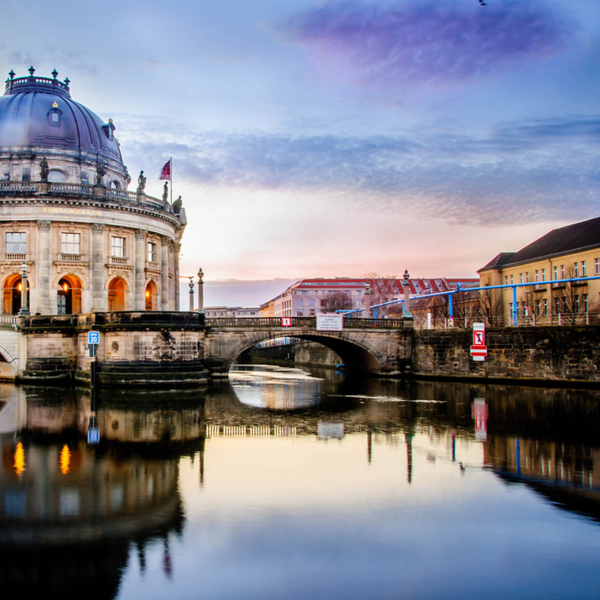 The National Gallery (Alte Nationalgalerie) is also homed on the little island, meaning that all these fantastic Berlin attractions are within walking distance. If you're looking for something to do in Berlin that will both enrich and entertain, Museum Island should be on your list.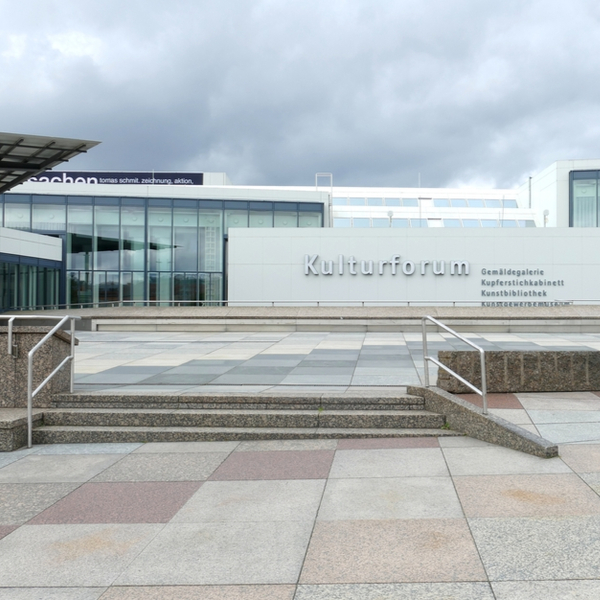 Kulturforum
Built in the late 1950's to rival the numerous German cultural institutions that had fallen into Soviet territory, this huge space showcases the best of European art and culture from the Middle Ages onwards. The Kulturforum complex is home to a few different galleries, museums, and libraries, covering everything from ancient goldsmith work to Rembrandt pieces. The Neue Nationalgalerie is particularly interesting, with a focus on modern and postmodern art. Avid culture vultures should be sure to visit. 
Berlin Cathedral
Located on Museum Island Berlin, the stunning Berlin Cathedral rises splendidly into the Berlin skyline. The dome is incredibly impressive, and the mixture of Italian Renaissance and Baroque architectural styles is as unique as it is beautiful. Inside the massive structure is just as magnificent: there are marble and onyx altars, and other crafted artworks that would be centre stage at any museum.  
One of the most popular things to see when visiting Berlin Cathedral is the Hohenzollern Crypt, which contains nearly a hundred sarcophagi and burial monuments, some of which are over five-hundred years old. Berlin Cathedral is also the most prominent protestant church in the region, and as such is still open for services, so make sure to plan your visit so you're not disrupting worshipers.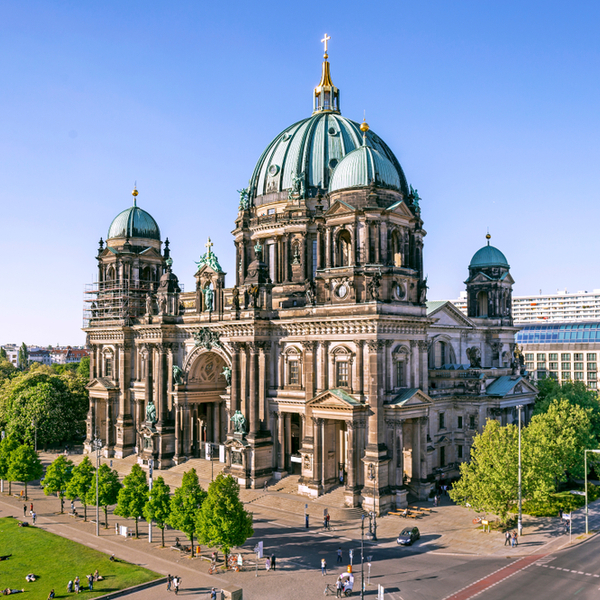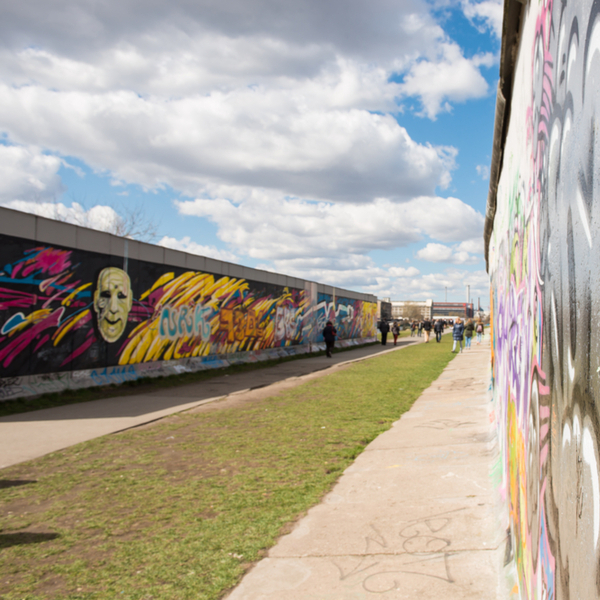 The Remains of the Berlin Wall
Coming to Berlin and not going to see the iconic Berlin Wall graffiti (among other sites related to the famous divider) is like going to Rome and avoiding the Vatican. The longest surviving section – the East Side Gallery – has been adorned with excellent artwork for just over three decades now, the most famous of which is the massive 'Fraternal Kiss'.  
If you walk further along you get to Checkpoint Charlie and the Brandenburg Gate, which are also incredibly important in the recent history of Germany. Both areas have plenty of information about the recent past of this part of Berlin. 
If you're feeling like a nice walk, you can even trace the route the wall once took – in many places, where it was torn down has been marked by double cobblestones, so it's easy to follow. 
Head down Auguststrasse and look at all the Galleries
Art lovers should head to Auguststrasse, a street in Berlin known for housing dozens of large and small galleries. The art on show is a mixture of up-and-coming artists and more established works, but the style is pretty much all contemporary. The street itself is at the heart of the Berlin Bienniale for Contemporary Art.  
While it's the art that makes this area of Berlin special, there's also plenty of restaurants and bars to enjoy along the way, so you can stop for a beer or two in between soaking up all the great pieces.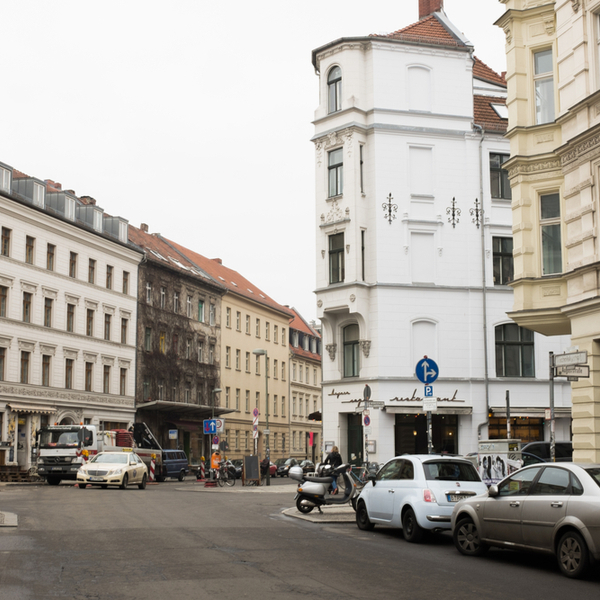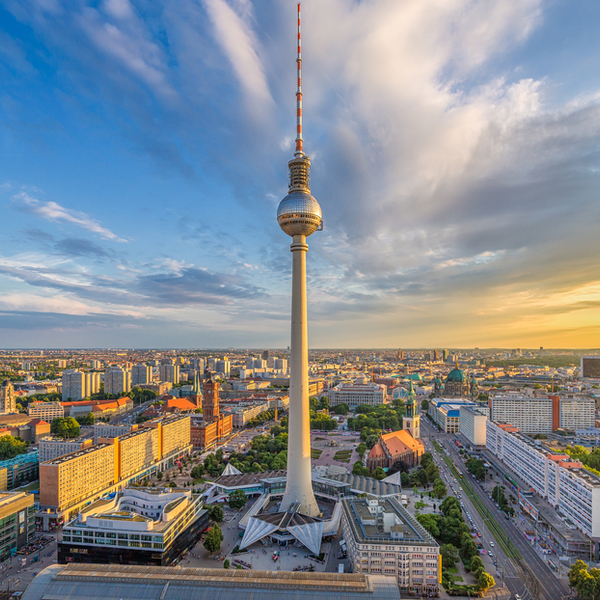 Go up the Fernsehturm
The observation deck at the Berlin TV Tower (or Fernsehturm) is one of the best Berlin attractions you can visit. Delivering unparalleled panoramic views of the city from 203m up, there's also a bar at the top so you can have a cocktail while enjoying the wonderful cityscape below you. There's sometimes a queue to get up, but we'd recommend booking online so you can skip the wait. Tickets cost EUR 22.50 (GBP 19) for adults and EUR 13.50 (GBP 10.50) for children. 
Jump on the 100 Bus
If you're wondering what to do in Berlin but want to keep your trip as simple as possible, then you're in luck: the city's bus network has numerous routes that drive past the most important Berlin attractions, all for EUR 2.90 (GBP 2.50). The 100 bus is probably the best of these, and all you need to do is purchase a ticket for the zone AB. The bus route goes past Alexanderplatz, the TV Tower, the Reichstag, Museum Island, Bellvue palace, and many more sites of interest. If you want to get off and explore you may need to buy another ticket; for this, we'd recommend getting a day-pass.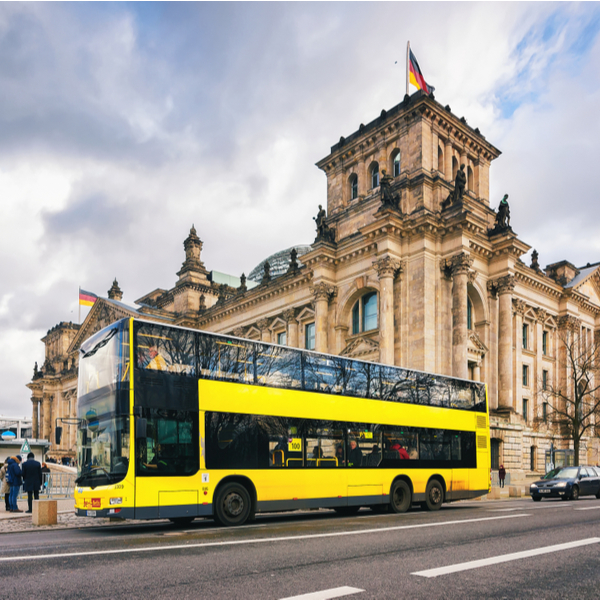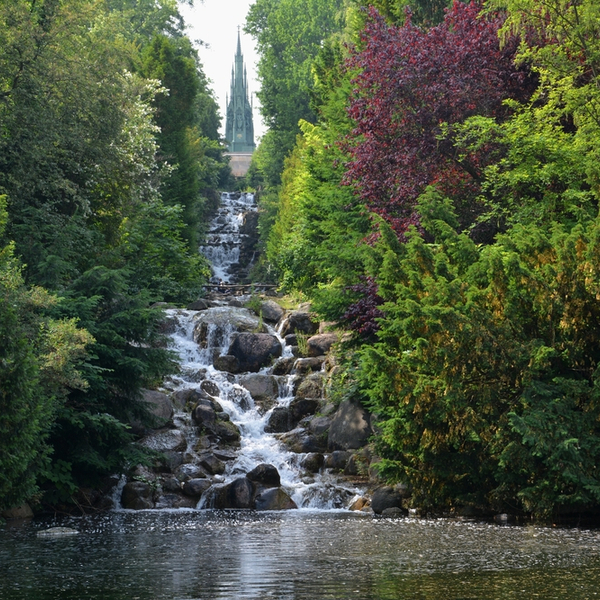 Take in the views at Viktoriapark
A little out of the centre of the city in the borough of Kreuzberg, Viktoriapark is home to a 66m tall hill named for the borough, which is topped by a national monument and home to a charming little waterfall. The park itself has various viewpoints offering some outstanding scenery, as well as a beer garden that many locals like to kick back and relax in. When it comes to Berlin attractions this wonderful little spot doesn't make as many lists as it should, but we believe it's unmissable. 
Festival of Lights Berlin
The Festival of Lights Berlin is impossible to miss if you're here during the beginning of September. The entire city is illuminated in unique and interesting ways, showcasing the best of Berlin attractions in a completely new light. It's not just the tourist hotspots that are cleverly lit up; the different neighbourhoods all get a chance to shine, making this mini-festival an ideal time to wander around the city.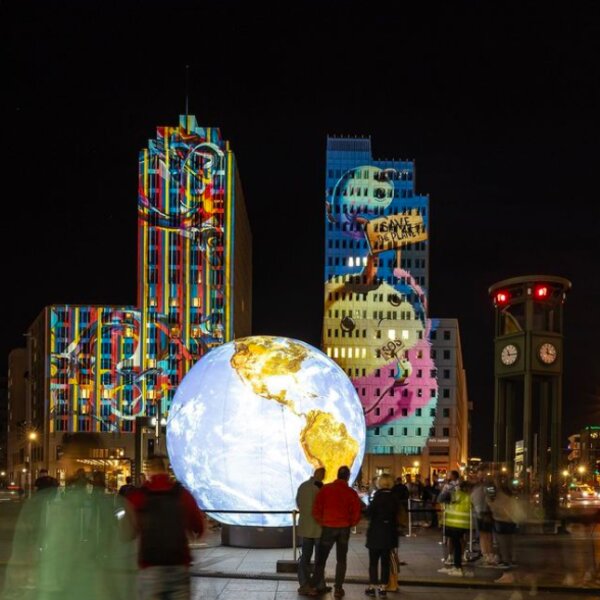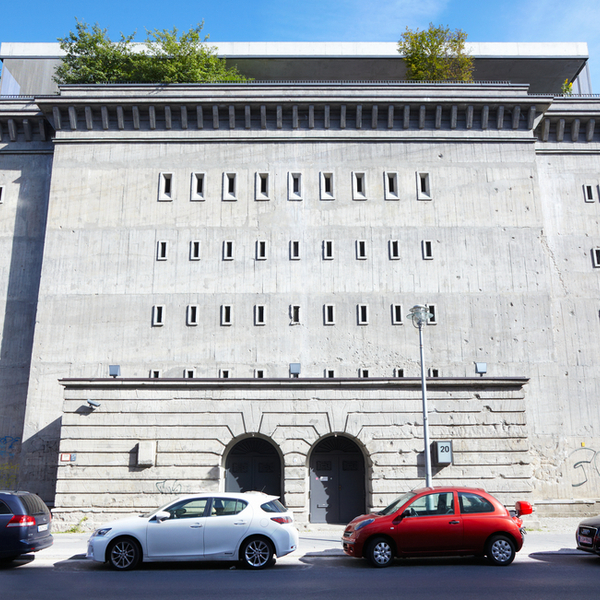 Sammlung Boros
This former WW2 bunker has been converted into one of the most remarkable collections of contemporary art in all of Europe. Although an infamous spot, there's actually no signage telling you how to get into this wonderland – tours are only available at the weekend and only if you've prebooked, and as the collection is privately owned so it's impossible to do it any other way.  
The bunker includes artwork by Olafur Eliasson, Damien Hirst, and other renowned artists and sculptors, so there's plenty for art lovers to sink their teeth into.