From coastal walks to hanging out with the primates at Monkey World and a myriad of fun activities in between. There are so many wonderful things to do in Dorset, in all honesty it would take forever to list them all here, but whether you favour marvelling at monkeys, gliding across the water on a paddle board at sunrise or immersing yourself in the history at the tank museum, rest assured that you will have the time of your life in the jewel of the south coast that is Thomas Hardy country. 
Explore the natural wonder of Durdle Door and Lulworth Cove
We don't think you can beat the scenic walk from Lulworth Cove to Durdle Door which is Team Orbzii's favourite things to do in Dorset. Why? Exhibit number 1 – this natural limestone arch of Durdle Door on the Jurassic Coast is one of Dorset's most photographed landmarks and is a truly magnificent spectacle plus it was England's first UNESCO World Heritage Site. We defy you not to be in awe as the glittering sun shines through the formidable world-famous arch.  
Don't forget to pay a visit to the Heritage Centre, where you can whet your appetite for even more fascinating facts on this stunning part of Dorset. Just a short drive away is Man O'War Beach where you will find some of the clearest waters this side of the Atlantic, with views for days across the coast. 
Go (red) squirrel spotting on Brownsea Island
One of the highlights of the National Trust Dorset is the incredible Brownsea Island which is the largest island that sits within Poole Harbour. One of the top things to do in Dorset is to while away at Brownsea. This internationally-renowned nature reserve is where you can spot rare wildlife which includes the lesser-spotted iconic red squirrel which is about as rare as hens teeth. 
Full of history and natural wonder, Brownsea Island is a dreamy gem which is just a short ferry ride away from the pretty harbour of Poole. Love a bit of twitching? Ka-ching! You will be in your element at the bird watching opportunities that Brownsea Island provides. In the warmer months you can see birds like common terns, sandwich terns and more. 
Love a bit of drama? Why not take in a show at the Shakespearean Open Air theatre. Previous shows have included '​​A Midsummer Night's Dream', 'Much Ado About Nothing' and 'King Lear'.  
Eat and drink your way around some of the coolest neighbourhoods
From the lavish homes on display at one of the world's most expensive areas – Sandbanks to Westbourne, one of the standout places in Bournemouth thanks to its eclectic mix of shops, bars and cafés. We love the award-winning Renoufs where you can indulge in the belly-busting cheese and meat platter accompanied by a flight of wine. Westbourne is also the home of the UK's smallest cinema! This pretty village is just a short walk from the stunning beach at Alum Chine, the beautiful tropical gardens and a handful of peaceful chines that lead down to the sea.
Other hip neighbourhoods to hang out in include Ashley Cross where you can find great bars and eateries like Knight Life Brewing, Mai Tai Cocktail bar and the intriguing named 'Bermuda Triangle' a quirky pub in an old Victorian building which has a secret room only accessible by a hidden bookcase.  
Heading back into the centre of Bournemouth, Peachy Queen cocktail bar is totally instagram worthy and delivers when it comes to exceeding the expectations of the most stringent cocktail aficionado. 
Monkey around at Monkey World
You may remember seeing these captivating primates on TV, now you can see them in real life at Monkey World Dorset. This 65-acre park is a sanctuary for rescued and endangered primates from around the world. Either meander around this expansive park yourself or why not take a guided tour? Make sure you carve our time to listen to one of the keepers' talks which provides a handy and beguiling insight into life at the park and its inhabitants. Monkey World Dorset is internationally-acclaimed and attracts visitors from all over the world who are hoping to spot these engaging creatures in a safe and natural environment. 
Explore the history of Dorset
Dorset is rich in history – from the abandoned village of Tyneham which was evacuated in December 1943 during WWII and has been deserted ever since to the Cerne Abbas Giant – an ancient chalk hill figure which is visible for miles around. 
Head west to the county towards the Isle of Purbeck where you will find Corfe Castle that sits atop of a steep hill. These dramatic ruins are visible as you drive or walk through the picturesque village of the same name which is full of traditional pubs with roaring fires, gift shops and more. Corfe Castle is not the only gem in the county when it comes to the National Trust Dorset, there's plenty more where that came from. Kingston Lacey, a lavish mansion re-imagined as a Venetian Palace in the rural Dorset countryside where you can tour the house and take a walk in the gardens and surrounding 8500 acres of land. 
Dorset is where writer Thomas Hardy was born, lived and worked, and many towns and villages in the county feature in his novels. The historic town of Dorchester is the inspiration of his novel, 'The Mayor of Casterbridge'. Literature fans can visit his cottage where he was born which was built in 1840 and Max Gate where he lived and wrote. You can even sit at Hardy's very own desk which we are sure will give you inspiration to write something of your very own. 
For a fun family day out in Dorset, peruse the HUGE tanks on display at the Tank Museum Dorset which hosts the world's finest collection of tanks.  If you are looking for things to do in Dorset, you won't leave the county disappointed.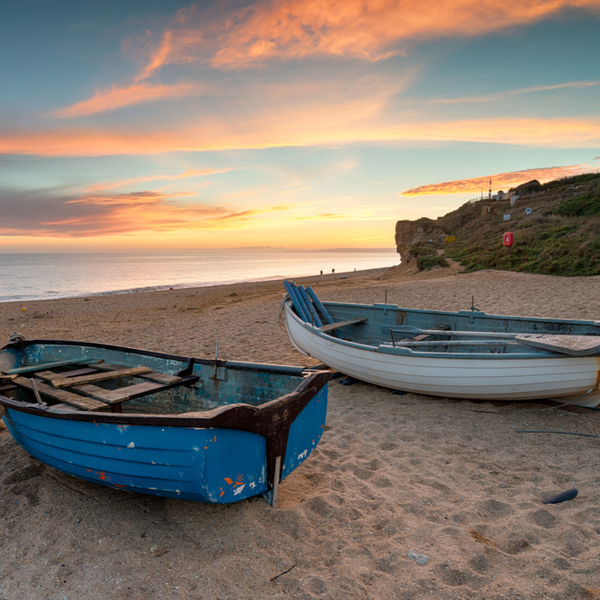 Take in a sunrise or sunset
A sunrise is beautiful wherever you are in the world, but we can't help but think it is a little bit extra special in Dorset and is one of the locals favourite things to do in Dorset.  Whether you are an early bird or love an early evening stroll, the most stunning places to enjoy a Dorset sunset include any of the award-winning beaches, Evening Hill in Sandbanks has a panoramic view across the Harbour which is amazing both at sunrise and sunset. Blue Pool in Dorset is a gorgeous pool and it is one of Dorset's most intriguing attractions, It derives its name from the striking turquoise colour of the water that nestles the 25 acres of woodland between Wareham and Corfe Castle.
Whilst we are talking about pools, a visit to Chapmans Pool near Worth Matravers is an absolute must at any time of the day. There clearly must be something about water when it comes to a winning sunset and our case in point is the views at Lake Pier at Hamworthy where you can even see the island of Arne in the distance.