You'd imagine that most of the things to do in Lake Garda would centre around this huge – and downright gorgeous body of water. Not quite. Yes you can motorboat across it, peek around a private island or laze luxuriously on its edges. But your things to do in Lake Garda list needn't be restricted to the aquatic side of life. There are gourmet eats in the hills to discover, castle ramparts to conquer and cable cars to see it all from. Joyous news then for those amongst us with constitutions at odds with life on the water… 
Get your farm-to-table fill at Alpe Del Garda
Foodies, Lake Garda restaurants are a pleasure-fest for your taste buds – and your gastro sense of adventure. The daily catch comes straight from the lake, so expect pike, perch and chub to feature heavily on the menu. But in the surrounding towns and villages, there's often a 0km approach to food miles. And, one of the best places to taste a little of everything? Alpe Del Garda in the hills of Tremosine sul Garda. A shop gathers together cheeses, cured meats, oils and preserves from the co-operative farming the fertile soils. And, you can sample a nibble of each. But the onsite restaurant is the place to savour the combination of ingredients with simple but tasty dishes. 
Sail across the lake in eco-style
Lake Garda boat trips come in many shapes and sizes. Ferries, sailing yachts, speed boats and, more recently, electric motorboats. So if you fancy gliding across the rippling surface of Lake Garda – minus the roar of a speedboat engine, get in touch with Bertoldi Boats. The sleek, stylish and virtually silent water taxi is the setting for their Music on Board tours. Sailing the waters with a pianist for company is about as surreal as it gets – but Bertoldi can tailor the soundtrack to jazz, classical or pop too. Handy if you're keeping an eye on your carbon footprint but still want to get on the water. 
Roam the ramparts of Scaligero Castle
The towers, crenellations and heft of this Lake Garda castle can be seen for miles across the lake. No doubt what the 14th century architects had in mind when they built the fortress. Though the walls quickly became more helpful for military storage rather than a strategic defence post. Today, you can wander across the drawbridge for a scamper around Scaligero Castle's best bits.  
Hit the beaches
When you're over 100 miles from the nearest ocean, you can be forgiven for omitting beaches from things to do in Lake Garda. But you may want to revise that itinerary, sharpish. The lake beaches of Sirmione, Malcesine and Limone sul Garda provide shorelines for swimming, windsurfing and sunbathing. Most of the beaches come with pebble shorelines, but if you're looking for the classic 'sand between your toes' feeling, head to Lazise. As one of the few sandy spots on the lake, this beach gets busy. Arrive early to secure a spot. 
Orbzii Insider tip: Don't get caught out by the hype surrounding Jamaica Beach. Yes, the landscape looks a little Caribbean, but slippery rocks and overcrowding put this lower on the list of beach options. 
Peep the views from the Malcesine to Monte Baldo cable car
Lakeside views are one thing. Top down views of the water from Monte Baldo are quite another. So swing by Malcesine for a slice of Lake Garda life before hopping in their cable car. It'll whisk you right to the top of Monte Baldo where, among other things, you can Instagram your way to likes and comments. Those other things we mentioned? Paragliding, mountain biking, hiking and marmot spotting. Keep your eyes peeled too for golden eagles, roe deer and orchids.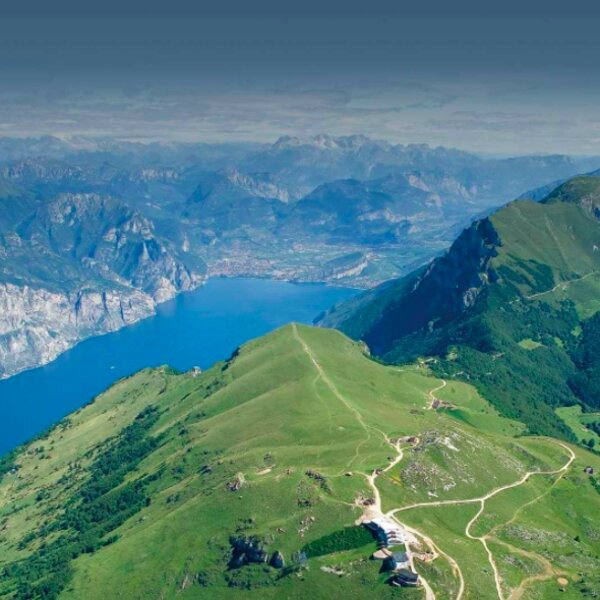 Immerse yourself in nature at Giardino Botanico Fondazione
If the red liles and flower meadows of Monte Baldo have left you longing for more botanicals, head straight to the bloom-filled Giardino Botanico Fondazione. Created by multimedia artist Andrè Heller, this project is much more than a few well planted spring bulbs. Shrubs, flowers and trees from across the globe have been curated to create a green and heavenly landscape peppered with sculpture. Pieces from Erwin Novak, Roy Lichtenstein, Keith Haring and Susanne Schmoegner peek out from behind buds and stems to take you on a journey through nature. Waterfalls, koi ponds and diverse living landscapes are the ideal spots to stop, take it all in and enjoy a moment or two of mindfulness. 
Snap up some theme park tickets
Add driving into the dinosaur-strewn world of Pangea to your things to do in Lake Garda list. Just one of the attractions at Movieland, it provides a very immersive and action-filled alternative to a slow mooch around an Italian village. The Hollywood-themed park is impressive enough to keep you entertained for a day. While the slides, rides and cabanas at Caneva Aquapark have that 'something for everyone' allure that families flock to. 
Count the bones at the Ossario di San Martino
Italy's awash with opportunities for adding dark tourism to your travel itinerary – and Lake Garda is no exception. In the Ossuary of San Martino, the horrors of war are in plain sight. Behind the altar, the wall is stacked with the skulls of soldiers who perished in battle in the 1850s. Exhumed from mass graves, the bones are displayed to commemorate the individuals who fought during the Battle of Solferino – part of the Second Italian War of Independence. As well as the 1250+ skulls, over 2,500 bones are stacked in a nearby crypt. Plaques on the walls outside reveal further details of the soldiers lost. 
Snoop around the Borghese Cavazza family's private island
A visit to Isola del Garda is one of THE things to do in Lake Garda. Not least because it affords you the chance to peek into life on a private Italian island. Access is only available via guided tours, but they include a wander through the stylish Italian and English gardens, a peek into rooms within the island's neo-Gothic Venetian palace and the return boat ride (from various ports). You also get the chance to do a little wine tasting and olive oil tasting during the tour. 
Orbzii Insider tip: Isola del Garda is just metres from the western shoreline and minutes from Porto di San Felice, plan your port pick up to lengthen – or shorten, your boat ride across Lake Garda. 
Get close to the Marmitte dei Giganti
You'll find Marmitte dei Giganti in several spots across Italy. But if you're taking a short break in Lake Garda, it's worth taking a look at the examples near Torbole. These glacial hollows are geographical sculptures of epic proportions. Literally translated as giant pots, they were formed when glacial waters furiously swirled debris carried downstream. Over time the pots formed and are all that remain. Due to their formation, they aren't the easiest natural wonders to access. But, if you're in Torbole and have some hiking boots in your suitcase, take a look.