Centuries-old temples and futuristic skyscrapers, delicious street food and world-class cuisine, extraordinary gardens and impressive architecture – and then there's the shopping. Welcome to Singapore. A fascinating fusion of the very old and very new, the historic artefacts and the boutiques and malls that offer designer brands.  
From iconic landmarks to under-the-radar spots, there's so many things to do in Singapore – ready to go on an adventure?  
Smell the roses at Gardens by the Bay
'A rose by any other name would smell as sweet", sure there are gardens in every city that deserves many a plaudit, then there's Gardens by the Bay, an icon by any standard and surely one of Singapore's most recognisable landmarks. It reflects Singapore's ethos to living the 'city in a garden'' dream.  
Iconic, majestic and also gigantic – the Gardens by the Bay are a sight to behold. If foliage and plant life is your thing, you are in for a treat of colossal proportions. If you are more tea leaves than green leaves, still go and you will be rewarded with a traipse around floral displays of the most colourful blooms and stems from around the world, the intriguingly-named 'Super trees' which truly live up to their namesake.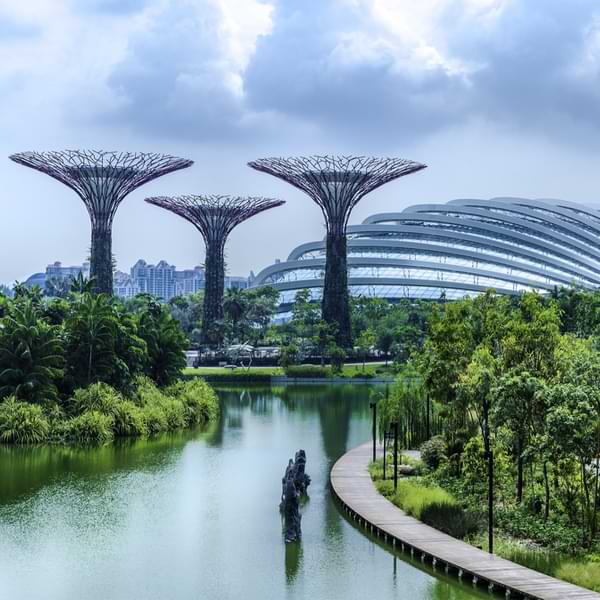 From the outdoor heritage gardens to the cloud forest indoors, you may well walk away ready to get your 'Monty Don' on.  
Animals, after dark
The world's first nocturnal zoo spans barely 70 acres. If you prefer saving your nocturnal hours for enjoying some of the best nightlife in Singapore, then don't worry as a daytime stroll where you can get better acquainted with its inhabitants is also on the cards. 
Singapore Zoo is home to over 2,800 animals from over 300 species of mammals, birds and reptiles. If you love wildlife, you will be enchanted by this zoo and it is a must-visit for animal lovers. It has an impressive conservation programe which helps with the conservation of orangutans and other at-risk  primates. 
Zoo's can get a tough rep, but this zoo has been praised for opting for an open captivity model which means that the animals have more freedom to roam within their enclosures. Visitors can roam this expansive zoo by boat and by tram – after all there is a lot to cover. 
Skyline Sunset
You, the sunset and the spectacular Marina Bay Sands. It might seem strange to pick a hotel (albeit one of the best hotels in Singapore) to watch the sun blaze out and set, but bear with us. This striking hotel is iconic and world-renowned and is one of the best places to watch a sunset. 
Definitely a 'money shot', if you are looking for a sensational pic to add to the 'gram, then taking a shot from the surfboard shaped roof of this exclusive hotel is one of the best vistas in the city to view the sprawling skyline of Singapore. 
As the sun goes down, why not venture inside to try some dishes from one of the chic restaurants of which there are 60 which includes two Michelin-starred restaurants. The big question is which restaurant do you pick? 
Slurp a Singapore Sling
Can you say you have been to Singapore if you haven't indulged in the infamous Singapore Sling at the Raffles Hotel? As the birthplace of the Singapore Sling which has to be one of the most famous cocktails in the world? There is no better place to enjoy it than at the old-fashioned bar whilst soaking up the incredible atmosphere. Its cultural relevance to the city is as important as the history of the building.  
Famed for its charming ambience and legendary service, the iconic lady of Singapore enjoyed a facelift in recent years and is looking more resplendent than ever. Creative types should head to the Writers Bar to be inspired by Noel Coward, Joseph Conrad and Rudyard Kipling. 
Mosey on down to the museums
Museums, museums, museums! From the oldest museum in the city 'The National Museum of Singapore' to the quirkily-impressive ArtScience museum with its unique architecture which is shaped like a half-unfolded lotus flower, aficionados of museums will be spoiled for choice when it comes to things to do in Singapore.  
The museum scene in Singapore is somewhat underrated, which is curious as it is home to some of the best museums and galleries in Asia. If traditional artefacts and paintings aren't your thing, take a step into the on-trend ArtScience museum which does EXACTLY what it says it does on the tin – it combines art and… any takers?! Yes, it's science! 
Take your pick from the mind bending 'Future World' which will take you on an interactive journey of art, light displays and sounds. Movie buffs will be impressed with the film exhibitions which have featured props, customers and sets from films like Titanic, Harry Potter and more. 
The red dot museum – an offshoot from its counterpart in Berlin, is certainly worthy of a visit. Entirely design-focused, it has the largest exhibition of contemporary design in the world and is located in the iconic Marina Bay. 
Defy Gravity
Do you dare to live life in the fast lane? Maybe so in Singapore. Everything in Singapore is fast and no less than a ride on the skyline Luge Sentosa Sk. Fast enough to get your adrenaline going but without compromising on the awe inspiring views of the incredible Singapore skyline and South China Sea, your chariot awaits in the shape of a four-seater chairlift. 
There are four trails to pick from – each one a little bit more high-octane than the other, all with exciting names like Dragon and Jungle, which will take you through tropical forests and lively scenery whilst navigating tunnels, slopes and eek-worthy hairpin corners.
If the idea of defying gravity with immersing yourself into luxuriant plant life makes you want to jump for joy, then a casual dalliance on a luge will be right up your street. 
Sample the street art
Head over to the achingly-cool Bras Basah-Bugis district in Singapore which is chock-full of record shops, fun cafes,  hip bars and some of the best regions street art lining its walls. 
A visit to the hipster hideaway of Haji Lane is a must for those seeking out unique gifts and wares that are both envy-inducing and evoke the response 'Where did you get that from?!' 
Here you can find the unique Gelam gallery which is an outdoor art gallery where murals and framed works of more than 30 artists from different backgrounds adorn the walls. 
If you love street art, Singapore won't disappoint. From Insta-worthy urban artworks to bunny-shaped doodles that will delight kids (big and small) venture out into the streets either with a knowledgeable guide or explore this colourful concrete jungle alone. 
Be a drama llama!
Scratch beneath the surface, you'll find a quirkier side to Singapore far from the usual tourist traps. One of the coolest things to do in Singapore is amp up the theatrics with an immersive theatre experience. 
The quirky and whimsical Andsoforth will take you on an exhilarating journey where you dine in a top-secret venue whilst enjoying its immersive theatrical dining experience. Not content with having their patrons sit still, you will be taken from room to room and will have the opportunity to dress, eat, and indeed live like the characters in the play you are immersed in. Now, that's entertainment!