It may be best known for its malls and man-made beaches, but when it comes to outdoor activities, Dubai has a 'go hard or go home' kind of ethos. If you're looking for heart-pumping action and epic adventure, the city promises the trip of a lifetime. All of the shisha and selfies by the pool can wait – it's time to channel your inner Stallone.
From quad biking to wakeboarding, Dubai is truly a thrill-seeker's dream. Here are the best ways to get your adrenaline fix in the desert city.
Quad Biking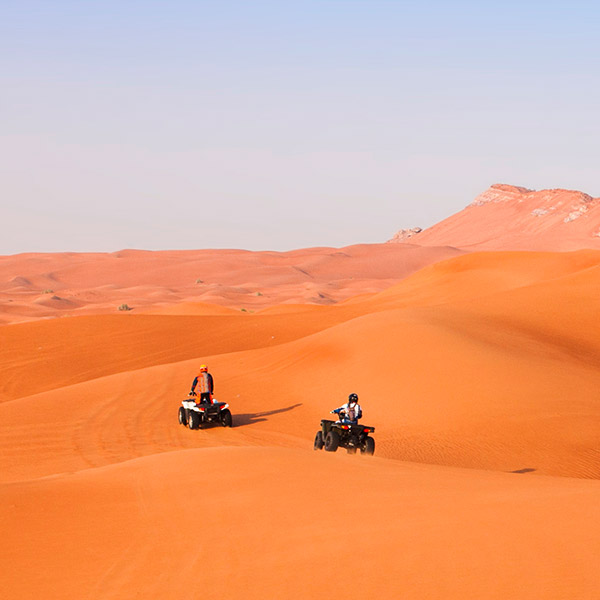 If you want to try quad biking, Dubai has the perfect answer in the form of Big Red. This seriously Insta-worthy sand dune provides the perfect playground for those looking to let loose in the desert. The easiest option is to book a tour with a company like Big Red Adventure Tours – they'll pick you up from your hotel and take you on a guided tour with one to three hours driving time. Prices start at around £100 ($125).
If you'd rather go it alone there are a number of rental companies in the desert, including Dune Bike Dubai. Rent a car and head out along the Dubai-Hatta highway. It takes around 45 minutes to reach Big Red from the city. One hours rental will cost you around £65 ($81).
Kids aged 14 and over can ride solo, though some companies also have 'baby quads' for little adventure freaks. Helmets are essential.
Kitesurfing
It's not hard to find kitesurfing in a city with a place called Kite Beach. The sport thrives here in the windier months of December to April, though lessons are available all year round. Put those thigh muscles to work and try to stay upright long enough to take in the spectacular view of the Burj Al Arab. Prices for a one hour private lesson start at around £75 ($95). Kids over the age of 10 can take part provided they're swimming skills are up to scratch.
If you're a complete novice and personal space isn't your thing, you can try a tandem ride with KiteZone Dubai. On the other hand, if you already know what you're doing you can rent all the gear from Dukite or Kitesurf School Dubai.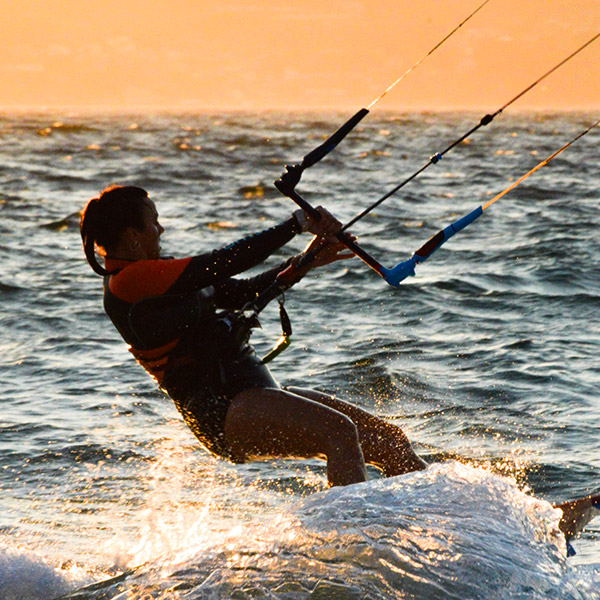 Helicopter rides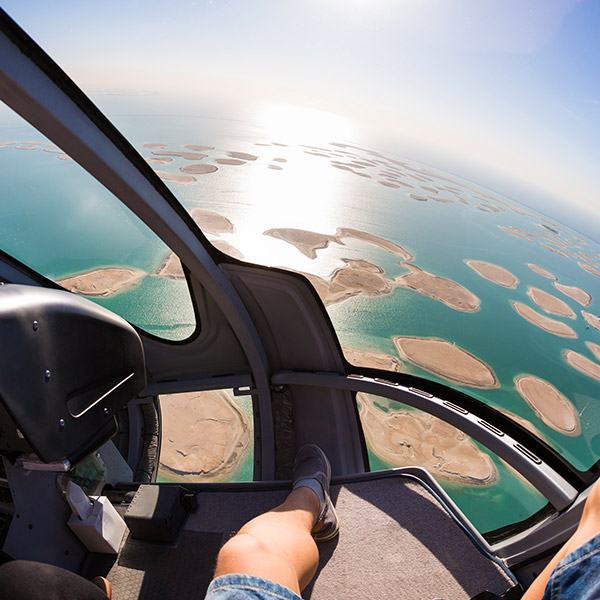 If you really want to go all out in the city, this is the way to do it. Get a seriously intense bird's eye view of the Palm Jumeirah, Burj Khalifa and World Islands on a once in a lifetime helicopter ride – Dubai was made to be seen from the air. Helicopter Tour Dubai and HeliDubai offer tours ranging from 12 minutes to an hour, depending on how much of the city you want to see, or more likely, how much cash you want to splash – a 12-minute ride will set you back around £140 ($175) per person.
Most of the tours offered are on a shared basis, with a maximum of five passengers. If you want to be really fancy and rent the whole helicopter like a couple from a reality TV show, it will cost upwards of £500 ($625). Everyone is welcome aboard. Well, almost… if you have heart problems or are a child under two you'll have to sit this one out.
Wakeboarding
If wakeboarding is more your thing, you'll be spoilt for choice in Dubai. You can get your fix at the beach or the marina, and there are various lesson options if you're giving it a go for the first time. SeaWake is a good bet for newbies, with award-winning instructors and boats that create impressive man-made waves. A 20-minute session with a pro costs £75 ($95). If you'd rather dial back on the extreme thrills for a bit, they also offer paddleboard and kayak rental.
XtremeWake offers everything from one hour sessions to week-long camps, and there's no denying that the views from their boats located at Dubai Marina are pretty sexy. Pricing is done per boat rather than per person, with an hour's rental (including equipment and basic coaching) costing £130 ($163).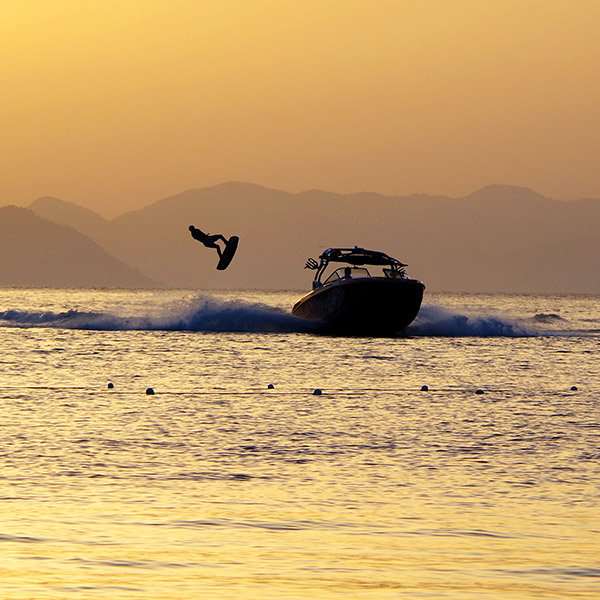 Jet skiing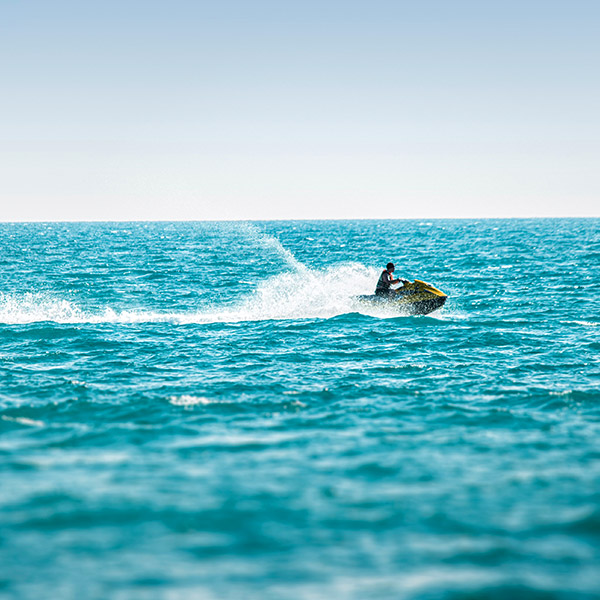 If there's anywhere in the world made to jet ski, Dubai has got to be high on the list. Get your kicks while enjoying the view of the city's most iconic landmarks, and catch a glimpse of the illusive Sheikh Island; something you can only do via jet ski. There's also the chance to see the $400 million Dubai superyacht; owned by Sheikh Mohammed bin Rashid Al Maktoum himself.
SeaWake offers jet ski rentals for £65 ($81)/20 minutes, or opt for a guided tour. Nemo Watersports and Ride in Dubai are two of the most popular companies and offer tours lasting from 20 minutes to two hours. Anyone over the age of 16 can legally drive a jet ski, though under 18s need to be accompanied by an adult. Prices start at around £75 ($95) for 20 minutes – not a bad price to feel like a millionaire for a while.
Ziplining
Dubai is full of pristine skyscrapers, so how about sliding off one? XLine is the world's longest urban zipline, measuring in at 1km long. Take off is from the top of the Amwaj Tower at Jumeirah Beach Residence, standing at 170 metres tall. Glide over the million-dollar yachts in the marina below and try not to look too scared – you're being recorded for your own video memento of the experience. With an average speed of 80km/hour, the only downside is it's all over too soon.
It's not a cheap activity – the regular price is around £141 ($176), but there are usually offers in the summer almost halving the price. Anyone aged between 12 and 60 can ride XLine, though under 18s will need to have an adult present.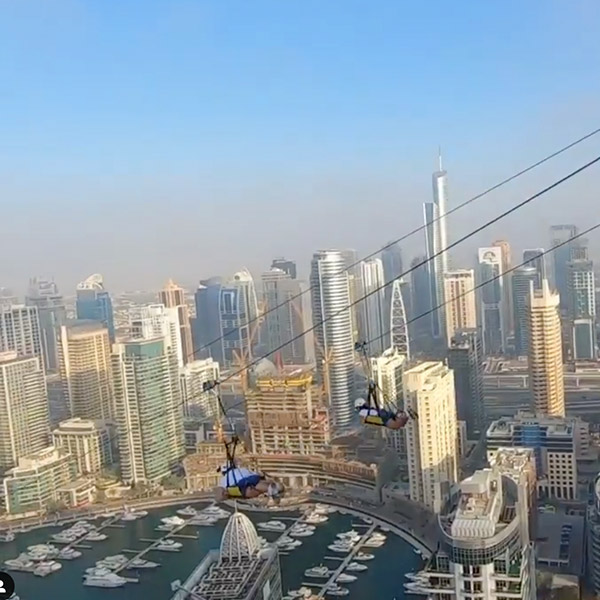 From jet skiing to kitesurfing, Dubai is a city jam-packed full of high-octane thrills. Ready to turn your dream trip into a reality? Don't miss out – send the Orbzii app to your phone now and get booking for your Dubai adventure.
Looking to explore more of Dubai's spectacular sand dunes? Take a look at our guide to the best ways to enjoy them in style.