You don't have to reinvent the wheel to find your thrills in Hawaii. Here, just going for a hike can see you scaling treacherous and illegal footpaths. Not that we'd send you in that direction. But you get the picture. Volcanoes, boiling seas and sharks all add up to adrenaline-pumping experiences. And, there's a myriad of ways to dabble with them, should you feel the need to really get those cortisol levels pumping. Skydiving might even start to look a smidge tame on this island. Thank the heavens then for the ridiculously scenic views. 
Stairway to heaven
Let's get this controversial hike out of the way early doors. Firstly, just how thrilling can a hike get? Well, a lofty $1,000 fine awaits anyone that gets caught scrambling Hawaii's Stairway to Heaven. The route is considered so dangerous, the hike was made illegal. The stairway in the title refers to a set of stairs which people once used to climb to a Cold War era station. Long since damaged by weather, they just aren't viable anymore. It's worth pointing out here that so many people continue to attempt the climb, police and security patrol the area watching for hikers trying to sneak up the stairs. So, why are we including them here? We've found a legal alternative. To see the stairway – and the views – ascend the Kaulana'ahane trail instead. Yes, it's tempting to climb down the stairs when you get to them – but there will be security waiting for you at the bottom. Doubling back is the only way to avoid a fine – or considerable danger.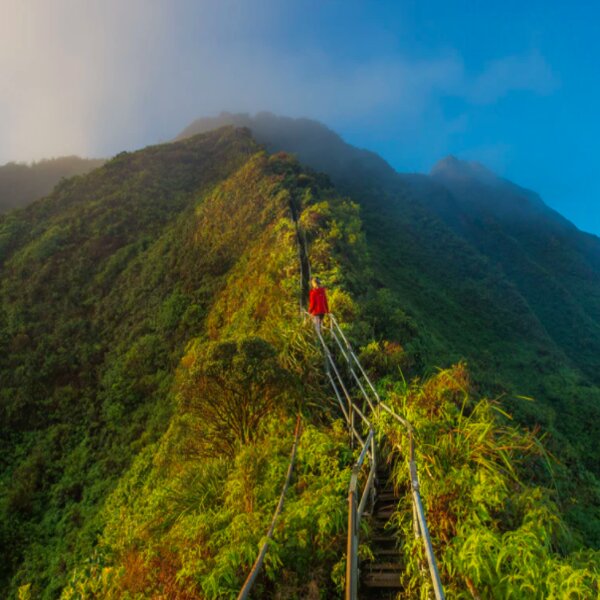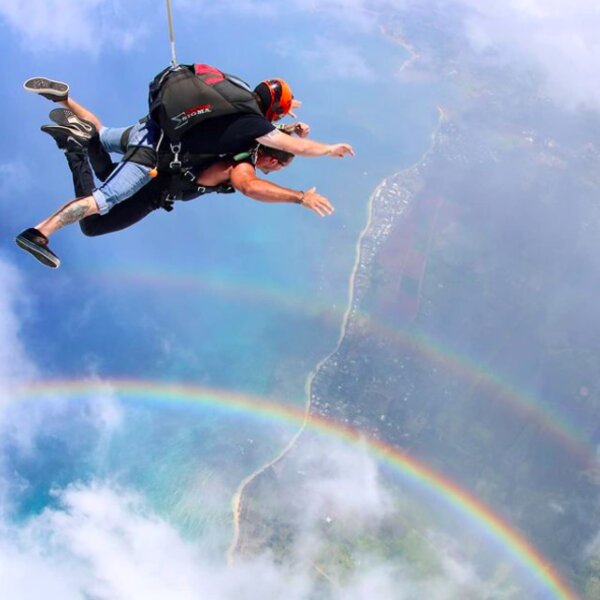 Skydiving
Few drop zones in the world can compare with Hawaii. Rainforest, cloud forest, waterfalls, volcanic slopes, stunning coastline and the occasional rainbow. It has been known to see whales too. All these things combined earn Oahu's North Shore the coveted title of 'World's Most Beautiful' in the sky diving site league. Sky Dive Hawaii can take sky diving beginners up on a tandem dive that takes in north coastline views and a peek at Pearl Harbor. Skydiving is hugely popular in Hawaii – so you'll find more than a few operators, on many islands, able to take you to the skies.  
Orbzii tip: Don't make too many other plans for your sky diving day. Hugely weather dependent, this can see you sat in the hangar waiting for hours. Ultimately, if the weather's not right you won't dive. Book with that in mind and be ready to come back on a different day if necessary. 
Shark Cage Diving
There's no doubt that in Hawaii, diving is thrilling. The diversity of the eco-system, the sheer number of species of sharks in Hawaii and the volcanic underwater landscapes deliver a top-notch experience. But not everyone has their PADI cert. And not everyone finds corals and octopii all that heart racing. That's where shark cage diving comes into its own. With just a snorkel and swimmers – plus a steel cage – you can be surrounded by sharks. And in Hawaii, that often means tiger sharks. A phenomenal predator that will definitely get your pulse going. The best bit of all? When the shark dive team tells you that the shark can actually feel your pulse in the water. Hop in the cage with North Shore Shark Adventures. They are so confident you'll see sharks, they offer a 100% guarantee.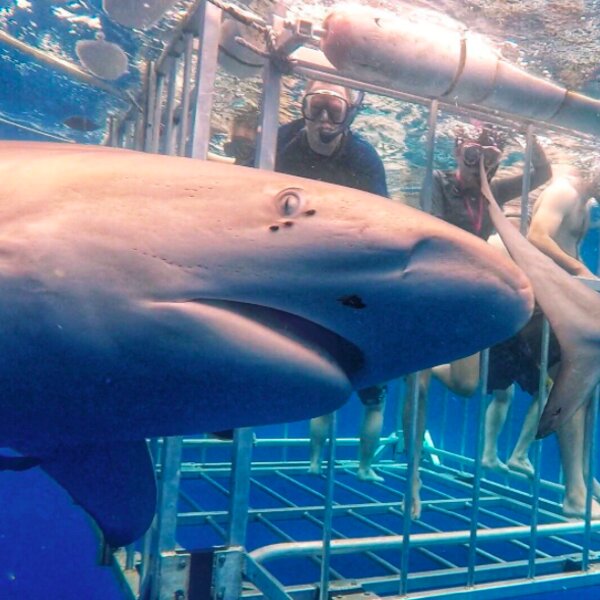 Orbzii tip: If you're fascinated by sharks, and hopping in the cage feels like a step too far, view from the boat. You'll still get to see wild sharks swim up the chum line – a real thrill in itself – and you'll be in prime position to get some shots of friends and family in the cage.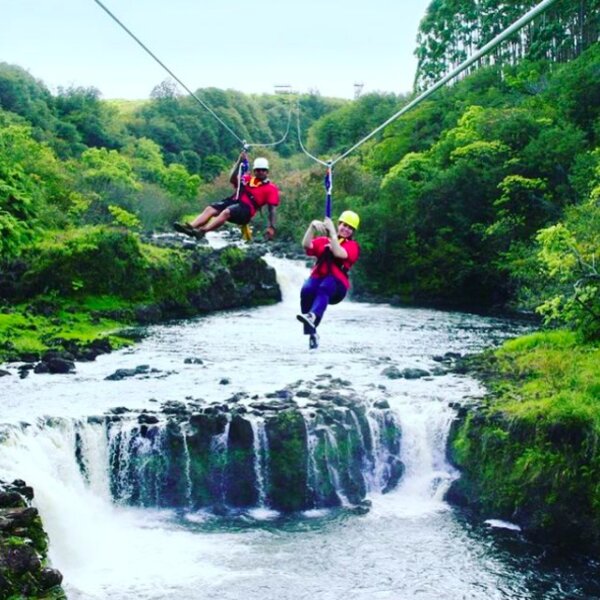 Waterfall Jumping
There's a reason you'll find few – if any – operators recommending waterfall jumping in Hawaii. There really is no safe way to plunge into remote and wild watering holes. Water levels rise and fall, submerged logs and rocks are tricky to spot – frankly, this list goes on. Top of our concern? The hidden danger of leptospirosis lurks in even the safest looking pools. By all means drop by to spot some of Hawaii's animals, but we'd pass on the plunging. 
 Orbzii tip: If Hawaii's waterfalls are high on your list, your best thrill-filled option is rappelling. The Umauma Experience on Hawaii can set you up with lines, gear and two miles of zip line to add to the fun. 
Volcanoes
How do you feel about volcanoes? We're big fans. And, in Hawaii, there are many ways to get your thrills. On them, over them, active, dormant – it doesn't really matter. You can board, bike or horse ride on them. Let's start with the boarding. Who could pass up the chance to slide down once molten slopes? We're actually talking snowboarding – though you can ski too if the mood takes you. When it comes down to it, you're sliding at speed down the side of a snow–capped volcano. And, really, there are few things more thrilling than that. Your chosen slopes are on Mauna Kea – and they come with a few dangers. Altitude, sun and strong winds are your top three. Keep an eye on those to get your ski on safely.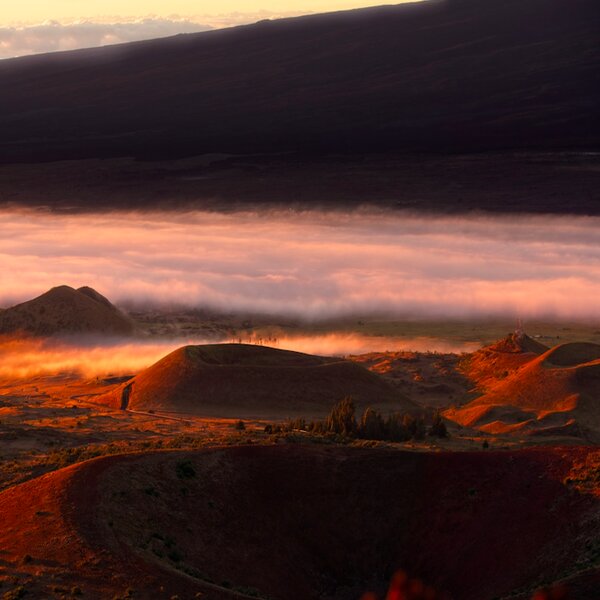 Biking and horse riding on the volcano slopes seem a little staid after that. But they do offer an on ramp to true thrill seeking for those who might not quite be ready to turn the thrill dial up to eleven. Both sports are adrenaline pumping in and of themselves – it just so happens that on Hawaii, they come packaged up in a volcanic national park. Added bonus points if your route takes you up in to the cloud forest. After all, not all thrills are created equally.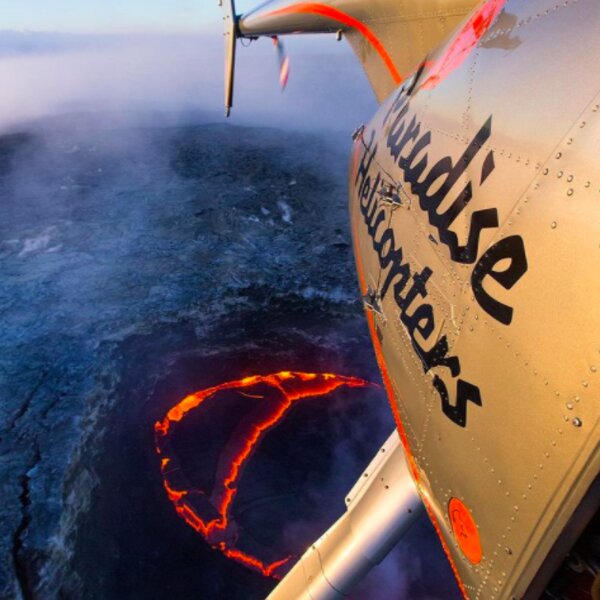 Open Door Helicopter Flights
This one really should be listed under volcanoes. And, for anyone thinking helicopters and volcanoes don't mix. Hop in an open–door chopper and prepare to change your mind. Feeling the heat from the active lava below adds a certain 'life on the edge' quality to the flight that's bound to divide opinion. If your view is – get me a ticket – get yourself to Hawaii. If that's just a little too close to molten lava for your liking, the top–down view of the cloud forests, coasts and waterfalls is just as exciting. And, if you like, they'll still leave the doors off at Paradise Copters. Just don't drop your phone …
Kitesurfing
It would be remiss of us to tell you to go surfing in Hawaii. In travel tips terms it's akin to pointing you towards cream teas in Cornwall. Obvious and unnecessary. Then there's kitesurfing. A natural progression and a way to really harness Hawaii's legendary waves, without becoming a cliche. Very much a win-win. So, strengthen your core and learn from the pros at Kite Hawaii. Lessons, gear and professional kite boarders all in one place. Their boarding beaches are suitably stunning and their tricks eye-poppingly mesmerising. Even if you don't think this one's for you, drop by to watch the guys here in action. Your beaches are Baldwin Beach, Flash Beach, Lanes and the appropriately named Kite Beach on Maui.