Menorca's many attractions sneak up on you. Billed as the Balearics' sleepy cousin to party-strewn Ibiza, this island can look a little light on adventure. That's until you start to compile a list of things to do in Menorca and realise there's a whole menu of fun, exploring and history just waiting to be discovered. Hidden party caves, ancient megaliths, hand-carved mazes and great swathes of island wilderness are all up for grabs. Of course, you could also just sit back with the island's favourite drink and contemplate the view. It's THAT sort of island. Easy going, with a sense of adventure. 
Explore the S'Albufera des Grau
One of the standout things to do in Menorca is to explore the 5,000 hectares of S'Albufera des Grau. A protected, eco-diverse kinda' place. It's one for wilderness explorers, coast lovers, birdwatchers and amblers who just love a good view. Pop along, get yourself out on the trails and make the most of the mix of habitats. The wetlands and lagoons attract waders and ducks, Balearic lizards scuttle around just about everywhere and ospreys and booted eagles keep an eye on proceedings from above. Olive forests, heritage sites and one of Menorca's famed lighthouses make this natural park a place you can visit over and over and always find something new. 
Orbzii tip: Some of the park routes are highly protected – meaning you can't stray from the paths in some of the more ecologically important areas. Check this map before you set out, if you're unsure.
Try some UrbEx at Ses Pedres de s'Hostal
From the biodiverse and wild S'Albufera des Grau to the rather more manipulated Ses Pedres de s'Hostal. Full disclosure, this is an abandoned quarry near Ciutadella. Which is a tough sell. No wonder they call it the Ses Pedres de s'Hostal. Regardless, it's a must visit, especially for the instacrowd. A huge maze of sandstone, the stone's been excavated here – by hand or machine – since the Stone Age. Carvers have left behind a network of rather stunning, geometric alleys to wander. Within the walls you can find gardens, labyrinths – and, if you're lucky, a summer concert or two.  
Soak up the old town vibes in Ciutadella
Until the 18th century, Ciutadella was having a grand old time as Menorca's capital. Then all eyes turned to Mahon and the old town hasn't changed much since. Which might seem a shame but it has ensured you can totter along the ancient cobbles and gaze at neo-classical buildings, Gothic churches and Baroque architecture. Ciutadella has all the hallmarks of a classic holiday day out. The covered market, fishing port and central square at Placa d'es Born round out the hours nicely – offering plenty of chances to pick up a souvenir, contemplate life as a local fisherman and sip drinks as you people watch. Bliss. 
Orbzii tip: You can use Ciutadella as a starting point to tick off Menorca's seven lighthouses. There's one along the port estuary, finding it comes with a rather nice walk along a small section of the Camí de Cavalls, the 185km path that trails a loop around the whole island. 
Raise a toast to Menorca's gin
You'll see a pomada listed on more than a few Menorcan drinks menus. Using the island's craft gins and cloudy lemonade, the pomada's an ice-filled thirst quencher. Do try one – and if you're into your gins, take the chance to drop into the island's Xoriguer Gin Distillery. It's a rather small space, but they do manage to export the gin around the world. You can't tour the copper pans and distilling equipment, but if you nip into the factory's shop you can often taste samples – and secure a bottle to make your own pomada's with. Pair it with a Menorcan sunset for optimum results. 
See the sunset from a hidden sea cave
There's a lot to unpack here. Firstly, this isn't just any old sea cave. Perched high up in the cliffs, Cova D'en Xoroi is a bar, club, mythological space, VIP hangout and live music venue – amongst other things. Before instagram, visitors had to rely on word of mouth and urban legends to track this venue down. Now, the treasure hunt vibe of finding the place might be gone, but the feeling when you step out on the terraces? It's definitely got that magic touch. Ocean views, some of the best sunsets on the island and delicious cocktails pair nicely with the line up of live acts. One of Menorca's hottest nightlife spots, you'll rarely have the place to yourself. Understandable, given the views.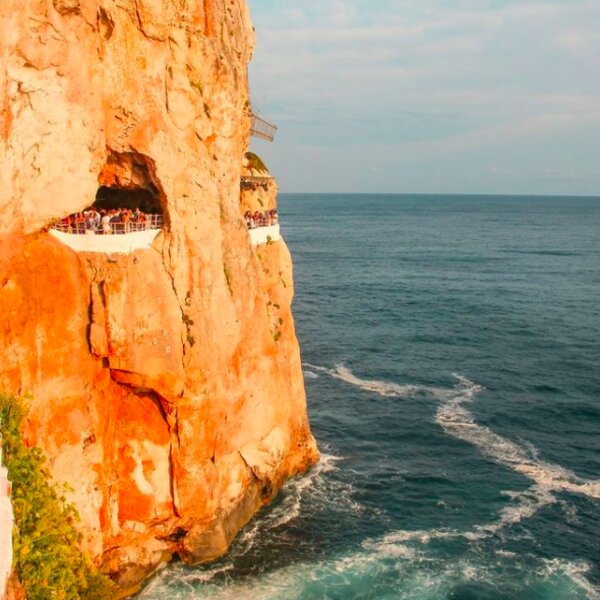 Scale Mount Toro
Before you get too dismayed at the thoughts of crampons, ropes and carabiners, it's worth knowing that Monte Toro is considerably smaller than Scarfell Pike. About a third of the size, and much more friendly on your holiday sandals, Mount Toro is Menorca's highest peak. Standing proud at 358 metres, it's a place for island views, a skip around the gift shop and a contemplative and respectful peer in at the church. The hike up is easy enough, though cyclists might prefer to test their quads on the winding tarmac to the top. However you scale the mountain, there's a cafe at the top to quench your thirst. The legend of the bull, after which the mountain was named, is quite a charming little tale to read up on as well. 
See Menorca's wild and rugged beaches
How do you like your sandscapes? Remote, close to every available facility or just plain gorgeous? No matter your preference, you'll love some of the best beaches in Menorca. Today, we're going to recommend just one. Cala Turqueta near Macarella. A fine addition to add to your things to do in Menorca list, you can hike to these turquoise shores from Cala Macaralleta. The walk takes around 40 minutes – unless you're stopping to fill your phone with stunning pics. And, once you're there, the sweeping cove is a playground for swimming, snorkelling and generally soaking up the scenic paradise in front of you. Rugged and a little out of the way, the closest car park is a 10 minute walk away. No beach bars, no facilities, but often popular. Get there early if you want a parking space.  
Eat vegan sushi … on an island chock full of seafood
When almost every plate on the island seems to come fully stacked with prawns, lobster, crab and plaice it's refreshing to discover one of the best restaurants in Menorca is plant-based. Slinging colourful platters of insta-ready sushi. These vegan slices of nori heaven at Venus Garden are just the kind of palate cleanser you'll be angling for around lunch time. Tucked away in the seaside town of Es Castell, you'll probably want to get your sushi to go and find a spot over looking one of the harbours to tuck in. 
Peer at megaliths in the Talaiotic villages
There's the opportunity to indulge in a little bit of dark tourism on Menorca. Dotted across the island, you'll find Talaiotic villages. Within the pre-historic settlements, there are burial chambers, funeral sites, a necropolis or two, plenty of megaliths and the preserved remains of the stone walls that made up the sites. Trepucó village is Menorca's largest Talaiotic village – though few of the buildings have been well preserved. I you'd rather drop in on a smaller, quieter site, Torretrencada or Torralba d'en Salort deliver on megaliths and intriguing history.