A modern, thriving city with an ancient past, Sofia is an ideal weekend getaway for a number of reasons. From good public transport to a fairly walkable historic centre, and surrounding mountains and forests, there really isn't much you can't do in the vicinity of Bulgaria's capital. If you only have 2 days in Sofia it might all seem a bit daunting, but we've queued and ambled and stared at as many attractions as we could, all to make sure we can bring you the ultimate guide for a weekend in Sofia.  
Day 1
Start off in the centre of town with breakfast at Floret Restaurant and Bar, located right next to Sofia University in the historic centre of the city. A gorgeous spot in remarkable surroundings, they offer light breakfasts and, if you really want to get into holiday mode, cocktails to go along with it. Although a bit pricey, you do pay for the incredible location as well as high quality food.  
Once you're feeling full, make the short walk northwest to Serdika Station. Although the station itself isn't really an attraction, it does mark the heart of old Sofia, and nearby are plenty of iconic places to view (and even ancient ruins to discover). Right next to the station lie the ruins of the Eastern Gate that once marked the entrance to the Bulgarian capital – the last time the wall was repaired was 6AD, so it's been standing like that for centuries. 
From the station you can head to the Church of St George Rotunda, a 4th century red-brick rotunda considered the oldest building in modern Sofia. There are multiple frescoes from the Middle Ages in the church, recently discovered after it was reconverted back into a Christian building after running as a mosque during the Ottoman Empire. Behind the church are a selection of other Roman ruins, including streets with drainage and several smaller buildings, making this one of the best places to visit in Sofia if you're a history lover. 
Carrying on the historical theme, you should then head to the Sofia History Museum. Spend an hour or so walking around this free museum and taking in the various facts about Bulgarian history, complete with excellent exhibits. Located in the former Central Mineral Bathhouse, the museum takes you on a journey from Sofia's Neolithic history to the 1940s. Once finished there, it's worth going to see is Banya Bashi Masjid, a 16th century mosque that's just the other side of Park Tesntralna Banya. The large mosque is close to Sofia Synagogue and a couple of imposing churches, emblematic of the varied religious and cultural influences that make up this city. 
After all this sightseeing you'll likely be a little hungry, so head to Cosmos restaurant to get a taste of local food with intriguing twists. Although high quality and varied, the dishes are relatively inexpensive, and service is incredible. It's haute cuisine without the associated price tag.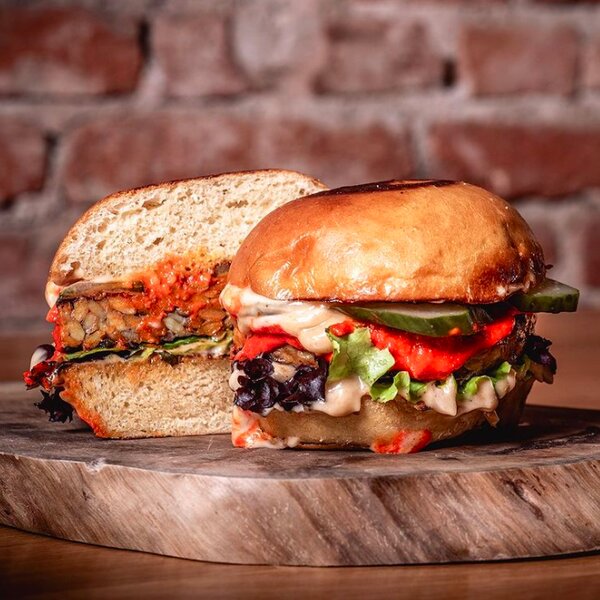 After being fed and watered, make the short walk via City Gardens to Alexander Nevsky Cathedral, one of the architectural jewels in the Sofian crown. A must visit if you have 2 days in Sofia, or any amount of time in Sofia really, the massive Orthodox church shimmers with gold in the sun and is truly astounding to look at. A short walk from the imposing cathedral is the Ivan Vazov National Theatre, a century old theatre that faces the gorgeous City Park gardens. 
It should be late afternoon by this point, so the perfect time to take a short stroll southwest to Boris Gardens, the premier park in the city. You can spend an hour or two wandering through the paths that make up this vast green space, or even reading by the lake. There are also swimming baths and other sporting amenities if you're feeling active.  
After your walk in the park head back west to DaOrganic Restaurant, an arts space and vegetarian/vegan restaurant that delivers high quality local classics, vegetarianised. The venue itself is chic, and there's always something interesting going on – from exhibitions to live musical performances. Have a cocktail or two with dinner, then head back out into the centre of town to hit up some of the incredible Sofian nightlife. We recommend Hambara, a hidden bar that was once only open to higher ups in the Communist party and now is mostly frequented by artists and musicians.
Day 2
Start the day right with a big, early breakfast at Salted Cafe. This small venue serves healthy, tasty, and cheap food, alongside strong coffee, all in a wonderfully cosy little space. From there, spend half an hour or so wandering around the Women's Market, a historic open-air market that's been running since the 1800s.  
If the weather is good, you should try hiking up Vitosha mountain on the city outskirts. You can either head to Sofia Zoo and jump on a 122 or E123 bus until you reach the last stop, Aerial Lift Simeonovo. You can also jump on the M2 line from Serdika (blue) towards Vitosha station and get off at the end of the line, from where you can take the 122 bus from outside the Paradise Centre shopping mall until you reach Aerial Lift Simeonovo. From here you can get the gondola up Vitosha mountain to Aleko Hut, and either take in the views from there or hike to the summit. If the weather isn't great for climbing, the zoo itself is worth a visit.  
After your trek or zoo visit, head back into the centre of town for a Balkan Bites tour; without a doubt one of the best things to do in Sofia, especially if you only have two days in the capital. The tour itself is free (you only pay for food) and doesn't require a reservation, although it is recommended. It lasts around three hours and takes in multiple restaurants, spanning different types of cuisine, but with a focus on local. Skaptoburger is a firm favourite that you'll pass through, known around the city for its juicy, delicious burgers. 
After your gut-busting tour, wander around the centre of the city and take in some of the other architectural wonders you might have missed the previous day, including the National Assembly (Parliament building), the Royal Garden, and the Amphitheatre of Serdika.  
As evening falls head to Cabana Rooftop Beach bar for class cocktails and a few nibbles. The nights last until sunrise here, so if you want to let loose it's the perfect place to do so, but if you're just keen for a relaxing late evening drink with a view it's also ideal for that – as long as you get out before around 1am.