Nature lovers have long seen Cancun as much more than the party city that it's garnered a reputation for, and for good reason. The Mexican Caribbean coast is home to some of the most stunning nature on Earth, with the marine life being particularly diverse and abundant. One of the most popular animals to see in their natural habitat is whale sharks; these majestic creatures flock to the coast around the seaside city on a regular basis, feeding off the plankton that inhabits the ocean here.
Many people make the trip to Cancun to get a chance to see the sharks in all their glory, and you could be one of them too. If you've always wanted to swim with whale sharks in Cancun (or just go whale shark watching) then read on, because we've got all the information you'll need on where to see them in all their glory.
Timing
August is without a doubt the best time to see whale sharks, as this is when they tend to congregate in the sliver of sea between Cancun and Isla Mujeres. Many people also swear that they are more likely to come out on the full moon due to the spawning cycles of the plankton that they eat, but this remains a contentious point, and if you are going during August then it won't really matter as the sharks will likely be out anyway.
If you can't make August, the sharks are usually quite active in June and July too, so you should aim for then. Most reputable whale shark tours will only sell trips from late May until early September anyway, and the best ones will give you the chance to come again during your holiday if you don't get to see any, so make sure to make this one of the first activities that you do on the off chance you need to reschedule.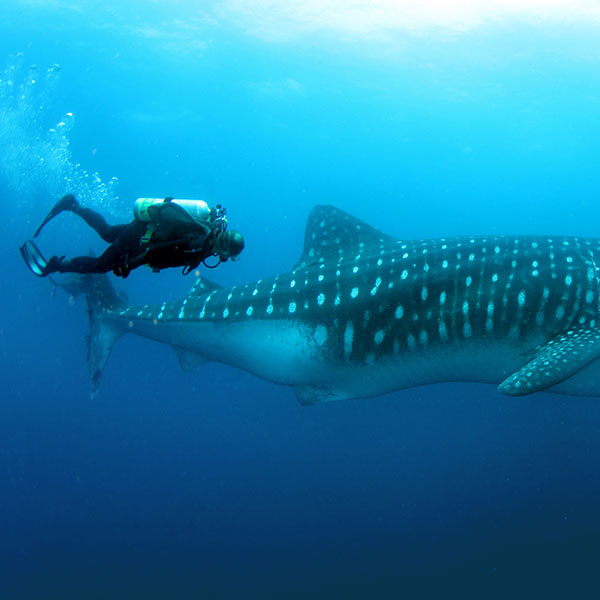 Location
The area around Isla Mujeres is the best place to see the sharks, although you can also see them around the island of Holbox; however, with the latter the water tends to be a bit murkier and the boat ride is a lot longer, and usually quite uncomfortable for people who aren't used to being out at sea.
If you're really keen to go whale shark watching whilst in Cancun, you should locate yourself on Isla Mujeres for a night so that you can head out early, before hundreds of boats from the mainland come out to see the sharks.
This means you'll have more time to watch their natural behaviour, as well as have a chance to swim with whale sharks without dozens of other people around.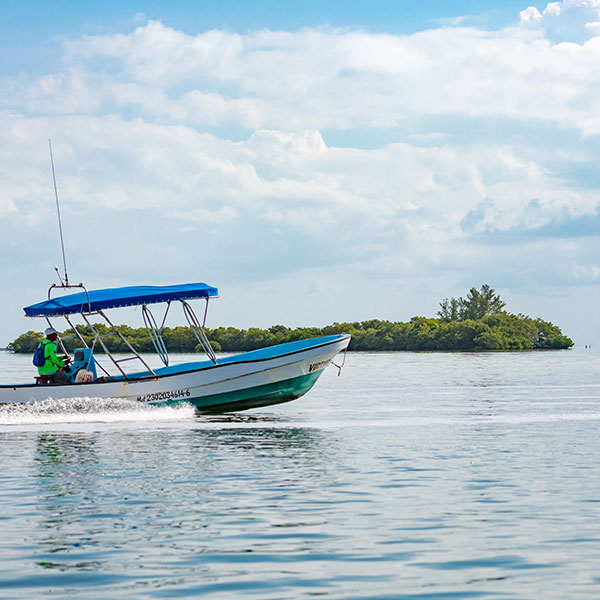 Tours
Cancun whale shark tours are a dime a dozen, but there are definitely superior options. Not all tour operators are scrupulous types, with some engaging in damaging and unsafe practices. Legitimate Cancun whale shark tours will only allow two members of the tour to swim with the whale sharks at one time and will be incredibly strict about engaging with them.
Although the sharks are naturally curious and highly unlikely to cause damage, it's better that humans don't touch them for the sake of safety; after all, in the very small likelihood something goes wrong, you're a long way from being able to get medical help.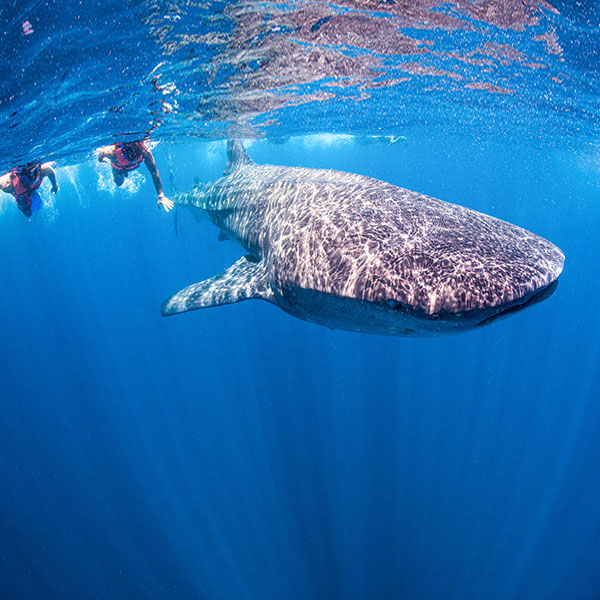 Single day tours are the most accessible, but these can also be the most unsustainable as they focus more on the volume of tourists than the experience. However, that's not to say there aren't excellent single day tours out there, just that if swimming with whale sharks in Cancun is going to be a personal highlight of your trip, you should probably go for a more comprehensive tour. Some of our favourite companies to use can be found below.
An eco-friendly tour that lets you swim alongside the whale sharks, this day tour operator is based on Isla Mujeres, and the tour includes breakfast and lunch.
The total cost of the tour is MXN 5,000 (GBP 175). Wet suits can also be rented for an additional MXN 220 (GBP 8). More expensive private tours are also available, if you're really looking for that wow factor.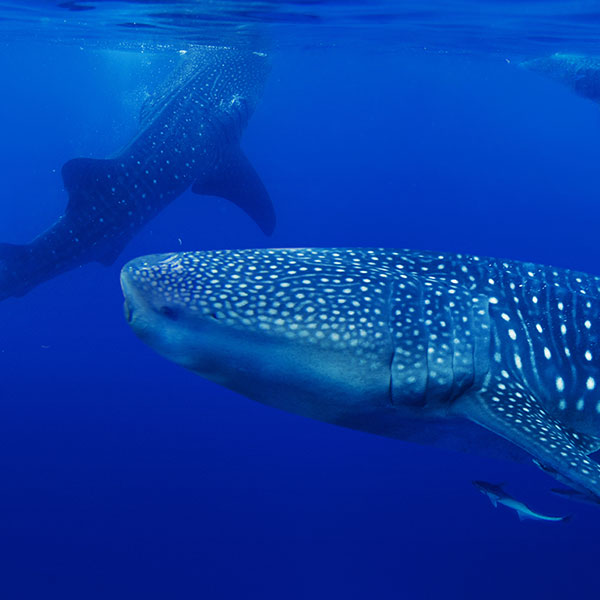 Sustainability is the key for this Cancun adjacent whale shark tour. Also located on Isla Mujeres, they run tours from late May until early September, allowing you to swim with the animals or just whale shark watch if you don't want to get in. They also offer fresh fruit and other snacks on board, as well as a lunch of ceviche, to be served to you whilst you're docked near a reef.
Tours are a maximum of ten guests, cost MXN 3,300 (GBP 114), and their fully licensed divers not only offer tips on how best to engage with the shark, but also know plenty of fast facts about the animals to keep you entertained.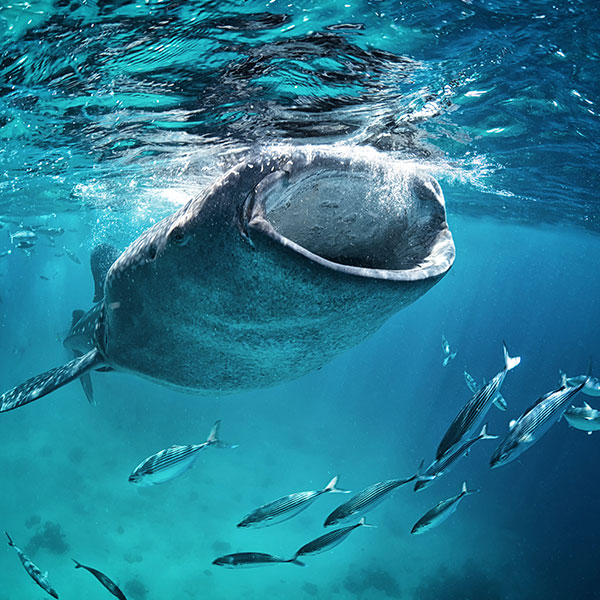 This Cancun whale shark tour is one of the most reputable and convenient in the area, picking up budding whale shark watchers as far away as Tulum. They're based in Cancun and trips leave from the port, but tend to get out much earlier than other operators coming from the mainland to make sure that you get enough time with the sharks. Like the other two tours food is provided, and the boats are the highest spec possible.
Moreover, they only allow up to ten people per boat, which means there'll be no sitting on top of each other. They also allow you to reschedule your trip easily if weather conditions are unfavourable, so you won't feel like you missed out.
It's MXN 3,500 (GBP 121) per person (plus an extra MXN 110/GBP 3.80 for entry to the marine park), or if you're in a larger group you can get a private tour for ten at MXN 3,200 (GBP 110) per person. If you're keen to swim with whale sharks in Cancun and don't want to leave the city for a night, this is one of your best options.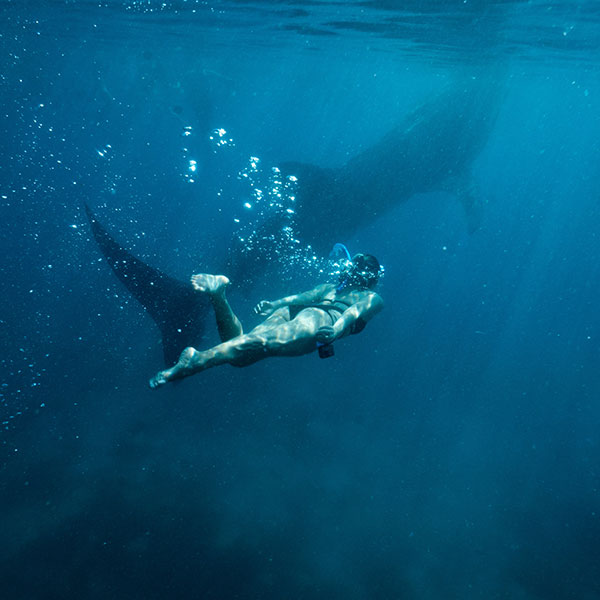 Want to find out more about exploring Cancun's underwater world? Our guide to scuba diving and snorkelling in Canun is a great read.
Ready to have a whale of a time? Download the Orbzii app today to Dream, Plan, and Book your aquamarine adventure today.