This island is hiding some decidedly tasty secrets on its paradise shores. The best restaurants in Fuerteventura are putting organic ingredients to the fore, sourcing locally where they can and generally filling their tables with good, wholesome food. Coastal cafes, village restaurants and fine dining – all battling for your tastebuds and equally deserving of your time. Cheap eats aren't hard to come by, but if you want to swerve the fries and full English and load up on green and red mojos instead? Take a look at our pick of Fuerteventura restaurants for the island's best eats. 
Breakfast
That's Amore
There's something delightfully basic about That's Amore. It's the kind of cafe that's happy to crack open a croissant and sling some Nutella in for you. Or perhaps drop a couple of pieces of white sliced into their commercial toaster and cover them in Nutella too – with some sliced banana for added pizazz. Not into Nutella? No problem. There's a menu full of toastie options, a full English (naturally) a Fuerteventura breakfast and omelettes, muesli and pancakes. The thing with holiday breakfasts is, often, you just want some fuel to get you on your way to Fuerteventura's beaches or a road trip around the island. Here, service is quick and you won't be tempted to while away hours of the day over brunch. Simple, and the coffee's pretty amazing too.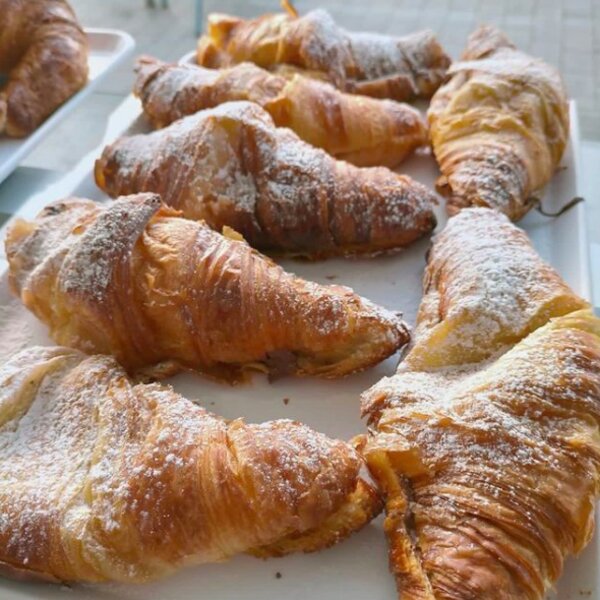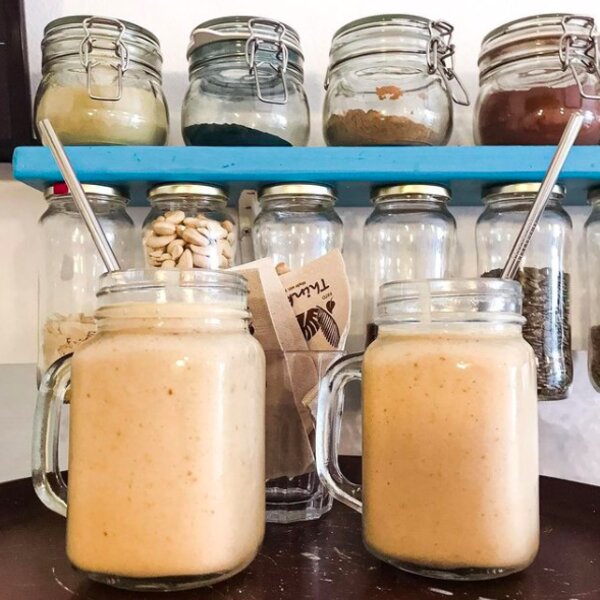 H2O Juice Bar
Look, we know that juices, chia pudding and smoothie bowls can be a tough sell at breakfast. But in the sea of Fuerteventura's hotel buffets and full English feasts, H2O Juice Bar stands out. For all the right reasons. Yes, it's a fully vegan place with enough immune system boosting ingredients to go toe to toe with Holland & Barrett, but it's also one of the best restaurants in Fuerteventura. Alongside the wholesome fare in their Corralejo cafe, there's a rather tempting line in homemade pastries and muffins. Prices are low. Plus, you can sneak in a few of your 5 a day and not feel too guilty when you hit the fries and calories later. What's not to like? 
Lunch
La Falúa
Driving out to La Falúa in La Lajita should be on your list of things to do in Fuerteventura. Though, this isn't a casual spot to grab a sandwich and hit the beach. Fine dining at reasonable prices would be the pigeon hole to pop this one in. A glance at the menu and first impressions could leave you underwhelmed. Pork cheeks and goat stew certainly aren't hard to come by on this island. And then you start to delve in. Fried goat's cheese and cactus marmalade? Table for two please! La Falúa's gourmet steak burger is the stuff of legend and the confit duck, chorizo and pea puree is a classic flavour medley done well. The fact they use organic, locally sourced and sustainable ingredients just adds a couple of bonus points to this high scoring hotspot.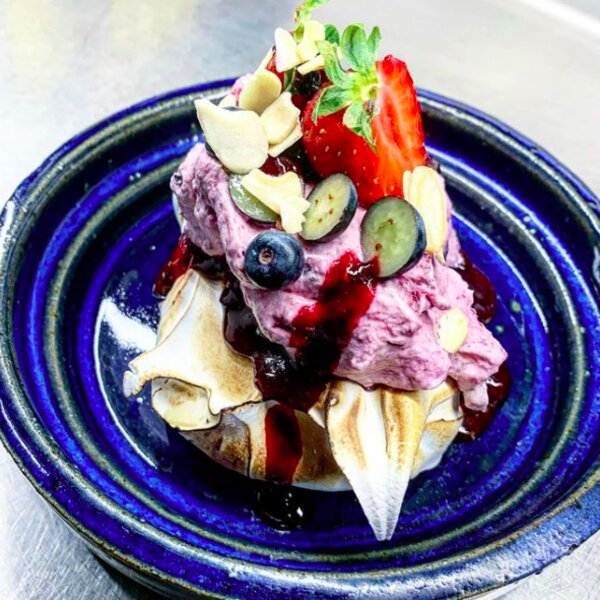 Orbzii tip: La Falúa isn't quite on the sea front, but if you grab a seat on the outdoor terrace, you might just catch a peek of the nearby ocean.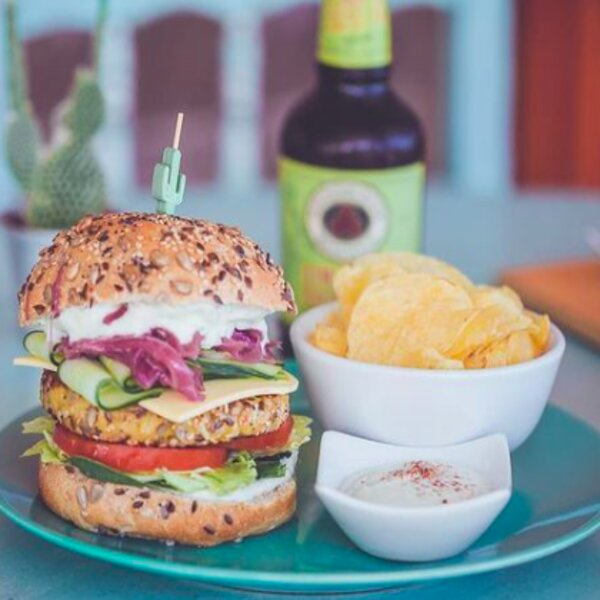 Happy Cactus
Pop your shades on and step into the bright and colourful world of Happy Cactus. An El Cotillo space of instajoy, organic and vegan goodies. Part shop, part cafe this upbeat joint is just a skip and a hop away from the beach. Plant-based or plant-curious eaters can expect a small but delicious menu of burgers, salads, a pasta dish of the day and a wholesome bowl. The limited range is nicely backed up with smoothies, cakes, coffee and the usual cafe sundries. Ideal for grabbing a lunch on the go as you explore El Cotillo, taking a picnic to the beach or grabbing some essentials for a little self-catering cook up. 
Dinner
Mahoh
So far, the restaurants we've featured have only included a couple of nods to local recipes on their menu. A few servings of Canarian potatoes here and there doesn't quite cut it for us. So for the real Canary Island deal, drop into the rural and rustic Mahoh in Villaverde. In their airy and spacious farmhouse setting, the chefs are serving up some classic traditional dishes. The braised octopus with smokey sweet potato is a good place to start, with the 'Mahoh style rabbit' adding the restaurant's house style to an island favourite ingredient. Wines are local, service is good and, despite the restaurant's size it all feels almost homely.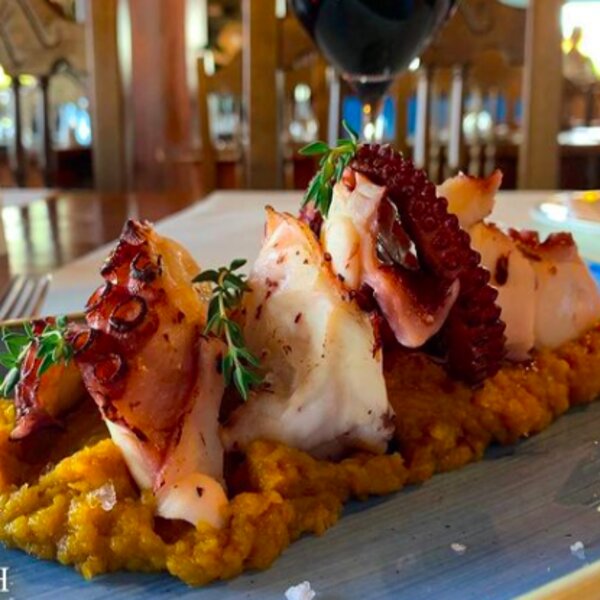 Orbzii tip: Wreckfish appears on the menu a couple of times at Mahoh. Also known as stone bass, it's easily confused with sea bass, but tends to be much larger.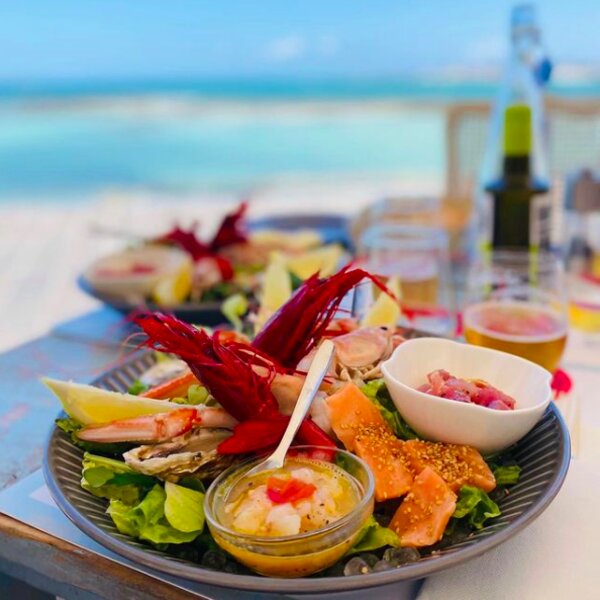 Mi Casa
Another dinner, and another chance to experience real Canarian food. Though, at Mi Casa, the menu comes with a Fusion twist and a sea view. First, let's delve into this fusion business. Happily, at Mi Casa, there's nothing too avant garde at play. The inspo is mostly Mediterranean, which merges nicely with the Spanish island vibes and local produce. Asian spices are drafted in on occasion – but only where it makes sense. Hello tuna tartare with wasabi mayonnaise! Fusion fears dealt with, on to the sea views. Well, they are nothing short of glorious. Proud of having some of the best views in Corralejo, a table here parks you front and centre of turquoise waters, and gently lapping waves. Stay until dark and you'll see the twinkling lights of the nearby harbour. 
Special Mention: La Barraca
If you're looking for a no frills kind of place that doesn't charge a premium for a beach front location, try La Barraca. It's been championed for years by locals and visitors alike for its very back to basics aesthetic, menu and low prices. The beach won't be the prettiest you'll see on the island – but the fresh seafood and simple stylings make this an easy spot to drop in on at lunch. Though, you may want to book if you're looking for a prime table right by the sea.