The best restaurants in Jersey really should come with a health warning. Embracing the devil may care attitude to calories that's often adopted by their French neighbours, food stops here are determined to widen your waistline before you leave. Good and hearty British grub is easy to track down, but there's international flavours in the mix if you've eaten more Eton Mess than you'd care to admit to. Gallic influences stray into recipes here and there, but the best meals make use of local produce. Expect oysters, Jersey Royals and enough dairy to almost put you on the lactose intolerance spectrum.  
Breakfast
Plémont Beach Cafe - Saint Ouen
Start the day as you mean to go on at Plémont Beach Cafe. Here, you don't just look at sea views, your table is virtually parked on one of the best beaches in Jersey. Nicely stacked into the cliff, this cafe trots out the favourites you'd expect. Their belly-busting big breakfast will set you up for hiking the cliff path or – after a suitable rest, a swim in the ocean that waits just metres away. Waffles, smashed avo on toast (complete with halloumi and eggs) and a slab of carrot cake leave little room for anything approaching healthy. But that's Jersey for you. Just be thankful very little on the menu's been slathered in clotted cream.  
Orbzii tip: This cafe's a seasonal spot that usually opens from March through to October. Do check they're open before heading up to Saint Ouen. 
Samphire - St Helier
Post yourself through the chic doors at Samphire and let them take good care of your breakfast needs. Especially if your demands stretch to a Bloody Mary and a platter of oysters. Not the obvious way to start the day, but here we are. For something that tends to your sweeter tastebuds, Samphire's waffles hit all the right carby notes, with a splash of maple syrup. Waffle purists will stop there, but foodie risk takers can layer on berries and mascarpone, bacon or – if you're feeling truly decadent, chocolate fudge. Then we hit the egg menu. Here, perfectly poached and plump eggs sit on sourdough crumpets waiting to be crowned with hollandaise – of course, but perhaps bacon, spinach or salmon too.  
Orbzii tip: The vegan ras el hanout chickpeas gets rather lost in the menu, but it's nice to see a decidedly daring plant–based option feature at all.  
Lunch
The Look Out - St Helier
There's no shame in falling for a little style over substance at lunchtime. It's those darn sea views, they get you every time. Thankfully, at The Look Out, no such compromise needs to be made. The menu will satisfy everyone who walks through the door. Light lunch seekers can look out over the ocean with a sandwich stuffed with local crab, reassuringly only available in season. Toasties are pleasingly simple substitutes when the shellfish needs to stay in the sea, and creative salads and brunch favourites then bridge the gap to chunky burgers that slide irresistibly between a brioche and towards your appetite. With thoughtful modifications of existing dishes, vegans will feel more than welcome to pull up a chair – and a hearty plate. 
Elsewhere, Moules mariniere and tempura battered cod gently remind you that you're right beside the sea, while never once treading the tacky, seaside cafe line. Perky pastels indoors might tempt you to eat inside, but when the sun's out, al fresco yourself silly. The views over the bay are best served with a slight sea breeze. 
Sumas - Gorey
If burgers, fries and batter don't set your foodie fires alight, book a lunch at Sumas instead. You're in for a gourmet treat, that just so happens to have dazzling views over the marina. Do keep in mind you can't make a midday booking every day here though. And, you'll want to secure a seat on the terrace for the best views. Thursday to Saturday, there's no other way to describe the Sumas lunch/brunch menu, than 'daring'. Popping a piece of confit duck atop a potato waffle – along with maple syrup and an egg, ranks right up there with pineapple on pizza. Divisive, glorious, if done right, and memorable it's a dish that begs to be tried. Or, there's the safer French toast route for those that can't quite hop over the foodie line on the waffle duck combo. 
The Bloody Mary menu is a welcome treat for those that like that drink 'just so'. For the rest of us, cocktails, fizz and juices are all lovely lunch companions. 
Dinner
La Capannina - St Helier
They really don't make 'em like they used to. Which is why you need to book a table at La Capannina – possibly even before you've booked any transport or Jersey accommodation. Yes, the food sees this restaurant listed among the best restaurants in Jersey on the regular. But you're here for a trot back in time. You'll be sat expectantly at crisp white tablecloths, with decor from a decade you can't quite place. It just misses the mark of being timeless – but comes with bucketloads of charm. Most of it supplied by 90 year old owner and restauranteur, Tino Rossi. He's been serving up his best silver service, and silver-tongued patter, here for decades. And it shows. In THE best possible way. Whether the ambience woos you or the joy of seeing a prawn cocktail sitting proudly on the starter menu, nothing quite prepares you for the sharp thrill of seeing La Capannina's dessert trolley in the wild. A rare sight indeed.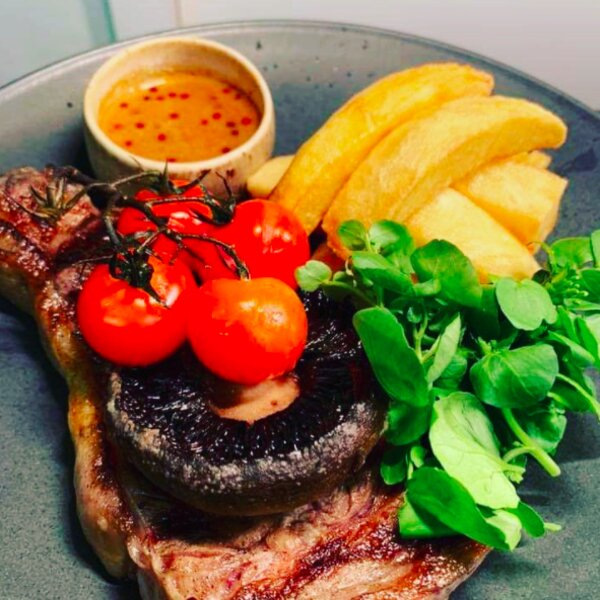 The Rozel Pub - Rozel Bay
There really is no shortage of upscale restaurants in Jersey. We can thank the well-heeled islanders for that later, but first, book a dinner at the Rozel Pub. Just the kind of cosy nook to seek solace in, especially when you're yearning for a little home-cooked action far from home. And, you're in safe hands here. Great British pub classics cooked just how you like them – with just enough pizazz to remind you that you're on holiday. Dress down, tuck in and note the fusion Franglais that surely must have a hint of culinary mischief about it. They've deep-fried their Brie, and slathered creamy mushrooms over toasted Brioche. Delicious, but across the water, French chefs will be dizzy from rolling their eyes at this distinctly British menu. There's sticky toffee pudding and Eton Mess for pud. If that alone doesn't see you coming back the Rozel for seconds, nothing will.