Greek people love good food, good wine, and good friends, so it's no surprise that eating out in Kefalonia is one of the major pleasures of a trip to this Ionian island. Although most places serve up traditional Greek fare, the high numbers of international visitors to the landmass means there's plenty of top-quality international cuisine on offer too. With that said, most would agree the best restaurants in Kefalonia are generally where you can order mountains of feta, indulge in crispy spanakopita, and sip on local wines. If you're ready to eat your way around this slice of paradise then look no further: here's Orbzii's ultimate guide to breakfast, lunch, and dinner in Kefalonia. 
Breakfast
Cinnamon Café
If you're based in the capital Argostoli and want a convenient breakfast spot that delivers consistently good food, the Cinnamon Café should be on your list of Kefalonia restaurants to visit. There are sweet and savoury treats to go alongside sandwiches and other light fare, as well as coffees and teas to sip on while you watch the world go by. When you factor in the charming staff and family-friendly factor, it's easy to fall into a routine of visiting here every morning for a pick-me-up, a little indulgence, or a big meal to fuel the rest of your day. One of our favourites is the Nutella croissant: simple, effective, and easily scoffed down in two or three bites.  
Fior D'amore
There can't be any better way to start the day than a delicious meal while warm morning sun pours onto you. If that sounds like a dream meal, then you must take a trip to Fior D'amore in Agia Efimia. They have a wide variety of breakfast options, with fresh juices and pastries perfect for those wanting something light. However, if you're preparing for a day bursting with activities and want to fill yourself up, then you're in luck too: the toast, bacon, and eggs is all locally grown and sourced food, transforming the simple meal into something unmissable. Also unmissable is the view; Fior D'amore is right on the harbour, and even if it didn't serve up incredible food the seaside scenery would make it one of the best restaurants in Kefalonia. 
Lunch
Captain Nikolas Taverna
Perched on the edge of Vasta Beach, this rustic, family-run restaurant is the definition of farm to table, with many of the ingredients growing in the eyeline of the tables. Despite these idyllic surroundings, the prices are incredibly affordable too, making Captain Nikolas Taverna the ideal spot to lounge in for a long, Mediterranean lunch.  
Despite its authentic nature, the restaurant doesn't just rely on meat-heavy dishes like many other Greek spots. They cater for vegetarians and even vegans, as well as other dietary requirements. Because everything is fresh and made on-site, they can easily customise dishes for whatever your needs. That's why it's also the ideal place for families: not only are they happy to make substitutions for the little ones, but there' s plenty of space for them to run around and play in. 
With that all said, the seafood here is unforgettable, especially whatever the catch of the day is, usually served simply to enhance its wonderful natural flavour profile. Add in the attentive, friendly staff, the picturesque surroundings, and the wonderful atmosphere, and you'll see why Captain Nikolas Taverna is considered one of the best places to eat out in Kefalonia. 
Sto Psito
Sto Psito has been leaving visitors to Lassi satisfied for over three decades now. Thriving for so long in such a tourist hotspot is enough of a measure of the quality of this Kefalonia restaurant, but you need to come for lunch (or dinner) to truly comprehend just how unbelievable the eating experience is at this restaurant.  
The meal always starts off well as diners are greeted by a sweeping sea view. The restaurant has both indoor and outdoor sections, with the latter covered so you aren't under the baking sun. The waitstaff are attentive but not hovering, adding to the relaxed atmosphere. Most importantly, the food is second-to-none. The Fish Soup is a rich, moreish starter that changes depending on what's been caught, but for your opening course you can also indulge in flaky mini-pastries. 
For your main dish any seafood dish is predictably tasty, but we'd recommend the Kefalonian Rabbit or the  Roasted Pork Belly, the latter of which has delightfully crisped skin and mouth-wateringly succulent flesh.  
Elli's Restaurant
Nestled right on the shore in the sleepy fishing village of Fiskardo, Elli's is a Kefalonia institution that delivers time and time again. Service isn't rapid thanks to every appetiser and main course being made on request, but you won't want it to be as you'll likely be more focused on taking in the shimmering blue hues of the Ionian Sea while you sip on a glass of chilled local wine.  
Even the pre-meal snacks here are another level of class. The olive oil is practically still warm from extraction, and the bread is light but flavourful. Given its location, you'd be mistaken not to give the seafood a try. The grilled prawns are a particular highlight, bursting with freshness and flavour. 
Dinner
Il Borgo
Il Borgo sits in the shadow of the Castle of Saint George and has unparalleled, panoramic mountain views that sweep over lush greenery and quaint towns, making it the ideal spot for a sunset dinner. Even going up the winding mountain path to reach it is an adventure. Yet, that isn't the reason it's considered one of the best restaurants in Kefalonia: that would be its excellent, locally sourced menu. 
The seeming simplicity of the dishes on offer shouldn't fool you as to the sheer quality of this spot. Fresh ingredients mean that even dishes as uncomplicated as Pork Fillets with mustard and caramelised onion are elevated to another level, and the fact Il Borgo has been in the same hands for so long gives it a real family atmosphere.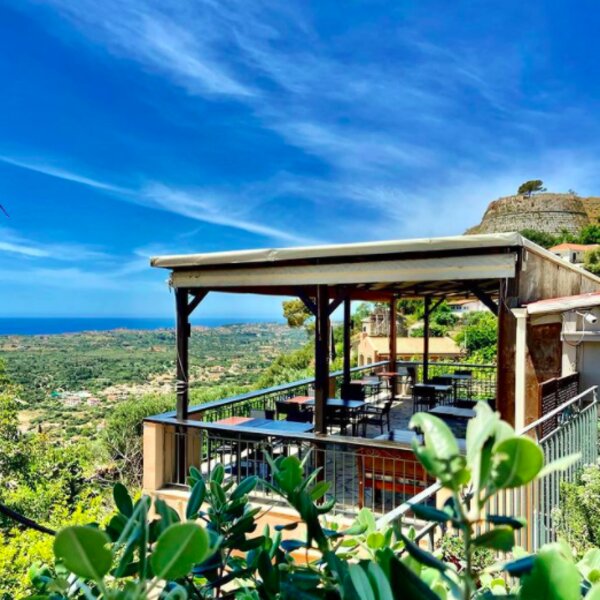 Don't worry about indulging too much either: at the end of the meal you're treated to a glass of Mastika to help it all go down.  
Casa Grec
In a quiet street in Argostolion lies Casa Grec, a hidden treasure among the dozens of great eateries in Kefalonia's capital. Although it might not have the stunning views of other places on this list, it more than makes up for it with passionate, knowledgeable staff who just want to show you the very best of local cuisine. Both red and white meat dishes here are cooked to perfection, with the Traditional Ribs a particularly succulent highlight. Even the house wine is of a supremely high quality. Yet, despite the excellent mains, friendly and intimate atmosphere, and delectable desserts on offer, it remains relatively inexpensive. A must-visit for any food lover.