Send a warning to your waistline, Krakow restaurants rarely hold back on calories. Pretty standard stuff, but in this city, there's a restaurant devoted to dipping almost everything in goose fat. Elsewhere pork chops are stuffed with butter, before being batter-coated and deep-fried. Carby dumplings are stuffed full of meats, cheeses – and occasionally a vegetable or two. Which is about the only hint of moderation you'll find. There is a healthy beacon of light shining from one of our picks of the best restaurants in Krakow, but their central offering revolves around cakes and doughnuts. Krakow really does love to eat… 
Breakfast
Cakester Cafe
Imagine for a moment, a world where cakes are healthy. Free from refined sugar and perhaps dairy free, gluten free – and vegan, depending on your preference. The stuff of dreams, right? Yes, but Cakester Cafe have made those sweet, sweet fantasies reality with their menu stuffed with guilt-free options. Serving doughnuts, waffles, pancakes, tarts, bakes and more from their candy-striped slice of Krakow's Old Town, all the menu is gluten free and all devilishly moreish. The bakes are reassuringly shored up with great coffee – which is where it really all could fall apart. Your eye might drift over to the savoury options which pair with toast, pancakes and pierogis, but the cakes are the real stars here.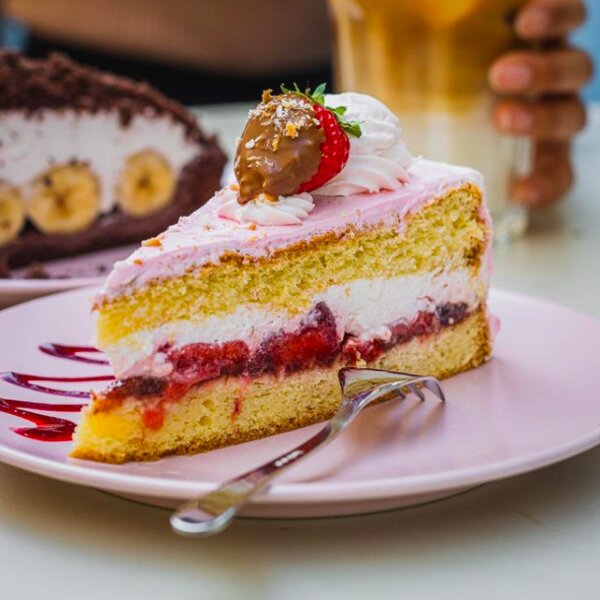 Forum Przestrzenie
If the nooks and crannies of the Old Town feel a little restrictive, sprawl out near the Vistula River instead. Forum Przestrzenie have taken over an abandoned hotel to create one of the best restaurants in Krakow for breakfast (or lunch or dinner). A field of deckchairs await, from which you can enjoy river views as you tuck into a menu that covers all the bases. If you can't face more than coffee and toast, toppings here range from banana to bacon with homemade jam creeping into the mix. Level up your toast with a croque monsieur or madame or feast on the vegan full English. Eggs come in too many ways to list, but hello Eggs Benny. Croissants come with whipped cream and there's a couple of Polish breakfast favourites stacked up here too. Describing itself as a club-cafe, the vibes incredibly hip. Hang out, make friends or just enjoy the creative vibes. 
Orbzii tip: We've plumped for brekkie here, but do pop back in the evening. It's a cracking Krakow nightlife spot that cycles through an ever-changing calendar of events. 
Lunch
Pierogarnia Krakowiacy
Polish cooks have been rustling up pierogis since the 13th century, so they've had plenty of time to perfect these steamy pockets of joy. Rightfully celebrated in Krakow, they've got their own summer festival. But if you're not here in August, find your way to Pierogarnia Krakowiacy to pair pierogis with their Polish vodka. The gorgeous little dumplings come with sweet or savoury fillings that range from the classic pork option to potatoes, cottage cheese and onion – or mushroom and cabbage for vegans. You might feel like the cherry and marscapone or mozzarella and sun–dried tomato options feel a little too 20th century to be anything close to the recipes from days of yore. But, there are more than enough rustic elements to contend with here. Whether it's the gingham accents from the table cloth or the yoke and plough on the walls, you're left in no doubt these pierogis have some history to them. 
Orbzii tip: Pierogarnia Krakowiacy have four Krakow restaurants. Find them on Westerplatte, Szewska, Floriańska and Sławkowska – at the northern end of the Old Town. 
Smak Ukraiński
Nothing jolts you out of a dreamy amble across the cobbles more than a seat at a minimalist table with a barista frothing up a latte in the background. Thankfully, Smak Ukraiński's tenement house – and softly lit cellars – feel more like an immersive experience than a quick bite for lunch. You're here for the food, of course, but a peek into a Krakow home is all part of the deal. And the food? Hearty Ukrainian recipes handed down through the generations and delivered straight to your plate. Expect steaming bowls of borscht, traditional Zarke (a rich beef goulash) and Ukrainian pierogis. Their standout dish is the Kiev-style pork chop. Where the chop is filled with herby butter, dipped in batter and deep fried. Follow it with the cheesecakes fried in butter and you might well need a brief stint in a health farm to recover. Worth the calories though.
Dinner
Kuchnia Polska Gaska
If travel is about discovering and celebrating the unique and quirky destinations you won't find elsewhere, Kuchnia Polska Gaska takes the crown when it comes to Krakow restaurants. Their kitchen is besotted with goose. Literally translated as Polish Goose Kitchen, you'll find almost everything on the menu has been touched by the revered ingredient in some way. Goose broth, pulled goose, dumplings stuffed with goose, goose salad – you get the idea. Then your eyes land on the potato pancakes, but even this traditional dish – favoured by Polish peasants from days gone by – hasn't been spared a dunk in hot goose fat. The only course not goose-based? Dessert, though you have to wonder whether they've popped a little goose fat in the apple pie pastry…
The reason for the obsession? Goose meat and fat dates back centuries in Polish cuisine. Traditional, delicious and different. The classic triple restaurant threat. 
Bottiglieria 1881
So far, we've leaned rather heavily into the rustic end of the Krakow food scene. Time then for the city's only Michelin-starred address to shine. Head to Bottiglieria 1881 for dinner and there's only one choice – the tasting menu. A thirteen course romp through the flavours and stellar creations from chef Przemysław Klima. He's Poland's youngest chef to pick up a star, with his recipes gaining the coveted nod from Michelin in record time. Klima's flavours celebrate Polish and Norwegian ingredients. Though adding a Scandi touch to flavour-packed morsels does occasionally mean you'll find some pine needles adorning your plate. Imaginative and artistic, it's a world away from the heft of the cheese-laden zapiekankis you'll find on the street food kiosks in Plac Nowy. The street will always have less impact on your travel budget. But for £70? Klima's menu feels like a steal at these prices.