With all sorts of incredible venues dishing out cuisine from all corners of the world, a Sharm el-Sheikh getaway isn't just ideal for sunseekers, but is also the perfect place to take your tastebuds exploring. Whether you're looking for a great morning coffee spot or a high-end restaurant for a special evening the coastal city has you covered, but even among all the culinary highlights there are some spots that we think shine brighter than the rest. If you're the type of person who plans their meals months in advance, or just want to see what the best of what the resorts and restaurants of Sharm el-Sheikh have to offer, read ahead for our guide to breakfast, lunch, and dinner in the city.
Breakfast
La Fleur
Situated in the Maritim Resort in the heart of Naama Bay, one of Sharm el-Sheikh's most popular neighbourhoods, this venue is usually buzzing at all hours, but you shouldn't have to wait too long for a table in the mornings, if at all. The staff are wonderfully attentive, and the surroundings refined – there is a smart casual dress code too, although this is somewhat relaxed during the breakfast hours when this French spot is at its best. There are fresh fruits and heartier favourites to try, or you can stuff yourself with airy bread and an untold number of pastries – the selection is wide and everything is tasty. You can wash the meal down with some of the best coffee in Egypt or sample the wide selections of teas that are available. There's no better way to start a day than with some of the best food in Sharm el-Sheikh at this great venue. 
Coffee Tree
What's better than a tasty, cooked breakfast at reasonable prices? Follow it with freshly baked pastries and fresh juices until you're so stuffed even an Egyptian grandma wouldn't offer you more food – all of which you can do at Coffee Tree, a charming little café right in Sharm's busy centre. As you can guess from the name, the coffee here is top notch, and the quality is matched by everything else on the menu. The gut busting Full English is a classic, but the lighter, more refined dishes pack just as much of a flavour punch, meaning no matter what you're in the mood for you're sure to have a delectable experience. One of the best Sharm el-Sheikh restaurants for the morning meal. 
Lunch
On Deck
Perched on a floating platform on the water, On Deck takes the phrase 'meal with a view' to new heights. The surroundings are beyond idyllic, with the Red Sea lapping at the sides of the deck on which the restaurant sits, making it the perfect place to spend a lazy afternoon over a bottle of wine and nibbles. With that said, it's not just the view that makes a visit to On Deck worth it; the food matches the beautiful scenescapes, and the staff are both friendly and knowledgeable about the dishes, able to make sure you get the best culinary experience possible. The cuisine is a focus on Egyptian and Mediterranean plates, with everything from crispy, airy falafel to grilled lamb chops, as well as a variety of lighter, healthier dishes. Really, when it comes to quality and the overall experience, there's no better Sharm el-Sheikh restaurant for a long, lazy lunch.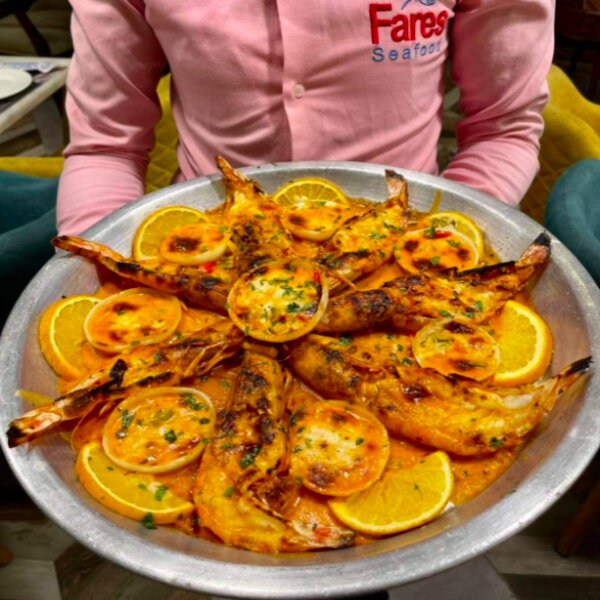 Fares Seafood (Old Market)
A Sharm el-Sheikh institution, Fares Seafood now has two venues in the Old Market, and both are equally delightful. Fresh, quality ingredients mean an unbeatable culinary experience, and Fares serves up some of the best shellfish in this coastal city that's known for its seafood delights. The fish is well priced, and the staff are exceedingly helpful if you're the sort of diner who likes to learn about their food. The bustling atmosphere has a bit of a chaotic energy at times, especially in the lunch rush, but that just adds to the rag-tag charm of this place, where the food is anything but cobbled together. If you love seafood, then this venue is a must-visit. 
Dinner
Arab Bucks
Late evenings are when this buzzing, popular café is at its best. Known for their incredibly friendly staff, variety of dishes, and its ability to happily cater to all kinds of diets, Arab Bucks is somewhat of a hospitality institution in the city. While some Sharm el-Sheikh restaurants look fancy but under-deliver on quality, it's the opposite at this quirky little spot, where you can get a great meal, delicious coffee, and classy cocktails for incredibly reasonable prices, in homely surroundings. And, as you'll see, it's busy every night of the week with locals and tourists alike – the sign of a truly great place. 
The dishes are a variety of local and international favourites, like pastas, seafood soups, and grilled meats. Arab Bucks is also a sports social hub thanks to its screens, making it the perfect place to make friends alongside your meal. Stop in for a meal or just a drink, but make sure you visit: the throngs who come here nightly do so for a reason. 
Rangoli
With sweeping ocean views to match the quality Indian food being produced by the kitchen, Rangoli is so much more than just one of the best restaurants in Sharm el-Sheikh. Located in the Movenpick Resort, this is the sort of venue you'd want to take someone special for an important evening. Get here as the sun descends over Sharm el-Sheikh and you'll be treated to panoramic views of a shimmering Naama Bay, all while enjoying a wine or cocktail to whet the appetite.  
Authentic recipes and Indian-trained chefs mean that the food here is about as good as you'll get outside of the subcontinent, and certainly the best Indian food in Sharm el-Sheikh.
The meat dishes are succulent and flavourful thanks to a focus on quality, local ingredients, but there's also plenty of options for other diners, including an expansive selection of vegetarian dishes. Without a doubt this is one of the best dinner spots in the city. 
Fairuz
This Lebanese restaurant really shows off the best of North African cuisine, delivering excellent service to match the moreish dishes, and all at incredibly reasonable prices. The staff are a delight, happy to explain dishes to you and even make suggestions if you're suffering from a choice overload. The ambience is relaxed but refined, and the drinks selection is unparalleled, but even so it's the menu that's the real star. The Stuffed Vine Leaves are our favourite, but it's a hard call to make. Eat like the locals do and order a variety to share among your group; you won't regret it.