Given everything else it has going on, it seems a little unfair that Corfu is also home to an excellent stable of cafes, bars and restaurants. It's not just the quality of the food that's great on the island: most places deliver fantastic service alongside stunning views to boot. Although there's obviously an abundance of great Greek places on the island, the international cuisine is also of a really high quality, especially when the food is from other European countries. Basically, if you're a lover of a good meal and good times, you're going to enjoy your Corfu eating experience. Whether you're heading out for breakfast, lunch, or dinner, we've collected the very best of Corfu dining establishments that will hit the spot.  
Breakfast
Starenio
Lovers of baked goods and traditional Greek pies will be in heaven at this small café. Open from around 8am, the staff at Starenio serve up coffee with smiles, delicious puffed up treats, and delectable morsels suitable for almost all dietary conditions and preferences, including some truly astounding vegan pies and pastries. They manage to do all of this without forcing you to break the bank. Helpful staff and an owner who wants to ensure you get the best out of your bakery experience really elevate this venue further and turn it from a bakery that has good eats into a pinnacle of Corfu food. 
Like many cafes and restaurants on this blessed isle, Starenio offer outside seating so you can indulge in breakfast in the sun. They're not too far off the coast, so your food is usually enjoyed with a nice sea breeze. All in all, breakfast here is a wonderful way to start your day, both in terms of taste and atmosphere.  
Panetteria
Cheap and cheerful yet selling refined pastries that you're certain could float because they're so airy, Panetteria delivers on everything you'd want from a morning snack spot. Aside from brewing some of the best coffee on the island, this underrated Corfu restaurant has lighter than air pastries (sweet and savoury) as well as a wide range of fantastic sandwiches for those who want something a little different. 
The café itself is a tad small, but this really only adds to the charm. Whilst you can eat in (or sit outside) and benefit from the friendly and highly professional service, you can also take food away and enjoy it in the nearby city square or on the beach. A must visit for breakfast in Corfu. 
Lunch
George and Elena's Taverna
Excellent service, stunning beach views, and the sort of delicious meal that makes you wish you had a bottomless stomach: this family run restaurant really does have everything you'd want from a Corfu restaurant. The staff are attentive without being suffocating, delivering that classic Greek charm alongside great wine recommendations and meal suggestions. The atmosphere of the restaurant is only topped by the fantastic food, and like many places on this list, a visit here won't break the bank. 
Although meat eaters will definitely appreciate this place (especially after trying literally anything off the grill), vegetarians and vegans will have a wide enough array of choices that they won't feel like they're missing out. George himself is usually heading up the service, and he takes a lot of pride in the restaurant that bears his name, so you know it'll be a good time.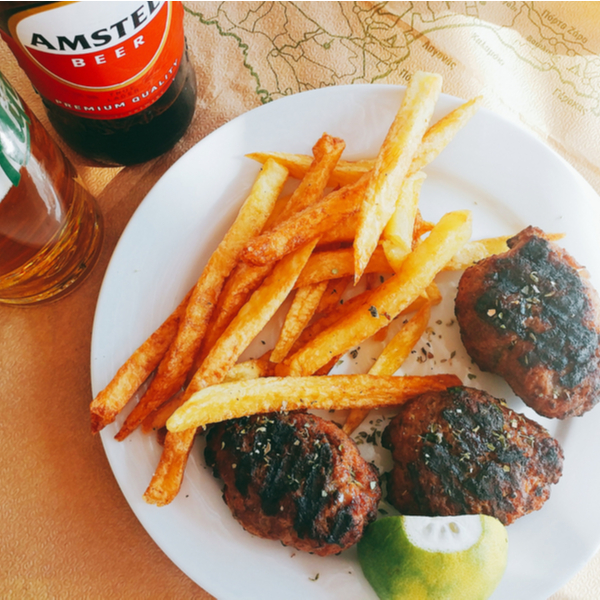 Guapo
Overlooking Kommeno Bay, this meat heavy joint has some of the best food on Corfu. The steaks are much vaunted, cooked to your personal perfection and ready to be devoured by even those with the highest standards when it comes to meat. The focus is mostly on the meatier side of Greek cuisine, although their feta is made from the traditional sheep's milk instead of the cheaper cow version that a lot of places use to cut costs, so you know they're all about the quality of ingredients. 
Aside from the great grub, the service is top notch and the views are to die for. What really makes Guapo stand out from neighbouring restaurants is how fresh the food is, the wonderful atmosphere, and the wide selection of wines, both Greek and international. If you're in the area, then it's definitely worth stopping off here for a meal. 
Dinner
7th Heaven Cafe
Situated on a clifftop on the North Western tip of the island, 7th Heaven Café is an aesthete's paradise. Serving up the very best of Corfu food alongside the very best of Corfu views, it's unsurprising that it's this popular despite being slightly out of the way. The café specialises in seafood, which makes sense given their proximity to the water. 
Although it is slightly out of the way, the food and atmosphere here make a trip worth it. We would highly recommend an early dinner purely so you can appreciate the stunning sunset alongside your meal. 
The Venetian Well
If you like your food with a side of history, then The Venetian Well is a dream come true. Overlooking the ancient and beautiful Kremasti Square, the restaurant is named for the historic Venetian Well that sits in the centre of the square. Definitely a place for date night, the food is Michelin quality with less of the pretention, although still refined enough to make dinner here feel like an event. 
The Venetian Well serves primarily Corfu food, and your meal can be paired with any number of excellent wines, choices helped along by a knowledgeable and approachable sommelier. The atmosphere is well beyond anything you could hope for, with soft music accompanied by an ambience reminiscent of the finest of dining. The staff are all highly trained and friendly without being unprofessional, but really the food is the star of the show. It's definitely dearer than most of the restaurants on this list, but the extra money is undoubtedly worth it. 
Archontiko
With hilltop views and opulence reminiscent of the heydays of the Greek Empire, this secluded spot has fast garnered a reputation for unbeatable service and food so good you could eat it forever. With mostly outdoor seating that delivers on some of the finest panoramic views on the island, diners here are awed from the get-go, and as the food comes out it the experience only gets better. 
Fine dining just about covers how good this place really is. The service and presentation are impeccable, topped only by the flavours and the ambience. Like most Greek restaurants the menu is meat heavy, but vegetarians and vegans will be more than happy with what's on offer because it's so good. Without a doubt one of the best Corfu restaurants one could hope to eat at, we'd highly recommend booking here in advance. 
Feeling hungry for a getaway? Download the Orbzii app today to Dream, Plan, and Book your Corfu trip!