One of the true joys of Corfu is how diverse the landscape is. The abundance of mountainous regions on the island makes it an ideal location or a hiking holiday. Everyone from seasoned walkers to beginners just looking to take in the scenery will be able to find a hike that's suitable for them, and almost all of the hikes have plenty of stops and amenities on the way for those who want to take a rest from the heat. 
There are a huge number of different walks, some of which are multiday and some of which are relatively short hops around specific landmarks. Regardless of the kind of hike you're interested in, walking in Corfu is a fantastic experience. If you're keen to get your boots on, we've listed some of the best walks below so you can make the most of your holiday. 
The Corfu Trail
If you're an avid hiker to the extent you want to base your trip around it, then walking the Corfu trail is your best bet for a fulfilling holiday. The trail can be completed over the course of a week, although you can do it at your own pace if you're taking a self-guided tour. Most tours suggest eight to ten days for completion, but that's for hikers with experience. 
The Corfu trail was only established in 2001, but in the past two decades it's gained quite the reputation among the international walking community thanks to its stunning views, charming stop off points, and because it allows you to see the untouched parts of this highly visited island. The Corfu tail benefits from an incredibly diverse landscape, and you're never really more than a couple of hours away from seeing something new, whether it be mountains, forests, or stunning coastline. 
The trail is fairly easy to follow as it's signposted with yellow signs. It's usually followed from South to North to save the more dramatic scenery for the last couple of days. The trail starts in Kavos and winds through cliffs and mountain paths, across shores, and ends at Saint Spiridon Beach where there are plenty of bars and restaurants to celebrate your achievement. Whilst the walk can be broken up into several component parts, if you're really keen on walking in Corfu we'd recommend doing the entire thing. 
There are tonnes of different companies who offer both guided and self-guided Corfu trail walking holidays, but we'd recommend Walks Worldwide who offer a ten day trek. They also offer a number of other Corfu walking holidays, for those who don't want to make hiking the basis of their trip. Another good company to use for a Corfu trail walking holiday is The Natural Adventure, who offer a 2 week excursion more suitable for amateur hikers.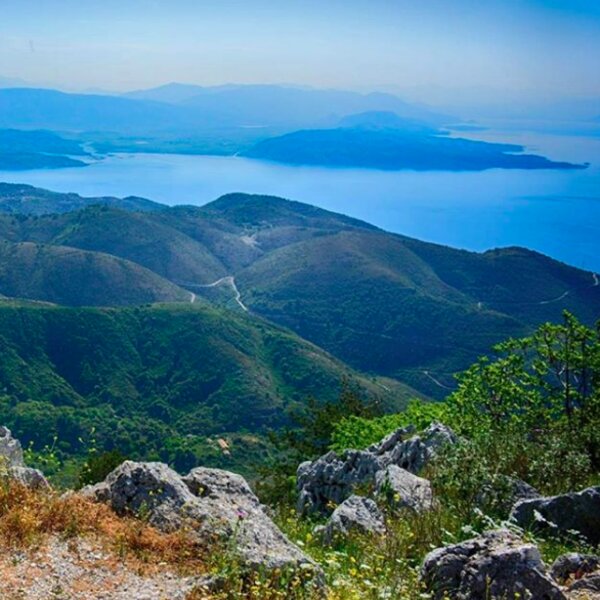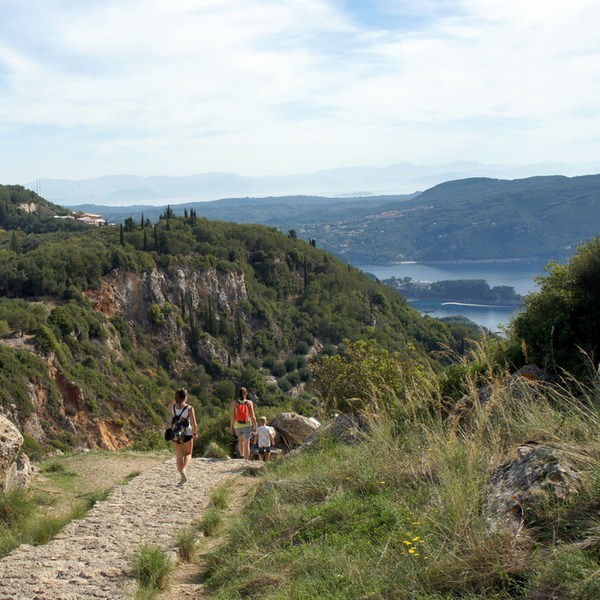 Mount Stavros Loop (via Benitses)
Unsurprisingly, this loop goes around Mount Stavros on the eastern side of the island. Lasting only 4.3km, it is suitable for beginners, but you have to bear in mind there's very little shade so if you're not an experienced hiker (or even if you are) there's the danger of sun stroke. 
The hike delivers on some of the most scenic views one could hope for, with stunning seaside sights alongside lush greenery and jagged rock formations. It forms part of the Corfu trail, and is much vaunted by several companies who offer Corfu walking holidays. You also get to pass by abandoned churches, ancient structures, and are not too far away from good restaurants at the end of the loop, so you can reward yourself with some great food and even better wine. 
Vlacherna
A great route for beginners and families, the Vlacherna walk is perfect for holidaymakers who want to stretch their legs but don't want to commit too much time to a hike. The walk is located in the Gastouri area and is just under 2km with a tiny elevation of 16m, so isn't strenuous in the slightest. What it does offer is great sea views and a tonne of wonderful sights, including churches and other ancient buildings.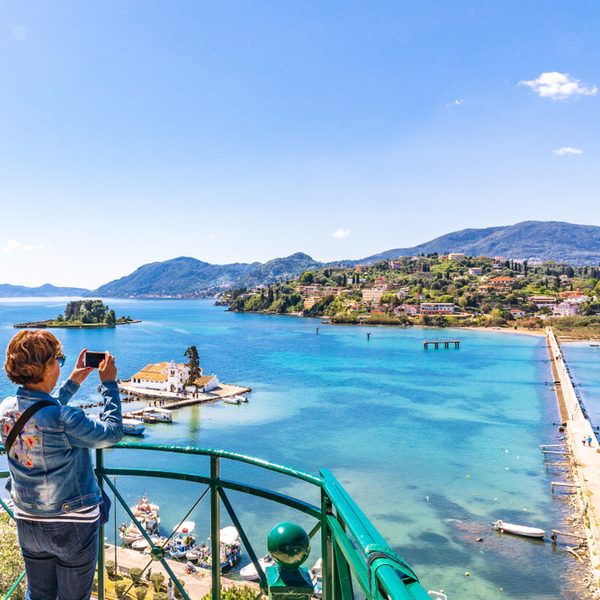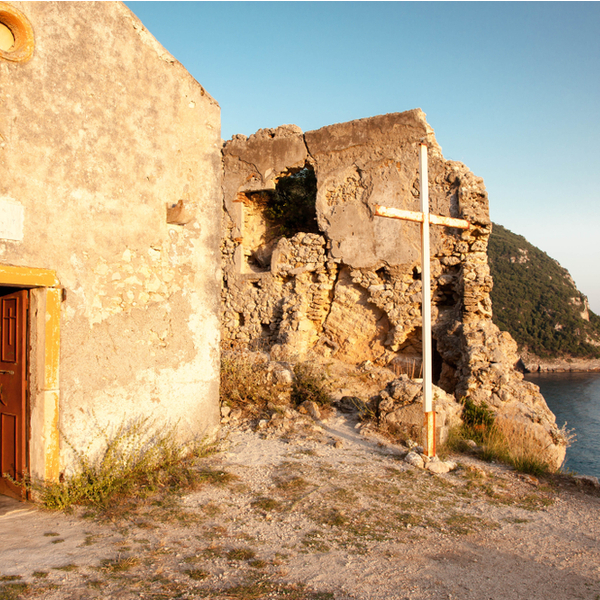 Ermones Beach to Myrtiotissa Beach Loop
Another part of the Corfu Trail that can be done as a separate adventure, this intermediate walk has a whole host of different landscapes that will take your breath away. Starting on the stunning Ermones Beach, you head up through the quaint hamlet of Vatos where you're rewarded with sweeping views of the Ropa valley. You descend into the valley and stroll through olive groves, eventually ending up on a cliffside where you get the reward of gorgeous coastal views, eventually ending up on the beach the loop is named after. Here is where you loop back around and follow the trail home to Ermones. 
The paths are all well maintained and easily accessible, but you do need a decent level of fitness to complete the walk, especially under the sweltering Corfu sun. You can get it done in around three hours, but if you want to take it at a leisurely pace you're looking more at four, especially as there are quite substantial elevation changes.  
Mount Pantokrator via Palies Sinies
Not for the faint of heart, this 12km loop has an elevation gain of almost 1km, but the effort you have to put in is definitely worth the rewards. Not only do you get some of the most stunning views on the island, both of the landmass itself and sea, but this walk offers the chance to see some of the more interesting wildlife on the island. Ornithologists will be especially pleased by the varieties of our winged friends that are spottable on this trail. 
Mount Pantokrator is the highest mountain on the island by some margin, so the views from the top are absolutely astounding and completely unobstructed. The trail starts in the small town of Nisaki and goes through the abandoned town of Palies Sinies, which has ancient ruins and enough history to fill its own textbook. You should only attempt this trail if you're a seasoned hiker or if you're with a guide, and if you do the walk make sure to pack plenty of water: there's very little cover throughout the hike and the elevation means slightly thinner air at the top.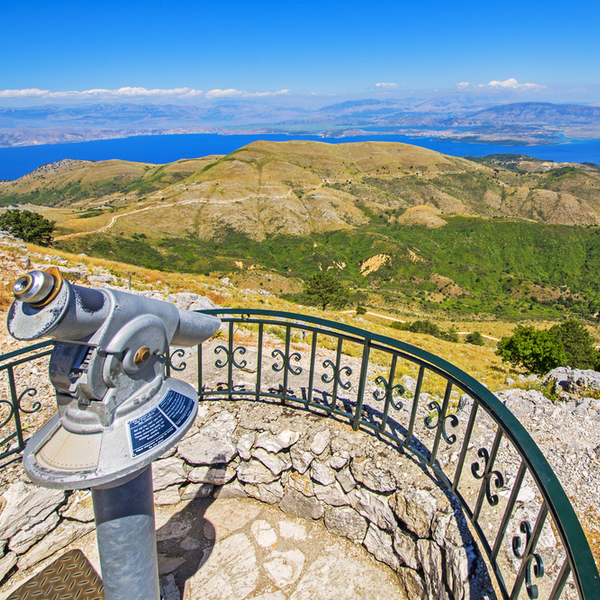 Has reading about these amazing Corfu walks made you want to have a stroll through paradise? Download the Orbzii app today to Dream, Plan, and Book your next trip today!