Coffee is a serious business in Chicago. Whether you are just looking for a quick caffeine fix on the go or are a coffee bean aficionado looking to get the LD on the java diversity, you will adore the coffee culture in Chicago. Whether you have a couple of days or a couple of weeks, there's no need to suffer from any caffeine FOMO. Let us clue you in to not just the best coffee shops in Chicago for the best roasters, but where to have an amazing caffeine-fueled experience in the city.
Four Letter Word
Bijou yet stylish, Four Letter Word in Logan Square is a Turkish-style coffee shop that offers drip, pour-over, espresso, Turkish-style, cold coffee and tea. If you are looking for a leisurely coffee and chow down, you might want to rethink your plans as this cosy eatery only offers paired pastries from featured micro bakeries to go. The coffee menu is a smidge concise, with just espresso, drip and cold options to choose from, but whilst the selection is limited, the taste is not and it's easy to see why the coffee-loving locals consider it to be one of the best coffee shops in Chicago. 
Sip & Savor
The ethos of South Side's Sip & Savor is #WhereCoffeeandCommunityMeet. It's not so much about just having a quick caffeine fix, it's about community too. A mini empire for sure, Sip & Savor have four locations on Chicago's South Side and their offering centres around fair-trade beans and in some cases, the beans are certified organic and shade grown. What this means is that the coffee you buy helps maintain biodiversity, helps reduce global warming and also provides shelter for migratory birds. 
Not only does the coffee 'do good', it also tastes good too. From simple 'Red Eye' and French Vanilla Latte's to something a tad more indulgent. 
Coffee fans with a sweet tooth will have to try the Bull Frog Mocha which will not tick all the boxes when it comes to both a sugar and caffeine fix thanks to its heady combination of chocolate sauce, peppermint syrup, whipped cream and espresso. 
Gaslight Coffee Roasters
All your hipster coffee joint dreams will come true at Gaslight Coffee Roasters. The location is pretty stellar – Logan Square is one of the best neighbourhoods for caffeine fiends in the city. However, geography aside, Gaslight Coffee Roasters is one of the best coffee shops in Chicago thanks to its fabulous fusion of great-tasting coffee, chilled ambience and rustic-hipster decor.  
From the in-house blends to its rotating list of guest roasters, it's impossible to leave empty handed. Simply while away a couple of hours with a pour-over coffee whilst watching the world go by nestled next to the large picture windows.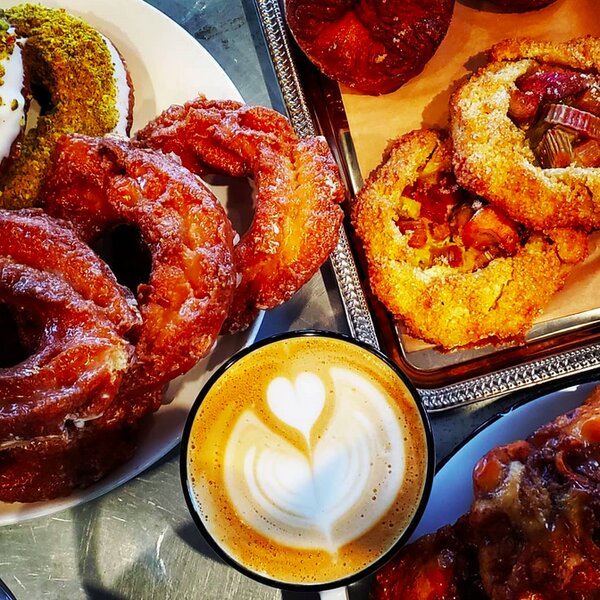 Sparrow Coffee
If you are looking for the perfect daily grind and consider yourself a coffee aficionado, then make a pit stop at Sparrow Coffee which is one of the best roasters in the entire state of Illinois. Not only are the locals super fans, this roaster also supplies coffee to some of Chicago's best restaurants. 
It goes way beyond being one of the best coffee shops in Chicago. Thanks to its innovative and high-tech approach, and its varied brew selection, Sparrow is a coffee geek fever dream with more than 100 single-origin coffees available. The big question is – will you be able to try them all? 
Groundswell
Sometimes, you just need to make an elegant retreat away from the world and have some 'you' time. Groundswell in the quaint neighbourhood of Ravenwood is a refreshing respite away from the busy streets of the city. It's relaxing and simply decorated with reclaimed wooden tables and lots of natural light. 
Sourcing their beans 'crop-to-cup' –  the taste is testament to their commitment to producing some of the best coffee in Chicago. From slow dropped cold brew to quick-hit expressos, why not stay away an hour or two whilst planning your 'Things to do in Chicago' itinerary. 
Sawada Coffee
Confession! Who loves to take photos of their lattes? If you are like us, you will have your hand up right now. Latte Art is definitely a 'thing'!' and at Sawada Coffee, you never know what design you will get. Co-founded by Japanese latte artist Hiroshi Sawada, Instagram lovers will adore the quirky designs that adorn their drinks. 
It's not just style over substance however, Sawada Coffee is one of the best coffee shops in Chicago thanks to its quirky yet delicious array of drinks. Case in point – the military latte. Sure it looks good, but it tastes amazing too. It's roasted from expresso and fuses it with green tea and subtle notes of white chocolate. 
HERO Coffee Bar
*Sings* I need a herrroooooo! If coffee was a superhero (and let's face it when you are in dire need of a caffeine fix, it really is!) then this little coffee joint located on the iconic Jackson Avenue is hero by name but also hero by nature. The staff are knowledgeable, friendly and some volunteer with non-profit organisations within the city of Chicago. 
Offering a similar stance to Sip & Savor, HERO's ethos is about giving back to its community as well as creating a space and menu that everyone can enjoy. It's a great choice for vegans as there are several plant-based options on the menu – you simply have to try the made-in-house pumpkin pie. Team it with  HERO's best-seller – the Maple Brulee which is a maple syrup-infused latte with a smidge of blow-torched sugar on top.