Oh Girona! This pretty medieval city in the northeastern corner of Catalonia in Spain makes for a beguiling holiday destination jam packed with amazing things to do, a fantastic selection of restaurants and of course, you may well recognise some of the city's almost iconic landmarks as it was used as a filming location for season six of the Game of Thrones TV show.
If enticing cities with a rich history, ingenious cuisine and a plethora of amazing architecture and museums to explore, Girona really should make your hit list for European city breaks.
The big question is 'Where to stay in Girona', so why not take a look at our handy travel guide of the best hotels in Girona to book for your stay?
Hotel Nord 1901
Whilst the Hotel Nord 1901 is typically Catalan when it comes to the exterior and architecture, inside it's a different story, it has a soothing colour palette of ochre and taupe soft furnishings that evokes feelings of tranquility.
The rooms are spacious, light and airy with sunlight falling in through large windows and gauzy curtains and make for a calming retreat when you are seeking some solace from the city. This family-run hotel is a 5-minute walk from Girona Cathedral and the many bars and restaurants of the Plaça Independència making it a popular choice when selecting the best hotels in Girona.
It's the only hotel in the city of Girona to have a swimming pool and a shady garden where you can escape the heat.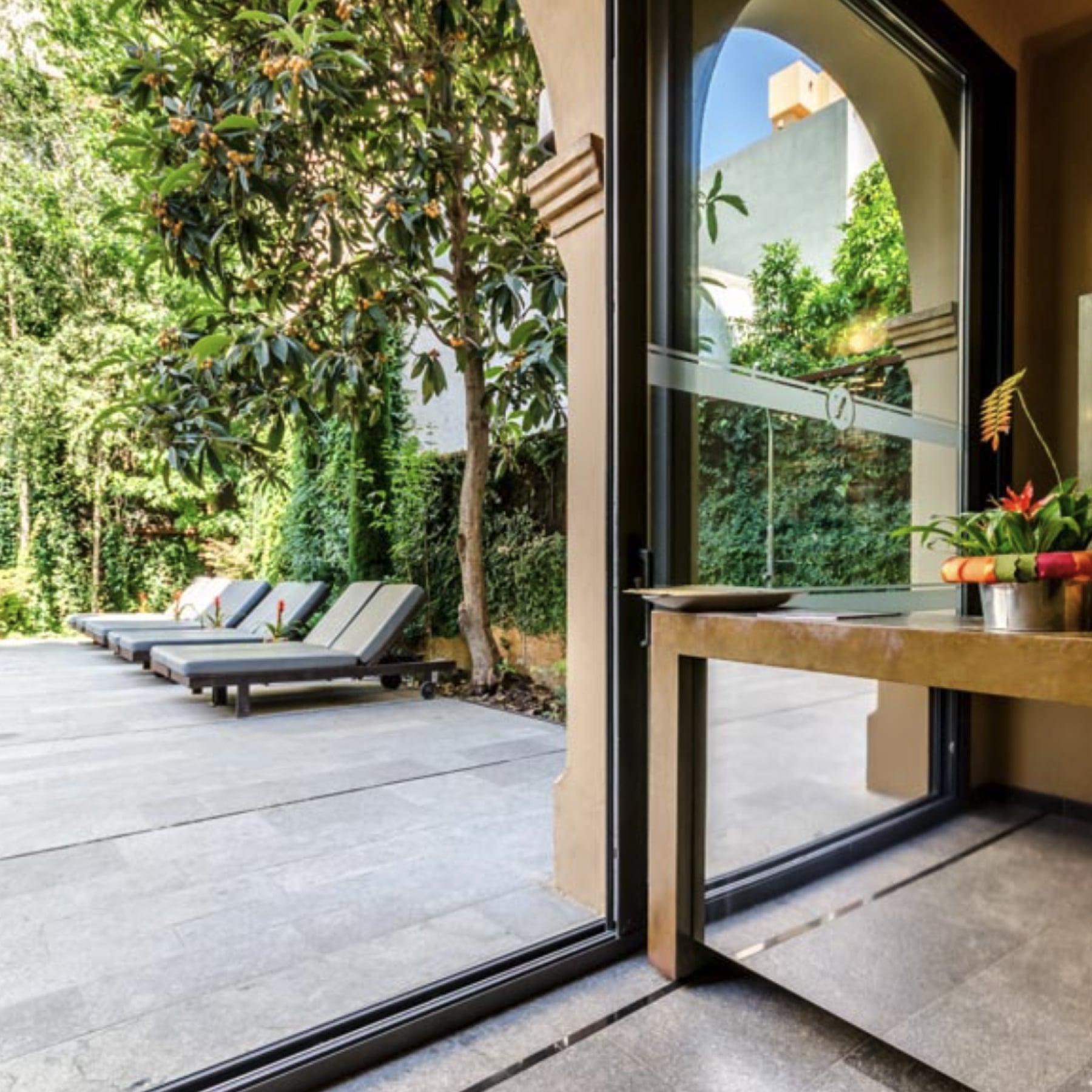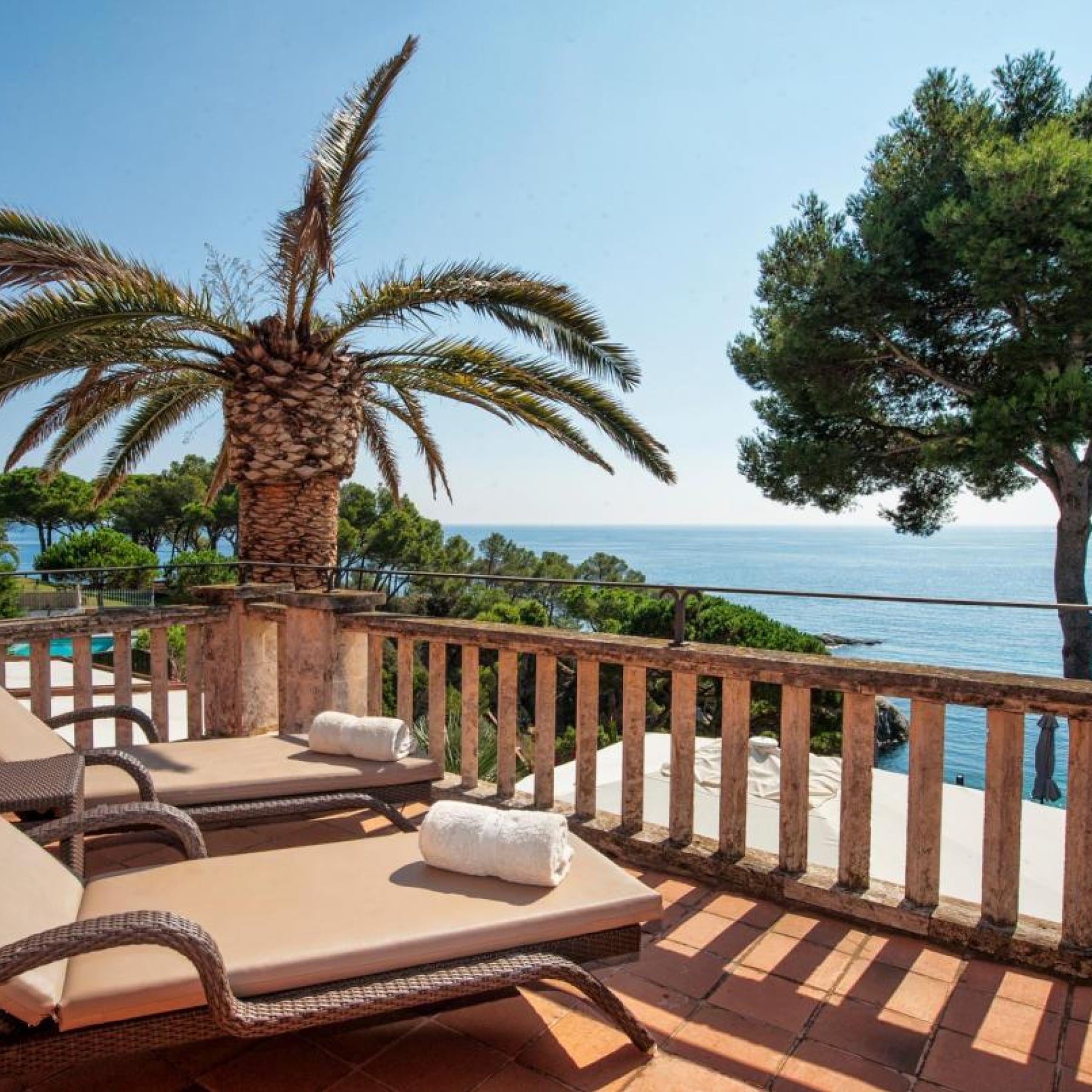 Hotel Cala del Pi – Adults Only
This elegant 5-star sea-front hotel in the heart of the Costa Brava that specialises in wellness. It's only a 20 minute drive into the centre of Girona giving you a luxury retreat to enjoy whilst making the most of the city. 
It overlooks a secluded pine-draped cove with crystal-clear Mediterranean water and if you are looking for a hotel where you can relax by the pool, the Hotel Cala del Pi is one of the best hotels in Girona and beyond for that. There are three fabulous pools to choose from and a smart, wooden decked terrace with sun loungers and parasols to luxuriate on. For those wanting to do some gentle stretching, there's free yoga on the sun terrace during the summer.
If getting some serious R&R is a high priority for you when thinking of things to do in Girona, then this hotel delivers on so many levels thanks to its excellent spa with a heated indoor waterfall pool, sauna, whirlpool, hammam and 'salt cave'.
Whilst the local area makes a good base for exploring the cities of Girona and Barcelona, there's not a super amount to do outside of the hotel, but the nearest town of Platja d'Aro is just a 10 minutes' walk or five minutes' drive away.
Hotel Gran Ultonia
Located in the heart of Girona and just a short walk from some of the city's landmarks – the Jewish Quarter, the Arab Baths and more, the 4 star Hotel Gran Ultonia is ideal for those looking for hotels in Girona that are centrally based.
Each air-conditioned room includes a rainfall shower and designer toiletries, free Wi-Fi and a flat-screen TV.  Why not enjoy a cooling drink at the hotel's cocktail bar as the sun sets over the cathedral? We love the Flor Del Carib which is a delectable fusion of white rum, hibiscus nectar, lemon juice, mint leaves and raspberry powder.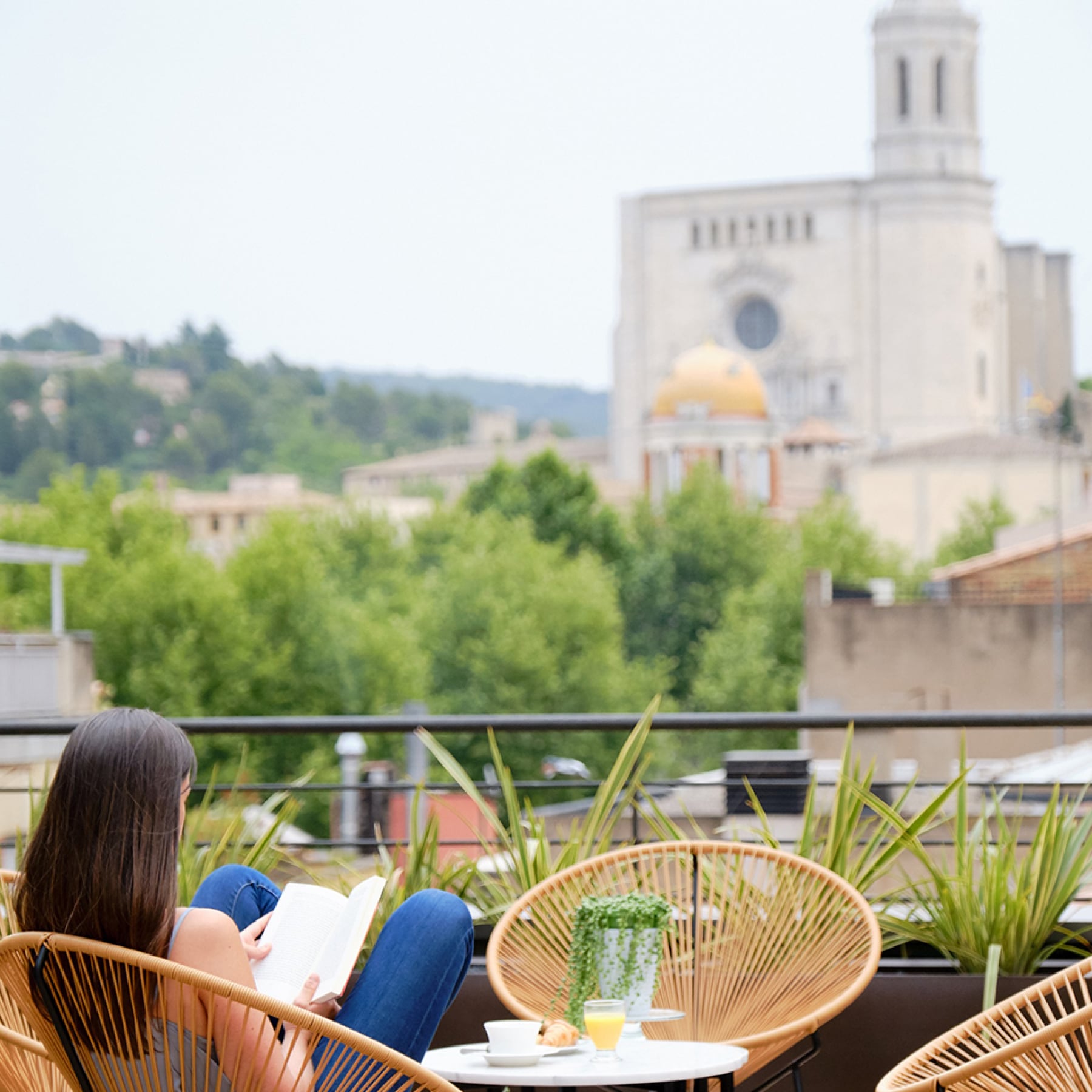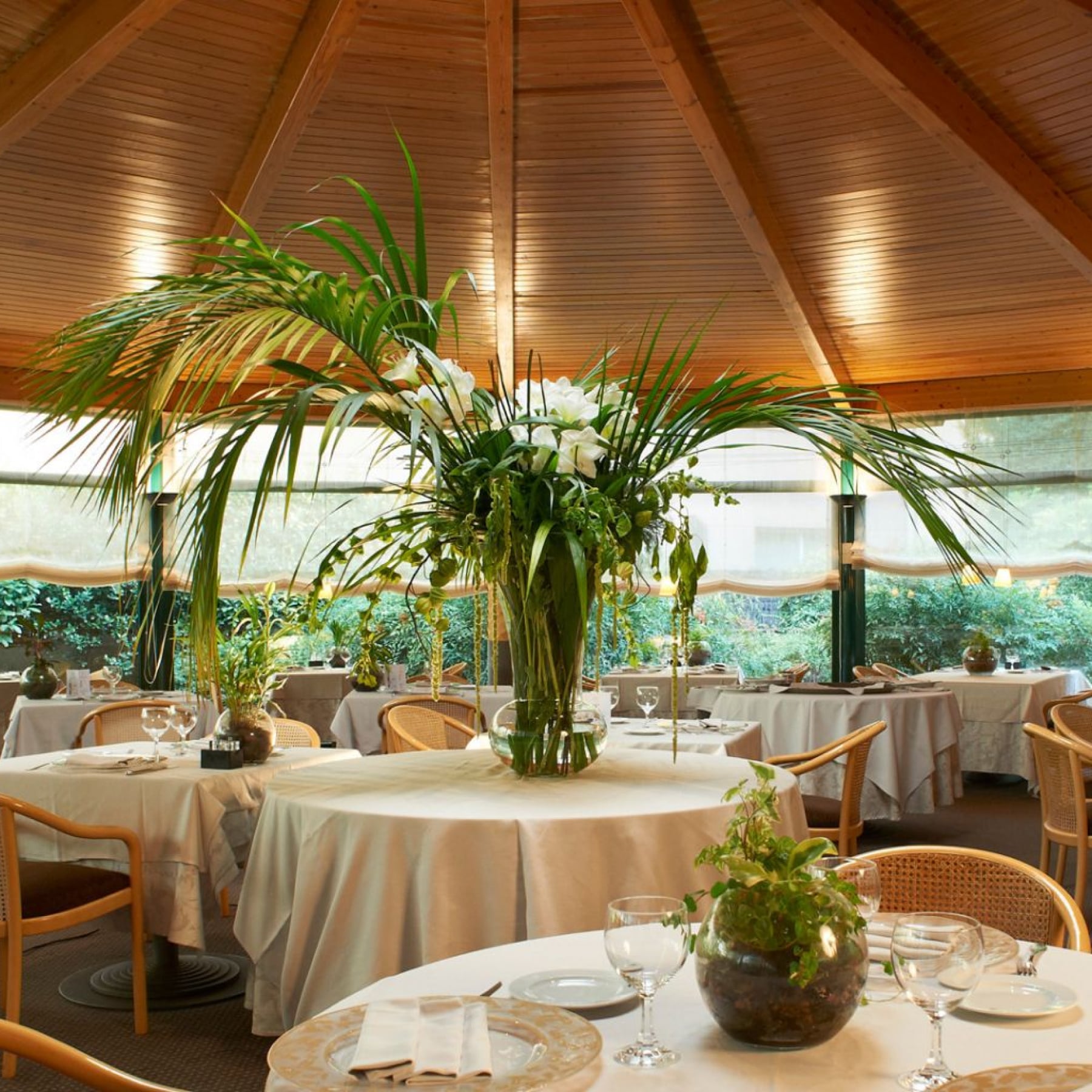 Hotel Carlemany Girona
Nestled amid beautiful cathedrals and cobblestone paths in the charming, historic city centre of Girona is widely considered one of the best hotels in Girona. The Carlemany hotel is merely a brief stroll from some of the standout attractions in Girona which includes the Cathedral and the Jewish Quarter. It's also very close to the train and bus stations; both are less than five minutes' walk away.
The rooms are tastefully decorated in neutral tones and there's L'Occitane toiletries in the bathrooms. There's artwork from local artists throughout the public areas which includes a restaurant, piano bar and a tapas bar.
This is one of the best hotels in Girona for breakfast which is a hot and cold buffet breakfast served in the Pati Verd conservatory restaurant, where you can find a fab selection of local charcuterie, cheeses and smoked salmon. You can also enjoy pastries, croissants, cakes and Catalan-style bread too.
Hotel Museo Llegendes de Girona
Just a short distance of from the famed Cathedral, the Arab Baths, Girona Art Museum and the historic Jewish District and more, the Hotel Museo Llegendes de Girona is perfectly situated in the heart of Girona's Old Town, making it an ideal choice for sightseeing.
When it comes to design, it's a tale of two styles – old school grandeur with chesterfield sofas, antiques and oodles of character, but the rooms are much more modern and aren't the prettiest and are a little bare-bones but they are functional and clean. Although each room does come with its very own sculpture, each depicting a local legend.
If you are looking for a handy bolthole and essentially just a place to sleep, then this is a super choice for visitors to Girona, but you should probably avoid it if you are looking for a hotel that is instagrammable.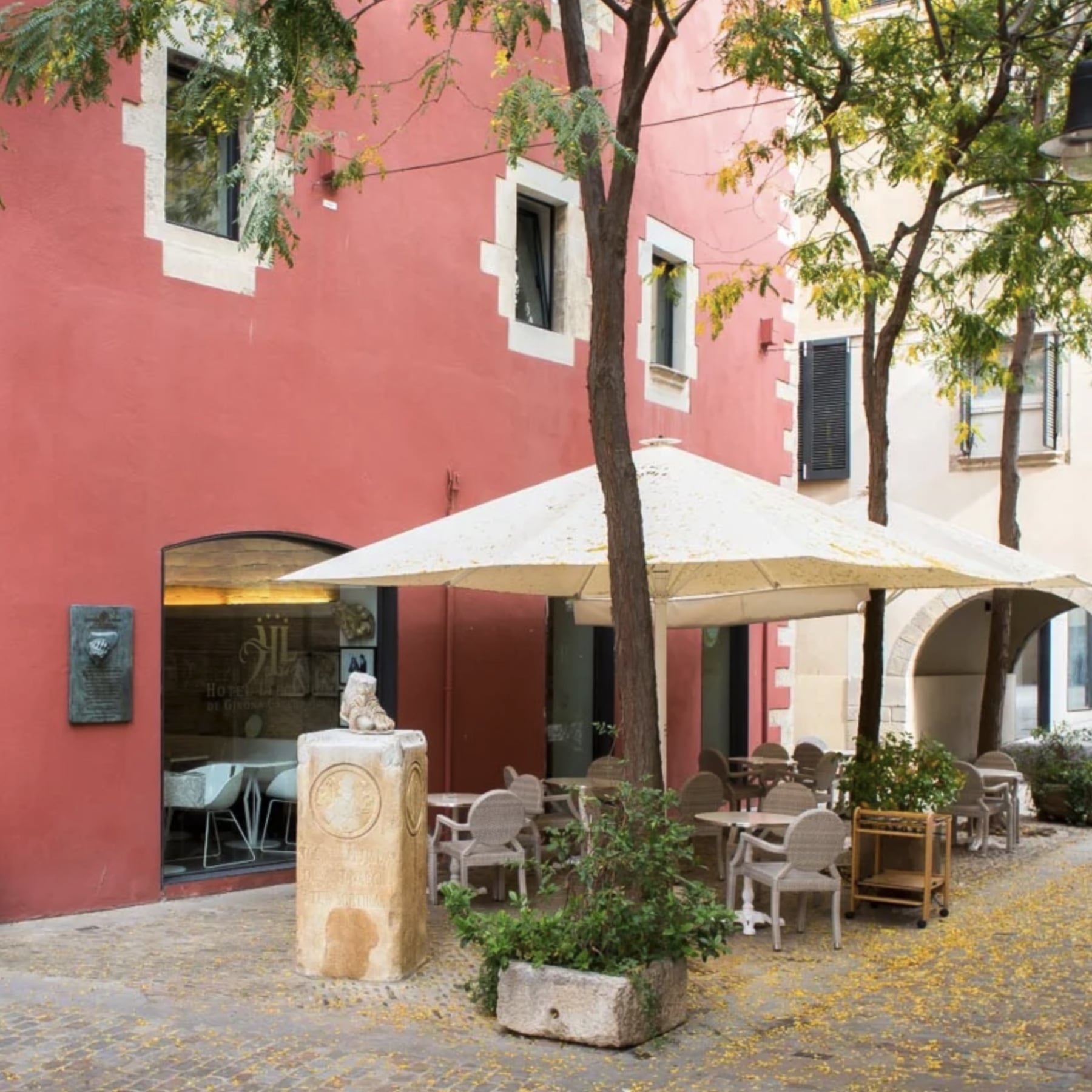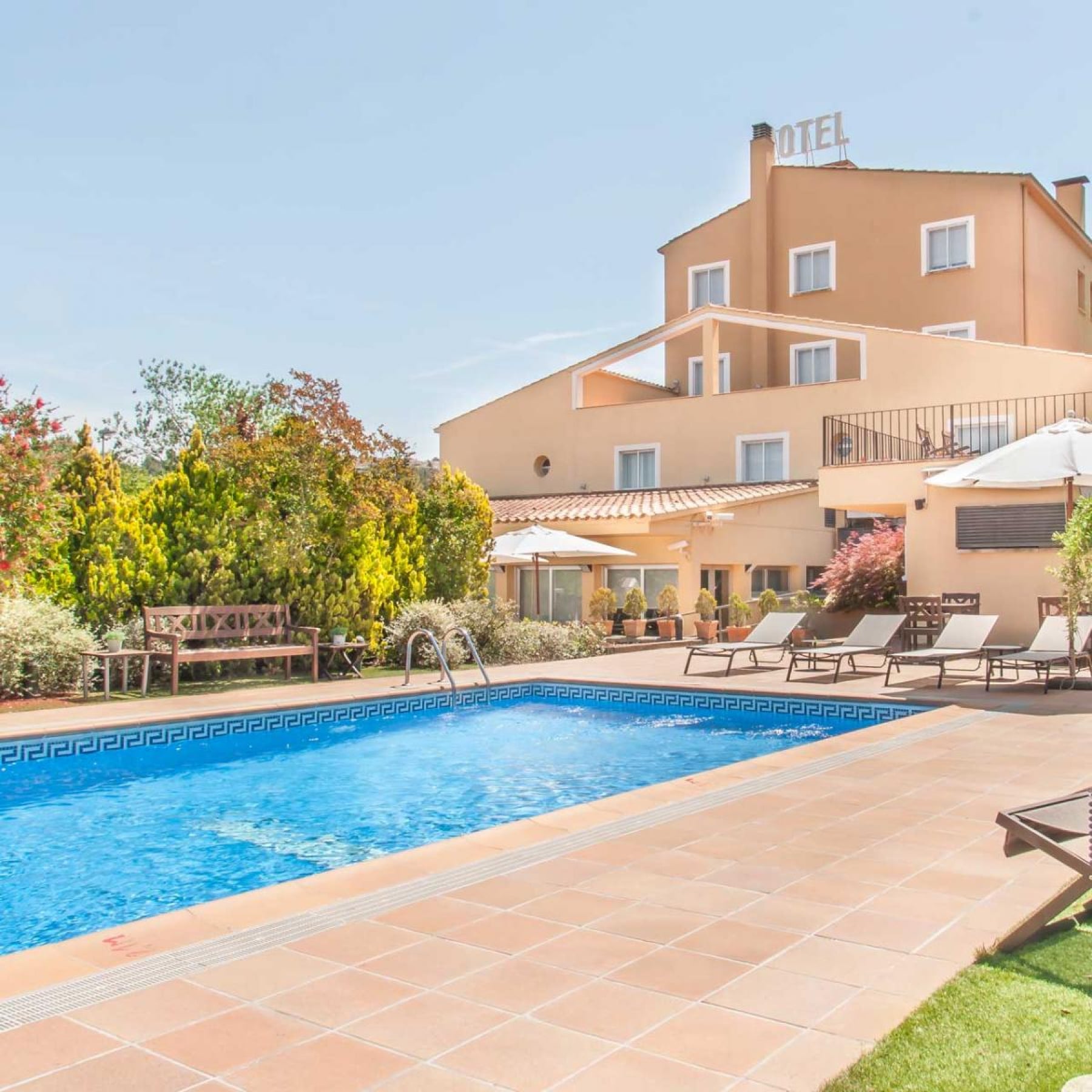 Hotel Costabella
Unusually, the Hotel Costabella is one of the few hotels in Girona to offer free onsite parking, which is a pretty handy draw if you are planning to explore the Costa Brava or are looking to drive to Barcelona. It is a 3 star hotel, but has the look and feel of a 4 star hotel and has an outdoor pool, sauna, restaurant and a gym. There's also an 'honesty' bar where you can help yourself to drinks. If you are travelling with a furry friend, this is one of the best hotels in Girona that offers pet-friendly amenities, such as food and water bowls.