It's fair to say, Hong Kong is a travel hotspot for those who can't resist a hashtag. Instagrammable food is a Hong Kong staple in the feeds, but there's much more to treat your followers too. Fishing villages teetering on impossibly rickety stilts, neon-bathed streets, vast sculptures and nightscapes that will wow – providing you can work your photography magic to pick up dazzling lazers and rippling waters glistening in the city lights. 
Don't just happen upon the best spots by chance, follow our tip offs below to notch up some like-worthy Hong Kong photography. 
The best photos in Hong Kong? Here's what to do...
Neon nights
Let's get the shot everyone's after in the bag shall we? Think Hong Kong and you instantly think of neon soaked streets bathing in the warming glow of those classic, yet exotic, signs. Yes, you can find neon lights all over Hong Kong, but finding streets where the set up is just right and insta worthy? A whole different ball game.  
For a full on neon-lit world of hustle and bustle – head straight to Mong Kok. The signs are gaudy, flashy and represent a wide range of Hong Kong life. For something a little more moody and atmospheric, it has to be Jordan Road. Looking for a street somewhere between those two? Nathan Road is the one. 
Food
Wherever you fall on the food photo scale, Hong Kong always delivers. Snap away at Michelin-starred precise plates, quirky drinks and dishes or down and dirty street noodles. There really is no shortage of instagrammable food in Hong Kong. 
For guaranteed engagement? It's almost too easy to share mouse-shaped delights from Hong Kong Disneyland. Mickey's appeal just never quits. But if you're looking for something a little less familiar? Head to Yum Chah, for savoury snacks presented in the sweetest way possible. The dim sum's adorable and like nothing you've seen before.  
For a place that puts Slush Puppies to shame pop along to see the icy creations at Shari Shari – you'll be rummaging in the loft for your Mr Frosty as soon as you're home. 
Urban
Not all street art is going to appeal to every Instagrammer. BUT … and we've used a big one for a reason – there's a cracking set of steps in Hong Kong's Public Square Street that have huge insta back drop potential.  
Painted in six different styles – but all with a through-flowing flower theme – the steps have pretty much everything you could wish for. Angles, a place to perch (or walk) on and a busy flea market nearby to get your browse on in. The only drawback? You may well have seen these steps before. Like social media moths to a multi-coloured flame, this won't be the first – or the last time these steps appear on a feed.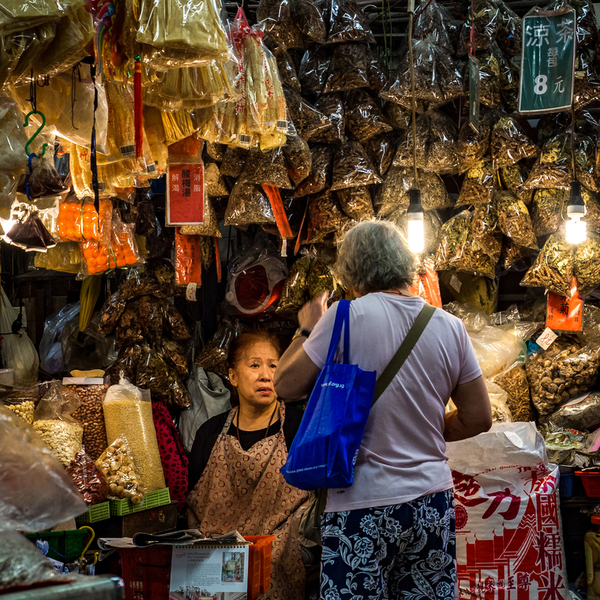 Real Life
If your feed's more about real life than staged shots, you'll want to get amongst the everyday goings on in Hong Kong. Fortress Hill is a great place to start.  
This district is full of small, function food markets. Quietly and industrially forging ahead away from tourist eyes. This isn't a foodie market to pick up a picnic. It's raw, everyday life with substance.  
Also check out the Tai O fishing village. Yes, you'll get the classic 'houses on stilts' scene you'd expect in this part of the world, but also Hong Kong folk hauling in nets and generally plying their craft. 
Nightscape
You didn't think we had the night sky all sewn up with neon did you? Of course not. There are plenty more Hong Kong photography options available after dark.  
The two you're really going to want to capture are the Hong Kong Light Show and a twinkling view of Victoria Harbour. First up, the light show. Also known as the Symphony of Lights, this daily event kicks off at 8pm. Set to classical music, lights and lasers dance across the skyline and reflect beautifully off the water. The best places to see and snap the free show are the Tsim Sha Tsui Promenade or Wanchai's Golden Bauhinia Square. 
Now, Victoria Harbour's a trickier shot to get. For the best insta grab, you're going to have to shell out for admission to Sky Terrace 428. But from there – day or night – you'll have an eye-popping view of Victoria Harbour. Actually, not just the harbour but a 360 degree panoramic view of Hong Kong. Yes, it's a bit of tourist spot, but it can't be beaten on views. The eagle-eyed among you will spot the handful of places to refuel at the top. And, though the views are steller, we think there are better rooftop bars in Hong Kong. 
Architecture
Hong Kong architecture comes in many shapes and sizes. Towering structures are perhaps the most familiar shots. And, if you like your skyscrapers shimmering, Victoria Harbour doesn't disappoint. But if you're looking for something a little more real? Kowloon mixes and urban jungle feel with every day life happening all around you.  
Great for really capturing a snapshot in time in Hong Kong. You'll also want to drop by some of Hong Kong's infamous 'mansion's for a shot or two. Part shopping mall, part apartment block, they are as iconic on the skyline as the towering business buildings. Lastly, the estates are worth a wander for some intriguing geometric views. Get to the Ping Shek Estate or Choi Hung Estate for some residential shots. 
You've got the skyscraper shot in the bag, what now? Hop on the ferry to Lantau Island, a place awash with Hong Kong facts. It happens to be home to one of the world's most scenic walks – 72km of non-stop Hong Kong photography opportunities. But, we're sending you here for the big Buddha. In fact, big is an understatement. At 34 metres tall, it's the world's largest outdoor Buddha statue. Angle-wise, you'll want to get nice and low for a shot looking up at the big fella, but to really get the scale of the structure, hop on the Ngong Ping cable car for sweeping shot that takes in the surrounding forest too.