So you have 48 hours to spend in Oman, where do you start when it comes to thinking about where to stay, what to eat and the best things to do? With such a short window in Oman, it's best to be organised if you are pressed for time. Luckily, we have curated your go-to list for what to see and do in Oman if you only have two days to spare. Let's get started!
Get some beach time
If you love beaches, then you are in luck as here you will find some of the best beaches in the region. Sure, you might only have 48 hours in Oman, but that doesn't mean you have to swerve on your beach time. When thinking of Oman, perhaps beautiful beaches don't spring to mind, but you can expect to enjoy sun-dimpled white sandy beaches and crystal clear waters that make up some of the country's 3165km-long coastline.  
Whether you favour family-friendly beaches with fabulous amenities or are looking to venture off the beaten track and try some diving or snorkelling, then there's a beach towel with your name on it.  
From Al Mughsail Beach which is great for families and Ras Al Hadd beach and Masirah Island which is ideal for turtle spotting, to Mirbat and the nature reserve at Daymaniyat Islands which are great choices for diving and snorkelling respectively. 
In most instances (unless stated otherwise) typical beach wear might not be prohibited, so it's worthwhile doing your research before you go about what to wear in Oman at the beach.
Souk it to me!
If you only have 48 hours in Oman, you will definitely have to check out the souks and do a little shopping. The Souk Mutrah in old Muscat is one of the oldest souks in all of Oman and you can expect to find both traditional Omani products such as frankincense, hand crafted Omani hats as well as intriguing finds from other countries such as jewellery from Nepal and much more.  
Outside of Muscat, you can choose from Ibri Souk which is the biggest souk in the Ad Dahirah region in western Oman or Al Mibtarib Market which is one of the most famous souks in the Ash Sharqiyah North region in eastern Oman. 
Go out to dinner
Whilst Oman isn't the most obvious foodie destination, there are some incredible restaurants within many of the luxury resorts and hotels in Oman. One of the standout places to eat out in Oman is at one of the five restaurants at The Chedi hotel.  
As well as cosy cabana dining, guests and residents can eat at 'The Restaurant' an elegant and contemporary dining room with large bay windows, crystal chandeliers and live piano music. Enjoy the theatrics of the kitchen with the open show kitchens and watch the talented chefs do their work. The menu is a fusion of Asian, West Eastern, Indian and Western cuisine which can be matched with a bottle of your favourite wine from their award-winning wine list.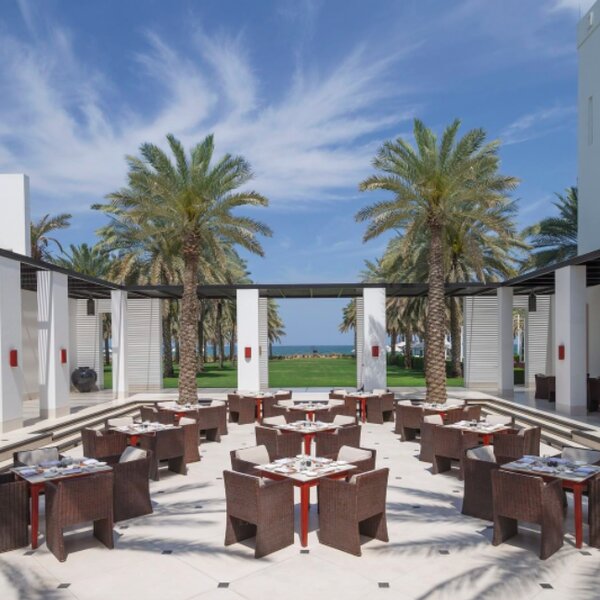 If you love seafood, the Bait Al Bahr at the Shangri-La in Muscat offers some of the most incredible seafood in the whole of Oman. You might when it comes to amazing seafood, they are a pretty good catch! 
Normally we would be making our recommendations for a night out in Oman. You can drink alcohol at most of Oman's hotels but this can be a smidge expensive. Truth be told that even in the capital Muscat, nightlife is rather thin. However, you can have a cocktail at one of the leading hotels in Muscat like the  InterContinental hotel for cocktails. 
Take in some history
From the Land of Frankincense Museum where you can learn more about the mystical and musty scent  (where it also offers the most stunning views of the Sultanate) to the Maritime Museum of Sur where you can enhance your knowledge of the marine heritage of Oman.  
We also love the Turtle museum which was created to aid the conservation of turtles that are indigenous to Oman as part of the Ras Al Jinz Turtle Reserve. One of the best places to visit is in the early morning, which is when the turtles lay their eggs. It is one of the most fascinating sights to see in the world. Whatever you are into, there's bound to be an interesting museum for you to enjoy.