The Algarve coast certainly isn't short on sand, sea and sun. Though, unlike some coastal escapes, the golden sands here aren't always the star of the show. Natural beauty in the Algarve comes if the form of orange-hued rock formations. Boat trips get you close to the cliff action, but you'll do just as well with a sturdy set of hiking legs. Though, if you prefer soft, rolling dunes to cliff tops, some of the best beaches in the Algarve can be found near the Ria Formosa Natural Park… 
Praia da Marinha - Lagoa
When a stretch of the Algarve coast secures a spot in Europe's beaches of note, it pays to be wary. And, straight away, Marinha Beach might seem familiar. As the Algarve's flagship spot for picture postcard scenery, you'll likely have already seen the turquoise waters and golden sands. So, the burning question remains, should you go? Yes, if you don't mind a beach that's relatively small and low on facilities. The reward? A stunning and unkempt spot that's ripe for explorers to scamper through. Clear waters are a snorkeler's paradise, while caves and coves provide shade and places of intrigue in equal measure. The stars of Praia de Marnha's show are the colourful rock formations in the limestone cliffs. Yes, there's a rather steep set of stairs to the beach, though the nearby parking and on site restaurant keep this from ever being too wild and remote.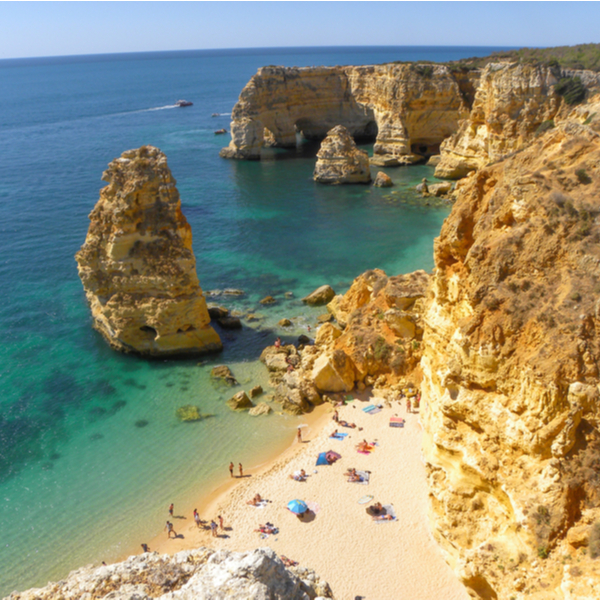 Orbzii tips: Because this beach is infamous, it does get busy. Arrive early to secure parking closest to the beach. You'll also want to track tide times, as part of the beach is inaccessible at high tide.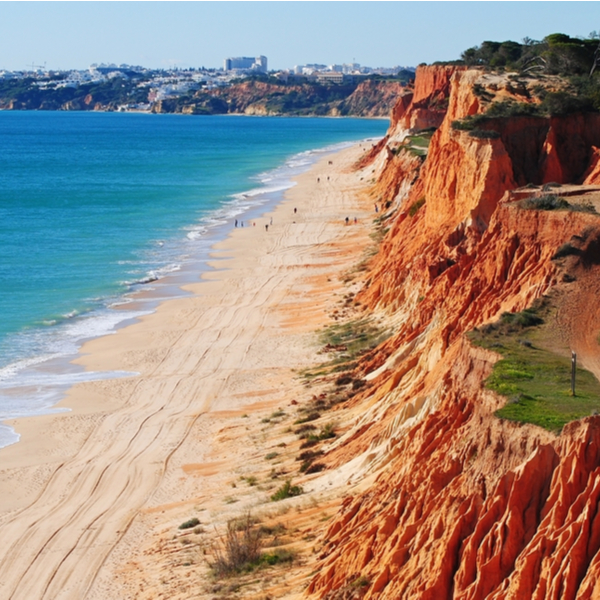 Praia da Falésia - Albufeira
There are some who, at the mere mention of Albufeira, may have skipped past this beach in fear of stag and hen parties crowding the shores. But, they'll be missing out on the 'Grand Canyon' of the Algarve. Those rock formations we mentioned at Praia da Marinha are all the more impressive at this 6km long stretch. Despite the bold cliff hues and hiking opportunities, the sands remain rather laid back – despite Albufeira's hedonistic rep. With some of the best water parks in the Algarve close by, and a lovely local (and equally calming) town to explore, this beach is worth considering. Factor in the fact you can stroll along the shoreline to nearby Vilamoura and it's tipping over into a 'must see'. The detail that really seals the deal? Dolphins have been known to swim by and be visible from shore. 
Ilha da Fuseta - Faro
How does an idyllic day spent on an island sound? What if we told you that island was just offshore from the Ria Formosa Natural Park? Here, the cliff-backed beaches of the west are replaced with the sand dunes, inlets and islands of the east. And, though all of the islands arguably merit a visit, Ilha de Fuseta comes with a ferry service, small beach bar and a handful of facilities to make sure your castaway day isn't too basic – we're talking sun loungers at the very least. Let's add in some swooping spoonbills and storks for good measure. And, well, you've got yourself an island adventure just off the Faro coast, with the opportunity for a spot of birdwatching. This is the sort of place where fishing boats bob in the nearby waters and you'll definitely find an expanse of sand to stake a claim to.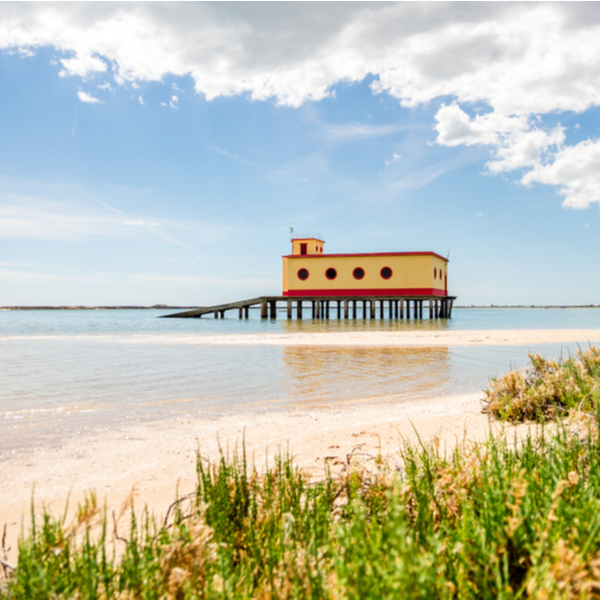 Orbzii tips: On the mainland, Praia da Fuseta is an equally attractive beach with many more facilities – such as water sports and a restaurant. The nearby town of Fuseta is more than worth your time too.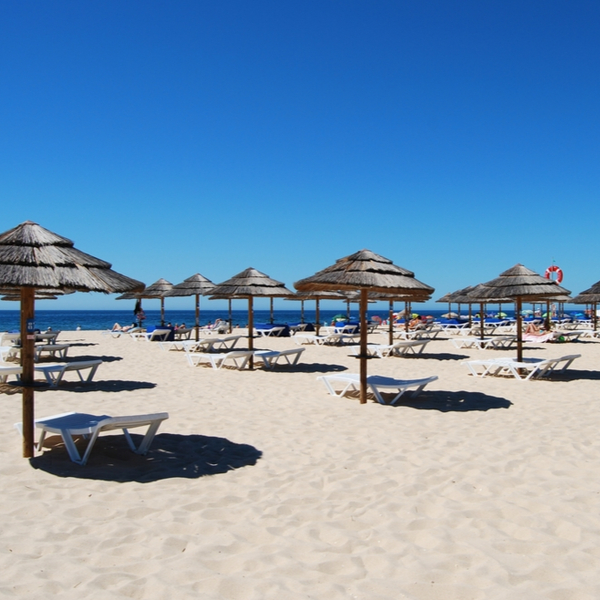 Ihla de Tavira - Tavira
If Ilha de Fuseta appeals, but you're looking to feel a little less Tom Hanks in Castaway and a little more Zac Efron in Baywatch, Ihla de Tavira is the one. Accessible by ferry, water taxi or train, this 11km island does get busy – but there's a lot of sand that can play host to sunbathers, sand castle builders, swimmers and explorers. In the central island, facilities abound – with everything from cabanas, sun loungers, umbrellas, water sports and banana boats to beach bars and restaurants. Fresh fish is the speciality, and while they might not be contenders for the best seafood in the Algarve, the location is hard to beat. And, you'll want to make the most of your time here. Stay central for plenty of holiday vibes and lively scenes or talk a walk in either direction for a few minutes to find deserted shores.  
Orbzii tip: This is another island that's in close proximity to the Ria Formosa. Come here between November and May to spot the region's beautiful flamingos. Worried about sea temperatures? You'd be right to, waters here border on being a bit nippy, year round. 
Praia da Rocha - Portimão
One of the best beaches in the Algarve, certainly in the – all round crowd pleaser category – has to be Praia da Rocha. When we say it has everything, we could be underselling it. The beach itself is a sizeable stretch of gorgeous sand. It's backed by the colourful orange cliffs the Algarve's known for – and the waters are typically turquoise. So far, so good. But this particular beach sits right in front of a town, and region, that's chock full of holiday facilities. It starts with a grand old selection of bars and Algarve nightlife you'll want to stick around for, before branching out into the pleasingly exclusive marina area, shopping quarter and Praia da Rocha's wider streets that tend to be fun-packed. Back on the sands, facilities are plentiful for families and visitors looking for beach life that requires nothing of you, other than to relax and make the most of the sun.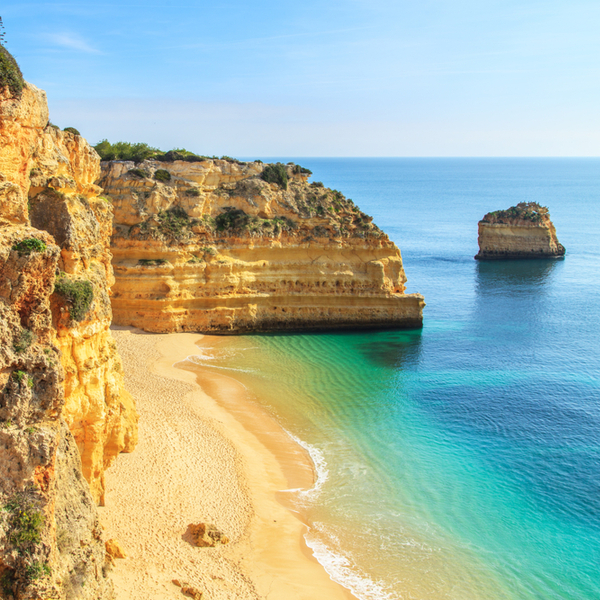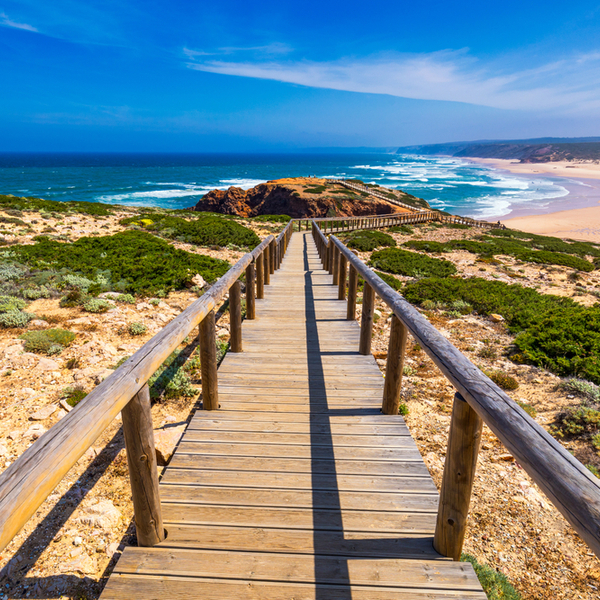 Praia da Bordeira - Aljezur
It's fair to say that all the Algarve beaches we've covered so far could be described as bustling – to some degree. For something a tad more quiet, tousled and rugged, skip along to Praia da Bordeira. You'll find 3kms of wide, wide beach, framed by limestone rocks and a rather pleasant pine forest. Here, the waves are the sort that attract experienced surfers and photographers in equal measure. While that's not an ideal recipe for a swim, the Ribeira da Bordeira river creates a lagoon in the sands, providing a spot for children to play.  And, while the unspoilt cliche is trotted out all too often in beach circles, Praia da Bordeira really can make that claim. Facilities extend to lifeguards, some well-placed boardwalks and little else. Though, you're in the heart of the Costa Vicentina Natural Park – so that's to be expected. 
Orbzii tip: The drive here may not be for the feint-hearted as, depending on your approach, the cliff edge roads may put you off. To be sure you're on the right track, plot a course for Carrapateira, from here there are signposts which lead straight to the cliff top car park. 
Ponta da Piedade - Lagos
This is yet another stretch of Algarve coast that's accessible via steep cliffside steps. Though, due to the popularity of the rock formations, grottos, cliffs and the headland, boat tours and trips aren't in short supply. The small boats weave among the rock stacks and offer the chance to snorkel the waters – though, do expect there to be a fair number of boats in the water at any given time. And, while boat trips are the easiest way to access the sands, you'll miss out on the action above. The lighthouse and clifftop views aren't the only highlights. Wild figs can be foraged in early spring – and, depending on the timing of your visit, herons can be seen nesting in the craggy nooks along the headland.