Whether you're looking for the full theme park experience or just want to dip a toe in some reliably fun waters, water parks in the Algarve have got you covered. Slides range from small and suitably safe for little ones to an epic water coaster you'll want to ride again and again. Lazy rivers, wild wave pools and free falling slides can be found in the biggest water parks. But if you're looking for something a little less high octane, there are Algarve hotels with built in water parks and splash pools that serve as a refreshing middle ground. 
Slide & Splash
Let's get you started with one of the biggest water parks in the Algarve. You'll find Slide & Splash nestled neatly between Lagos and Portimao. Covering a sizeable 10 hectares, the slides, rides pools and facilities are a beast among waterparks. And, yes, you can expect your water-based theme park favourites to feature. Epic water slides, a river ride, a jacuzzi and more. Except, Slide & Splash haven't just chucked in the usual offerings and opened up their gates. The river ride has a disco vibe to keep the fun factor notched up to 11 and the slides and rides have been regularly upgraded and added to in the park's 30–year history. Adrenaline junkies will want to head straight for the sensory deprivation of the Black Hole slide.  
Cost: €29/£25.25 (ages 11-64) €21/£18.30 (ages 5-10 and over 65s)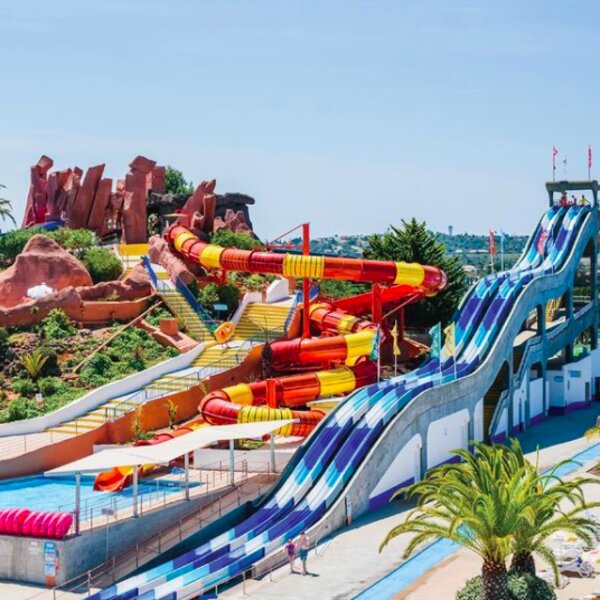 Orbzii tip: Some of the rides do come with age and height restrictions – so keep that in mind if you're planning on bringing little ones. Free sunbathing areas are available – though the €5 sunloungers near the children's play area are worth bagging if you're planning a chilled day in the park.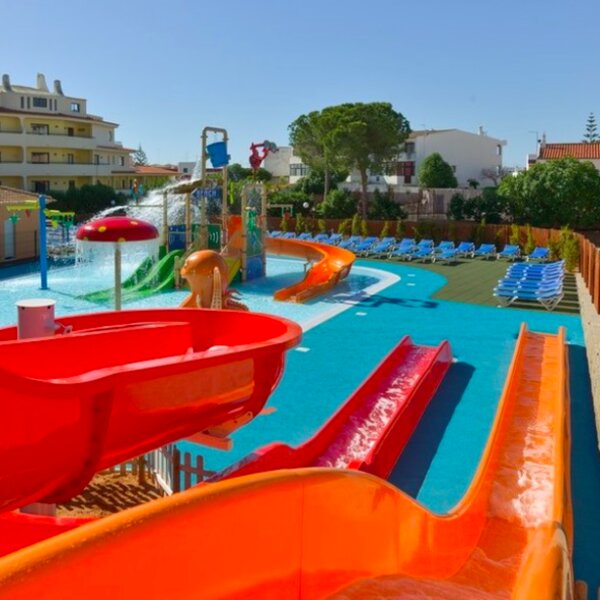 3HB Clube Humbria
Water parks in the Algarve needn't always see you straying from the comfort of your hotel. 3HB Clube Humbria in Albufeira has a modest waterpark that will keep little ones splashing and sliding while you sunbathe. The colourful mini aqua park has structures and slides suitable for 2-5 year olds – while the wider pool area has four larger slides suitable for ages 6 and up. The additional on–site gaming room, playground, kids club, tennis courts and table games make this hotel a great shout for children of all ages. The fact that the children's pools and play areas are away from the serenity of the main pool is a plus factor too. 3HB certainly won't deliver on big waterpark thrills – but you're looking at a fun day by the pool that comes bundled with the cost of your stay. Always handy when you're totting up the cost of a family break. 
Orbzii tip: Despite the child-friendly amenities, inflatables are a no go at this hotel. For water-based fun, stick to small beach balls or games. 
Aquashow Park
If you're going to go to one waterpark in the Algarve, make it Aquashow in Quarteira. A theme park that comes with its very own water coaster is not to be missed. Splashes and spills are found at every turn in this watery playground that can be more than just a fun day out. Part of the leisure complex includes a 4 star hotel where entry to the park is free – if you're a hotel guest. If a fortnight in the wave pool isn't for you, day tickets are also available. So, what can you expect? Sharp thrills can be found on the water coaster, free fall, white fall and speed foam slides. More leisurely pursuits include the now obligatory lazy river and jacuzzi areas. Theme park rides, a mini train and kids area round out the attraction – along with a restaurant. But, the fun doesn't stop there. A newly built indoor waterpark has just been added – which frankly, if this was Aquashow's only collection of slides and pools, you'd still be clamouring for tickets.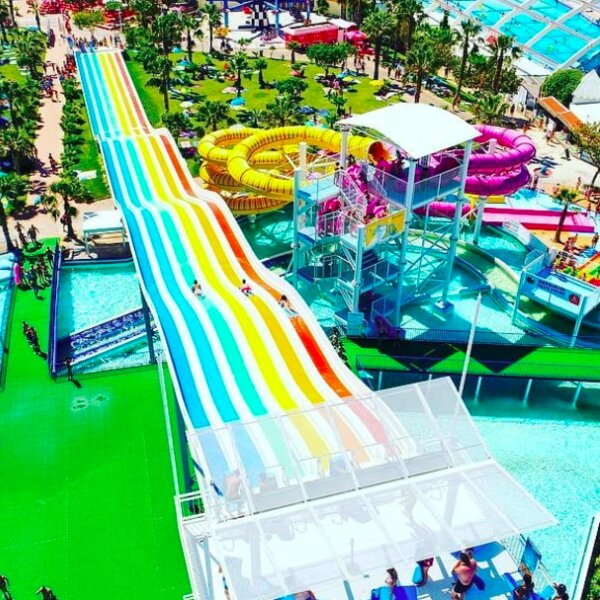 Orbzii tips: Food in the park really only falls into the junk food category. Though, lockers and a picnic area mean there's nothing to say you can't bring your own lunch for the day. Sundays tend to be quieter, with shorter queues for the bigger slides and rides.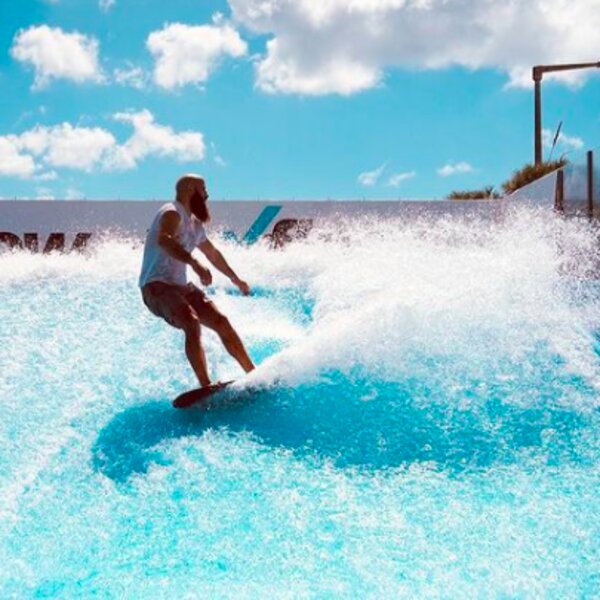 XFlow Surf Spot
There's one place in the Algarve where the surf's always up, no matter the ocean conditions. XFlow Surf Spot in Albufeira lets you hit the waves on their surf simulator, with professional instructors on hand to walk you through everything from the basics to more advanced surf skills. And, if you're not on board with taking to the waves, you can watch your friends and family give it crack, while you sip a strawberry daiquiri on the terrace. The drinks list is impressive, and though this surf spot's menu wouldn't perhaps worry any Algarve restaurants that top the must dine list, it's a viable wave-side option – if you're in the market for a fun day out with a side order of burger and fries.
There's a nice little mini-theme park tacked on to the wave action, where mini dodgems, table games and arcade games give landlubbers a viable excuse not to slip into a wetsuit.  
Cost: €30 for a 30 minute shared surf session – with instructor 
Aqualand Algarve
At first glance, Aqualand in Alcantarilha looks a little … sparse, perhaps, compared to its larger Algarve waterpark competitors. But, it does still have a lot to offer. Timid waterpark newbies will be delighted by the slow and steady Congo River. Essentially it's a 270m float around the attractions. But, there's a lot to be said for chilling out and watching more adventurous types brave the bigger slides. And while nothing ever really comes close to Aquashow's water coaster, the Kamikaze's a real adrenaline rush. From 36 metres in the air to the pool below in 4 seconds, it's one you'll either want to try again and again, or sit out on the sidelines. Perhaps the Crazy Race is an acceptable middle ground? Body surf your way to the finish against your friends down a seemingly never-ending foam slide.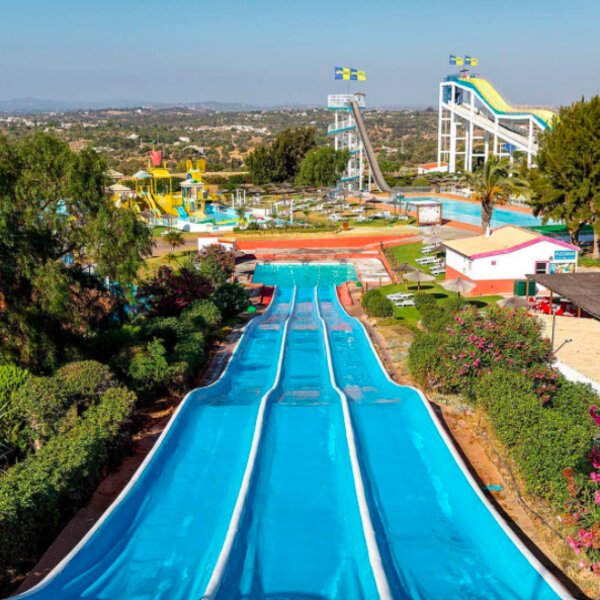 The kids world park area is a colours-splashed, safe option for little ones. And, yes, there's the always popular wave pool for those simulated sea vibes. Though, on the Algarve coast, little can really rival the real beaches.  
Cost: Day tickets start at €21 / £18.30 
Orbzii tip: This one could apply to all of the parks listed here. Invest in some water shoes. In the height of summer, walkways between attractions really hot up, leaving bare feet vulnerable to some seriously soaring temperatures.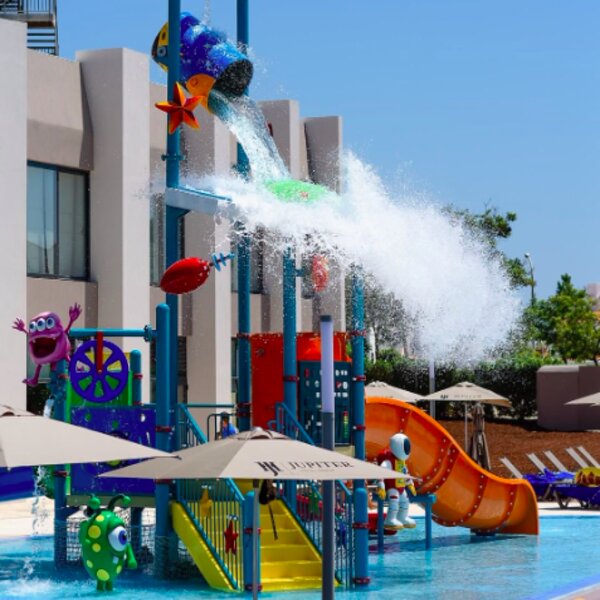 Jupiter Albufeira Hotel
In the spirit of covering all bases, it's about time we rolled out a 5 star option that comes with its own waterpark. Jupiter Hotel in Albufeira has that goldilocks mix of facilities we all yearn for when booking a fortnight in the sun. But, crucially, we're here for the swimming pool side of things so let's get to it. A splash zone and a few water slides might not seem that exciting compared to the vast complexes we've covered here. But look a little further and you find an indoor pool and spa that delivers on upscale unwinding. For the fun factor? The splash park has a huge – and exhilaratingly unpredictable – bucket that douses the entire area in water. The timing is random,  and the water's rarely approaching tepid – so expect a few screams of shock and laughter on this one. 
Happily, the larger water slides come with enough twists and turns to keep you going back for more – and, yes, adults can try them too. The best part, when the hotel breaks out the inflatable Zorbs for kids to run across the water on.