Not everyone wants to roll out a beach towel and bake until sundown. So, rather than get overly involved in the sand grading of the island's beaches, we've dug into what makes the best beaches in Lanzarote worthy of your time. After all, beaches are for surfing, snorkelling, diving, discovering and, occasionally, just ogling at the landscape or sunset. Of course, we've dropped in a couple of Lanzarote's best beach all-rounders as well. Pick and choose, visit the lot or plump for whichever one seems like your absolute coastal heaven… 
The best beaches in Lanzarote?
Let's be honest, this is what we're here for. The coveted best beach in Lanzarote will always be up for debate, but Punta de Papagayo has not one, but five, beaches that could all take the crown. Sitting pretty in the southern most point of Lanzarote, the coastline here racks up all the essentials. Golden sands, seas that wow in the colour shade stakes and a pleasing mix of wild and rugged nooks that happen to be peppered with a few facilities. Though, these certainly aren't town beaches – you're looking at bumpy track access and little more than a couple of restaurants to choose from. For us, Playa de Papagayo is the pick of the five, though, here you'll likely find a cove of your own to while away the days in. 
Orbzii tip: If you're not sure your hire car suspension can take on the access track, hop in a water taxi. You'll find a few heading south from the Old Town Harbour. 
Seek out the secluded shores of Playa Quemada
If you like to swerve the hotspots and pop along to a quiet village where nothing much seems to happen, you'll love Playa Quemada. While here, you can wander the streets and see what the island might have been like had we all not hopped on a plane for a fortnight of Lanzarote life. And, of course, Playa Quemada has a couple of lovely beaches. The main beach of the village is the sort of sport where residents start the day with a swim – or catch a little something for lunch. When the tide is low, you can access even more deserted sands, though, a meal in one of the village restaurants is a little less tiring. 
Surf the waves at La Santa
Famara and La Santa are the premier spots for surfing. Yes, there are more than respectable waves in Arrecife, but these north-west beaches eclipse any breaks you'll find crashing onto Lanzarote's shores. The El Quemao wave at La Santa is the one to master. When conditions are right swells are competition standard that'll tax the most experienced among you. If this is your first crack at the waves, there are surf schools on hand to get you in the water, and riding the waves with the best. 
Swim in the island's natural ocean pools
Lanzarote's volcanic history has left it with some rather stunning natural pools. Some are easier to access than others, and some are possibly too riddled with sea urchins to bother. The best lava stone pools can be found in Punta Mujeres. Bringing all the benefits of a sea swim, with protection from the waves, they also happen to be in the midst of a charming little fishing village. Residents have helpfully added to the natural stone – with extra walls and access steps, for anyone to take a swim. Few people venture to this north-east spot so you may find you have a pool all to yourself. 
The stunning Los Charcones pools near Playa Blanca are left just as nature intended. Which essentially means a lot of craggy, lava rocks that are either super slippery or painfully sharp on your feet. Approach with caution. 
Snorkel with sea cucumbers in Playa Flamingo
The good thing about sea cucumbers? They're not skittish types that flee at the first splosh of a snorkeler hitting the water. Happily, for snorkelling fans, they're also not the only sea creatures that hang out in Playa Flamingo's welcoming waters. Barracudas, rainbow fish, lobsters, crabs, sea horses, starfish, urchins and shoals of sardines all hang out here too. Not a bad checklist to snorkel your way through. If you'd rather go diving in Lanzarote, Playa Chica is a great beach to start from.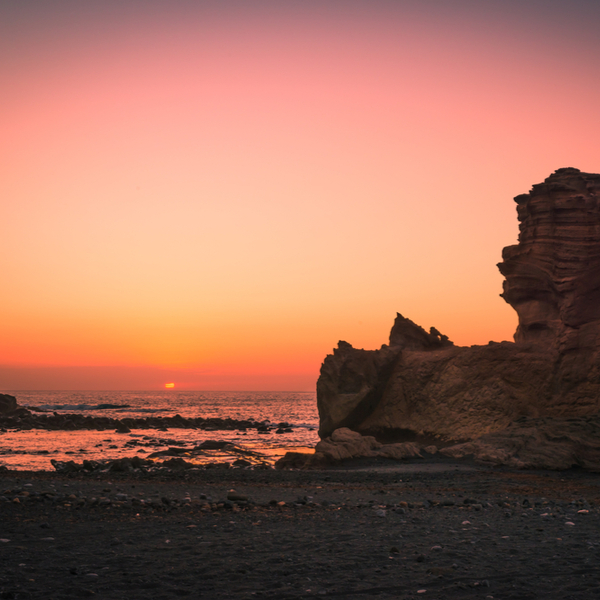 Watch the sunset from El Golfo
There are many, many Lanzarote bars on the west of the island that will happily welcome you to sip a cold one and watch the sunset. But, the black sands of El Golfo deliver a very different experience. Firstly, you'll likely be sharing the sands with few others. And, on the other side of the road that runs along side El Golfo beach, there's a stunning green lake that looks very different in the orange hues of Lanzarote's spectacular sunsets. Really, the whole colour scheme of the landscape is as far from a tropical beach as it comes. If Mars had a beach scene, it might look a little something like El Golfo.  
Island hop to La Graciosa
It feels a little disrespectful to say that some of the best beaches in Lanzarote aren't technically in Lanzarote. Now, as you've seen so far, Lanzarote's beach life is fairly spectacular, but if you fancy an island hop, catch the ferry to La Graciosa. It's Lanzarote's nearest neighbour and home to three remote, sand-drenched beaches that have absolutely no facilities. Roam the wild dunes at La Conchas beach, enjoy the sheltered cove of Amarilla beach or paddle in the lagoon at Playa Francesa beach. Just one word of warning. There are no roads on the island, so you'll be looking at a long walk or a bumpy 4×4 taxi ride over the landscape to your chosen beach. 
Revel in the amenities of Puerto del Carmen's town beaches
After some of our top picks for best beaches in Lanzarote, some of you might be desperate for a bit of convenience and hassle–free fun. There's plenty of that in Puerto del Carmen. With a handful of beaches, each with their own particular niche, it's looking dangerously close that elusive 'something for everyone' grading. The 'Goldilocks' of the lot really is Playa Grande. Over 1km of clean and well–kept sands, sunbeds (€6 a piece), bars, cafes, sunset views, shallow waters and all the amenities of Puerto del Carmen just a stroll away. The downside? Because there's always one, isn't there? This beach does get busy – and can attract hawkers selling sunglasses. Though, if you head north – or south, there are tucked away coves to enjoy. 
Orbzii tip: if you're looking for the convenience of Puerto del Carmen, but want something a smidge more lowkey, try Las Cucharas beach in Costa Teguise. Beautiful clear waters and excellent conditions for watersports make it popular, but crowds never quite top Puerto del Carmen levels. 
Dive down to an underwater museum in Playa Blanca
Europe's only underwater museum is a whopper of a secret to uncover when you dive in Playa Blanca's waters. But don't be put off by the 'dive' part. Lanzarote Dive College can help absolute scuba beginners access this stunning eco-exhibit. 300 sculptures have now become a jaw-dropping artificial reef that also happens to contain a worthy message on the state of the human condition. Whether you're here for the art, the sea-selfies or the sea creatures, just make sure you're here. Already got a few scuba dives under your weight-belt? Book a night dive with the college. There's something beyond eerie seeing a fish taking a nap wrapped in the concrete arms of a submerged human statue.