Picking out a beach in Goa isn't easy. Numerous, idyllic and often palm-fringed, these sun-bleached, sandy temptresses are all vying for your attention. Some offer remote escapes where the noisiest residents are the fish eagles, others are hedonistic spots that'll expect you to dance your toes across the sands into the night. Beach shacks serving the freshest seafood are relatively common, so you'll always be well fed. Already feeling the FOMO? Don't worry. We've got the intel on the best beaches in Goa – from the very specific to the all-rounders, there's a beach for everyone. 
For cracking facilities
If you're short on time and want a beach that delivers on everything, head to Candolim Beach. The sands are lined with loungers and parasols, there's the nearby fort to explore (for those easily bored by sandcastles), rolling dunes provide a backdrop for selfies and scope for roaming and there's a resort full of cafes, restaurants and food shacks to keep you refuelled and refreshed for a crack at the many watersports. For this reason, this stretch of Goa beach that seems to go on forever, also gets labelled as 'bustling'. Yes, this is a busy one. But it never quite gets as busy as Calangute or Baga beach.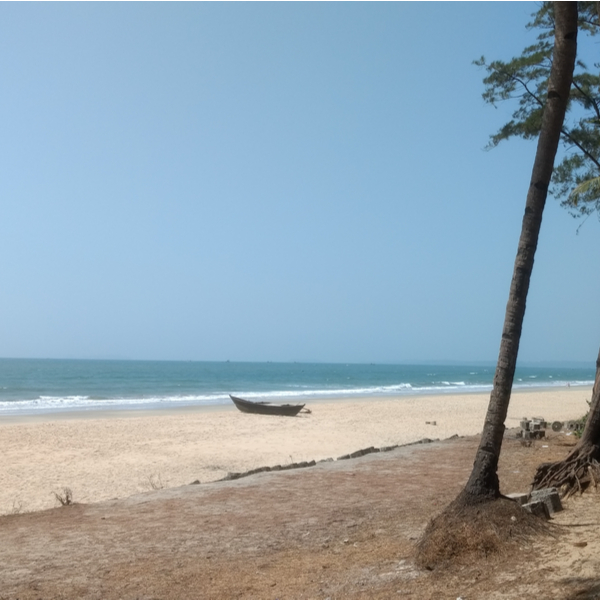 To see dolphins from the shore
Why shimmy up a gangway and spend a couple of hours on a dolphin watching trip, when you can spot them straight from your beach towel? Layout on the palm-fringed sands at Betalbatim beach and wait for the pod to breach by. While you soak up the sun, the local bird population keeps things chirpy and suitably colourful. And, if you're still glued to your spot on the sands when night falls, the bioluminescence glitters in the moonlight. A pretty special sand-stretch that, not surprisingly, gets a lot of attention. This one also comes with some added beach essentials. 
Betalbatim's got watersports, food shacks and friendly fishermen that'll offer you a place on their boat – for a fee. It could be worth it, you'll get a little closer to the dolphins. 
For the best beach parties
The only Goa beach you need in your party planner? Vagator beach. A lively spot that never tips over into the hectic crowds you'll find at Anjuna. Start the evening here with sunset cocktails from one of the many fairy-lit beach shacks, dance, shop for souvenirs or stroll and take in the craggy red cliffs as the buzz on the shore builds. Looking for something a little more hedonistic? Inland, the legendary Hilltop club gets Vagator visitors dancing to their Goa psy-trance beats every Sunday.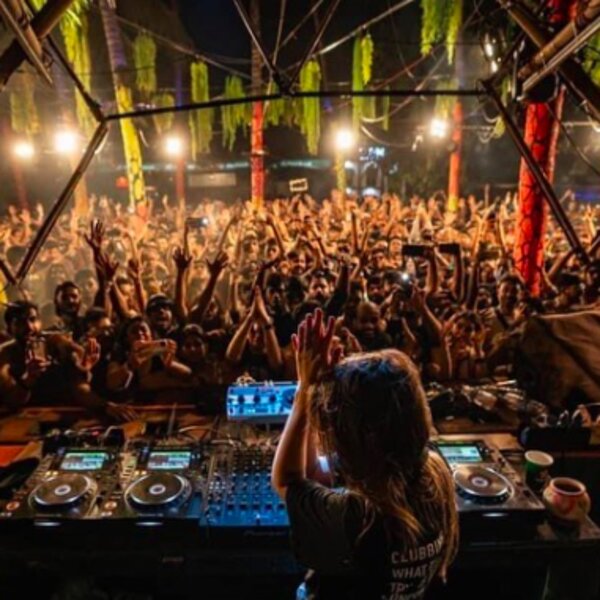 Orbzii tip: Fancy experiencing something a little different on Goa's nightlife scene? Swing by Palolem beach. THE place to enjoy the silent noise parties that manage to get around Goa's strict 10pm noise laws.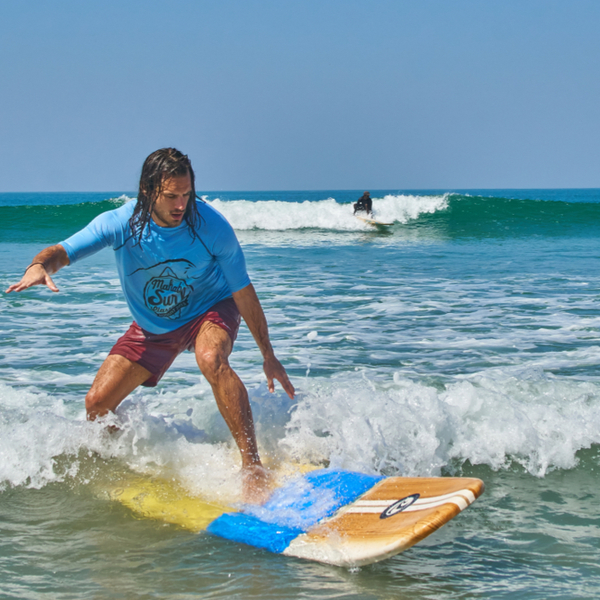 To surf Goa's best waves
Firstly, congrats. You've chosen the best region in India to catch a break or two. Newbies, you'll want to head for one of Goa's surf schools where they can get you kitted out and talk you through the basics. Arambol's a great place to learn. Everyone else, wax your boards and ride the waves at South Goa's Agonda Beach. Here, the key word is consistency. On all but the flattest days, you're looking at solid sets of peaks across the full length of coastline. Waves to the north tend to hit a little harder – and offer something to challenge advanced surfers. On the best days? Expect 5 foot waves that just keep on rolling in. 
Orbzii tip: Hungry after crushing it out there? Head ashore to find Nature Organic – a Goa restaurant that's stacked with smoothies, veggie and vegan eats that'll keep you suitably carb loaded for another crack at the afternoon's breaks. 
For the best snorkelling and scuba diving
You'd struggle to find a snorkelling recommendation for even the best beaches in Goa. Yes, the sands are stunning, but the water visibility tends to be poor. But that needn't mean snorkel and scuba fans miss out. Hop aboard a local ferry at the Sinquerium jetty and head to Ilha Grande – or pop yourself on a scuba tour. There's a couple of sites you'll want to check out. The wreck of the SS Rita has been attracting groupers, angelfish and bannerfish since the '50s. Protected from the currents, it's a suitable spot for all abilities. For something a little more colourful, the island's coral garden provides a technicoloured home for angelfish, parrotfish and butterfly fish.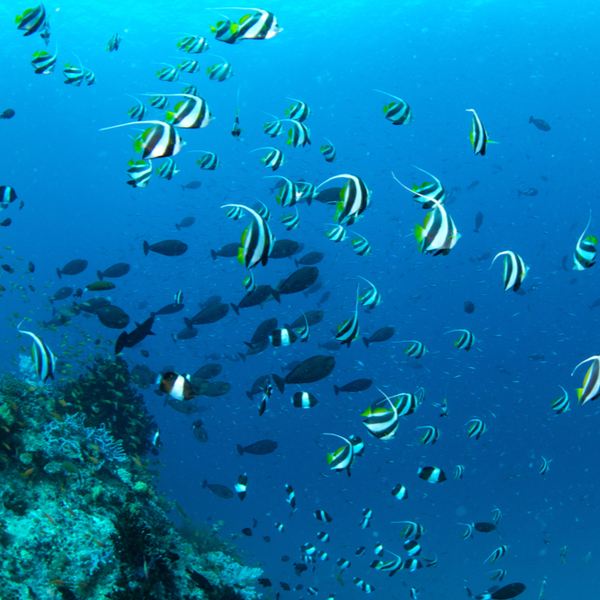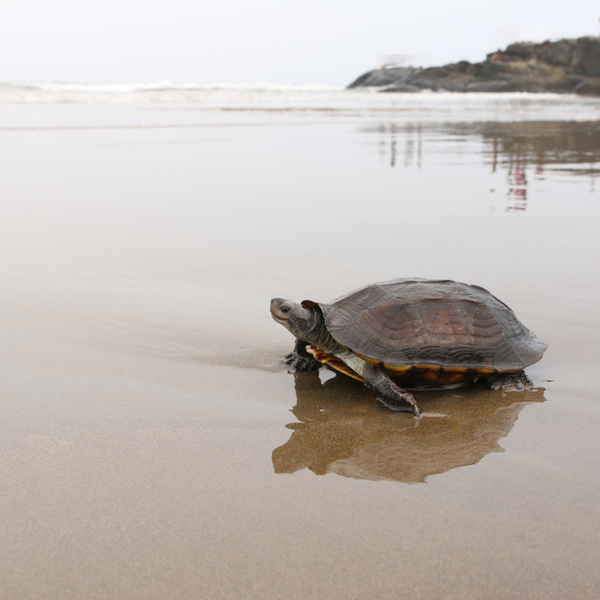 To see Goa's sea turtles
Slinking onto the warm sands for a day of sun, sea and snacks from nearby curry shacks is idyllic enough. But if you want to see some of Goa's wildlife, you'll need to be picky about your stretch of coastline. You might not find much in the way of facilities on the undeveloped shores of Galgibaga but, from December to February, you're likely to see the green shells of the Olive Ridley sea turtles. Coming ashore for nesting season, the females haul themselves up the beach to lay their eggs. It goes without saying, you'll need to tread carefully – and keep your distance to avoid disturbing the turtles as they lay.  
To practice your sun salutation
Booked a spot on a yoga retreat in Goa? We can highly recommend taking your mat over the boardwalk at Mandrem Beach. You're headed to this coast for a relaxing sesh of sunset yoga. Peaceful and somewhat secluded, your yoga or meditation routine will be soundtracked by the slow rhythm of the waves or the gently flowing waters of Mandrem Creek. Pretty idyllic. Stretching your way into the evening, you might spot a fish eagle catching a late supper or a honeymoon couple looking to snap a sunset selfie.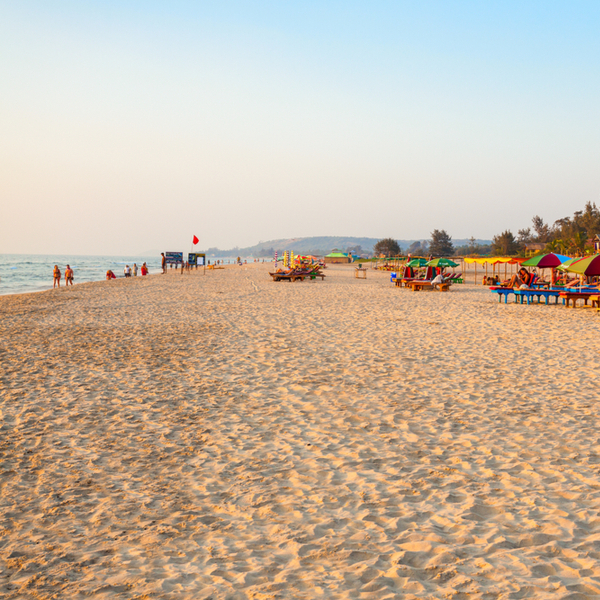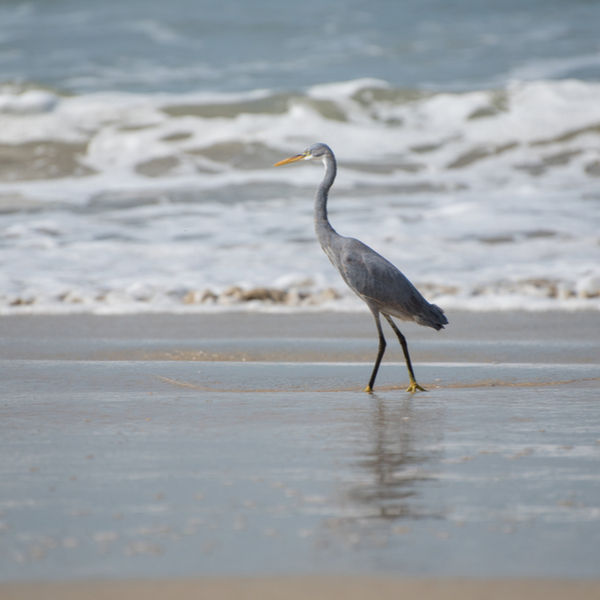 To do a little birdwatching
You can do much more than watch herring gulls sweep in to steal a seaside chip or two in Goa. Home to around 5% of all the world's bird species, the region is a birding paradise. And, while we're not suggesting you park yourself on the sands at Morjim with a field guide and scope, you'll want to head here if you like your sands to come with wildlife spotting opportunities. Over 30 species can be spotted on the sands or in the fields just behind the beach. Gulls, terns and swallows are standard spotting, but you'll really want to look out for the more colourful residents. Common and white-throated kingfishers hang out on the shore, while little green bee-eaters make their home in the fields nearby. 
Brahminy Kite and sea eagles bring some high level predator action and Indian Pond-herons and Eastern Cattle Egret compete for the best catch of the day. 
The all-rounder
Finding a beach that pleases everyone can be a little tricky. Nature fans that love wild and remote spots aren't going to be happy on a town beach flanked with facilities. So, when it comes to the all-rounder, there's going to be a degree of compromise. But there is a Goa beach that's just about got it ALL. Benaulim Beach is one of the best places in Goa for family-friendly fun. Party seekers – don't despair. At night, the seafood shacks that keep visitors very well fed by day, turn into bustling little drinking nooks that play out beats into the night sea air. The nearby town delivers well on facilities for all and there's a few watersports to bounce through the waves on by day. So what about those nature fans? Well, you can pop yourself on a dolphin watching excursion from Benaulim Beach. But the beauty of Benaulim is that it's simmering just under the main tourist radar. A very rare Goa beach indeed.