As an island nation, Sri Lanka is home to some of the most glorious coastline any beach lover could hope for. The West and South of the island are considered the best places for a day at the seaside, but there are any number of paradisiacal spots you could choose to spend your time in all over the island. However, when it comes to Sri Lanka beaches there are some absolute favourites that cannot be missed. If you're looking forward to lounging by the ocean and falling asleep to the sound of the waves lapping at the shore, then read ahead for our guide to the best beaches in Sri Lanka.  
Uppuveli Beach
The Trinco (or Trincomalee) area is home to several great stretches of shoreline, but Uppuveli Beach is something special. The fine, white sands are matched by an idyllic, calm blue ocean – even during most of the monsoon season! The beach itself is massive, so there's plenty of space if you prefer a more private experience. With that said, if you're with the family or don't want to go too far from creature comforts, there are a lot of small restaurants lining the edge of the beach so you can grab a snack to break up the hard work of relaxing. With warm water to swim in, plenty of amenities nearby, and a relaxing vibe, when it comes to Sri Lanka beaches Uppuveli is one of our favourites.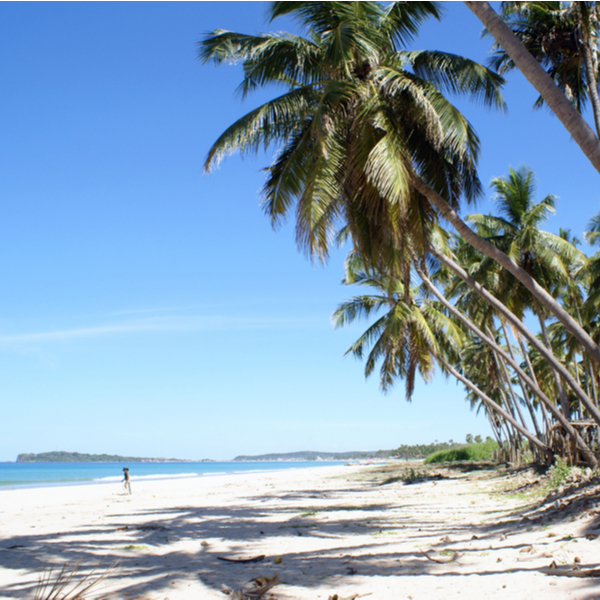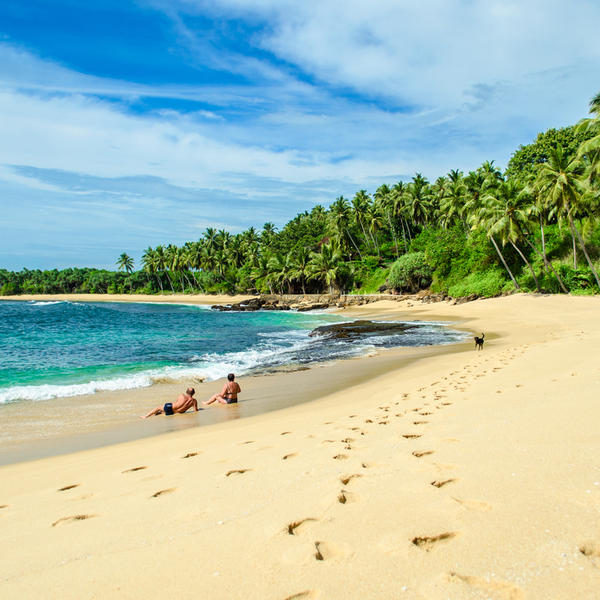 Bentota Beach
Widely considered one of the best beaches in Sri Lanka, Bentota beach is surprisingly quiet considering its prime location and access to amenities like shops and restaurants. As it's on the country's west coast the waves can be quite strong, but the water is usually calm enough to frolic around in. The powder-soft sand is a delight to walk and relax on, and given its location it's also home to an astoundingly gorgeous sunset that many locals come out to enjoy. Definitely a perfect spot if you're looking for a romantic beach experience, and if you're willing to stay until it gets dark you might get lucky and see some local music and dance performances. A real stretch of paradise. 
Arugam Bay
Over on Sri Lanka's east coast lies a firm favourite of locals and travellers alike. Arugam Bay is known for its laidback atmosphere, big surf, and the natural beauty that surrounds it. The beach itself is pristine, with a few small guesthouses, cafes, and stores within a short walking distance. The little village the beach is based in is typically Sri Lankan, with palm-thatch roofs and sleepy shops that seem to only be open at random times. The area surrounding the bay is also home to a mix of Tamil, Muslim, and Sinhalese peoples who get along much better than the country's storied past may imply – although when you are surrounded by something so gorgeous it's hard to be annoyed at much, so that makes sense. Although there have been more tourists coming to this perfect little spot, it still maintains its character and charm. If you want an authentic Sri Lanka beach experience, then Arugam Bay is your best bet.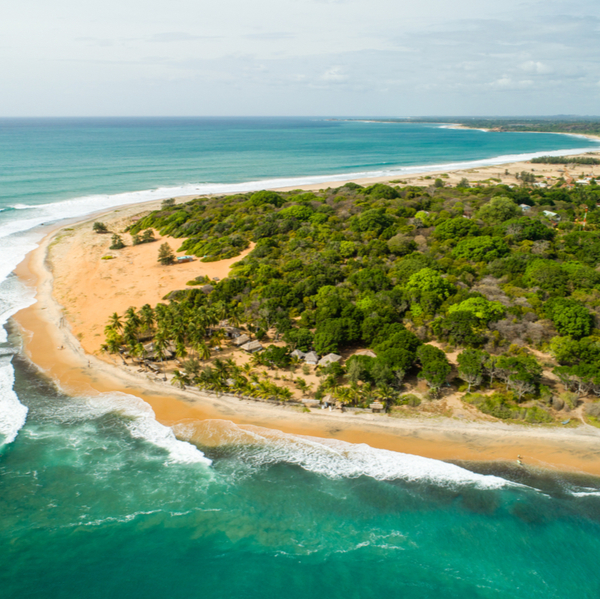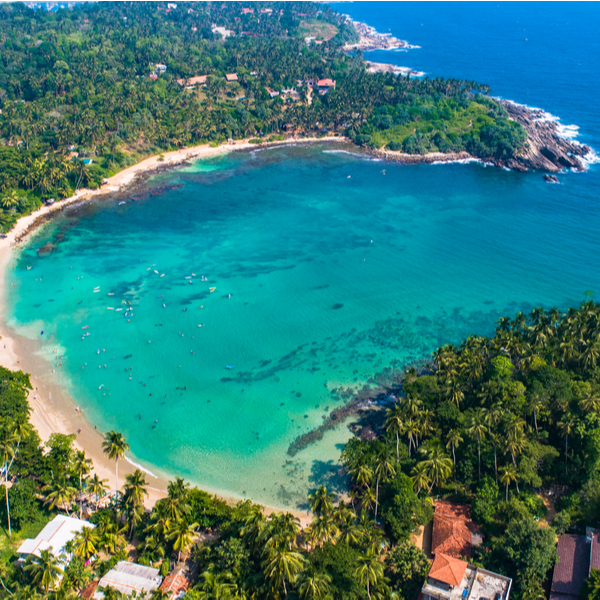 Hiriketiya Beach
Nestled in the south of the country, this little slice of bliss is the sort of place that belongs on a postcard. Lined by palm trees and replete with beach bars serving dangerously delicious cocktails, when it comes to Sri Lankan beaches to relax on there aren't many better. It's also a great surfing spot for those who like to get the heart pumping, with different waves for all kinds of ability. On the beach, however, things are the opposite of tumultuous. Hiriketiya is a tucked away from the main motorway that traverses most of the south coast of Sri Lanka, so the sounds of angry car horns and spluttering tuk tuk engines won't interfere with the lapping of the waves and birdsong. If you really want to get in touch with your inner self, there are plenty of cheap yoga spots around who offer classes on the beach. What more could you want from your Sri Lanka beach experience? 
Induruwa Beach
The former fishing village of Induruwa is home to one of the best beaches in Sri Lanka. White sands, great surf, and few crowds make this a great spot to unwind in. When you add the picturesque palm trees and cerulean water that shimmers with a kind of magic, it can quickly become the sort of spot that's impossible to leave. Located on the west of the island, it's also a wonderful place to watch a romantic sunset, with the evening sky morphing from cloudless blue to dusky pink and orange as the day draws to a close. A nearby ravine gives Induruwa Beach a closed off kind of feel, which makes a trip even more special. When it comes to Sri Lanka beaches, you'd be hard pressed to find a better one.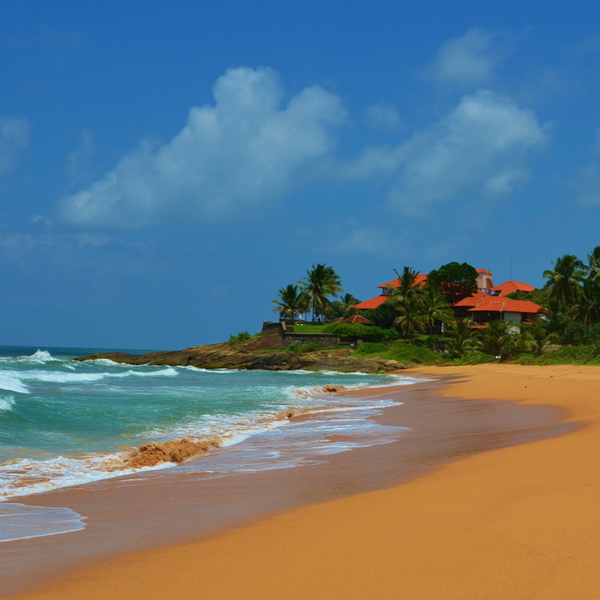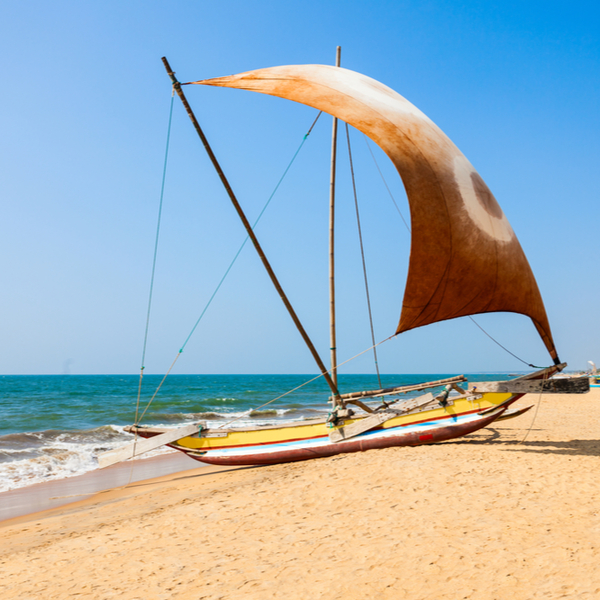 Negombo Beach
If your perfect beach experience means having food and drink at your fingertips and a lively atmosphere where you can meet locals and fellow travellers, then Negombo Beach – a short drive from Colombo – is the spot for you. The road behind the shoreline is full of luxury hotels, unbeatable restaurants, and fancy bars to grab a beer or cocktail in.  
If you're willing to explore the area, Negombo Lagoon is a mid-length walk or short tuk tuk drive away. An interesting natural feature, it's surrounded by coconut plantations and rice paddies, so your day at the beach can get a tinge of green. If you want your Sri Lankan beach experience to be more than just a lie down in an idyllic location, then Negombo Beach is worth a trip. 
Tangalle Beach
At the southern tip of Sri Lanka lies Tangalle Beach, home to soft golden sands and a cool surfing culture, and only a short journey to numerous other astounding natural attractions. The area is a little more developed than some other Sri Lankan seaside spots, but that doesn't mean it's rammed full of tourists – if anything, it's one of the quieter regions considering how many lodgings (both cheap and luxury) line the roads here. 
If you're the kind of traveller who doesn't like sitting in one spot for too long, Tangalle is the ideal Sri Lankan beach to visit. Just a short drive away are a whole host of incredible things to do. This includes Hoo-maniya Blowhole, Mulkirigala Rock Monastery, and Kalametiya Bird Sanctuary. Even if you are a beach bum kind of holidaymaker, Tangalle is still a phenomenal spot: the water can get very choppy, so you have every excuse to lay back and soak up the sun.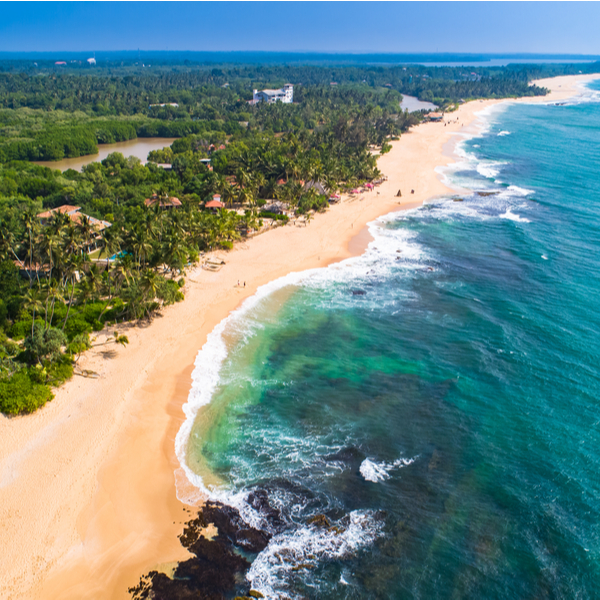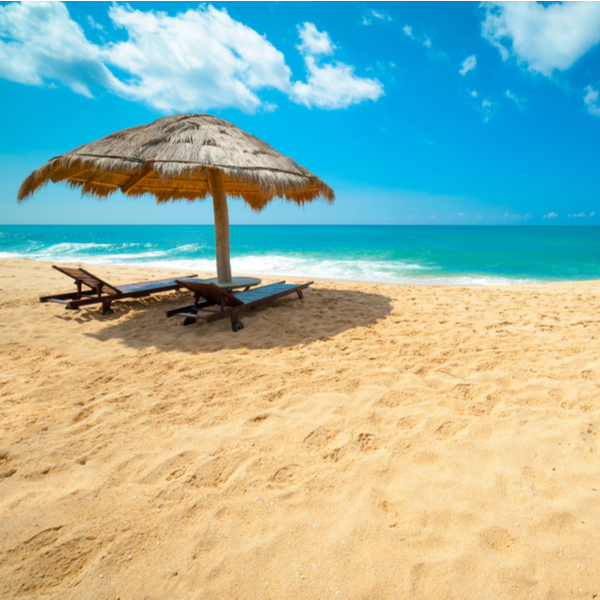 Pasikuda Beach
Sri Lanka's east coast isn't as developed as the other side of the island, but the beaches that face the Indian Ocean are as good as anywhere else in the country. The region here was devastated by the 2004 Tsunami and Sri Lankan civil war but is slowly coming back to its glory days. The name translates rather unappealingly to Green-Algae Bay, but the water itself is a picture-perfect turquoise, and on sunny days (which are most) shimmering sequins of sunlight bounce off the calm waves. The water here is quite shallow and good for swimming in, so if you're with kids or not a strong swimmer, it's a great spot to take a dive. Because of this, it's a popular spot for local families, so if you prefer your beach trips to be a little more secluded, then we'd recommend heading here in the morning or early afternoon to avoid the crowds.