Finding the best of the Majorca nightlife isn't a tricky task. From the party-packed strip in Magaluf to a very high-end marina in the south of Majorca, there's fun of all kinds to be had.
Majorca's clubbing scene has changed over the years. Big name Pacha has been ousted – and even its flashy replacement bowed out. The vast and foam-ravaged dance floors in Magaluf aren't for everyone – but they are the stalwarts of the scene.
As long as the bass keeps pumping, there's a crowd flocking to dance – or slide – the night away.  
If when it comes to Majorca nightlife, you'd prefer a relatively quiet one, fear not. In the island's chilled cocktail bars there's not a drop of foam in sight. Unless you count the pea foam adorning some very gastronomic endeavours created by sunset bar chefs.
Is there something for everyone when it comes to Majorca nightlife? Absolutely.
Even if you happen to like your cocktails served to classical music surrounded by baroque stylings and antiques. It's for this reason you never can quite peg Majorca nightlife. Just when you thought it was an EDM and House riddled sea of Trance and chart toppers, it always throws a curveball into the expertly mixed playlist.
We approve!
Sunset Spots
OK, so let's be clear that the Majorca nightlife doesn't begin and end in the clubs. The key to the ultimate night out in Majorca? Early drinks in some of the island's best spots.
Catch the sunset with some expertly mixed cocktails, perch on a rooftop terrace and sample some sushi. If you're in the mood to party dawn 'til dusk, we've got Majorca's beach clubs covered later on too. 
Beatnik Bar & Restaurant
If you happen to be in the market for a 1950s New York bar in Palma, get yourself to Beatnik Bar & Restaurant. 
You'll be mingling with Palma's hip crowd, who are drawn in by Beatnik's mix of bohemian vibes, spot on cocktail menu and DJ line up.
The swish stylings of the bar can be lost in the crowds. For fresh air and views over historic Palma, the terrace is the place to be.
It's not quite a celebrity hang out, but when it comes to enjoying the Majorca nightlife, Majorca's well-heeled party people can't keep away. 
Orbzii tip: Don't miss a chance to sample the food on Beatnik's menu. Though, this isn't a spot for a quiet meal Thursdays to Saturdays. Pop in earlier in the week and you can add it to our list of best restaurants in Majorca. 
Katagi Blau
Before we blow Katagi Blau's trumpet – we do have to pop in a disclaimer.
If you're looking to party in Palma when perusing the best of Majorca nightlife, then this spot's a 15 minute taxi drive away.
It's by no means a deal breaker, obviously, but we're all about the details. Transport sorted, let's get to the good stuff.
Three words. Sushi. Sunset. Setting. Katagi Blau's got the lot. Plus signature cocktails.
In contrast to Beatnik's lively, loud music and 'let's get this party started' take on the dusk timeframe, Katagi's definitely the place to chill and be pampered.
If clubbing in Majorca is all about pacing yourself, you'll not find a more sophisticated place to do it. The sunset menu is a good shout at €49.
For four courses and a welcome cocktail it's a steal with Katagi's sea views thrown in for good measure. 
Beach Clubs
Zhero Boathouse
We're supposed to be looking at amazing Majorca nightlife hotspots – but really, Zhero Boathouse is an all day 'til dusk kinda place.
Parked in Magaluf, Zhero's the place to start and end the night. Though, with the bar open until 1am, we wouldn't blame you if you swerved the super clubs and stayed until closing.
The driftwood styling adds to the chilled vibe, so nothing ever feels too pretentious.
Prices are a little more than you'll pay elsewhere in Magaluf, but good when compared to other beach clubs. A spot for cocktails and chilled drinks – rather than dinner.  
Orbzii tip: Zhero Boathouse has another location – Zhero Beachhouse – don't confuse the two. The Boathouse is the better of the two locations. 
UM Beach House
As well as boho vibes, beachclub stylings and chilled out music, UM Beach House gives you some pretty stellar options when it comes to Majorca nightlife.
It's a mere10 minutes from Magaluf and around 20-25 minutes from Palma, you can leave your later plans right up until the last minute.
Expect a mix of Afro House, Afro Latin and Tribal Funk around the pool.
The massive Balinese beds aren't the place for evening wear – but worth picking out a spot for when you inevitably come back to UM's welcoming arms.
At the bar? Try the signature Umricane.   
Orbzii tip: Thinking of dining here? The extensive menu is helpfully clearly labelled to cater for allergies, dietary needs and intolerances.
Vegan and veggie options make this a winner for groups of friends with plant-curious leanings. 
Majorca clubs
Clubbing on the island is a huge part of Majorca nightlife and it barely needs an intro.
It could have easily been overshadowed by nearby Ibiza's legendary party scene, yet it remains a right of passage for many clocking up their clubbing hours. Big brand BCM has fallen out of favour, and Magaluf hotspots Bananas Club and Boomerang Club are firm favourites.
But you can still go clubbing in Majorca without entering the fray in Magaluf.  
Uppereast
Looking to keep your party vibes cool and classy? It's always possible when it comes to Majorca nightlife.
Bypass Magaluf and head for Uppereast in Port Adriano. This Hamburg import is drawing in Majorca's sophisticated nightlife crowd with its harbour side location and luxe interior design.
Expect the entry fees and drink prices to reflect that. But it's worth it. Don't be fooled by the upscale atmosphere – the international DJs make sure everyone's on their feet.
After a suitably gastronomic dance through Uppereast's menu, of course.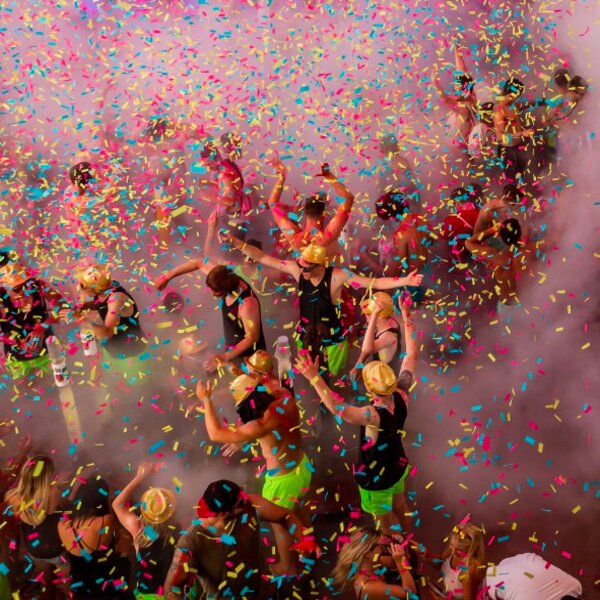 Megapark
How to describe Megapark? If Magaluf is where Brits go to let their hair down, the Germans are moving with their feet when it comes to Majorca nightlife and go to Megapark.
Described as Europe's biggest open-air beer garden, it really is so much more than that. One MASSIVE party that starts at 10am and finishes at 5am. Admission is free.
Most of the DJs hail from the crowd's home country and live sports are live streamed on huge HD screens – and an impressive video cube.
At night, the party heads underground to, yep – you've guessed it, Europe's largest covered beer garden.
A place for party animals? Most definitely. Brush up on your German before you go. Danke Schon!
Tokio Joes
If you are going to throw yourself into the Magaluf and indeed the Majorca nightlife experience, Tokio Joes is the place to do it.
Yes it's the busiest club in Magaluf – but it brings in the big names. Urban acts range from Skepta to Tinchy Stryder.
And if the massive dance floor is looking a little too crowded, there's always the chance to swig back some champagne in the VIP booths.
Expect RnB and Hip Hop classics – along with more than a few podium dancers.  
Orbzii tip: If you're in town to experience Magaluf to the full, it's worth knowing your clubs. MCP own Bananas, Tokio Joes, Boomerang and three more.
Grab a pass that gets you entry to all 6 on one night, if your time is limited – or buy a 7 night pass for a non-stop party week. 
An alternative to Majorca's hectic nightlife
Abaco
If ever there was an alternative to Majorca nightlife and an Majorcan antidote to Magaluf's foam parties and all out craziness, it's Abaco.
A grand baroque house – that frankly borders on mansion status – hardly seems like a place for a night out.
Add in classical music, antique furniture, classic paintings and Majorcan fabrics and things are shaping up to be more 'gentleman's club' than a night out.
But it's so quirky, it works. You'll almost feel like you're in a film set – if not transported to another era.
Escapism is what holidays are all about and Abaco more than delivers.
At this point, it's worth turning your attention to the cocktail menu. It's lengthy – with just the right mix of classics – hello, Negroni – and newcomers. Coco loco anyone?
Our tip? Make a theme night out of it. Rummage through your vintage ensembles and embrace some old world Majorca. 
Ready to take on the best of Majorca nightlife? The Orbzii app can get you to a foam party, sunset sushi moment or quirky Majorcan bar in no time. We can help with dreaming, planning and booking. We're still working on a hangover cure… but we'll come back to you on this!