If you've ever whisked yourself off for a rejuvenating city break and returned home wearier than ever, you're not alone. The pressure to see EVERY must see is immense. The secret fix? Setting time aside to just chill. And yes, a massage in Barcelona is going to come with a little FOMO – but you haven't seen the spas yet. Elegance and luxury, quirky, eco-friendly and even a plant-based option appears on our list.
Spend the day idling in a variety of pools – from tepid to hot, with even a few ice baths thrown in for good measure. Or, put yourself in the hands of an expertly-trained Thai masseuse if your knots need some extensive attention. If you really can't cope with missing a whole day's exploring – pop into a spa for a quick mani-pedi or glow-conjuring facial.
Luxury
Spas can sometimes suffer from being tucked away in a dimly lit basement. Not so at The Arts Hotel. A long-term player in the Barcelona hospitality scene, this hotel has had more than a few years to perfect its ambience, service and spa experience. And, no surprises here, it really shows. You'll find the spa on the top two floors of a coastal skyscraper. So expect to take in some sea views – along with a better than average cityscape. Chic and popular, the infinity pool is accessorised with a vast sculpture – very much setting the tone for The Arts hotel. Prices aren't cheap here – but the experience comes with the opportunity to sample Michelin star level gelato and pick up some self-care tips at regular masterclasses.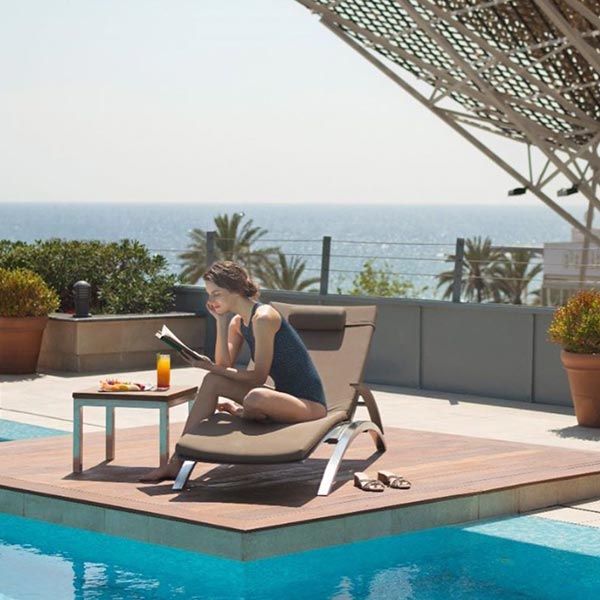 Orbzii tip:
If you're looking to return from Barcelona with a youthful glow, we'd plump for the Sublime Diamond Journey. At €330 it's not cheap – but then you will be exfoliated from head to toe with diamond dust. If that sounds a little severe, your therapist will follow up with heavenly scented, soothing and luxury balms from the Spanish cosmetic line Natura Bissé.
Eco-Friendly
You wouldn't expect to find a 100% eco-friendly, organic and sustainable resort on nature reserve in Barcelona. And, well, you'd be right. But, bear with us. Just a 20-minute drive from the city, you'll find Mas Salagros an eco-resort with a spa circuit provided by Aire Ancient Baths. Plus, your experience will include a dip in 'the bath of a thousand jets'. Impressive stuff. Farmhouse chic, scented candles, water therapy, steam room and massage sounds like a basic offering. But the out-of-the-city setting lifts it into bliss territory.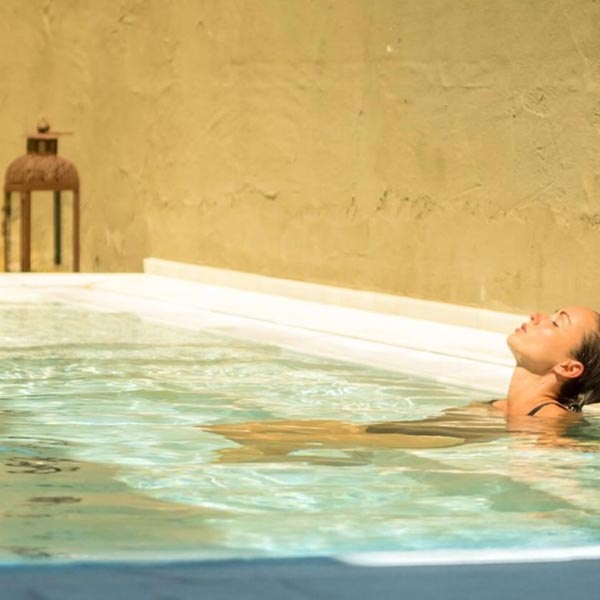 Orbzii tip:
No eco-friendly and organic establishment worth its Himalayan salts could ignore the plant-based among us. And Mas Salagros just so happens to have a vegan experience – a full body exfoliation and massage. If you'd rather stay in Barcelona centre, Aire has the highly-rated Aire de Barcelona. Though, we think there are better city-centre spas.
Vegan
Vegans in Barcelona may as well contemplate a permanent move here. Not only are your plant-based needs more than met in the many, many restaurants, but now you can be ethically pampered too. Spain's first vegan spa can be found in the Yurbban Passage Hotel. A white-washed and calming spot, Signature Spa's beauty products are all vegan and organic. Which is great – but do the massages and treatments hold their own with non-vegan rivals? In short, yes. Their Mediterrean Energy Lifting treatment is award-winning and the views from the, albeit small, rooftop pool aren't too shabby either.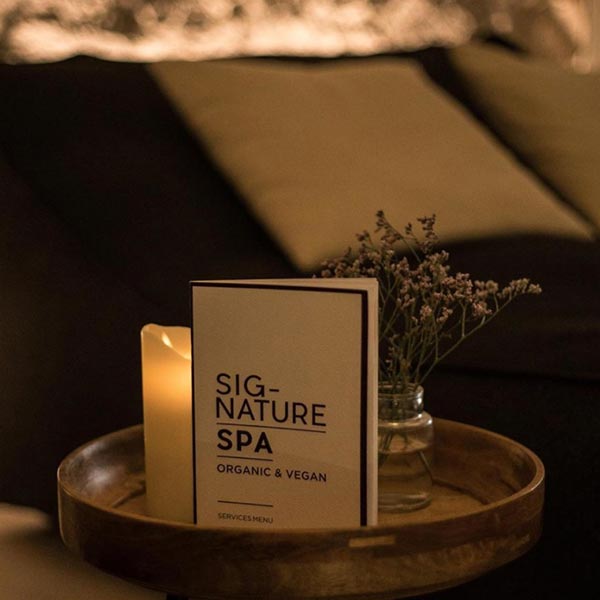 Orbzii tip:
If you want to nourish body and soul inside and out, Signature has thought of that too. Thanks to their shrewd partnership with popular flexitarian restaurant Flax & Kale, packages that offer vegan brunch, a massage and use of the pool area start at around €75.
Alternative
Fish spas have had quite the rise and fall in popularity. This spa in the old town has kept its tanks – but the ever-nibbling freshwater fish are backed up by a solid stable of treatments. Which means a fish pedicure – or manicure, is entirely optional. Facials, peels and full body massages turn the AquaBliss spa into a credible spa option – instead of what could be a decidedly fishy gimmick. It's not as luxurious as some others on our list – but ideal if your aching feet could do with a break from exploring. Dip them in the tanks or treat yourself to a foot massage. The choice is yours.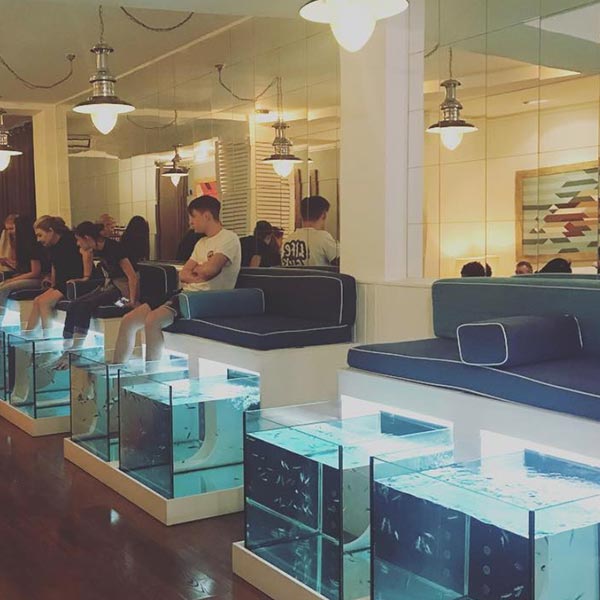 Orbzii tip:
AquaBliss may not come with upscale spa decor bells and whistles, but they do let you help yourself to a glass or two of Cava during your treatment. This – along with the free WiFi and quick pick me up style treatments means you can slot in some pampering, without losing a day in Barcelona. Rumour has it AquaBliss can rustle up some mineral water, if Cava won't cure your ills.
Couples
If you're in the city to reignite a flame, celebrate an anniversary or are in the midst of a whirlwind romance, 1850 Urban Spa Barcelona is the place for you. Their two hour Love Experience includes a massage, a bottle of cava, Godiva chocolates and private use of the water circuit for an hour. Actually, regardless of your relationship status – at €199 it's worth it. For another €100 you can complete the experience with a sushi platter, though Barcelona's dining scene is so good, you might want to explore other less-scented candlelit spots.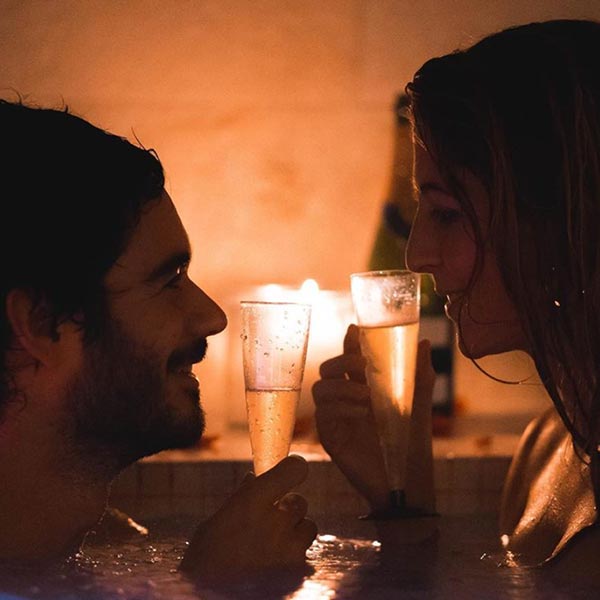 Orbzii tip:
If you like the idea of the private spa – but aren't in the market for a massage, you can just hire the spa for one hour – Mon- Thurs. If you're considering a couples' spa package elsewhere, it pays to check where your massage will take place. Some massages in Barcelona take place in the open – around the water circuit. Which for some, may not be an issue. But for anyone who likes their privacy, it's a deal breaker.
Thai Massage
In certain circles, Thai massage has been likened to lazy man's yoga. But, don't expect to flump on a massage table and wake up an hour later feeling floaty and refreshed. Yes, you'll reap some benefits but you'll also be stretched, rocked and pulled about by an experienced masseuse to unwind any knots you're carrying. And the staff here are some of the best, relocated from some of Asia's best spas – this is as authentic as it gets – outside of Thailand. If your Barcelona flight has left you feeling a little desiccated, it's hard not to be tempted by this spa's body hydration wrap.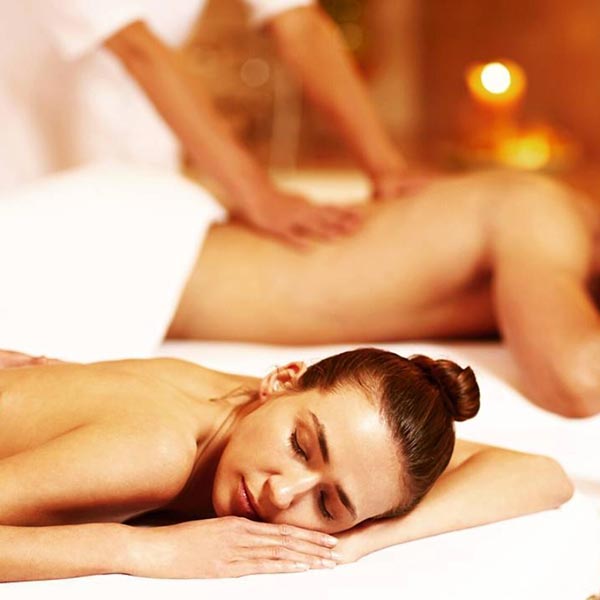 Orbzii tip:
This is a massage where you keep your clothes on. Well, you'll be provided with loose fitting scrubs to wear. Also, you'll not find your typical sauna and mineral pools – but there's an extensive menu of beauty treatments to pamper yourself with.
Packed your best spa ensemble? You'll just need one more essential accessory. Our app. From there you can Dream, Plan and Book your way to massage table in Barcelona.