As well as the mighty Disney, Orlando has a whole host of theme parks for you to frolic, scamper and play through. Though the Magic Kingdom is a great place to start, no one in the family will want to miss Universal's Harry Potter World. Orlando doesn't stop there though. With water parks, two movie-themed parks and even a science-based park there's enough entertainment here to keep you busy for far more than a fortnight. We've listed the best parks, their best bits and what to expect… along with a few tips to get you started. 
Disney's Magic Kingdom
Disney, Orlando's big ticket item doesn't disappoint. As soon as you take a seat on the monorail and whizz towards the theme park, you're entering into a sugar-coated, alternate reality that'll transport you straight back to childhood. The entire space is a tribute to Walt Disney and, as you'd expect, his image – and those famous Mouse ears, are everywhere. Coasters, characters and more than a little queuing are the order of the day. In Disney's Magic Kingdom, you'll see parades on Main Street, rattle around the Big Thunder Mountain Railroad and scream into the Briar Patch on Splash Mountain. Rides range from the mild Mad Hatter's Tea Party to the white-knuckle inducing Space Mountain. Mickey, Goofy, Minnie, and all of their Disney friends, crop up around the park, but the best place to meet them is at a character meal. Here, you're treated to a visit at your table by cuddly cartoon friends for photos, fun and autographs. 
If anything, the Magic Kingdom is tailored more towards small children, and teenagers might be bored by everything except the big coasters. Though, with many adults returning to the park year on year (without kids), it proves you're never too old to be captivated by the magic of Disney. 
Orbzii tips: Tiny toes might be tired from the day's adventures, but do try to stay for the fireworks display. Seeing Cinderella's Castle glowing under the gunpowder is a lifelong memory in the making.
Universal Islands of Adventures
If you need a little edge taken off the schmaltz of Disney, run, don't walk, to the turnstiles of Universal Islands of Adventures. Sharp thrills, adrenaline rushes and immersion into the fantasy world's created by your favourite films are delivered across the islands that surround the park's central lagoon. It's hard to say whether you'll get more goosebumps walking under the arches into Jurassic Park or strolling into Hogsmeade in Harry Potter World. Orlando central seems a distant memory when you're on any of the islands, which is exactly as it should be. But The Wizarding World of Harry Potter is by far the most popular area of the park. That's not to say you should skip past the Marvel Super Hero Island or Seuss Landing. But who among us hasn't wanted to hop aboard the Hogwarts Express?
Whichever island you choose, the special effects, coaster loops and stomach-flipping frights are world-class. Just like Disney, there's a chance to stay in a hotel on site – which is appealing if you want early access to the best rides. 
Orbzii tip: In terms of food – all of the parks have upped their gourmet game, but Islands benefits from being close to Universal's City Walk – an Orlando shopping experience that only adds to the mind-boggling menu. Do try the butterbeer though. It's everything you imagined – and more. 
Disney's Hollywood Studios
Lifting the lid on the magic of the big screen, Disney's Hollywood Studios is the rebranded and revamped version of Disney MGM Studios. The silver screen secrets are exciting enough, but the Star Wars franchise and Pixar movie themed antics steal the show. Don't expect to just stroll onto the Star Wars: Rise of the Resistance ride though. Booking a slot can be tricky so it's best to plan a full day enjoying the park's other attractions… just in case. If you don't make it on the list, the consolation prize is the chance to drive the Millennium Falcon, which is about as good as it gets for any Star Wars fans. There are some thrill rides you might want to skip if you've got toddlers in tow. But, overall, Hollywood Studios caters best to little ones. 
The overall tribute to Hollywood's golden ear occasionally jars against some of the more modern additions to the park, but there's a reason Disney has been running Indiana Jones Epic Stunt Spectacular for decades. They really don't make 'em like they used to. 
Orbzii tip: This one applies to all the parks. Each one will have height requirements for each ride. It's best to research these in advance and let your little ones know there may be some rides they can't go on. You'll avoid queuing for unsuitable rides – and skip any tantrums! 
Universal Studios
Of all the Orlando theme parks, Universal Studios perhaps provides the ideal middle ground for families with children of mixed ages. Though, if you can find anyone – of any age, that isn't wowed by Diagon Alley at the Wizarding World of Harry Potter, let us know. Rides, shows, immersive experiences, restaurants and shops all deliver on the behind-the-scenes theme that runs through the park. Shows and films featured include The Simpsons, Transformers, Fast & Furious and Harry Potter. And, just like Universal's Islands of Adventures, the park is split into themed areas that surround a central lagoon. Though, it's easy to dismiss part of the park and skip over stand out rides or shows. Don't miss the ET ride in the Woody Woodpecker's Kidzone, it's been charming visitors for over 30 years.
In the Hollywood zone, make sure you catch The Bourne Stuntacular, an immersive 30 minute show that'll keep you on the edge of your seat. As with all the parks, keep an eye out for familiar faces. Yes, you'll see the suited up Scooby Doo, Woody Woodpecker and Shrek – but Marilyn Monroe, the Blues Brothers and the Men in Black agents crop up too. 
Orbzii tip: If queuing is likely to put a dampener on your park experience, look into Early Park Admission. Reserved for resort guests and annual pass holders, getting into the park early can make all the difference to your day. 
Epcot
For a welcome change of pace, and a sneaky helping of STEM education, grab a ticket to Epcot. Yes, it's still a theme park, but the focus is on life around us – rather than creating a fantasy world of escapism. Split into two themes, the World Showcase and Future World, Epcot cleverly explains geography through immersive experiences and delves into tricky topics such as space travel, engines, energy, technology and medicine with rides, shows and experiences. And not a single moment of it feels like a school day. You'll come away stuffed with knowledge (and full bellies from the global cuisine) and, just as importantly, have had a fun-filled day. It might not be top of your list, but we wouldn't recommend swerving it, unless your itinerary of things to do in Orlando is really maxed out.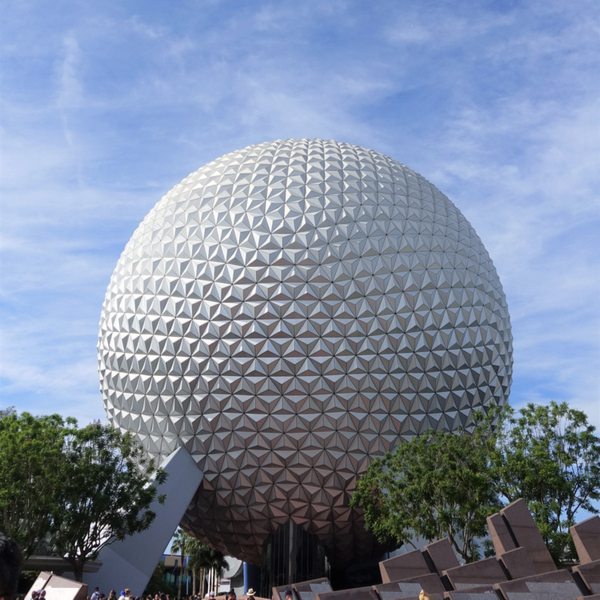 Water Parks
Blizzard Beach
Another way to switch the mood up when you're working your way through Orlando's theme parks, is to spend the day at a water park. Blizzard Beach is Disney's take on all things aquatic and they haven't held back. The basic premise is that all the water features are from the ice melt from the central Mount Gushmore ski resort. In reality, the theme ties everything together, but it matters not a jot as you float, slide, glide and wade your way around the slides, rapids, pools and bays. The attractions at the park are nearly outnumbered by the restaurants, so no need to worry that you're missing out on Disney's legendary milkshakes and sweet treats. Where the snow theme does work, is in the ski resort-style cabins that host the shops, cafes and bars around the site. 
The fake snow can look a little tired in places, but the waterslide and toboggan hybrid ride more than makes up for some slightly old trimmings. Summit Plummet is the stand out ride. You'll be dropping down one of the world's tallest free-fall water slides, if you're game?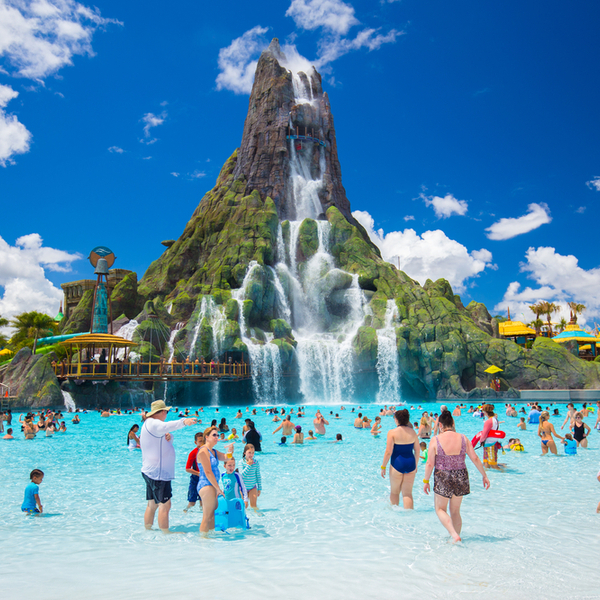 Volcano Bay
Universal's Volcano Bay brings a little fire to the Orlando theme park party. Plumping for a volcanic island theme, once you're through the gates, you could easily be on a Hawaiian Island. If that island happened to have plunging slides, an aqua coaster and rainbow coloured ice creams. The 200ft high volcano is undoubtedly the star of the park, with your day likely to revolve around it. Drop from the top of it on the Ko'okiri Body Plunge which features a drop through a trap door into 125 feet of terrifying descent into the waters below. Whizz around it on the Krakatau Aqua Coaster that sends you screaming through a waterfall or bob in the waves on the Waturi Beach at the volcanoes base. 
Like Blizzard Beach, it makes for a great break from the theme parks, though the rides here do keep those endorphin highs rolling. If it all sounds a little much for anyone still testing out their armbands and floaties, don't worry. The Tot Tiki Reef is just the place for little ones to join in the fun.