If you're into sweeping shores, golden sands, and azure seas that look like the belong on a postcard, then Corfu is undoubtedly the place for you. The Greek island has an absurd amount of pristine coastline to lounge on, and every kind of beach experience can be had here satisfying lazy readers and wave hoppers alike. Corfu beaches are not only renowned for their idyllic aesthetic, but for the plethora of bars, restaurants, and activities in the surrounding areas.
Water sports fanatics will also find plenty to write home about if they venture out to some of the Corfu beaches with a bit more grit to them. Of course, on an island like Corfu, there are a tonne of overly crowded seaside spots to avoid, but on the whole you can get the best of all worlds, no matter what you're looking for. If you're a beach bum looking for a spot to call your own in Corfu, then read on: we've got the lowdown on the best Corfu beaches. 
Blue Lagoon Corfu
We're starting off with a beach that's technically not on Corfu but is used as a day trip for many holidaymakers looking to get away from the bustle of the main island. There are many ways to get to Blue Lagoon (on Antipaxos), but the easiest way is by tour on a preorganised boat. There are several companies who can ferry you across. The trips generally sail through the breath-taking Blue Caves of Paxos before dropping you off on the minute island of Antipaxos, where you can enjoy the almost hypnotically blue waters of Paradise Beach (locally known as Voutumi Beach). 
If you're looking for something that's basically the Platonic ideal of a beach, then you're going to love this little excursion. Of course, you'll never get the beach totally to yourself as you can only get there via cruise with others, but the shores are definitely less crowded than the more popular beaches on the main island. Moreover, if you're a fan of unique geological formations and meals taken with a side of the sound of the sea lapping onto the shore, you'll be in heaven. The opal waters of the nearby lagoons are absolutely astounding, and well worth the trip alone. 
There are several companies who run this tour, although our favourite is Corfu Trips, who are slightly more expensive than some of their competitors but make up for the price difference with superior service and highly trained boat staff.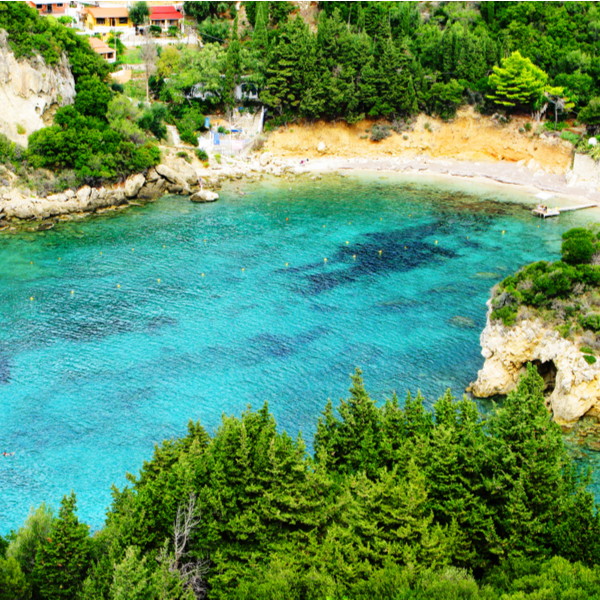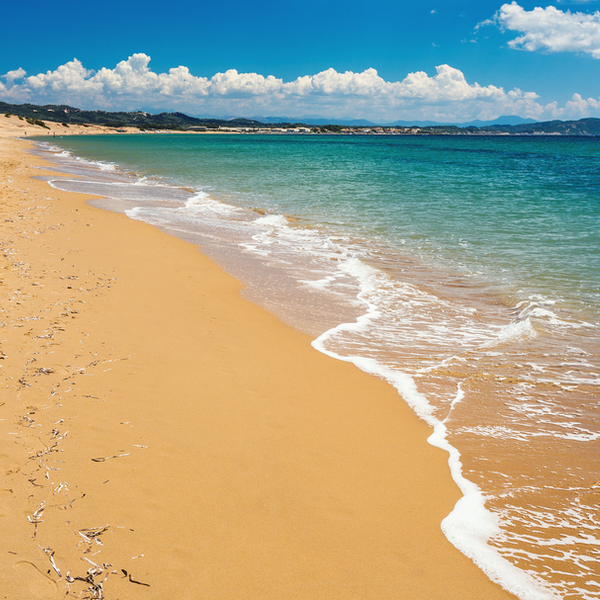 Issos
If you're particularly fond of feeling the soft sand between your toes and crystal-clear seas, Issos beach is for you. Again, although not completely secluded, the beach is surprisingly sparse of activity considering how paradisiacal it is, but also has plenty of bars, shops, and restaurants nearby in case you're planning on spending a long time lounging by the sea.  
Nature lovers and thrill seekers will also be incredibly happy here, as the beach is adjacent to the most important wetland on the island, which in turn is home to a tonne of interesting wildlife. The winds here also mean it's one of the best beaches in Corfu for kitesurfing and windsurfing. If you are keen to give these activities a go, there's a water sports centre just off the beach where you can rent items and get lessons, although we'd suggest booking ahead just in case. Hikers can also have a lot of fun traipsing through the lush greenery that starts just outside the beach. All in all, Issos is a Corfu beach that will satisfy almost everyone. 
Kalamaki Beach
Kalamaki Beach Corfu, also known as Apraos Beach, is perched on the north-eastern tip of the island. One of the more serene spots to lay out your towel, the beach offers an excellent blend of seclusion and amenities, making it ideal for families. The water is incredibly calm and almost bath like in temperature during the summer months, meaning that even the most cautious of sea swimmers will have no issue slipping in. 
Although there aren't the supermarkets or beach bars that adorn many other beaches, during the day there's plenty of smaller places to grab a snack. Kalamaki Beach is also one of the longest beaches in Corfu, and benefits from being completely sandy. You can rent parasols and sunbeds, but aside from that you're pretty much left alone, making it one of the best beaches in Corfu for rest and relaxation.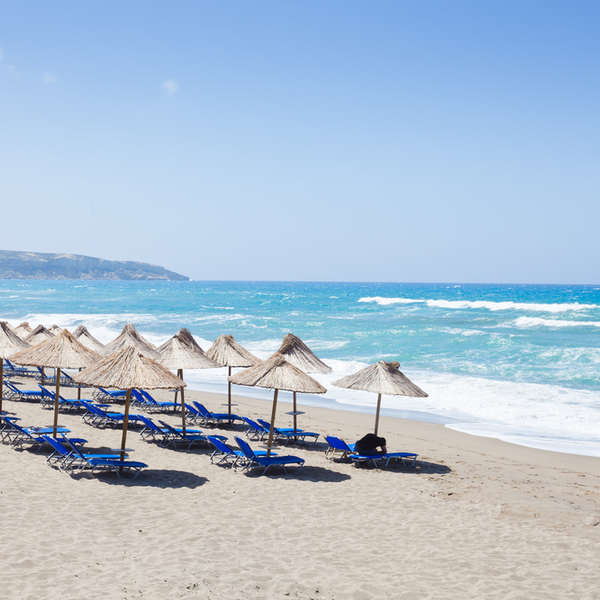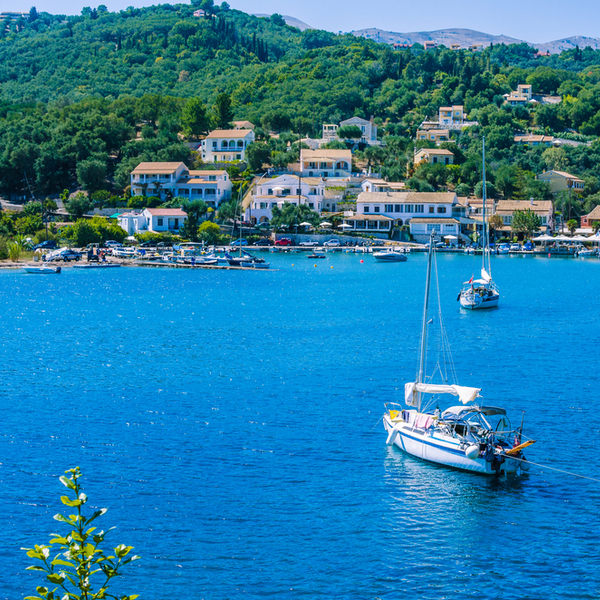 Agios Stefanos
Considered by many to be the best beach in Corfu, Agios Stefanos has a little bit of everything. Aside from warm waters and beautiful stretches of white sand, there are plenty of bars and restaurants in close proximity meaning you won't struggle to get a drink or some food. The location on the north west tip of the island makes it a great sunset spot too, so if you're on a romantic break it will definitely add to the ambience. 
Those looking for a more freeing experience will also be happy to learn Agios Stefanos has one of the most popular nudist beaches in Corfu. The section is tucked away from prying eyes but is also close to the important amenities one needs to enjoy a beach day out. As far as naturist beaches in Corfu goes, it's definitely one of the best. 
The area is also a great surf spot, with decent breaks in the mornings. However, if you just want to laze about it's perfect too: you can spot some small islands on the horizon and even Albanian mountain ranges on a clear day. 
Avlaki Beach
Avlaki Beach Corfu is located in a small cove on the north of the island and is probably one of the cleanest beaches on Corfu thanks to its smaller stature and the lack of tourists. The beach itself is pebbly, which explains why many people choose to go to other seaside locations, but we think that's what makes it such a good spot to set up for the day. 
The waters here are clearer than glass, and because of the crescent shape of the beach the sea tends to stay quite warm near the shore. The beach is incredibly quiet but has all the basic amenities one would hope for, including parasols, sunbeds, and showers. The wind also tends to pick up quite quickly in the late afternoon, which makes it a great spot for water sports like windsurfing. There are also a number of small bars and tavernas around, so you don't have to plan ahead too much if you want to spend the day here.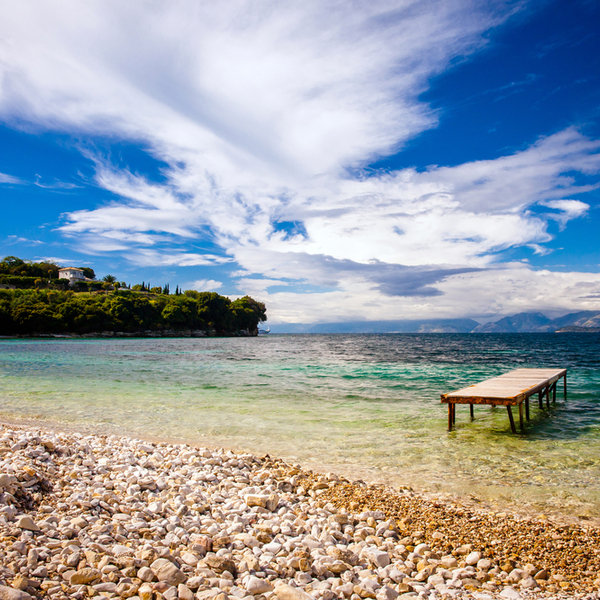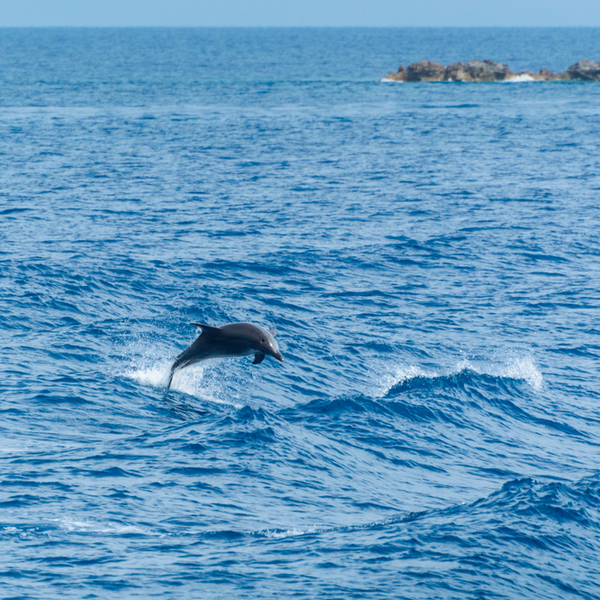 Megas Choros
If you just want to laze about on an unspoilt patch of paradise, Megas Choros is probably the best beach in Corfu. Remote, beautiful, and occasionally home to dolphins, this isolated stretch of sand is only accessible via a dirt track. There's also a tiny island just a few dozen metres away from the shore, and on most days you can swim out there and enjoy even more seclusion.  
Although Megas Choros isn't technically designated as one of Corfu's many nudist beaches, naturist visitors to this spot will appreciate how secluded it is, and there will certainly be no issue with letting it all out as you relax on the golden sands. As one of the few hidden gems still left on Corfu, you should only head here if you're prepared as there are very few amenities around. 
Hoping to explore more under the waves in Corfu? Take a look at our guide to scuba and snorkelling.  
Finally accepted that life's a beach? Download the Orbzii app today to Dream, Plan, and Book your Corfu holiday.