Rounding up a medley of the best scuba diving spots in Mauritius is a tough call. Dive spots of note – and wrecks – run into the hundreds. Essentially, there isn't a Mauritius holiday long enough to take them all in. FOMO well and truly set in motion, you'll want your dive list to live up to expectations. That said, let's talk coral. Yes, you'll see hard and soft corals. But diving in Mauritius comes with a dose of realism on the coral bleaching front.
Corals have been lost – but there are eco-programs protecting and planting new corals. Watching where your fins flap has never been so important. Corals aside, scuba diving in Mauritius gets you close to turtles, sharks, rays and the smaller yet equally fascinating clownfish, wrasse and more. Read on to find out where and when to get in the water. 
When to dive
Scuba diving in Mauritius is a little bit like taking a warm bath – with some very colourful marine friends for company. Waters are toasty year round – but there's still an optimum time to backroll into the ocean. From November to May the winds die down – meaning less swells and action at the surface. That's not to say diving is off the table outside of those months – but if you're looking for perfection, you'll find in November to May's waters. 
Dive sites
Grand Bay Aquarium
With a name like that, you just know the dive is going to be good. Your setting is a sand covered basin that sits between two rock formations on the north west coast. An open water dive, with depths ranging from 8 – 14 metres. The visibility's great, the sea life surrounds you – in THE best way – and water conditions are never too challenging. Beginners earn their dive stripes here – but the morays, mullet and trumpet fish are just as alluring to divers of all skill levels. Yes, you'll see lion fish – but as they are mostly active at night, they shouldn't be a problem.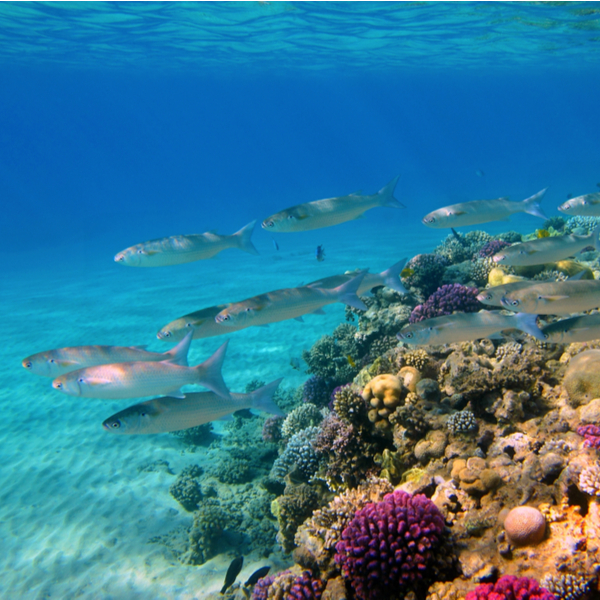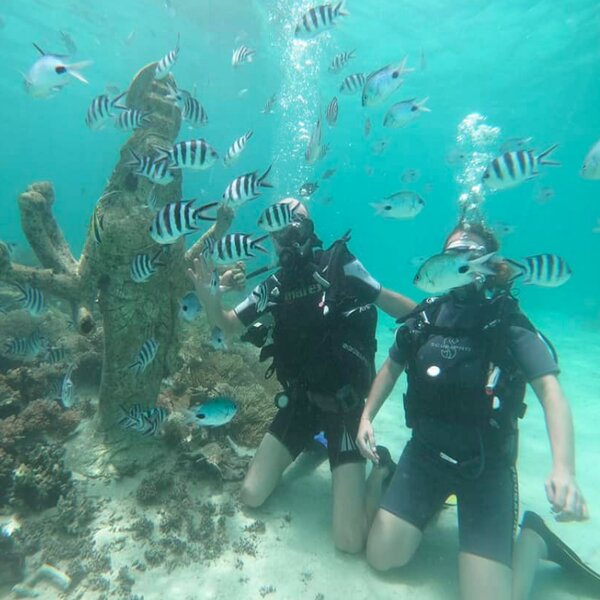 Coral Gardens
The clue is definitely in the title on this one. Hop in the waters at Grand Baie to float among the hard and soft corals. Spot lobster, octopi and trumpet fish, schools of snapper and clown fish darting in and out of anemones. Morays lurk between rocks and sea sponges – but the big reward for many are the turtles and stingrays. If you're looking to change your diving view up a little, try a night dive here with Dive Time Mauritius. Seeing the feathered star fish and Spanish dancers in the dark is something else. 
Blue Bay Marine Park
Wherever you are in your scuba diving journey – beginner, experienced or even a bit rusty – the team at Blue Bay Divers can get you in the water. Refresher courses, fun dives and night dives are all on offer, along with various PADI courses. The setting is Blue Bay Marine Park – which is also a great place to snorkel – no guides or boats necessary. Blue Bay Divers really care about this spot and maintaining it for future dives. Unfortunately, it has suffered its share of coral bleaching – but the waters are clear and the resident turtles are always a highlight.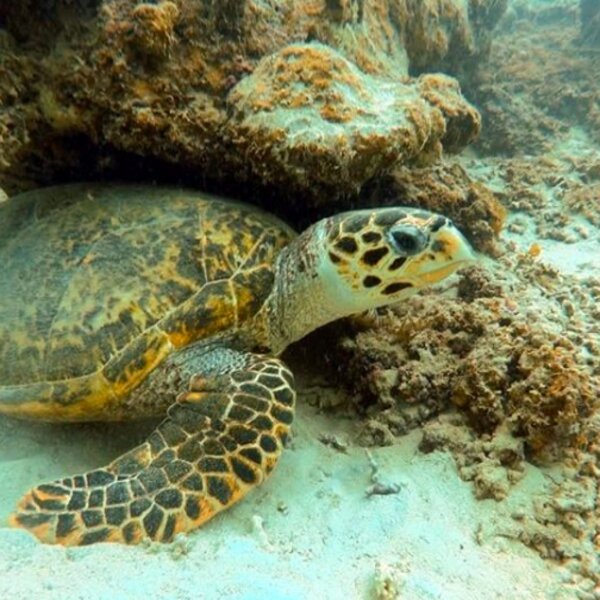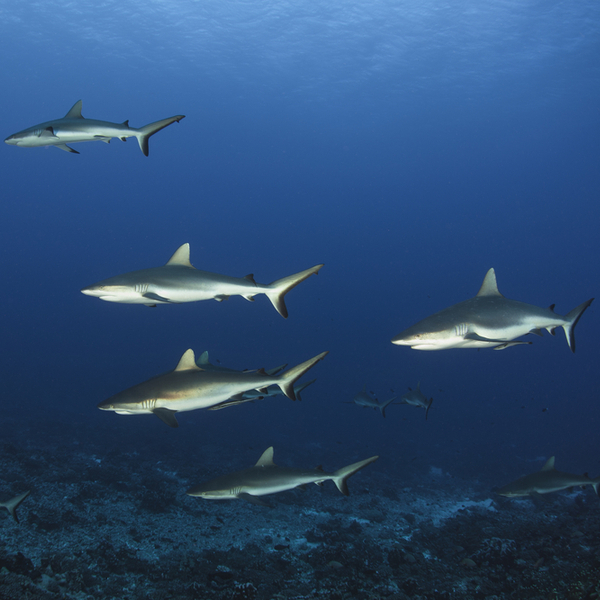 Shark Pit
All around Mauritius there are sunken pits that attract sharks. Mysterious and more than a little sinister to most. But definitely a scuba diving must in Mauritius. You'll want to head for 'Shark Pit' near Pigeon Rock, where different species gather in their hundreds. Not a dive for the faint-hearted – or beginners. You'll need more than a few dives under your weight belt for this one. Scientists are still studying the gatherings – and the area's protected due to the sheer numbers of sharks that swarm here. If those sorts of statements send chills down your spine, there's always the option to head to the depths in a shark cage. Either way, we'd give it a look. 
Sea Fan Valley
Forgive us, we're about to toot the 'something for everyone' trumpet – but trust us on this one. Sea Fan Valley can be dived by scuba divers of all skill levels – always a plus if you've got some novices in your group. But it's also boasting some impressive sea fans. Not impressed by giant sea plants? Perhaps the resident rays, turtles and snapper will lure you here? If all that fails, there's an eclectic mix of coral, sponges, octopi, wrasses, anemones, clownfish and pintanos to look out for. A diverse spot that spans about 100ft of seabed, it's a short but sweet Mauritius dive to add to your list.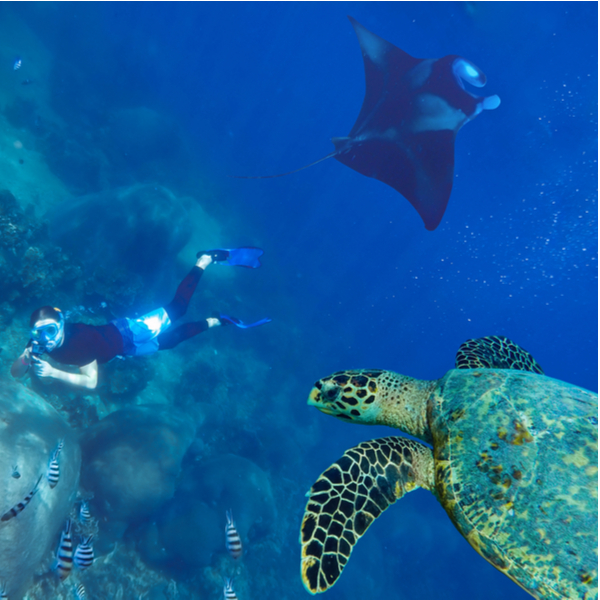 Wrecks
Stella Maru
There are hundreds of wrecks off the coast of Mauritius. Some purposefully sunk – others long ago caught on craggy and volcanic reefs. Many have broken up and were looted before the Mauritius authorities stepped in. Now they are deliberately scuppering wrecks for artificial reefs – so the outlying sandbanks are packed with options. By all means hunt some out, but the Stella Maru is a great shout if you've just got time for one wreck dive. 45 metres of Japanese trawler is waiting for you at a depth of around 25 metres. Parrot fish, corals, mackerel, angler fish, triggerfish, nudibranchs and massive morays have all set up home here. Pop by at night to see an impressive crayfish shoal flitting between the eerie wreck shadows.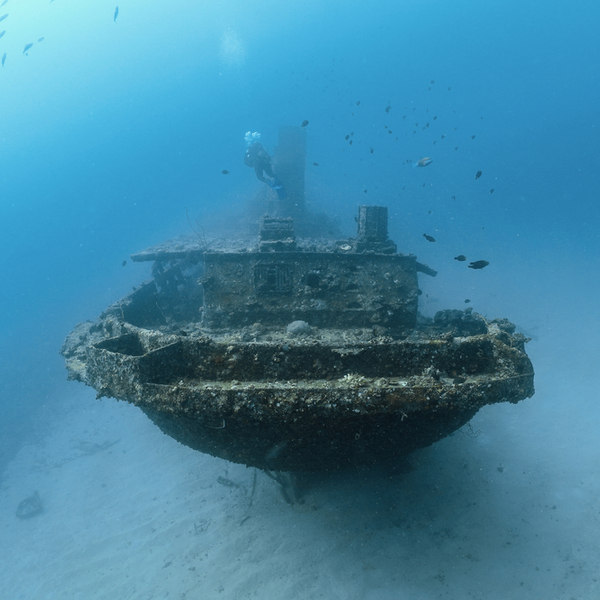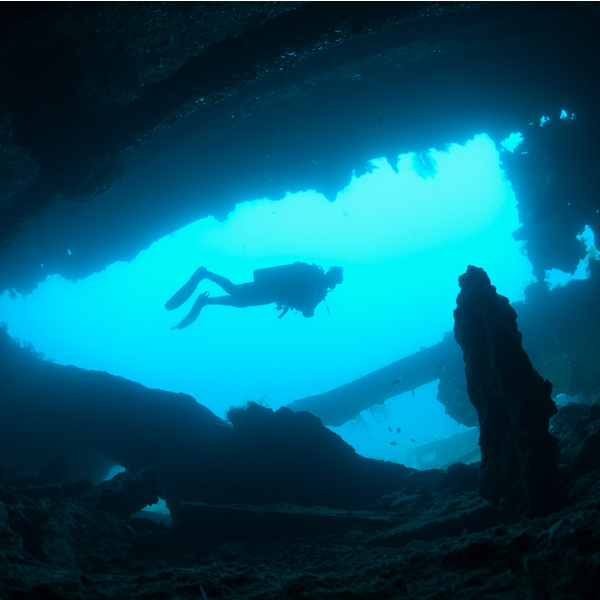 Silver Star Wreck
If you're qualified to take a step up from recreational dives – this technical wreck is more than worth your time. She's been waiting on the reef edge for you since 1992 and you'll be diving to depths of up to 80 metres to explore her. Gaps in the hull mean you can take a look around to see who's moved in over the last few decades. We're not big spoiler fans but can eagle rays and batfish tempt you? The hull's resident corals come and go – with many being lost in the cyclone of 2002 – but the ever changing flora makes this a great wreck to revisit, even if you've seen her before.  
Caves
The Cathedral
Cave diving in Mauritius is rare. Thankfully one of the cave dives you can experience is pretty spectacular. The Cathedral is a network of arches, hollows and caves off the Flic en Flac beach. Though, you'll want your boat to take you out where the waters are around 18 metres deep. From here, there's just enough time to settle in before the drop off takes you to 30 metres. Though you'll still spot some familiar faces, this dive is about the marine architecture – rather than the sea life. Scores of shrimp, hefty groupers, sweetlips and vibrant clownfish line the rock chambers watching you go deeper into the caves. The highlight is the Cathedral itself. Dappled sunlight filters in through the rock cracks giving you glimpses of the caverns structure. Perhaps not quite enough light to spot the large moray that likes to lurk in the shadows though… 
Prefer to enjoy your trip above water? Take a look at our guide to golfing in Mauritius for something a little different.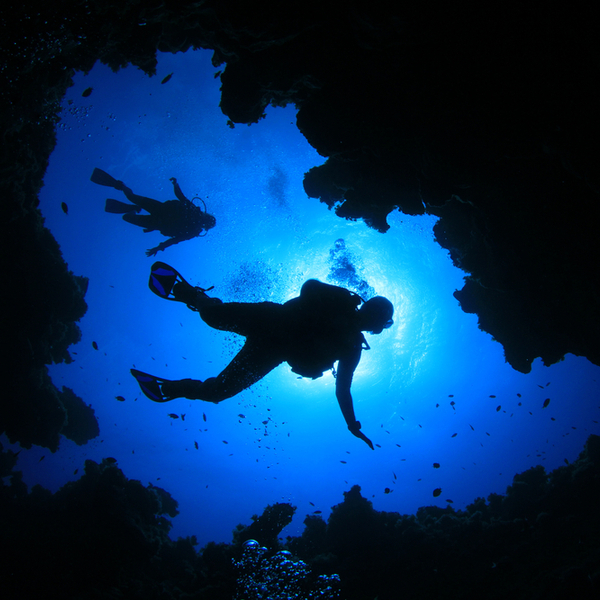 Flinging your fins and logbook into your suitcase? Book and plan your Mauritius scuba diving trip with the Orbzii app.