Frolicking around in the shimmering seas of the Caribbean with rainbow-coloured marine life sounds like the sort of thing that only happens in dreams, but if you're thinking of heading to Riviera Maya it could very well be your reality. The only decision you really need to make is whether you're going to slap on the wetsuit and tank and dive down into the depths of the sea, or if you prefer to splash in the shallows with a snorkel and see kaleidoscopes of reeds and fluorescent fish.  
Scuba divers will have no shortage of amazing spots to jump into, and diving culture is quite deeply entrenched in local life, so there's no lack of places to rent equipment or even tours to jump on – if you want a more social experience. Aside from the cerulean sea, there are also tonnes of cenotes near Riviera Maya; these unique geological formations are formed by limestone sinking into the earth, and often lead to some cool tunnels you can shimmy through if you have the right equipment and instruction. Snorkellers will also be in paradise, with plenty of shore scenery to keep those in the shallows happy – plus, all you need to do is look down and you're transported into another world. 
While there are plenty of amazing spots in and around the main resort area, and some of the best snorkelling in Riviera Maya is accessible by walk or a short car ride from the touristic centre, the really mind-blowing underwater views and exploration is a bit more south, especially when it comes to cenotes, the best of which are all surrounding Tulum. However, no matter where you dive or snorkel, you're bound to have a fantastic time. 
Diving
The Best Time to Dive in Riviera Maya
Generally, as long as you're not going out during a massive storm, the diving conditions around Riviera Maya are exceptional, with warm and mostly clear waters dominating the main diving spots. This means that the dry season (December to April) is without a doubt the best time to dive in terms of conditions, but if you're keen for a more intimate experience, the wet season has fewer tourists. 
There are certain animals that are only spottable during certain times of the year, like Bull and Whale Sharks, so if you're especially excited about seeing them you will need to plan ahead. However, for the most part, it's an excellent experience all year round.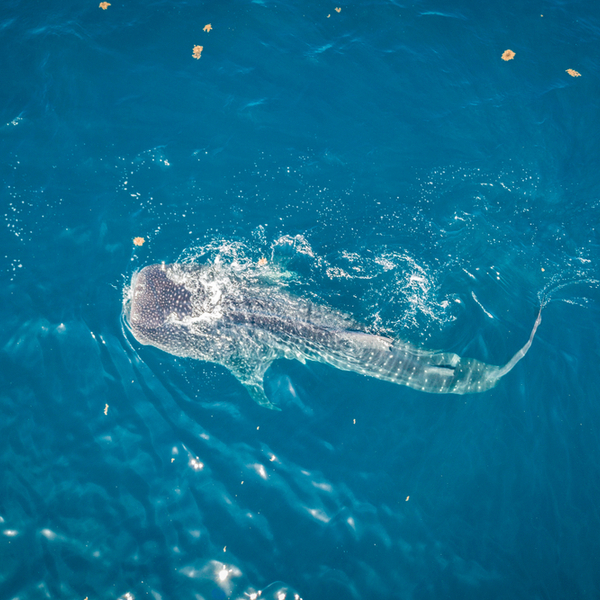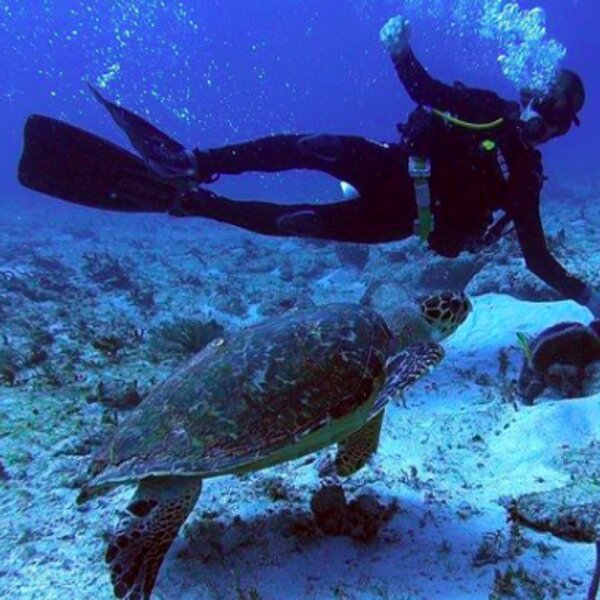 The Best Riviera Maya Diving Schools for Beginners
One of the most reputable and good value diving schools near Riviera Maya is the Mayan Diving Centre. Located in the heart of Playa del Carmen and about a fifteen-minute drive from Riviera Maya, their Discover Scuba course is an excellent way to get acclimatised to scuba diving. Costing USD 125 (GBP 90/MXN 2,530), you get full rental equipment, a theory session, a pool session and two chances to dive in the ocean (with qualified supervision, of course), and the course lasts all day. 
If you want to get your PADI qualification, this is also an excellent school to try with. They have two courses – the PADI Scuba Diver course isn't a full Open Water Diver qualification, but is more than comprehensive enough if you're only going to be diving with a guide. 
This course lasts two days, costs USD 260 (GBP 190/MXN 5,260) and includes the same as the Discover Scuba course plus extra videos to help your instruction and a PADI certification fee.   
To get fully qualified, you can to the PADI Open Water Diver Course, which takes three days and costs USD 420 (GBP 300/MXN 8,500), but includes the chance to take the theory exam, and grants you an additional two ocean drives. Plus, afterwards, you'll be able to dive in most beginner to intermediate spots alone – all over the world!  
The Best Spots for Diving in Riviera Maya
Riviera Maya is the perfect spot for access to great dives. When it comes to the sea, Playa del Carmen is just a short drive away and set up perfectly for scuba diving. This is where Bull Sharks tend to congregate towards the end of the year, but there are also hundreds of different species of smaller fish and marine life that make the seas around here so vibrant and special, including the ever-graceful Stingray. Aside from fish and other swimmers, there's some great reef to swim over too, including Los Arcos and Pared Verde, both of which have numerous tunnels and caves to explore.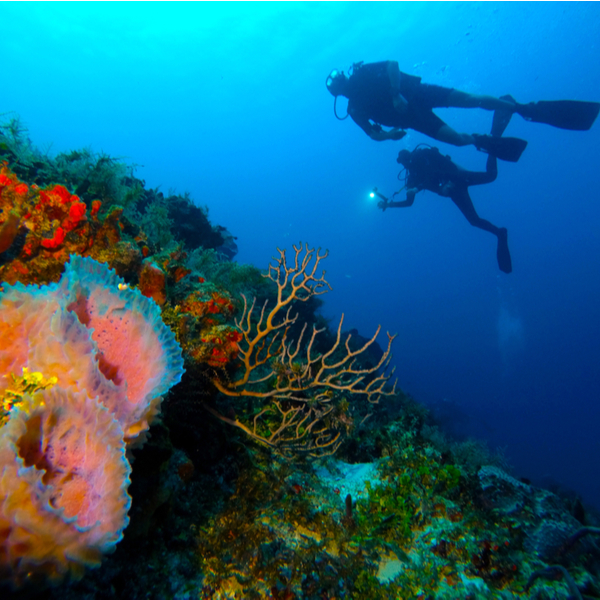 The nearby island of Cozumel also offers great dives, especially for more seasoned scuba pros. There are a fair few diving landmarks here, including Colombia Wall and the Planacar Reef, which is horseshoe shaped. Cozumel is probably better for more experienced divers, or those on a tour with certified instructors, as the currents can be quite strong.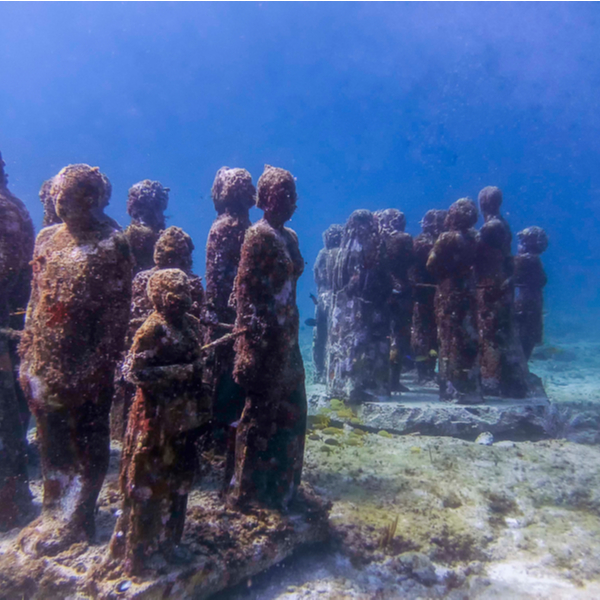 For a really cool and unmatched experience, MUSA (Cancun Underwater Museum) has hundreds of underwater sculptures to swim through. Located in Cancun National Marine Park, it's about a two-hour drive from Riviera Maya, and you can go there alone and just rent equipment, but it's usually better to go with a tour. Scuba Diving Cancun offer one for USD 85 (GBP 70/MXN 1,700) – plus, if you're with non-divers, they can experience the spectacle with a glass-bottomed boat ride. 
Outside of the sea are the famous Tulum Cenotes. While stunning, these dives can be tricky as the cave systems can be a bit confusing, especially to newcomers. 
We would recommend diving with a local guide who is Full Cave and Cavern Guide certified, but even if you have to organise yourself more than usual, the cenotes near Riviera Maya are worth it. Cenote dos Ojos is one of the more famous ones, with alluring shades of azure and indigo glistening under the Mexican sun, but Gran Cenote and Cenote Angelita are also natural wonders that would astound even the most world-weary divers. 
The Best Diving Tours in Riviera Maya
Mayan Diving Centre offer a range of excellent, eco-friendly tours if you want to make your diving experience a social one, or if you're somewhat of a beginner and don't want to be out alone. Their Cozumel Wall excursion allows you to see reefs, amazing animals like turtles, and some wicked cave formations like the aptly named Devil's Throat. This costs USD 165 (GBP 120/MXN 3,350) and includes all equipment, a guide, the Cozumel Marine Park free, transport, 2 ocean dives, and lunch/refreshments while on the dive. They also offer a selection of great Cenote Diving Tours, ranging in cost.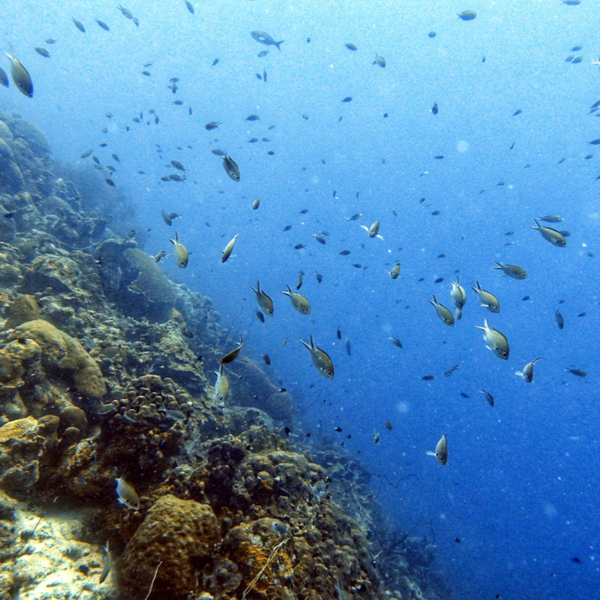 Snorkelling
The Best Time to Snorkel in Riviera Maya
Similar to the best time to dive in Riviera Maya, the best time to snorkel in this amazing spot is the dry season, although even more so than diving, conditions are usually pretty spot on. While it's easy to bring your own equipment, if you've come empty handed then you'll have no issue buying or renting a mask – all you'll really need is your swimming costume because of how clement the water normally is. However, you can also rent wetsuits, if you think you're going to be out there a long time.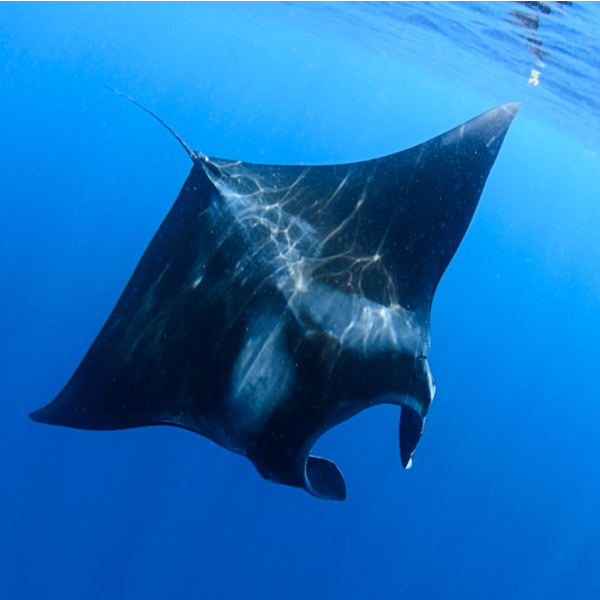 Best Snorkelling Spots in Riviera Maya
Asking 'where's the best snorkelling in Riviera Maya?' is a bit like asking where in Florence does a good pizza – there's almost too much to say on the topic. However, there are some definite highlights even among the insane quality of spots. Cozumel and the shallows just off it are populated by some truly electric and eclectic marine life, but if you want to stay closer to Riviera Maya, then Akumal is a snorkeller's paradise – home to massive green Sea Turtles, and their favourite food – sea grass – there's also the chance to spot Pufferfish, Manta rays, and some unique coral.   
Best Snorkelling Tours in Riviera Maya
If you're looking for the best places to snorkel in Riviera Maya but don't want to have to pick from the plethora of excellent options, it might be best to join a tour. Dressel Divers offer two different half-day snorkel excursions: one at Akumal Beach to spot the Sea Turtles, and one in Chiken Ha, a cenote with some ancient rock formations to look at. Prices for this tour depend on the number of people on it and the time of year.