A quick glance at any Maldives map may make golfers recoil in horror. There's little space for a championship course, let alone a decent fairway. And all that sand? Not even your Callaway Mack Daddy's going to help you here. But the Maldives has always liked to toy with the boundaries of what's achievable on an isolated sand bar. Dense jungle has given way to some short, but definitely playable holes. There's no shortage of that aforementioned sand for the tricky bunkers. And the clubhouse? Your 19th hole at home will never feel the same again.
Yes, the options are limited, but Maldives golf courses are always going to be vying for space alongside the atoll paradise classics. We're talking villas with glass floors, world class diving and gourmet restaurants serving fresh-from-the-sea sushi. So, by all means, jet out to play a few holes, but don't miss out on the extras – it's the entire package that makes the Maldives unlike any other destination on the planet.
Maldives Golf Courses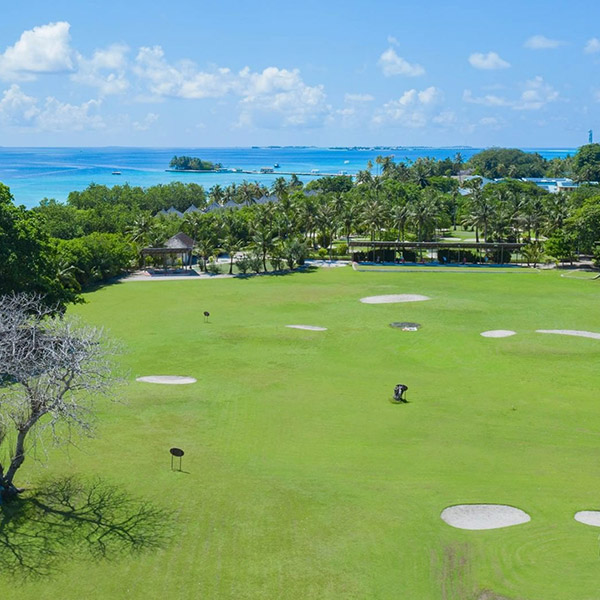 Kuredu
Anywhere else in the world, this 6-hole, par 3 course could easily fly under our golfing radar. But in the Maldives, anything golf-based piques our interest. Although this course is effectively a pitch and putt, that's not necessarily a bad thing. Holes might only average 55 yards, but you'll struggle to find a better setting in which to perk up your short game. Let's not stop there. A full-size driving range, onsite golf pro and the 19th hole make this a viable golfing resort. And If your swing's still a little off? Try the golf-tailored beach yoga. A little zen goes a long way, especially when it comes to easing that dreaded fade-turned-slice.
Shangri-La Hotel
Serious golfers, Shangri-La could be your… well, your Shangri-La. A 9-hole golfing utopia that, unlike other Maldives golf experiences, hasn't scrimped on distances. Holes average a respectable 122 yards, so we're still firmly in PW /  9-iron territory. That said, there are two 176-yard holes that will test your mid-iron ability. Pitching up without your clubs? No problem, there's a shoe and gear rental shop to rummage through. The best part of this golfing paradise? It comes with complimentary 19th hole bragging rights. Mount Villingili stands proud at a lofty 17ft on the 8th tee. Conquering the Maldives highest peak could be your finest hour.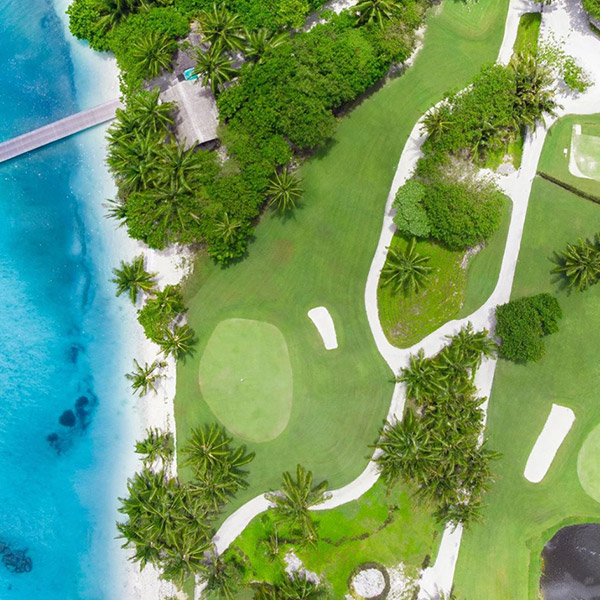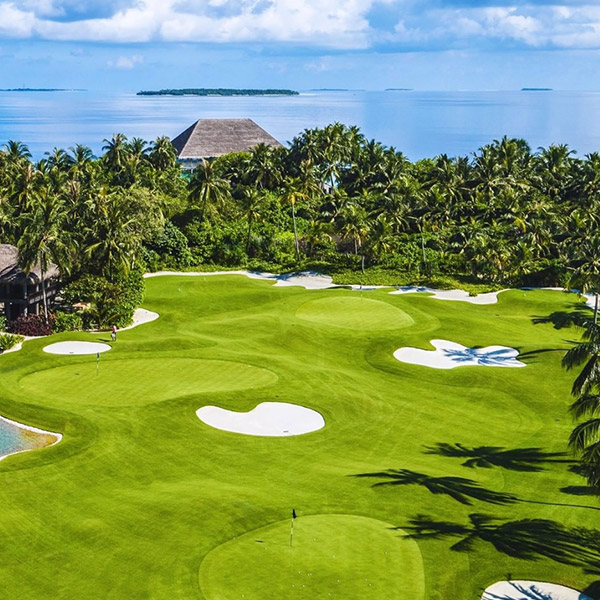 Velaa Private Island
We can't deny that we're smitten with Velaa. Not only was its golf academy designed by legendary Jose Maria Olazabal, but have you seen the water villas? There's much to distract you on this exclusive island, not least the requisite shimmering lake amidst the luxuriant turf. Every blade of which, since you ask, was hand sown. A single seed at a time. Thwackers and hackers need not apply. Divot tool in the suitcase? We'll continue …
Olazabal's played to his signature strength here, his short game. His Maldives golf course features six greens and nine tees, all interchangeable, with a possible 48 combinations. But regardless of your chosen route, don't worry about letting other golfers play through – you'll have the entire course to yourself. High end, aspirational and other worldly – this is a resort that (for the right price) allows you exclusive use of a super yacht. Presumably only after you've taken off your golf spikes…
Meeru
Considering a Maldives diving holiday but worried about your short game dwindling away? Although we can't quite place Meeru's golf facilities in the stellar bracket, for the Maldives, they are extensive. A respectable pitch and putt has enough green and tee combinations to warrant at least a couple of rounds. The driving range and putting green are handy for keeping your skills honed – but, essentially, none are distracting enough to keep you out of the water. Ideal if your Maldives escape companions aren't likely to be donning their plus fours any time soon. Families will revel in the amount of activities on offer – also ideal if you want your Maldives escape companions to give you some peace and quiet while you inspect that putting green. You didn't hear that from us…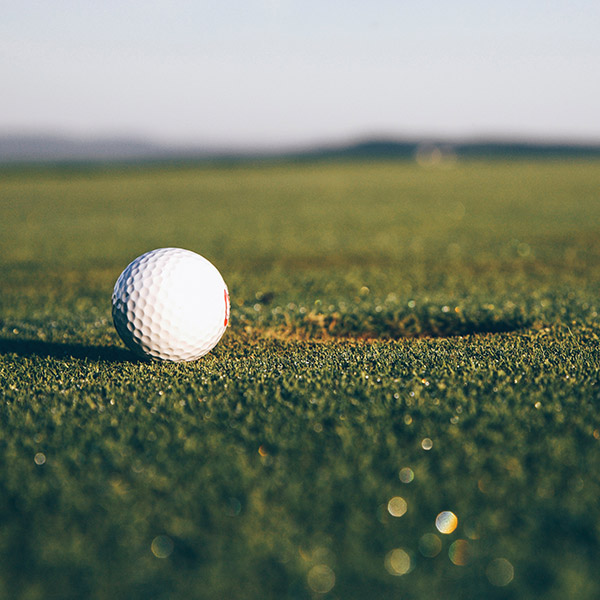 Maldives Golf Experiences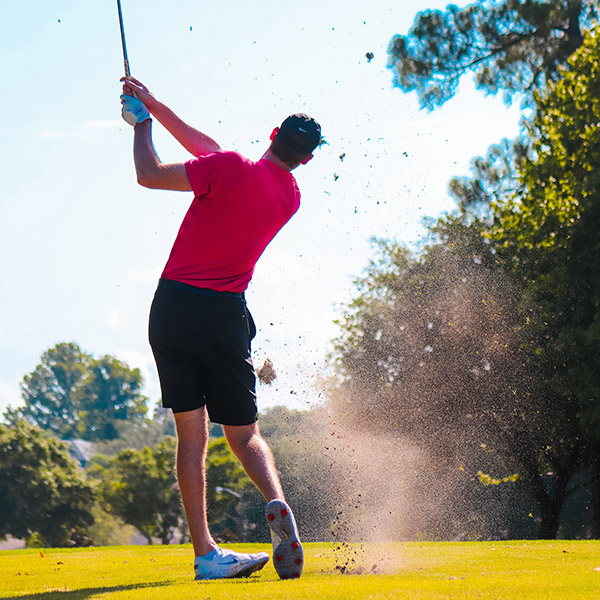 Pullman Maldives Maamutaa
Let's face it, Maldives golf courses are thin on the ground. But that doesn't mean that 10 days on an atoll is entirely without fairways and greens. Pullman Maldives have decided to keep their island palm trees and installed a golf simulator instead. After all, a virtual round is better than no round. If you're wondering how you'll maintain your golfer's physique – which can vary on a scale from Tiger Woods to Kevin Stadler, we'll point you towards Pullman's gym or the unlimited dining. Very much a flexible resort in that sense.
Sun Island Resort and Spa
Brace yourselves golfers. We're about to say something controversial. Mini. Golf. Ok, we know this isn't the stuff Ryder Cup dreams are made of, but it does have its merits. As a wise man once said, 'drive for show, putt for dough'. Birdies can quickly turn into bogies on the putting green and while Maldives mini golf might not have the nuances of a championship putting green, it comes bundled with plenty of fun. Don't worry, you'll not find windmills or laughing clowns at Sun Island. You will find a solid family resort with plenty of classic Maldives activities. And really, how many atolls in the Maldives have even the slightest hint of a golf offering? Exactly. We rest our case.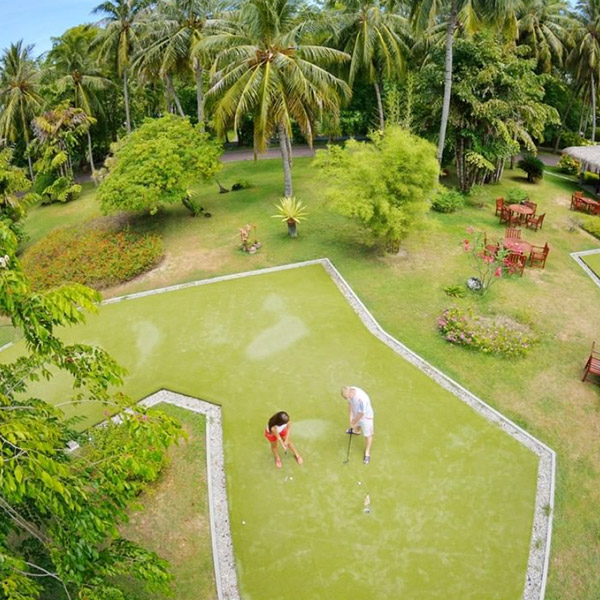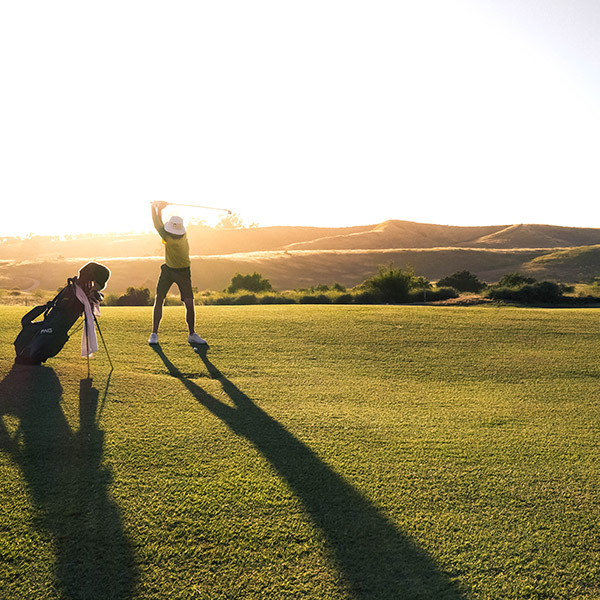 Sun Siyam
Rest assured, we're well aware of the straws we're clutching at here. But let's clear up one thing, Sun Siyam does have golf facilities. The catch? We're back in the realms of mini golf. No matter, this resort might be far from a Maldives golf course, but it's a 52-acre playground for active types. Obviously, there's diving and snorkelling, because, well we're in the Maldives. But the fly boarding and kite boarding are extreme enough to prevent this from ever being boring. And if you're really homesick for the fairways? Pop a copy of the classic Tiger Woods PGA Tour in your case. Sun Siyam's Playstations will cure your ills.
Already weighing your golf bag and wondering which clubs to leave behind? First off, you won't need those drivers … Or that secret stash of snacks. Every kg helps. Secondly, to iron out the rest of your dream golf trip, you'll not go far wrong with the Orbzii app on your phone.
Get ready to start dreaming, planning and booking your way to a tropical golf course on a Maldives holiday. It won't help to fix those snap hooks though, sorry about that…