Thailand hasn't always been known for its golfing pedigree, but as the country receives more and more visitors, infrastructure for the game has vastly improved and the number of top-quality courses has skyrocketed. The profile of Thai golf has also gotten bigger on the international stage with the success of players such as Thongchai Jaidee and Ariya Jutanugarn, which has also contributed to the growing level of quality in terms of courses and facilities. In many ways, Phuket has been the epicentre of this growth thanks to being such a tourist hotspot. 
Even if you don't want to commit to a whole round in the Thai sun, there are a growing number of golf driving ranges in Phuket for you to hone your game whilst on holiday. If you want a full round, there are some unavoidable additional costs to green fees, like compulsory caddies and the need for a cart, but these will enhance your game and are still relatively cheap (although we would always recommend tipping your local caddy more than the suggested amount). Most courses also allow non golfers to join the round for a small fee, so if your partner hasn't been bitten by the bug, they can still spend time with you. 
If you're a keen golfer and you want to experience the best golf courses in Phuket (and, some might say, Thailand), then look no further: we're ready to tee off into the wonderful world of Phuket golf. 
Phuket's best golf courses
As mentioned there are so many wonderful courses on Phuket, so finding one you love won't be hard. However, if you're looking for that excellent blend of quality and serenity, then there are five courses we would recommend. All of these are challenging in their own way, and you'll be complaining about a good walk being ruined in no time. 
Loch Palm Golf Club
A short drive from Phuket Old Town and Patong Beach, there's nothing short about the drives needed to tame this wonderfully manicured course in the heart of the island. Despite a few tricky holes, the course is definitely offers the chance at a relaxing game thanks to the beautiful scenery and serene weather. 
The front nine is located around the aptly named Crystal Lake, whilst the back offers a more varied terrain by venturing into the hills and trees that form most of the course area. Golf carts are available on request (700 Baht/GBP 18), which given the temperature and hilly terrain is a good idea for most players, even if your game means you'll spend half the time in the trees.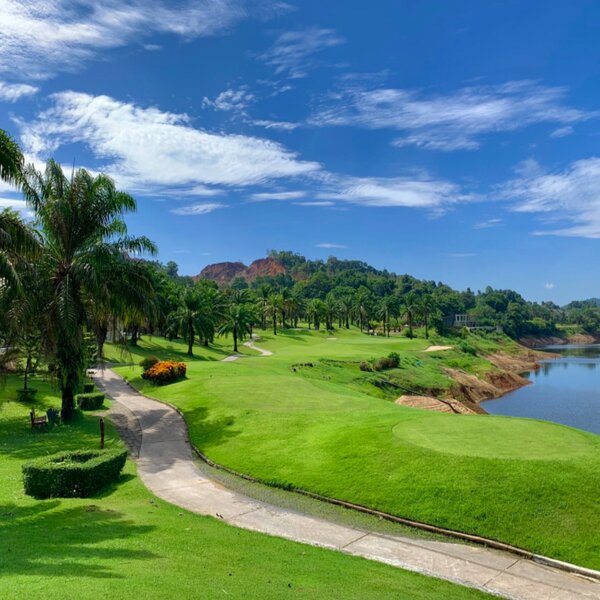 Players here also have a compulsory caddy (400 Baht/GBP 10 fee, and a further tip of 400 Baht is suggested), to make sure they their score is as low as possible.  
Green fees are 4,800 Baht (GBP 120), which – given the gorgeous layout and high standard of course condition – is a bit of a steal. Club and spike rental is available too.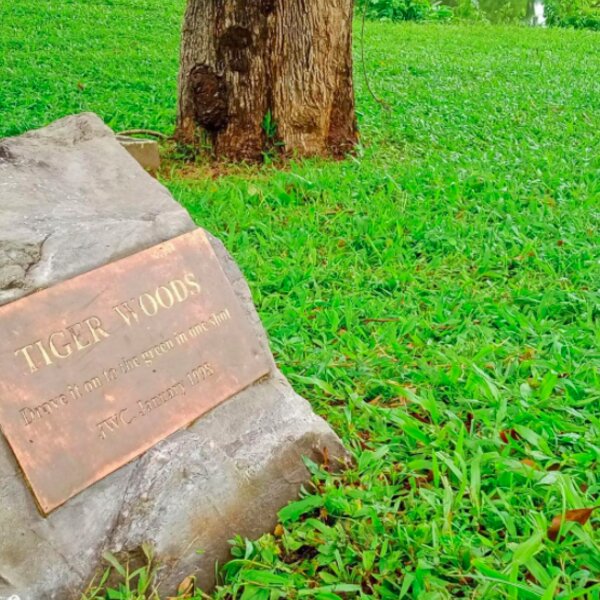 Blue Canyon Country Club
Located in the North of the island but still only around a thirty-minute drive from Phuket Old Town, this gorgeous country club is home to two of the best golf courses in Phuket, and Thailand as a whole.  
Whilst other Phuket golf clubs have a lot to offer, The Canyon Course at Blue Canyon Country Club has the added prestige of having been used for The Johnnie Walker Classic on the European tour.  
The slightly easier Lake Course still offers more than enough of a challenge, and, as you'd expect from the name, plenty of water hazards (17/18 holes have some form of drink to dunk your ball into). 
Golf carts are compulsory on both courses, and rental is 700 Baht (GBP 17). The compulsory caddy fee is 350 Baht (GBP 9), which doesn't include the suggested tip (500 Baht(GBP 13)).  
Green fees vary depending on the season, but you can expect to pay 5,550 Bath (GBP 137) to play the more prestigious Canyon Course, and around 4,550 Baht (GBP 113) to play the Lake Course. This does, however, also grant you access to a range of incredible practice facilities for the day, including a state of the art putting green and one of the best golf driving ranges in Phuket. 
Katathong Resort
Although technically outside of Phuket, Katathong Resort is less than a couple of hours from Old Town and just under an hour from Phuket International Airport, and if you're a keen golfer it's worth the drive. 
Resting between three misty mountains, you'll feel like you've stepped into another world when you turn up to the first tee.  
Run and owned by golf fanatic and former mine magnate Somkiat Ratanarungsiwat, you can tell this is so much more than an investment for him. Everything is meticulously done here in the "Valley of Dreams", and if you choose to stay here instead of just play, you'll get an elevated, otherworldly holiday experience.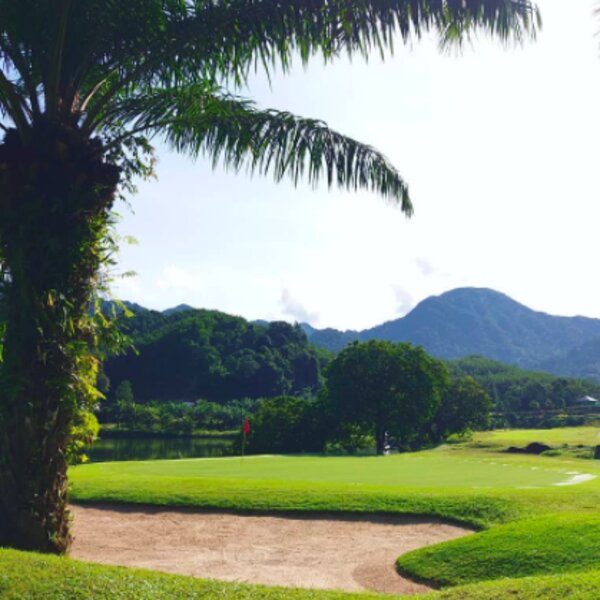 The course itself is tricky, with the gorgeous mountain scenery hiding a few of the tougher elements. Water is a constant throughout the round, from natural waterfalls to streams that will gladly swallow your ball.  
Green fees are a relatively cheap 3,500 Baht (GBP 87) compared to other Phuket golf prices, but this doesn't include the additional necessary fees: cart (700 Baht (GBP 17)) and caddy (350 Baht (GBP 8) plus the same again for a tip).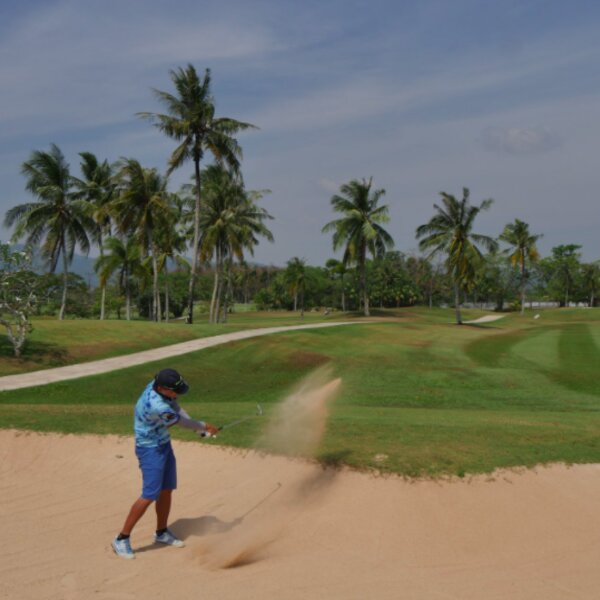 Phuket Country Club
Phuket Golf Clubs are mostly quite new, but Phuket Country Club has been around for over thirty years now. There are two courses here: the full 18-hole Old Course, and the newer 9-hole Country Club course, as well as one of the largest driving ranges in Phuket.  
The course itself is less than thirty minutes from Old Town, yet when you get into the grounds it feels completely isolated. The Old Course has a range of terrain, from undulating hills to landscaped forests, and The Country Club course is a bit trickier, and has the added excitement of being home to a ballet of black swans. 
Despite its prestigious nature and reputation, Phuket Country Club has one of the lowest golf prices in Phuket, with green fees an absurdly good value at 2,400 Baht (GBP 60) for the Old Course and 1,600 Baht (GBP 40) for the Country Club Course (which covers the two rounds of nine holes, to get yourself up to 18).  
Like the other courses, there is a mandatory caddy fee and non-inclusive tip (400 Baht/GBP 10 for the fee, and the same amount is suggested to give as a tip).  
Red Mountain
Considered one of the best courses in Asia and certainly a highlight of golf in Phuket, the winding Red Mountain Golf Club is located on the site of a former tin mine.  
Elevation changes are a key feature of this course and are so drastic you can lose or gain as much as twenty yards within a couple of holes. The land that was carved away for tin extraction has been incorporated smartly into the course, which spans just under 7,000 yards, so will offer a challenge to even the longest of hitters.  
Undoubtedly one of the most unique and challenging courses in Thailand, it is also possibly the highest quality golf course in Phuket in terms of amenities and upkeep.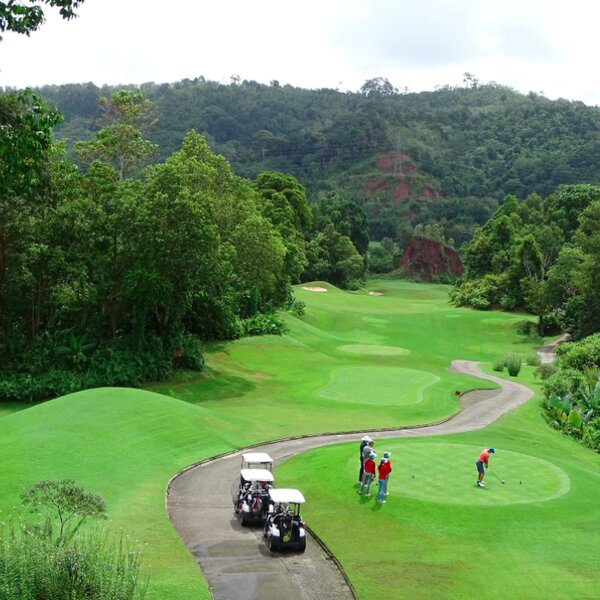 This added quality does mean it's a little dearer to play here than other Phuket golf clubs. The green fee is 6,000 Baht (GBP 149), and there's also an additional caddy fee of 400 Baht (GBP 10) and a compulsory cart fee (1 golfer per cart, 700 Baht (GBP 18)). You should also be tipping your caddy around 400 Baht minimum as well. 
If you're ready to be disappointed with your slice in completely new surroundings, then download the Orbzii app today to Dream, Plan, and Book your next golfing holiday to Phuket.  
And if you're after more Phuket guides, be sure to check out our insider tips on diving in Phuket, Muay Thai, Phuket temple hopping and more.