Vancouver and the surrounding areas are known for their incredibly diverse terrain, with mountains, sea views, and wide forests all within short distance of each other. This all makes it an incredible place to golf. In this small slice of Canada, you can have a varied golfing experience that would normally require a lot more travel and coordination; there are links courses, mountainous tracks, and even indoor golf for when it all gets a little too wet outside.
Whilst some of the best courses in Vancouver are sadly members only, including the famous Capilano and Shaughnessy Golf Clubs, there's still a glut of excellent courses open to green fees. If you're looking for a new challenge on some underrated, fun, yet tricky courses, then golf in Vancouver could be the answer to your needs. Here are some of the best courses in Vancouver and Vancouver Island that you might want to visit.
University Golf Club
A wonderful little parkland course, this is one of the oldest courses in the Vancouver area, established in 1929. The narrowness of the fairways means that it's a pretty tricky customer, despite the slightly shorter length. Moreover, there's club rental, a driving range, and other practice facilities for you to hone your game before heading out on the course, so even if you are looking for an afternoon of fun instead of making golf the entire purpose of your trip, you'll have a great time here.
Green fees are CAD 55 (GBP 31) per person, although that doesn't include cart or equipment rental if needed. However, given the temperate weather and shorter holes, it's one of the best courses in Vancouver to walk. It's also less than a fifteen–minute drive from historic Gastown, which means you won't have to plan too far ahead if you want to indulge in a round.
Bear Mountain
Designed by the legendary Jack Nicklaus and his son, Bear Mountain Golf and Country Club has two stunning 18-hole courses within the grounds, as well as state-of-the-art practice facilities which Golf Canada use as their national development centre. Located about twenty minutes north of Victoria, it's about a three-hour journey (including a ferry) from the centre of Vancouver, but the pair of tracks here are two of the best golf courses on Vancouver Island, so it's definitely worth the trip out.
The Mountain Course is a 6,900–yard par 70, at an elevation of over 1,100 feet, delivering some impressive views alongside a playable yet tricky course that was home to a PGA Champions Tour event in 2016. A course set up for shot-shapers rather than long-ball players, even the most talented golfer will have to cleverly plot their way through to score well. The green fee here is CAD 239 (GBP 136) before 3pm, and CAD 139 (GBP 80) after, both with a CAD 20 (GBP 11) fee for a shared cart.
The Valley Course is a more leisurely affair, but still a difficult proposition. The holes amble through some of the most gorgeous terrain in Vancouver Island, and on the whole the Par 71, 6807–yard course has more forgiveness than its mountain brother, with wider fairways and larger greens. Green fees here are CAD 179 (GPP 102) before 3pm, CAD 159 (GBP 90) after, and with the same CAD 20 (GBP 11) fee for a shared cart.
Olympic View Golf Club
Another course that's across the water, the journey to Olympic View is well worth the trip. Aside from being in the microclimate that makes Victoria so temperate compared to the rest of Canada. The 6,800-yard par 72 course is in the shadow of the Olympic mountain range, hence the name, and the stunning backdrop is one of many things that makes this excellent little course so memorable. Although the mountain scenery is a key part of the appeal of the course, the track itself is in the heart of a forest, surrounded by some of the most stunning natural scenescapes and wildlife in the world, let alone Canada. When you consider this is also one of the best courses on Vancouver Island, then it's no wonder why Olympic View is so well regarded. There are also excellent practice facilities, including a range, and the pro shop is well stocked as you'd expect.
Green fees here start at CAD 65 (GBP 37), but if you're around in the summer then a twilight round is CAD 45 (GBP 26) and a sunset round is CAD 35 (GBP 20). The timings of these change per season. A shared cart is CAD 20 per person (GBP 11).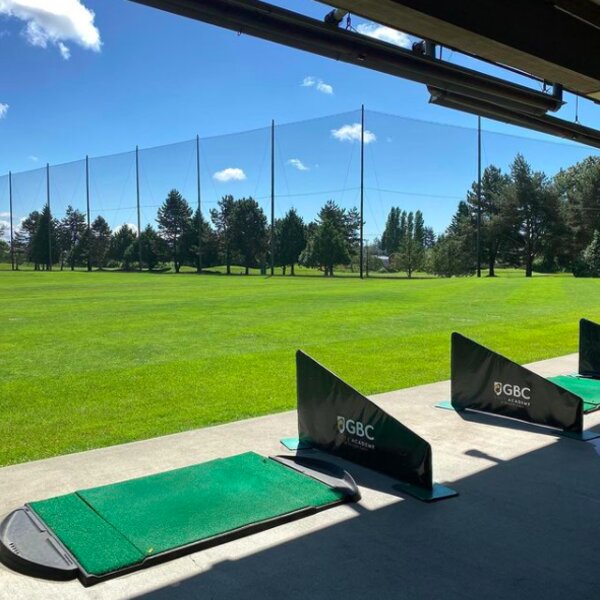 Mayfair Lakes
Located in Richmond, south Vancouver, Mayfair Lakes Golf & Country Club is ideal for those looking to golf in Vancouver. As is surmisable from the name, the drink plays a big part in the defences of this course, which stretches out 6,641-yards. Home to several Canadian Tour competitions, the nature of the course varies depending on the prevailing wind, with the par 71 course often playing a few shots higher when it's blowing hard. Despite being surrounded by buildings and busy roads, it's an incredibly serene course to play too.
Despite being one of the best golf courses in Vancouver, the green fee for Mayfair Lakes is incredibly reasonable at CAD 59 (GBP 33) for a full round, and CAD 39 (GBP 22) for a twilight tee-off time.
One Under Golf
One of the unnegotiable truths of Vancouver golf is that it will be rained off at some point. If you've come over hoping to fit in a round or two but the weather isn't playing nice, there are still some decent options available to you that aren't just practicing on the range.
One Under is home to the most realistic and challenging commercial golf course simulators in Canada, where you can choose between rounds at world-famous courses, longest drive contests, or even a gamified range session. There are tonnes of different clubs available to choose from, so you can show off in front of your non-golfing companions, and the food and drink is worth a visit on its own. Without a doubt the best way to experience indoor golf in Vancouver, simulators are CAD 50/hour (GBP 28), although if you're in a group you can get a private room for CAD 75/hour (GBP 42).