What can be said about Mykonos' beaches that hasn't been said before? You've heard more than enough about silky soft sands and turquoise-toned waters to last a lifetime. And, that's why you're here. You know these coastlines are havens for sun worshippers and discerning sand enthusiasts.
The real question is… where to lay your beach towel? Which beaches are LGBTQ+ friendly, where are the best parties and where on earth do you go in Mykonos for a chilled afternoon and a swim? Search no more, we'll clue you in to all that and more. Including, perhaps controversially, which Mykonos beach to avoid. And, if you're looking to elevate your beach experience beyond a windbreak and a couple of sandcastles, frankly, who isn't? We'll point you towards some sophisticated beach clubs too.  
Mykonos Beaches
Paradise Beach
Make no mistake. Paradise Beach is for partying. Music spills out from the nearby superclubs – so expect the soundtrack to your day to be provided by big-name DJs and chart-topping hits. Beach parties don't tend to get going until late afternoon – but they continue through the night until dawn. There's a chance you might catch a quiet hour or two on the sands between the parties, but this isn't perhaps the best spot on the island for families. Expect party boats to moor up, a young a lively crowd to fill the sands and, after dark? Anything can happen. 
Ornos Beach
While the shallows on most Mykonos beaches are family friendly swimming grounds, the same can't be said for the on-sand action. Nudist beaches and all day parties don't always make for the best places to crack on with those sandcastles. Ornos Beach may be busy, but it's a family friendly stretch of coastline that's also brimming with amenity options. Another plus point are the frequent bus routes – handy for getting the tribe here hassle free. Nearby bars, shops and restaurants mean you can spend the day here without worrying about packing supplies and picnics. The nearby mooring yachts add an upscale touch – and a chance for parents to scope out the social movers and shakers in Mykonos before they come ashore.
Orbzii tip: If you're looking for nutritious meals for little ones, rather than a greasy souvlaki, one of the best restaurants in Mykonos lies just a stone's throw away. Drop into Bowl for salads, smoothies and perfect picnic fodder. 
Paraga Beach
There are some obvious choices for LGBTQ+ friendly beaches in Mykonos. But that's not what we're about. Yes, you can party round the clock at Super Paradise Beach. And Elia might be the most popular gay beach. But we're going to suggest a day on the sands at Paraga Beach. Why? Because it delivers a chilled vibe, calm waters and a chance to experience a different side to the Mykonos coastline. It can get quite busy, but it's just a 10 minute walk from Paradise Beach, if you fancy ramping your day up a notch or two. Tavernas with palm-fringed umbrellas are the perfect spot for a midday break from the sun. Or, the nearby tamarind trees provide shady spots to relax in.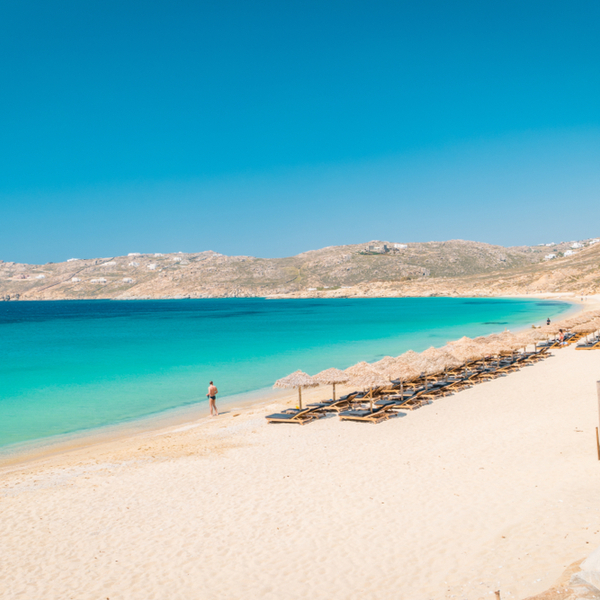 Elia
The best nudist beaches in Mykonos tend to be small coves tacked on to a much larger stretch of sand. And, Elia beach is the perfect example. It's one of the best beaches on the island and has a clothing optional cove to frolic in. Here, you can get your skinny dip on, or eradicate those pesky tan lines, before nipping back to the main beach. Here, you'll find a great range of amenities. That said, this isn't overly developed. Yes, there's a parking lot, cash machine, restaurant and the chance to try out some water sports – but it still manages to feel relaxed.  
Orbzii tip: If you'd rather not visit by coach or car, you can hop on the Mykonos water taxi to get here. 
Ftelia Beach
Here's a controversial entry to our best beaches in Mykonos list. We'd file this one firmly under 'A' for avoid. Not least because it gets the full force of the northern winds to its face in summer. So far, so off–putting. Which begs the question, what are we thinking by adding it here. If you're a windsurfer, you'll already be packing your kit and booking your spot on this stretch of coast. Epic offshore winds, along with the quiet and isolated beach make this a sure–fire winner for wind-based watersport action. Very little else though. We don't recommend a swim or a sunbathe, but it does make a lovely spot to watch the windsurfers in action. Or, better still, to join in the fun. 
Orbzii tip: Looking for the undeveloped charm of Ftelia without the winds? Try Lia Beach. You'll need a hire car to get there, but it delivers a few frills, quiet day on the sands. 
Psarou
As the not entirely made up saying goes…One man's ideal spot in the sand is another's man's worst nightmare. When it comes to ranking beaches, who's to say what floats your flip-flops? Psarou is a beach that will divide opinion. Crowded, popular and yacht-riddled it's a see and be seen kind of place. Why is it here? Well, it also happens to be home to a well-heeled Mykonos beach club that has lured the likes of Tom Hanks and Liz Hurley to its opulent doors. So clearly this bay isn't too shabby. Yes, the waters are turquoise and the sands are golden. Is a day spent A-list spotting on a pricey sunbed (€25+) worth it? We're still undecided. The scenery is stunning though… 
Orbzii tip: If the thought of spotting Mariah or Jean Paul Gautier here has you popping your beach kit in a bag already, leave the car at the hotel. To say parking is limited is an understatement. Get the bus. A little less glam, but it'll whisk you from Mykonos Town (the Fabrika terminal) to a stop just a 10 minute walk from the beach. 
Kalo Livadi
This cheeky little number could well be the Goldilocks of Mykonos beaches. It strikes that 'just right' happy medium for beach lovers across the board. As far as the stretch of sand goes – and, believe us, this one really goes, it's spacious enough for you to find a spot to mark out your own personal territory on. Families can frolic, without disturbing the 'nose in a book all day' types, water sports newbies can hop in a sea kayak and roam the waters and party people can relax to the Ibiza chill out soundtrack provided by nearby beach clubs.  
Does this all sound a little too good to be true? Perhaps, but somehow Kalo Livadi makes it work. The only thing stopping this spot achieving a full house on its impressive beach bingo card? The bus service is too patchy to rely on. You're looking at around a 20 minute drive Mykonos Town to get here.  
If this beach-based roundup has you firmly in the Mykonos camp in a Mykonos or Santorini showdown, you'll no doubt be keen to get your feet on those oh-so-sandy shores. The Orbzii app makes booking and planning a Mykonos trip super simple. Just pop it on your phone and you'll be there in no time.