Whether you're a raver who loves a bit of drum and bass or prefer to scream out bubblegum pop classics, the Sofia nightlife scene has you covered. This vibrant city is known for its great parties, from late-night clubs to raves in the forests that surround the city, and big DJ sets in abandoned warehouses. Even if you're more of a pub and bar kind of person, there's more than enough choice so you won't feel undersold – downtown, there's a bar about every 100m. If you're ready to party the night away in Bulgaria, then read ahead for our guide to Sofia nightlife.  
Pubs & Bars
Bar Iguana
Delivering beachy vibes in the heart of a bustling city, this small but beautiful bar is a wonderful place to start your night – especially if the 'night' is starting in late afternoon. Bar Iguana has been running since 1999, so they've had plenty of time to turn into the excellent venue they are. Staff are all friendly and knowledgeable about the drinks on offer, and the prices are quite cheap considering what you're getting. There's also food in case you're feeling a little peckish. While it's not the best venue if you're looking for a big night on a dance floor, there is great music and a cool vibe, and they usually stay open until around 2am.  
Hambara
This hidden bar hasn't stayed secret for long, although still maintains a bit of a cool edge with all sorts of interesting clientele popping up. Located in a tiny street in the centre of town, a visit to Hambara is a Sofia nightlife must. To get in, you head down a tiny alley into what seems like a residential building's back garden, and the door has no sign so you have to either know which one it is or hope you can hear the music. The bar itself is lit entirely by candlelight, and the bartenders are more in the mould of mixologists than pint-slingers. There's also usually live music, and the venue is split over two floors, so there's plenty of space. If you want the real Sofia nightlife experience, then you have to visit Hambara. 
Grape Central
This wine bar in Sofia is situated in an old bakery, and the décor adds a hint of warmth to this classy establishment. The food is also top quality, with a pan-European menu that utilises local ingredients, some of which are grown in Grape Central's own garden. Even with this excellent standard of food (the sourdough bread is also baked fresh daily, in-house) the wine is the star of the show. There are over 300 wines on the list chosen by star sommeliers, with at least ten of these offered by the glass. The wines vary, but there are some excellent Bulgarian ones too if you're looking to indulge in a bit of local flavour.  
Bar de Rouge
A bit livelier than some of the other pubs and bars on this list, Bar de Rouge is a popular place for a younger crowd of Sofians to let loose. The bar offers great cocktails and a wide selection of beers, as well as hookah. There are usually guest DJs or live music, so plenty of entertainment, and the staff are all really friendly. The atmosphere is a bit more for those who are looking to party all night, although the bar does close at 2. If you're looking for somewhere to pregame, there are few better places to hit up than the neon lights of Bar de Rouge. 
Nightclubs
Club Maze
Without a doubt one of the best clubs in Sofia, and possibly even Bulgaria, Club Maze is a bit of a legend in the local nightlife scene. Placed right in the heart of the city, the club has been open for around six years now. The venue itself is 300 capacity, and the music is primarily underground electronica, although all kinds of dance music gets played. They're open from Tuesday to Saturday, from 6pm until the last customers leave, so it really is a place to cut loose. Earlier in the evening the vibe is a bit more chilled with live performances and jams from local musicians, but after dark it becomes a party mecca. A Sofia nightlife must.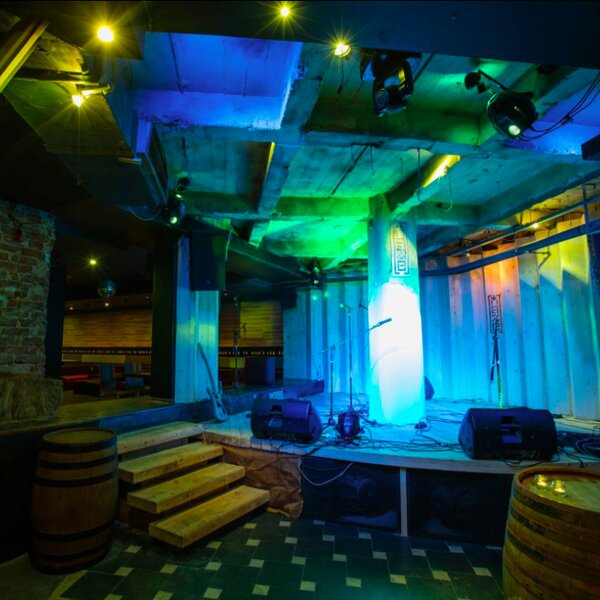 Carrusel Club
Once an old cinema, entertainment is built into the walls of this massive, two-storey club. Located in the south-eastern corner of the city, it's a stone's throw from the famous Boris Park, but still easy to get to from the centre by bus or taxi. When you walk in you're greeted by the massive ballroom-type space; in the centre, bartenders shake cocktails and pour pints, while revellers dance to an eclectic mix of music A lot of the parties here are themed, so make sure you check before visiting and dress accordingly – Carrusel has high standards, which is why they won Sofia's Best Club in 2016 and 2017. The club opens from 10pm and closes around 6am, every Thursday to Saturday. 
Club Terminal 1
There isn't a more central venue than Club Terminal 1, and considering the wide range of music they play and nights they put on, it makes sense they'd be right in the heart of the city. Almost 700 people can cram into this large space, and drinks here are cheap and plentiful. While it is accessible and friendly, Club Terminal 1 does have a bit of a reputation as a place where countercultural types can gather. Definitely one of the best clubs in Sofia, and an ideal spot to throw shapes until 6am. 
Yalta
Named for the resort city in modern-day Ukraine (made famous by the conference that took place there during the tail-end of WW2) Yalta is the oldest nightclub in Bulgaria. It's located in between Sofia University buildings, and has always attracted a young, hip crowd. Yalta has had a lot of firsts since the fall of the Wall, including being the first place a foreign DJ played in Bulgaria (Chad Jackson in 1992). The club's star hasn't fallen in that time, and it's still considered one of the best clubs in Sofia – for good reason. The sound system is class and the venue itself is massive, but always full to the brim. An icon on the Sofia nightlife scene.