From its ancient citadels and world-famous museums to quirky street art and a pretty stellar coffee culture, Athens is an exhilarating blend of contemporary cool and ancient history. Even if you're all about all things hipster over history, you won't fail to be charmed by the birthplace of democracy. So, whether you're an Athens first-timer or returning to this historic and culturally rich city, you won't be short of things to do.
Visit the Acropolis
Whilst we love to bang the drum of seeking out undiscovered gems, it's just impossible (and foolish) to go to Athens without visiting the Acropolis. This striking citadel represents the glory of Ancient Greece and is one of the most ancient archaeological sites in the world. It is thought that the Acropolis was built in the 5th century B.C. and was home to royalty, a mythical home of the gods and is now a cultural UNESCO World Heritage site. It's also home to several temples, the most famous of which include the Parthenon, the Temple of Athena, the Odeon of Herodes Atticus andthe theatre of Dionysus. 
Cine Paris
The Cine Paris in the pretty neighbourhood of Plaka is a dream for cinephiles. Film fans will be mesmerised by the prospect of watching a film at one of the oldest movie theatres in the world in a rooftop garden, making this a simply beautiful cinematic experience. You can also buy vintage movie posters and snack on treats like classic Greek cheese pies and the quintessential cinema hot dog. If you can tear your eyes away from the big screen, you can also enjoy fabulous views of the Acropolis.  
National Archaeological Museum
The National Archaeological Museum in Athens houses some of the most important artefacts from a variety of archaeological locations around Greece and is deemed as one of the greatest collections of antiquities in the world. Some of the must-see exhibits include the cast bronze statue of Zeus which dates back to the early Classical period around 460 B.C. It is one of the few original pieces in existence from this time. Other highlights include the old death mask of Agamemnon, which is one of the most famous gold artefacts of the Greek bronze age.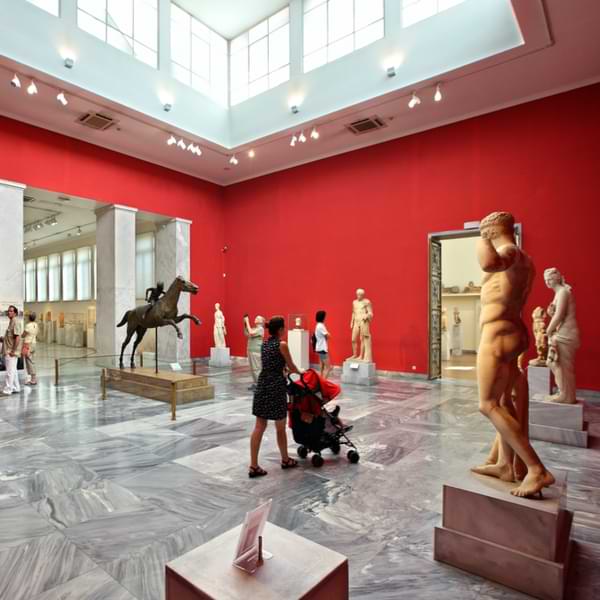 Filopappou Hill
The mythical battleground of Theseus and the Amazons is a lush green park studded with small ruins connected by beautiful stone paths that are themselves a minor architectural marvel. In ancient times, Filopappou Hill was known as being a sacred place and, according to folklore, was renowned as the hill of the muses – home to nine muses who blessed artists with their divine gifts.  
Jumping to the present, it's a beautiful place to take some time out in a serene and picturesque setting. Why not take in a sunrise during your trip to Athens? Alternatively, head up the hill as the sun goes down to watch the Acropolis light up.  
Street art
From world-renowned galleries to creative hubs housing jaw-dropping art installation, Athens is undeniably a hot spot for art lovers. However, you can find some more alternative works of art in some of the cooler neighbourhoods in Athens. Diverse and drawing upon a range of themes which address Greece's political and social issues, you can find incredible and thought-provoking pieces which includes an owl mural called Knowledge Speaks, Wisdom Listens by an artist called Wild Drawing (WD) and takes inspiration from the ancient Greek Goddess Athena, who gave her name to the city. 
Pagrati
Underrated, quirky and oh-so-cool, a visit to the Pagrati district in Athens is an absolute must. If you want to drink the best coffee in the capital, take insome cool art and discover some vintage gems, then head over to Pagrati pronto. You'll be mingling with the locals and the odd sighting of the lesser spotted tourist in this quintessential Greek neighbourhood.  
Many of the district's coffee shops transform into chic cocktail bars as the sun sets, where you can enjoy a cooling tipple. Varnava Square has a treasure trove of bars and eateries to choose from. Our favourite – the 70's inspired Superfly, which has vintage jukeboxes and posters in a playful and evocative setting. 
Parthenon
Hopefully, we've already convinced you that the Acropolis should be high on your Athens list. Whilst there, why not take a mosey around the Parthenon too? Located at the highest point of the Acropolis and dedicated to the Greek goddess Athena, it's an unmissable wonder and an enduring symbol of ancient Greece. 
Monastiraki Flea Market
From vintage clothing to bizarre bric-a-brac, if you love all things quirky and retro, look no further than the Monastiraki Flea Market. It's only open on Sundays, so make sure you carve out time to pick up a bargain or two. Meanwhile, the surrounding neighbourhoods of Monastiraki and Thisseio are also worth exploring. The vibrant neighbourhood of Monastiraki is home to a great selection of cafes, restaurants and bars, as well as some very instagram-worthy Roman and ancient ruins.  
Temple of Olympian Zeus
Crafted over a period of seven centuries, the Greeks may have taken their sweet time to build the temple of Olympian Zeus, but it was definitely worth it. Located in the heart of the city, this ultimate doer-upper of a temple  only has 16 of its original columns remaining, but the overall tableau gives an insight into what would have been the largest temple in not just ancient Athens, but possibly in the world. 
Benaki Museum of Greek Culture
From the spectacular neo-classical mansion that hosts a flawless collection of art and artefacts from ancient times to mid Century, the Benaki Museum of Greek Culture should sit high on your Athens bucket list. Visitors can enjoy a captivating overview of Greek history throughout the ages from antiquity and the Byzantine period through the ages.