We don't have to tell you that sharing some quality time with a creature that dates back as far as the dinosaurs is pretty special.
Add in warm Caribbean waters, tropical seascapes and the vulnerability of sharing the deep blue with a critically endangered species and you're in bucket list territory.
Swimming with turtles in Barbados is, naturally, hugely popular. Hawksbill, Leatherback and Green turtles are spotted regularly.
So you'll often find yourself within touching distance of a flipper or a smooth, smooth shell.
Though, it's worth remembering at this point that the docile-looking creature you're swimming with weighs in at 12 stone or more and has an alarmingly strong beak.
Swimming with turtles in Barbados is definitely a 'hands-off' past time.
So, dust off your waterproof Go-Pro and snorkel, as here are our favourite ways to see and swim with some Bajan turtles…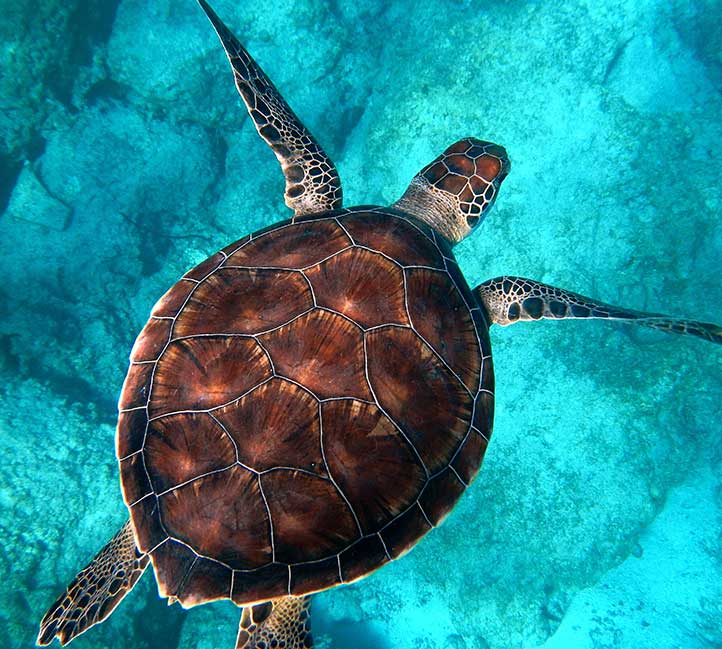 Take a turtle tour
Life is short. And sometimes you just want to see something rare, awe-inspiring and wild, without really having to try.
Never has that been more true than when you're on holiday.
So it comes as no surprise that there are plenty of Bajan companies ready and waiting to take you straight to the heart of the swimming with turtles in Barbados action in style.
Rum cocktails? Mandatory. Snorkelling a shipwreck? Optional.
Catamaran cruises
Before you've even slipped into the arrestingly blue ocean to come face-to-face with some Barbados turtles, you'll wonder why you've not travelled everywhere by catamaran before.
Thrillingly fast once the sails are up, yet still plenty of space for sophisticated lunches and rum-based beverages.
Even the best bars in Barbados can't rival a cocktail or two at sea.
Best of all, most catamaran cruises include all snorkel gear, and keep the drinks flowing too.
You'll come away with marine life facts, local anecdotes and a memorable moment with a turtle or two.
Orbzii tip: save the rum cocktails for the sail home, as you'll want to be completely in the moment when you are swimming with turtles in Barbados.
Private charters
Honeymooners, indulgent travellers and romantics, this has you written all over it.
Chartering your own yacht, boat or catamaran – complete with captain, means your turtles in Barbados encounter will come with a side-order of champagne and exclusivity.
This option is all about luxury and possibly even a smidgen of Instabragging.
Some luxury catamarans come with WiFi and onboard air-conditioning – though sadly neither of those improve your chances of swimming with turtles in Barbados.
Don't worry though, you don't need to dive to great depths to see a turtle, you might even catch sight of one from the boat deck.
Glass bottom boats
A favourite among those reluctant to get their feet wet, glass-bottomed boats take advantage of the clear, clear waters on the west coast.
Although this option doesn't quite hit the luxury mark, that's not necessarily a bad thing.
Orbzii tip: most operators run trips lasting just over an hour.
Perfect if you're short on time or just want to get those sea legs established for a longer excursion.
Submarine tours
Let's not waste time pretending this is anything other than a gimmick.
That said, Atlantis Submarines are a hit with young families and it's not every day you get to board a submarine and dive to depths of 150ft.
You'll tick off shipwrecks, tropical fish and possibly a turtle.
Educational facts will be geared towards the little ones, but that doesn't stop you from grilling the staff for turtle trivia.
Go it alone. But where?
When you picture yourself swimming with turtles in Barbados, we're fairly confident your aquatic fantasy doesn't feature a shoal of tourists vying with you for the best spots. Which, with boat tours, can be an issue.
Captains tend to share turtle locations with other boats because, well, sightings of turtles in Barbados are big business.
So if you're looking for a once-in-a-lifetime, eco-friendly encounter to call your own, pop by these beaches instead.
You'll be thanking us when you're snorkelling just a flipper away from a Hawksbill turtle with no-one else around.
When it comes to where to snorkel in Barbados, almost anywhere on the west coast is sublime, but these locations? Next. Level.
Carlisle Bay Marine Park
Although this park isn't the quietest spot in Barbados, it has every diver's dream combo, reefs, wrecks and turtles.
Six shipwrecks at the last count – all providing an eerie home to some of the region's most colourful marine life.
Apparently, children as young as two have mastered the waters here, so newbies really have no excuse.
Rumour has it there are seahorses too. If that doesn't get your flippers on, nothing will.
Freights Bay
Swimming isn't the only way to see turtles in Barbados.
Viable options include paddle boards, boogie boards and surfboards.
The local surf school in Freights Bay can set you up with a board and some surf lessons.
Though your time may be better spent looking for turtles, you won't regret trying to conquer the waves while you're here.
Alleyne's Bay
If you've checked out a few catamaran tours, you'll be familiar with Alleyne's Bay.
Yes, the waters are clear and the turtles are used to being fed, but we're trying to avoid crowds.
That's why if you're going alone, it's best to pop by early doors before the boats arrive.
Orbzii tip: turtles seen? Take advantage of the cool morning temperatures and walk to nearby Folkestone, where fish on the inshore reef are plentiful and boat traffic is minimal.
Paynes Bay and Beach
Calm waters, shallow reefs and soft sand equals snorkelling heaven.
The turtles seem to like it too, making Paynes Bay a mecca for catamaran cruises.
Now, we're only labelling this beach a 'must do-it-alone visit' because here, you barely have to get your feet wet to spot a turtle.
Take a stroll along the sands and you may just see a turtle popping up to breathe.
Dive in and a sighting is almost guaranteed.
Orbzii tip: an early start is a must, but the endorphin high of a turtle encounter beats a lie in, any day of the week.
Want to see baby turtles? Visit at this time…
You'll want to pitch up in Barbados in the 'off-season'.
Why? Clue: it's not for the sweet, sweet deals and low tourist numbers on the beach.
That's just your reward for saving lives. No friends, it's the best time to see baby turtles in Barbados.
From mid-July to mid-October tiny, fragile hatchlings emerge from the sands. And that's where you come in…
Book your trip and tap in your details at BarbadosSeaTurtles.org.
If it's turtles in Barbados that you are looking for, then the good folks at the turtle protection project will get in touch if you can help.
Why? Because, for a fresh-out-the-egg turtle, life can be confusing.
Bright lights lure them away from the sea to nearby roads, ditches and other dangers.
If you're lucky, you'll get to watch a release and guide some disorientated baby turtles safely into the sea. Not all heroes wear snorkels…
All that swimming got you hungry? Check out our favourite places to eat in Barbados.
Snorkel already in your suitcase?
Pick up some coral-friendly sunscreen and download the Orbzii app to Dream, Plan and Book your way to the turtle-filled waters of Barbados.