Majorca's kind of a big deal. Yes, it's famous for its party scene that sits side by side with family holidays. Its beaches are a coastal joy to be reckoned with. And it's a craggy island riddled with intriguing caves.
But there's one attraction that reigns supreme above all – Cycling in Majorca.
Coast routes that snake high up into the mountain ranges, shade dappled pine-forest and rugged cliffs are all accessible thanks to plenty of smooth, smooth tarmac. All you have to do is put the leg work in. 
Famous cyclists train here. Leisure riders come for the views and intermediate and advanced riders flock here for the challenge set by world-renowned riders.
There's also a cycling 'easter egg' to be found in Sineu. The central town is home to a velodrome you can whizz around.
That's if you can manage a few laps after taking on the formidable Cap de Formentor. Up for the cycling in Majorca challenge?
We've got everything from sightseeing on two wheels in Palma to Majorca's most difficult cycling route covered.
Whether you are a cycling newbies or an experienced cyclist, let's discover the most unmissable routes for cycling in Majorca.
Beginners, leisure cyclists and families
Palma - Off Road Route
One of the best bits about this Palma to Arenal leisure ride is that's entirely off road.
If you're not specifically booked your trip for cycling in Majorca or to challenge your thighs on the Cap de Formentor, we've got more great news.
This scenic 15km ride is mostly flat, swings by some of Palma's top sights and gets you to more than a few beaches.
The catch? It's not a circular loop. That's the only compromise on this one. Head to Palma's marina and join the cycle path. It'll lead you all the way to Arenal – and back again. 
Orbzii tip: If you're staying in Arenal for a while to explore, make sure you head to the south of the town. Here you'll find Las Sirenas by the marina. Seafood platters and some tempting desserts make this THE place for a lunch stop.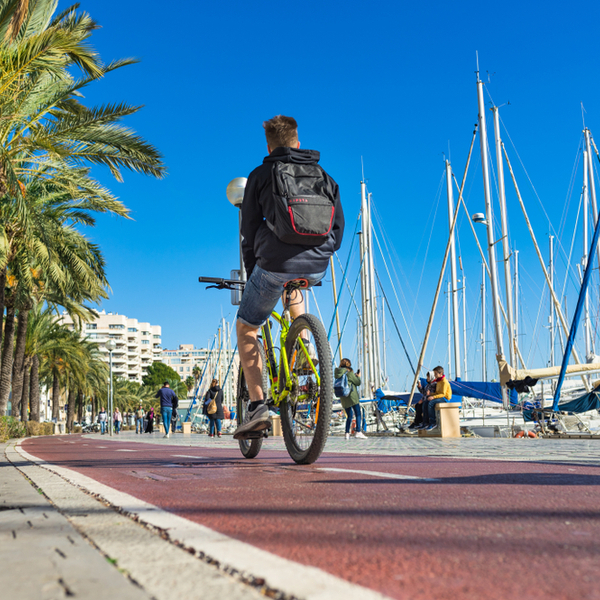 Try one of Majorca's easier climbs…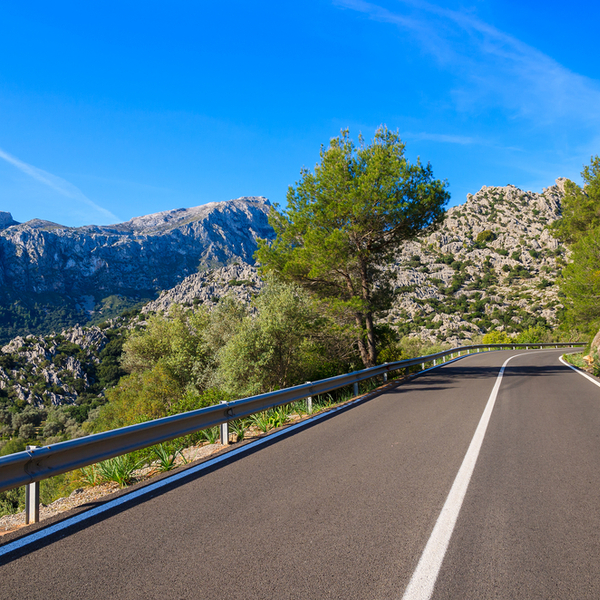 If you're new to cycling and want to step things up from a cycle path mooch, this is your route. It takes in one of the easiest climbs when it comes to cycling in Majorca – the Coll de sa Batalla.
8km of views, pine-tree forests and a few switchbacks to give you a taste of Majorca's notorious hairpins.
You can try the climb in isolation – just set off from Caimari and when you've climbed to Lluc, you've made it.
For an even more testing ride, the loop you can do from Caimari puts you more towards intermediate level. Cycle east from Lluc to Pollenca, then drop south along the MA-2200 until you reach Cami Vell de Pollenca.
Cycle south, past the Campanet Caves and meet up with the MA-2131 until you reach Selva. Hop on the MA-2130 north and you're back in Caimari. 
Intermediate
Cap de Formentor
In most cycling circles, if you mention Majorca, it won't be long until Cap de Formentor takes centre stage.
When it comes to cycling in Majorca, though formidable – it's not the most difficult climb on the island.
Its fame has been somewhat boosted by the much–repeated rumour that Sir Bradley Wiggins himself has set a record time on the Cap.
But, really, this road doesn't need a celebrity endorsement to boost its rankings.
A 36km ride along craggy, cliff-edge roads, with glimpses of the coast and pine forest, makes the Cap de Formentor essential cycling in Majorca.
It has everything a cyclist that is cycling in Majorca could wish for. Views, viewpoint stop offs – a nice way to take the burn out of the climb – and a kilometre of climbing that'll really test you.
The route? Start in Port de Pollenca and cycle towards to El Mirador de Sa Creueta viewpoint.
Then it's on to Formentor beach, past Cala Figuera cove and then on to the climb to reach Cap de Formentor lighthouse. This isn't a loop route, so you'll retrace your path home.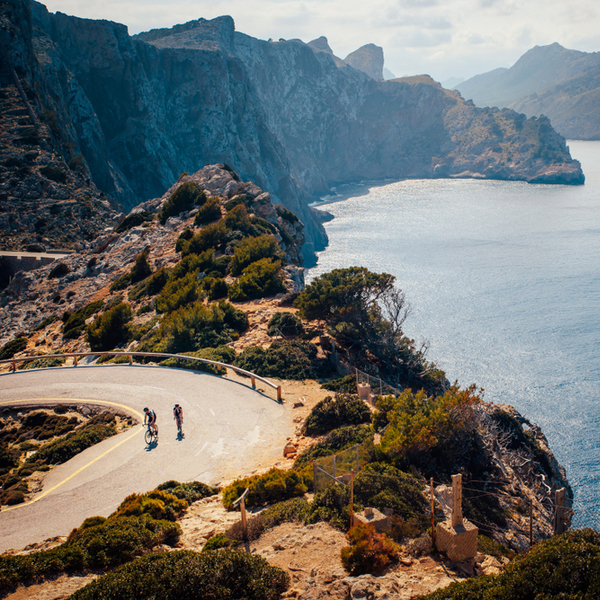 Orbzii tips: This one takes you through a 300m tunnel, so don't forget to pack some lights!
It's almost a rite of passage to stop off at the lighthouse for a coffee. But it doesn't open until mid–morning – and is priced towards the tourist-trap end of the market. Bring supplies. 
Advanced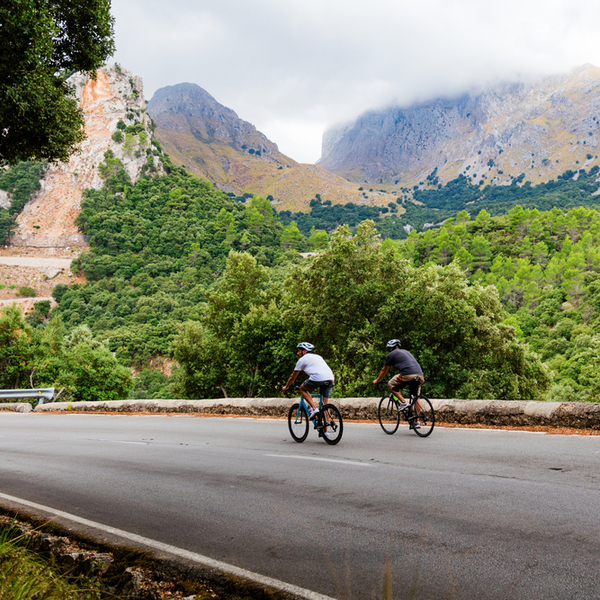 Take on Majorca's toughest cycling route…
Before you grab your helmet and bike, we'll just reiterate that this loop is definitely for advanced riders looking for adventure when it comes to cycling in Majorca only.
Mapped out to include the island's biggest climbs over a gruelling 138km ride, this will challenge even the most experienced cyclists. But it's so, SO worth it. 
You start again in Port de Pollenca and cycle towards Alaro. You'll see the foreboding summits of Coll d'Orient on route.
Take it all in – it's the scene for your first climb. It comes with a nice descent too. Think open fields, and mountain peaks. There's not too much time for contemplation before the next climb. 
Luckily, Coll d'Honor comes with cooling shade from the pine forest. It's one of the steepest schleps when it comes to cycling in Majorca.
You'll need it as you'll be tackling up to an 8.5% gradient via some taxing hairpins.
Your reward is a swift descent to Bunyola. Those hairpins are just as sharp on the way down, so keep your concentration up.
That done, we're climbing Col d'Sóller now. Nothing too taxing – but we're back to those switchbacks – a whopping 61 to tackle.
Once you're in Soller, it's a good place for a breather before the next major climb: Col de Puig Major. On the way up the long 6% gradient climb – rest assured the lake views at the top make it worthwhile. From here, it's a downhill breeze through Lluc and back to Port de Pollenca. 
Bike hire in Majorca
Rather than cart all your gear to Majorca, you can hire bikes on the island. Ok, so that's a pretty standard sweeping statement. 
But, we're not talking heavy, leisure bikes for a coastal pedal.
There are several companies loaning out high-spec bikes for you to conquer Majorca's cycling routes. Use it as a chance to try some gear you're considering buying – or try to replicate your at-home set-up.
Either way, it's better than your precious ride running the baggage handling gauntlet. 
We really like the team at Mallorca Bike Hire.
There's a great range – including bikes for women and children.
They also supply e-bikes, city bikes and mountain bikes – which really widens your options.
Best of all, they deliver to your accommodation. Bikes come with a saddle bag and spare tube – plus pump and tyre levers.
You can also hire locks and lights, meaning you really only need to bring your water bottle and cycling gear.
Costs vary by bike type, but a Cannondale SuperSix Ultegra Di2 Disc costs £70 for 1 day. £130 for 2 days and £30 per day for each subsequent day after that.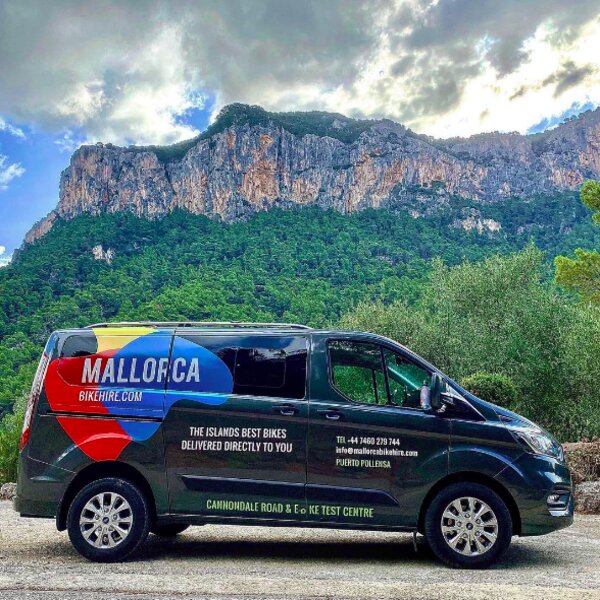 Max out Majorca on two wheels…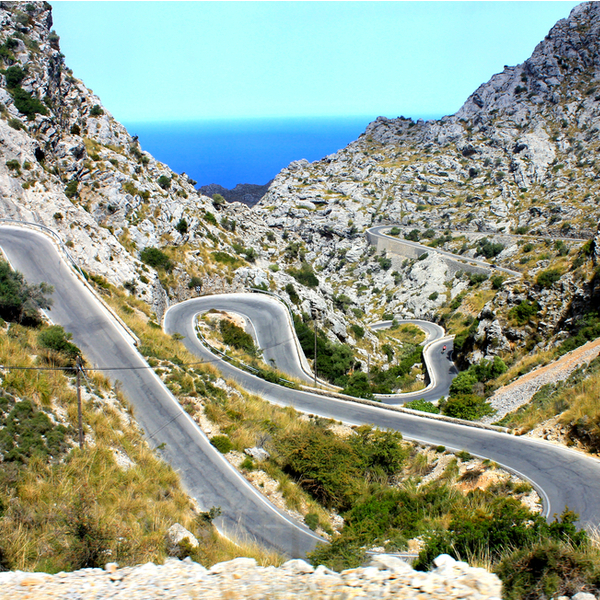 If you've got a limited time on the island, but really want to rack up some miles on the road, consider Mallorca Cycle Shuttle.
They'll pick up you, and your bike, and take you to the starting points of some of the best cycling in Majorca.
All you have to do is cycle home. No more loop routes, doubling back or cycling some lower-quality trails.
There's also a bike rescue service – if you break down, they'll get you back to your accommodation, a repair shop or your bike hire company.  
We've just scratched the surface of cycling in Majorca routes. The best way to experience it? 
Cycle the routes and explore. With the Orbzii app, you can quickly and easily plan and book the ultimate Majorca trip in minutes.