Meadows, waterfalls, granite behemoths and scampering wildlife awaits all those who enter these acres.
A San Francisco to Yosemite trip is just the ticket when the concrete jungle starts to lose its allure.
Replace it with wide open, star-filled skies. Campground coffee instead of barista blended beans and unbridled greenery a world away from San Francisco's manicured gardens. 
Yes, it's a sharp contrast, but the lakes, valleys and ancient sequoias of the natural wonder of Yosemite are the perfect settings for your next American adventure.  
When to go on your San Francisco to Yosemite road trip
You might have a snow-filled fantasy of skipping gaily through the 1,200 square miles of Yosemite.
But glittery frost and a dusting of snow this isn't. Snowstorms see roads closed, and most trails unpassable from as early as October.
November through to March is pretty much off-limits. Which might leave you plumping firmly for summer.
But before you pack your hiking poles and all-terrain gear, we'll clue you into the summer numbers.
They are sizeable, we're talking crowds. Which in a national park so vast, is really saying something.
Drop by in May or early September and you're likely to see Yosemite at its best. Lower visitor numbers, cooler temperatures and better waterfalls.
In May the falls are in full flow from all the snowmelt – which really does make up for the winter shutdown.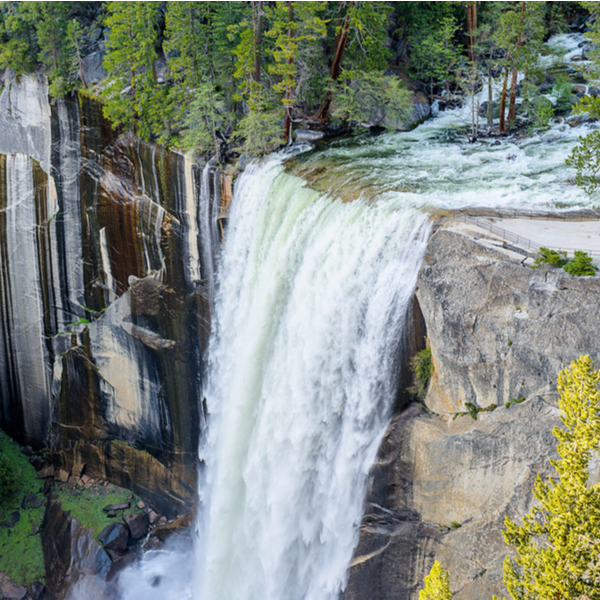 Travelling from San Francisco to Yosemite
As much as you may love an Uber journey, Yosemite is going to be out of bounds for most rideshare apps.
A 4-hour drive from San Francisco puts Yosemite firmly in car hire or organised tour territory.
Yes, you could take public transport, but there's no dedicated, direct service.
That route really does sap your time, which would be far better spent scampering among Yosemite's best bits.
We'll not travelsplain hire cars to you here, we're better than that.

Other than to say, book something you'll be happy spending a lot of time in… and something that can hold all of your camping gear. 
Orbzii tip: If you're planning a road trip, you'll most likely want to take in the scenery on route. Plan a route that includes CA-99 S, CA-140 E and Highway 140 for views that rival the rest.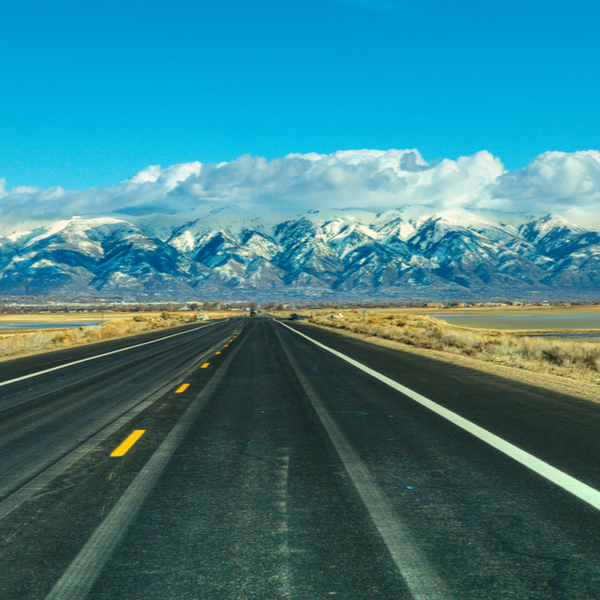 If public transport's off and car hire's not your bag, you're left with San Francisco to Yosemite tours.
Thankfully, your choice is wide-ranging. For an obligatory glance around the ancient and giant sequoias, without the full wilderness experience, you're looking at a one-day Yosemite tour from San Francisco.
Though do keep in mind you'll be spending at least 8 hours on the tour bus. Though, to really skim the surface of this natural wonder, look to spend at least two days within the park. Campsites or hotels are your accommodation options.  
Things to do in Yosemite
There really is no shortage of things to do here.
The only limitation? Time. 
We've listed some essentials to squeeze into some free time, along with a range of options if you're planning a longer stay.
It all comes down to whether you're looking for trees, glacial architecture and wildlife or zip lines, adventures and trails.
We'd recommend a little of everything. 
Ancient Sequoias
The trees of Yosemite are about as old as it gets in tree world.
The park's Grizzly Giant is around 3,000 years old and has seen a few visitors in its time. This brings us right to the point.
The largest and oldest sequoias can be found in three main spots.
People are shuttled into Mariposa Grove for a good gawp at the 500 trees here.
There are easy trails to hike at Yosemite – and some trickier ones – but it's essentially an easy win if you just want to see how massive these trees really are. For a more wild experience, find Tuolumne or Merced Grove.
Yes, there are less trees – but far fewer people. That might have something to do with the hikes needed to get there.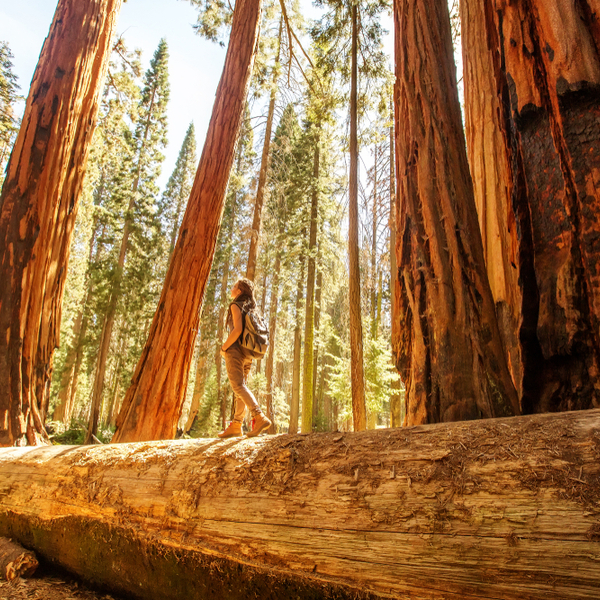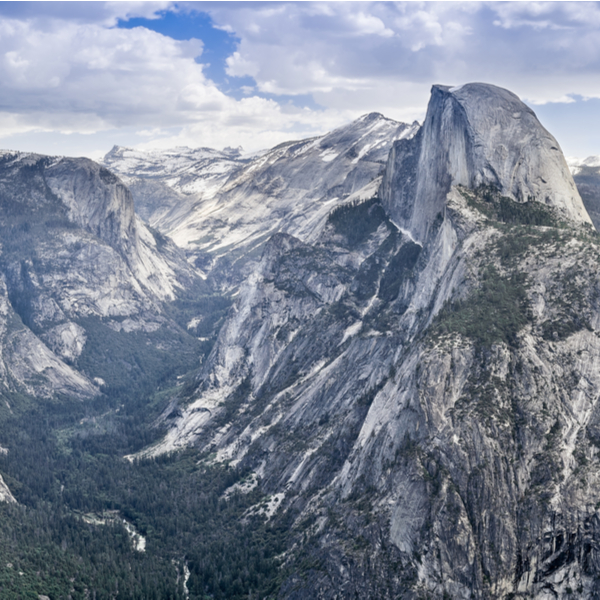 Glacial wonders
Glaciers are responsible for the park of Yosemite you see today.
Though there are only a couple of small glaciers left, their legacy remains. Glacier Point is a handy stop-off for valley views.
To really see how the moving ice cut through the rocks, mark a route for Tunnel View.
Though more than a few buses will be headed there too. Across the park there are large, and small, signs of the glacier's journey.
Half Dome, Lembert Dome and El Capitan are imposing walls of granite just calling out to be scaled.
Climbing experience is a must, but even if you don't climb, they are impressive enough just to take in with your eyes. 
The wildlife of Yosemite
We know what's on everyone's mind. Bears. They are probably not high on your 'must-see' list when visiting Yosemite.
Half of you will be desperate to see them, the other very much keen not so much.
First up, grizzlies aren't found ay Yosemite, so that's a plus for any bear-phobic visitors.
The more placid black bears do roam, but rarely frequent the busier trails.
Bears aside, you've 400+ species of wildlife to spot. Highlights include red fox, mountain lions, bighorn sheep, deer and 262 species of birds.
Golden eagles steal the limelight but the brightly coloured smaller species are just as thrilling to spot. 
Orbzii tip: Though placid, the best place to spot bears is from afar. Open meadows are the easier places to scope out – and leave plenty of room for you and bear to safely part ways. Binoculars are essential – for bird and bear spotting.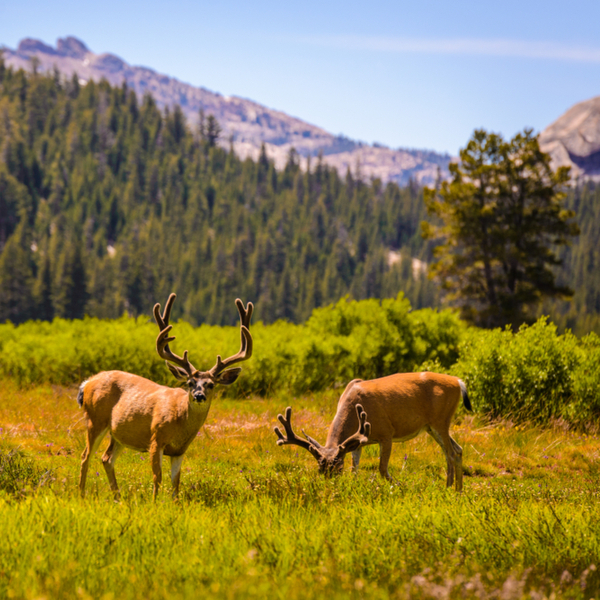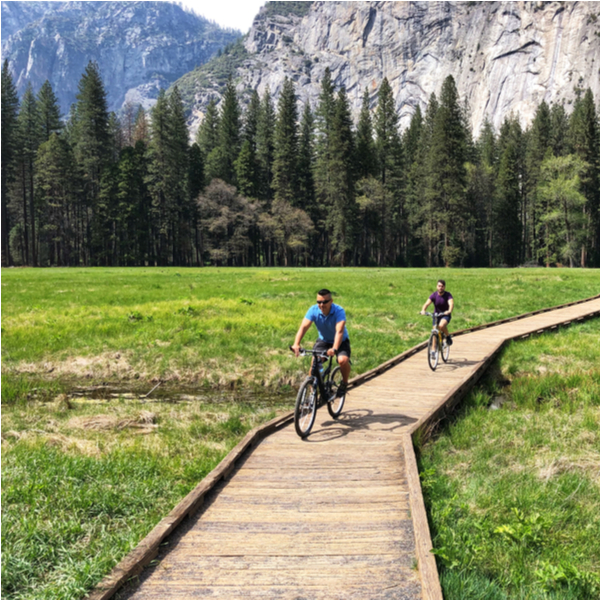 Yosemite activities
This vast park of Yosemite certainly packs in the activities. And while it's great to have so much choice, we'd recommend most of these for a longer stay.
For our money, the best sights in Yosemite are free – aside from the cost of a little shoe leather.
That said, if you're here for a long trip, saddle up. Horse and bike tours allow you to see much more parkland in less time – and are relatively sustainable for wallet and wildlife.
The waterways attract anglers, rafters and swimmers – though there are park rules to follow to the letter.
And then there's more sedate pastimes, such as art, birding and stargazing which seem to gel much more with the feel of the park.
Hiking may be the best option of all, exploring this wilderness will never go unrewarded. 
Waterfalls
There are falls, and then there are Yosemite Falls.
The highest in the park – and North America's highest waterfall, it's one to tick off your list if cascading water, night time rainbows and glistening, yet oh so craggy, rocks are your thing.
This 2,425 ft beast is on everyone's tick list though, so do feel free to swing by and then find some less crowded run offs.
Some you can peep from the car – Ribbon Falls and Horsetail Fall fall into that camp. Others are only visible with some legwork. Nevada Falls are impressive – but the hike is steep.  
Orbzii tip: If you're with a mixed ability group, Wapama Falls is perhaps the easiest of the bunch. Visible from the O'Shaughnessy Dam car park, some of you can rest and picnic while the others hike an uneven trail to the falls base.