For many, the hotel pool is as wet as it gets on a trip to Tenerife. Shame really. There's an action-packed menu of sea-based thrills to be had on this volcanic beauty. Watersport novices can dip just a bit more than a toe in the water with some snorkelling in the balmy shallows. Not to be taken lightly, the sea life you'll see is on a par with some of the world's top marine spots. Ramp things up a bit and you can kayak, jet ski or scuba dive among turtles, surf or windsurf on competition grade waves and the dolphins are pretty numerous in these waters too. Dive in, you'll not regret it.
Scuba Diving
If you move in the right scuba circles you'll hear Canarian waters compared to Caribbean conditions. We'll not get that carried away, but, scuba diving in Tenerife ranks pretty highly on our scuba scale. Scoring well on visibility – think 30 metres plus – the water's warm year round. So far, so pedestrian. It's at this point we'll wheel out the big guns. Shipwrecks and unique biodiversity. Now you've got yourself a diving hotspot.
Paradise Divers​ are great at getting you in the water. Their dive trips, training courses and guided  snorkelling trips make Tenerife​'​s waters accessible for everyone. We​'​re big fans of their ​'​Project  AWARE​' ​site – which they regularly clean as part of their commitment to the oceans. It​'​s a simple  enough dive, but it comes with the chance to see baby Mako sharks. Dives start at ​€​40 per person.
Other Tenerife diving options are El Poris and San Miguel. Beginners will benefit from the  shallow start at El Poris. But the rewards include barracudas, octopi and garden eels. Plus, there​'​s  a nice little ​'​Easter Egg​' ​of an underwater statue to seek out. Experienced divers – expect to be  greeted by large grouper at the 40 metre plus San Miguel drop off.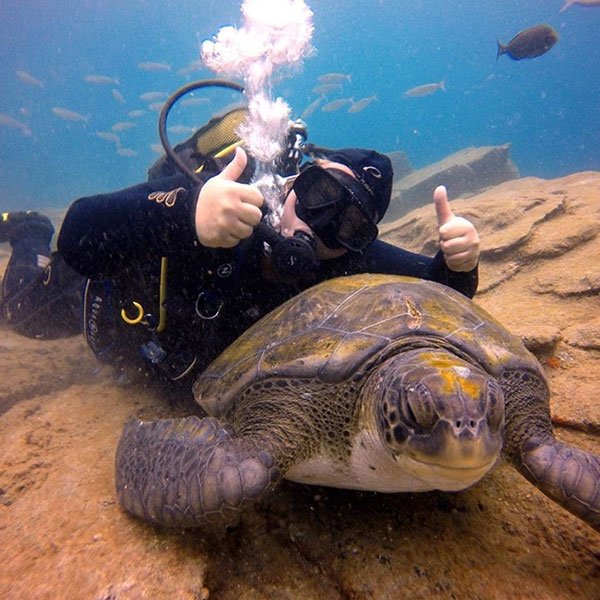 Surfing
It's fair to say Tenerife surfing spots aren't in short supply. Swells range from year round guaranteed surf, to waters when the stars have to align to get the perfect ride. Beginners have some nurturing sand to surf over at La Tejita in the south of Tenerife. 3-4ft waves roll in all day long – giving you plenty of chance to practice popping up and mastering right and left hand waves.
Experienced surfers will want to head north for El Socorro. Waves are guaranteed – but here, they get big. Strong currents and big waves rule this out for novices, but the Blue Flag beach, facilities and waves that break far from shore make it a must surf for most. Bodyboarders, the powerful tubes at Punta Blanca are for you. Surfing isn't bad here either – if you can keep your eyes off the stunning views. Ocean Life Surf School in Playa de las Americas can get you on a board and teach you the basics.
Group lessons start at € 35 for 2 hours and include a board, wetsuit, insurance and lockers and showers. If you're looking for one-to-one lessons, expect to pay €70. For board hire, chat it up with Atlantik Surf. Packages range from half a day (€20) to a week (€160).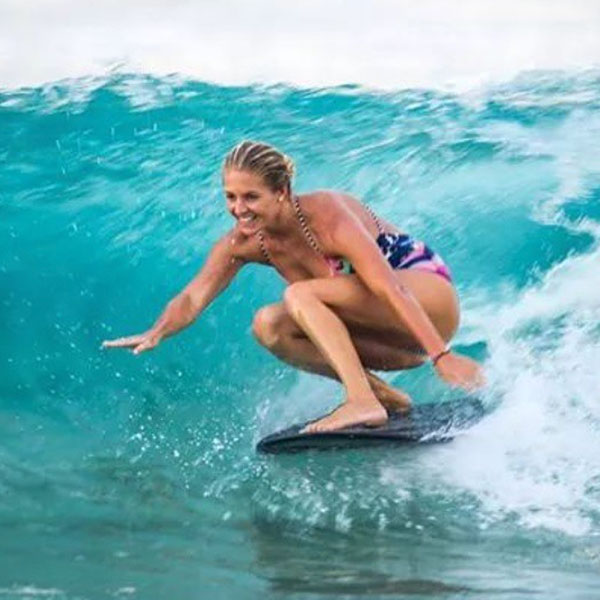 Snorkeling
You can snorkel your swim-socks off all year round in Tenerife – though the warmest waters kick in as June arrives. Conditions stay toasty through to September. But the big question is, where to wade in? If you fancy snorkelling with some turtles for company, set a course for El Puertito beach in Costa Adeje. Protected and uncrowded, the sands aren't stellar – expect black sand – but the clear waters let you spot Atlantic Green Turtles lazing on the sea bed.
If you're lucky, you may well see Loggerheads and Leatherbacks. As you'd expect, with so many turtles around, tour boats and catamarans make a b-line for these waters. Arrive early to avoid the crowds. Yes, turtles are great spots, but in Tenerife snorkelling brings many more rewards.
Hop in the waters at Abades Bay and you could find yourself swimming with sea horses and rays. Damsel fish, bream and octopus are all regulars in these waters. Few facilities mean these shores are rarely crowded. Not a place to laze on the sands – but a snorkelling gem.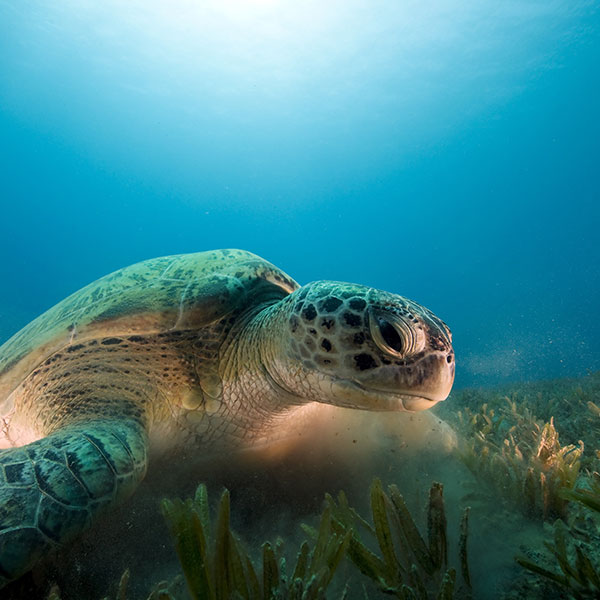 Windsurfing
If you often find yourself carving the waters of the world, you'll know that windsurfing in Tenerife has got quite the global reputation. Luring windsurfers from all corners, El Medano beach is the place to watch the pros in action.
Easterly and north-easterly winds create ideal conditions for competitions and experienced types. Beginners, you'll want to stick to picking up tips, unless you're taking lessons from the many windsurf schools that can gauge the conditions. Duotone's starter lessons start at €81 per lesson or €355 for a complete 5 day course. Away from El Medano, there are great spots to get on the water.
La Tejita is probably the most scenic, and while it's very low on facilities – the south and south-westerly winds and water conditions make it accessible to all but the most novice windsurfers. For an all-round windsurfing beach in Tenerife, we'd recommend Playa de las Americas – particularly the waters to the south. For a visual guide – carve the waters between the Hotel Las Palmeras and the Hotel Conquistador.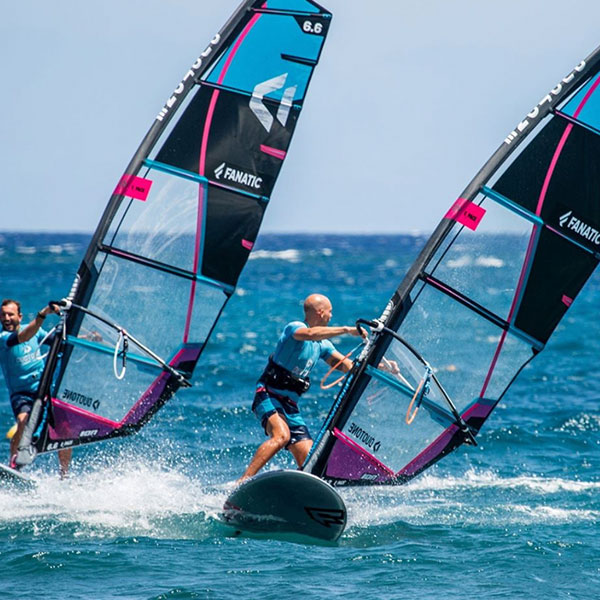 Kayaking
Before you book a boat trip to spot Tenerife's resident dolphins, consider hopping in a kayak instead. Yes, kayaking Tenerife's Atlantic seas will work up an appetite, but it'll get you closer to the dolphins than you thought possible.
Plus, what the boat trips don't tell you, is that some of the dolphin groups regularly swim within easy kayaking distance from the shore. But dolphins aren't the only rewards a paddle will bring. Give Xplore Tenerife €39 and 3 hours of your time and they'll kayak you out to the protected turtle grounds – where you'll frolic and snorkel amongst the local turtles, rays and dolphins. Suitable for beginners – but you'll need a reasonable level of fitness for this one. If you'd rather stay aboard your kayak – that's fine too.
If you're in the market for views – Teno Activo will rent you a kayak (or stand up paddleboard) and you can paddle along the pretty impressive cliffs at Los Gigantes. Straight out the gate in the harbour you'll spot big, big rays and tropical fish. There's usually a couple of dolphins waiting to play in the wake from the boat traffic too.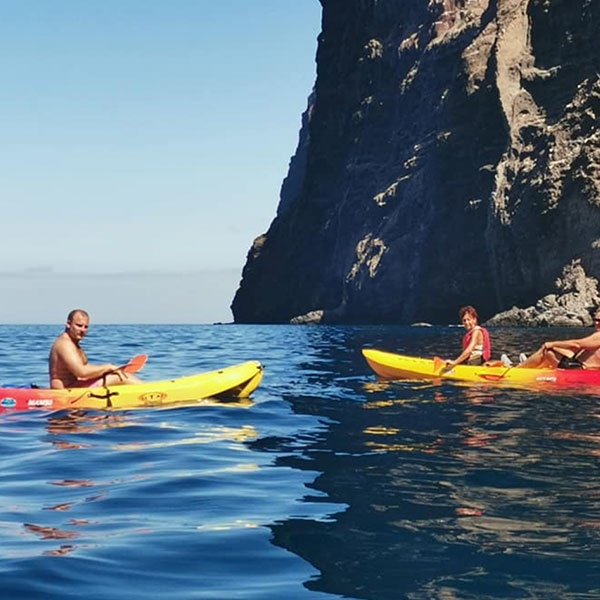 Jet Ski
Jet ski Tenerife's waters and you're going to see much more than someone else's wake. Jet ski safaris get you close to whales and dolphins – and some whizz you into Tenerife's impressive coastal cave for a look at some volcanic architecture.
We're going to name drop Los Gigantes again. The marina is smaller than some of the others on the island and is right next to those jaw dropping cliffs. There's a dedicated speed route for jet skis – which keeps you away from any pootling jet skiers in the market for calm waters and a stop off to snorkel. You'll find the jet skis in the marina. Alternatively, head to Puerto Colon, where Radikal Jet Ski have jet skiing in Tenerife sorted. Their longest jet ski safari takes in the Los Gigantes cliffs, plus the turtle bay at El Puerito. At €180 for a single or €220 for a double, it's great value for money.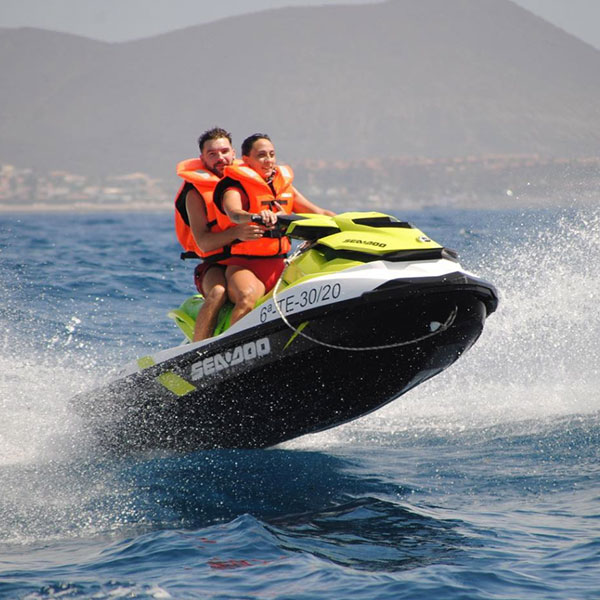 There's no excuse not to get in the water with that line up of options. But if you're still determined to stay dry, Tenerife's cycling routes come with more than a few thrills. Ready to book? Let's get you in your wetsuit sharpish with the Orbzii app.