For every action there's an equal and opposite reaction. And lo, as Ibiza filled its isle with hedonism and intoxicating cocktail jugs, the wellness retreats sprang forth. Much needed on an island awash with temptation. That said, you must choose wisely. Ibiza retreats range from deeply cleansing journeys to thinly veiled attempts to disguise a party week by applying some yoga to it.
And that's where we come in.
We've sifted out the spas – because how limber can you really get in a jacuzzi? – and found wellness retreats in Ibiza that cater for all. We've even found a safe haven for new mums and their tantrum-filled toddlers. Assume the chair pose and practise your mindfulness by concentrating on our rundown of Ibiza retreats.
Trust us, you'll thank us when you finally reach your toes for the first time in decades.
Done a little Googling and found yourself swimming in beach club options? Relax. This category is awash with stellar spots. Though your instincts should see you right, a little insider info goes a long way in Ibiza.
Achieving zen, being lithe and limber, expanding the mind. All lofty ambitions – but will you have to miss out on Ibiza's fun side to achieve them? Gloriously at Soulshine, the answer's a definite NO! Sorry, got a little carried away there. But there's a real joy to finding a retreat where booze, three courses and clubbing is actively encouraged – if you want to.
An Ibiza detox retreat this is not. But there are nutrition talks, plant-based meals and plenty of outdoor massages on offer. Your setting? 'Can Shui' – a cliff-perched Ibiza villa with sea views, Feng Shui aligned decor, tree-shaded yoga deck and an infinity pool. The tropical gardens and meditation den allow space for thought, or there's an isolated beach within walking distance. The catch? It's a 40-minute hike.
Cost: A shared room for 6 nights starts at €1,940.
Orbzii tips: Early starts aren't compulsory. Yoga may start at 7:30am – but if your circadian rhythm isn't in tune with Soulshine's, just stay in bed. Let them know you'll be having a lie in and they'll even save some breakfast for you.
Stepping straight off a plane into the welcoming 'omms' of Ibiza Retreats may seem daunting. But by day two you'll wonder how you'll ever go back to your own little piece of urban mayhem.
Spoiler alert: by the end, you'll be fully equipped with enough mindfulness and yoga moves to tackle anything life throws at you.
Ibiza Retreats deliver life changing stays. And we don't say that lightly. Yoga? Yes, and plenty of it. Sugar? Not on their menu. Expect to detox via juices and clean eating – but feel all the better for it. One-off retreats happen throughout the year in a gleaming, white-washed luxury villa. Or you can book in for a revitalising weekend whenever you like.
Costs: 6 night glow yoga retreats range from €995 – €2,495. Include full board and last night banquet, daily yoga and a diagnostic massage.
Orbzii tips: Pack sturdy shoes for the surrounding hilly landscape. Even if cabin fever does start to kick in, try to stay in the retreat. You'll be back in the dizzying real world all too soon. Embrace the remote location.
And for something a little different
A dancing retreat...
Twice a year you can retreat to a luxurious Ibiza villa that becomes a den of dancing, joy, Latin fitness, and of course, yoga.
The principle at Santosh Retreats seems simple. Pause, reflect, dance, feast, laugh. In reality, there are much more complex processes at work here. But that's for the magic makers at Santosh to worry about. A week here will be spent learning everything from the 'Strictly' classics to moves you've never even dreamt of. No partner needed, ideal if you find yourself yearning for some solo travel. In fact, most retreats are mainly women.
Cost: From €1,700 per person for 4 nights. Full board, plus dance classes and workshops.
Orbzii Tips: Your stay here is short, make the most of the views from the infinity pool or a walk in the private forest. Yes, Ibiza's beach clubs are amazing, but Ibiza will be waiting for you when the retreat is over. Bring hiking boots for the forest.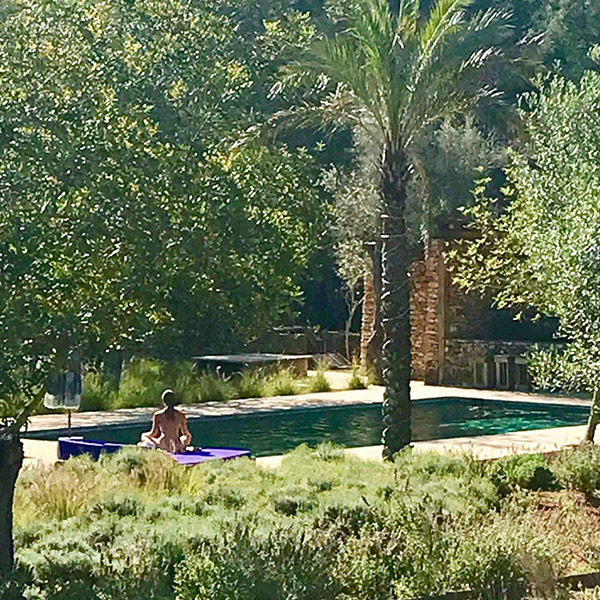 Villa Maecenas
Villa Maecenas retreats are aimed at creative types looking for a little inspiration, serenity, advice – or all three.
Local experts lead writing and art workshops – so expect to quickly pick up tips as a budding amateur or hone your craft if you've been at this for years. Healers are on hand to align chakras and soothe away any worries. Or they'll pop you in a sound bath if your writer's block has plumbed bleak depths.
Sonnets written and masterpieces painted, the surrounding countryside is yours to frolic in. Morning yoga and guided hikes are organised – but if you're looking for some alone time, you'll not go wrong at nearby Benniràs beach.
Cost: Writing Retreats – From €2,600 per week, shared bathroom, full board and some activities. 
Orbzii Tips: Consider a self-imposed digital detox to really get your creativity flowing. Food tends towards the gourmet end of the scale here, so do indulge. Save the will power for an Ibiza detox retreat instead.
Have the decades of dancing and debauchery finally caught up with Pikes? Ibiza's rock n roll hotel of fame has decided to dip its toe into the wellness waters – and, unsurprisingly, this is no ordinary Ibiza detox retreat.
All the familiar Ibiza wellness retreat ingredients are on the 'Rockovery' menu – sunset yoga, crystal bowls and guided meditation. But they sit alongside 'Franky's Fightclub', vitamin injections and CBD workshops. There's a definite sense that Pikes are catering to their fanbase. Yes, the hotel pool may be the location for the Wham Tropicana video, but can it harmonise body and soul? It certainly makes for a great selfie backdrop.
Cost: Prices start at €1,250 per person (two people sharing)
Orbzii tip: You'll be staying at Pikes during the retreat – a hotel described by Artwork as "the weirdest houseparty you've ever been to in your life." So expect shenanigans.
Your stay could buy you a ticket to the party at Freddie's. A highlight of the Ibiza party calendar, held in the very room Freddie Mercury held his 41st birthday bash. Unmissable.
An Ibiza retreat for tired mums…
If ever a group of people deserved an Ibiza wellness break, it's tired mums. Thankfully, the pure souls at HolyMama Retreats have designed a healing retreat to soothe even the most furrowed maternal brows.
Carers arrive onsite at 9am to whisk babies and toddlers to a morning of Montessori-based fun, leaving frazzled mums free to limber up for yoga under the pine trees.
Perhaps the most sacred activity could be the daily child-free vegetarian brunches? A rare treatindeed. After mid-day little ones are reunited with mum and together can swim in the retreat's pools, explore Ibiza or join in the child-friendly afternoon activities.
All of these no doubt benefiting from mum's restored sense of self. Drumming, dancing and yoga keep everyone on-the-go all afternoon. The reward? The ultimate goal for any mum: a good night's sleep.
Cost: From €1,750 per week, shared bathroom, all meals, some activities.
Orbzii tip: You'll be staying in shared villas, so pack your ear plugs. Your toddler may be sleeping soundly, but what about next door's newborn? All meals are local, sustainable and organic. Pack your little one's favourite snacks to avoid any hangry outbursts.
Special Mention: If all our picks seem a little wishy-washy, and you're after something deeply gruelling, may we suggest No.1 Bootcamp? Detox, yoga, meditation, body toning, hiking, training sessions, weights and more. Slightly less intimidating than the full No.1 Bootcamp experience, but challenging enough. Prices start at £1,700 for a wellness week or £1,470 for a fitness week.
All this talk got you ready for an Ibiza retreat? There's only one thing to do. Download the Orbzii app and fill yourself with the most immersive travel content on the market. Oh, and you can dream, plan and book your Ibiza trip while you're there. You're welcome.