There are many places in the world where, for a fee, you can board a boat to go whale watching. Few though, where you can spot feeding humpbacks in the unique light of the midnight sun. Yes, it's a beautiful experience, and one that's best enjoyed under several warm layers. Whale watching in Reykjavik delivers on whales, wildlife and the chance to see the land of fire and ice from the water. Very much a win, win, win. And, with a little effort behind the wheel, you can even plot a road trip to the whale watching capital of the world. 
Reykjavik's whales
Hopping on a whale watching boat in Reykjavik? Depending on the timing of your visit, Minke whales are the most likely spot out of the 20+ species in these waters. Minke numbers are relatively bountiful off Iceland's shores and most trips log regular sightings. After the Minkes, it's Humpbacks that clock up some solid numbers. You might hear talk of Fin and Blue Whales making the odd appearance, but try to keep expectations low on that front. They do drop by, but rarely. While you're waiting for the big guys to show up, you may also see Orcas, Pilot Whales and the always entertaining dolphin pods.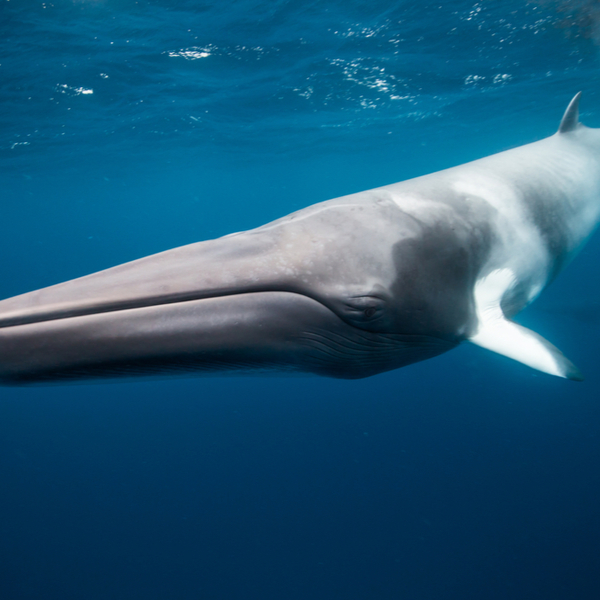 If you're flying in to tick off a specific species, do check where your tour will be sailing to. Orcas are a species that likes to roam, but if you want to increase your chances of seeing them, head for the Snæfellsnes Peninsula. Sperm whale sightings have also been recorded here – but usually only in June. Handy to know if this is one species you've yet to spot. 
Best time to go
There's no way to soften the blow on this one. Whale watching tours in Reykjavik are always going to be chilly affairs. Wardrobe-wise,  layers, and plenty of them, would be the way to play it, even in summer. For warmer weather, higher whale numbers – and the chances of smooth sailing, visit in the summer months. Yes, you can still go whale watching in Reykjavik in winter, but the odds of your trip being cancelled (due to bad weather) are overly high.  
From May to August, Iceland's whales are feeding and breeding offshore. Expect greater numbers and, potentially, increased chances of catching those impressive breaches on camera. Then there's the near 24 hours of sunlight to factor in. This opens up evening whale watching in Reykjavik, which is essentially very similar to seeing them during the day. Tour operators do tend to add a small premium on to their usual costs for this – so do make sure it delivers on value for money.  
Whale watching tours
Elding
This family run operation delivers, among other excursions, whale watching tours from Reykjavik. And, pleasingly, Elding's catalogue of whale watching options is robust. Large boats, small ribs, Midnight sun tours and more are on the menu. If we had to pick just one? It has to be the small group tour that leaves Reykjavik harbour in time to catch the midnight sun. You'll be on a small boat with just a dozen others for company. The smaller boat lets you cover more ocean during the two hour tour – and you get the thrill of the rib ride across the waves. The fact you're doing all this under the midnight sun? Well, it certainly adds an extra vibe.
Cost: £122.75 (kr 21990)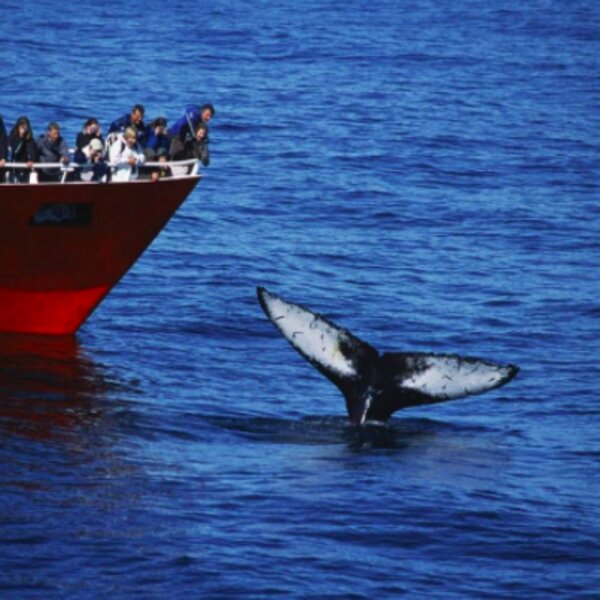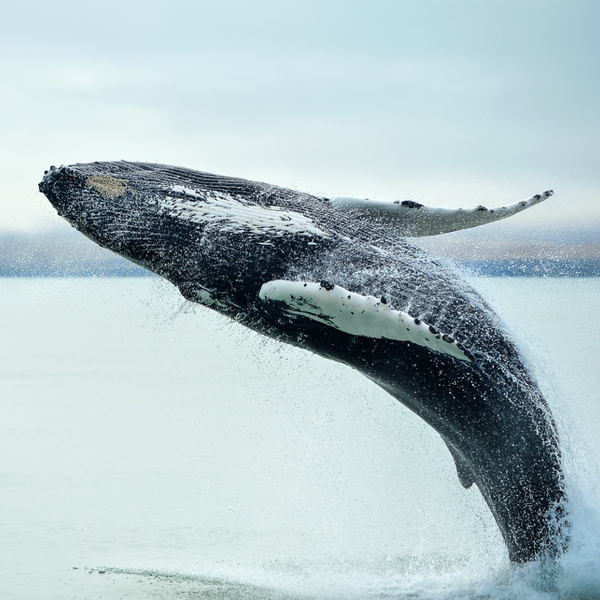 Special Tours
Sea adventures with a sustainable ethos always catch our attention, and Special Tours is no exception. If the environmental policy, free Wi-Fi and sturdy ship doesn't lure you aboard, then perhaps their combo options will woo you. And they should. Whales and puffins, whales and lava tunnels, whales and horse riding, whales and the Northern Lights. You get the picture. There's little in Iceland this team won't pair with their whale watching excursions. Which ultimately means you can rack up some 'must sees' all in one day. Of course, should you just want to focus on the whales, they do that too – at competitive prices.
Cost: £67 (kr 12000)
Katla Whale Watching
Don't expect to be wowed with choices at Katla. They've opted for just the high speed rib whale watching option. And we're including it here because of the puffin potential. On the surface, this excursion looks much like the others. Dig into the itinerary though and, once they've whisked you past Reykjavik's iconic sculptures and landmarks, they swing by Puffin Island. No puffins guaranteed of course. But, if you don't see them there, where else will you see them? This is where the rib trips can offer more value than the larger boats. You get much closer to the wildlife – but the speedboats are notoriously bumpy on choppy waters. 
Cost: £98.66 (kr 17700)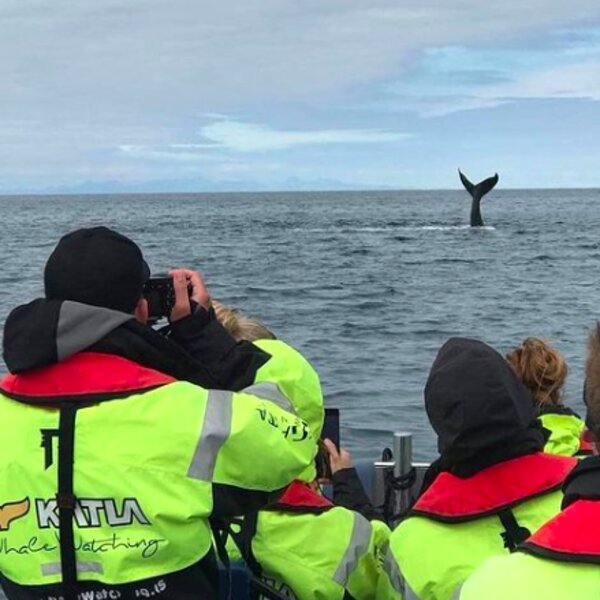 Orbzii tip: Generally speaking, the main tour operators don't offer the option to swim with Iceland's whales. Cold waters aside, there's the eco aspect to consider too. Consider a private charter if this one's on your bucket list.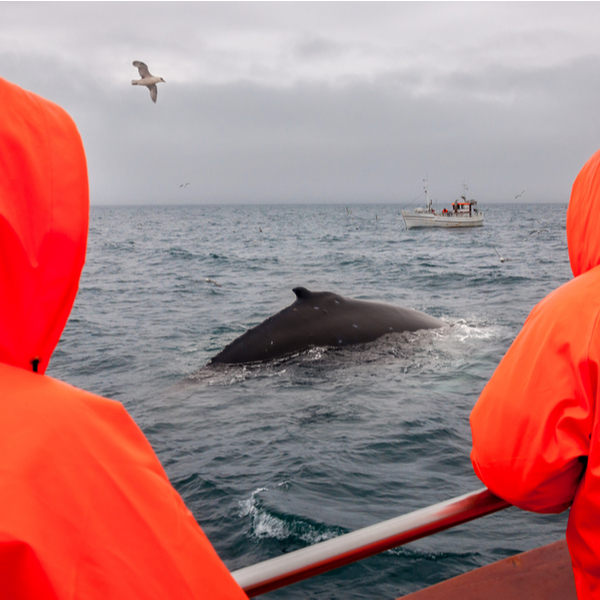 Best whale watching tour
It's tough to call which operator could take the title of the best whale watching company in Reykjavik. If you're balancing a budget on your Reykjavik trip, but don't want to compromise on experience, Katla's rib tour comes in a little cheaper than Elding's premium Midnight Sun tour. Though we do love the range of choice Elding provides. In terms of results, the operators all tend to share info when the whales are spotted. So in theory, you shouldn't miss out, whichever boat you choose. Competition for business is tight in Reykjavik, so the main providers are all looking to provide a good experience. For the cheapest whale watching tours in Reykjavik, look at either Special Tour's 3.5hr trip or Elding's trips on the larger boats. They both charge the same price. 
Orbzii tip: If you're looking to max out your eco-credentials in Reykjavik, check your restaurant's menu. Whale and puffin do appear in dishes – all clearly marked. The local whale watching fleet do always ask guests not to order it – but you can go a step further by avoiding restaurants that serve it too, as there are plenty that don't. 
Whale watching beyond Reykjavik
The waters close to Reykjavik do hold a fair number of whales. But, there's another Icelandic harbour that is a world leader in the whale watching stakes. So where's the catch? Well, Húsavík on the north coast is a solid 5hr 40min drive from Reykjavik. Which shouldn't trouble hardy road tripping types, but if you're only in town for a weekend, it starts to look a little too far to contemplate. So what's going to lure you here? Two words. Biodiverse ecosystem. There's a unique geological set up going on that essentially creates nutrient rich waters chock full of plankton. Which means whales, and plenty of them.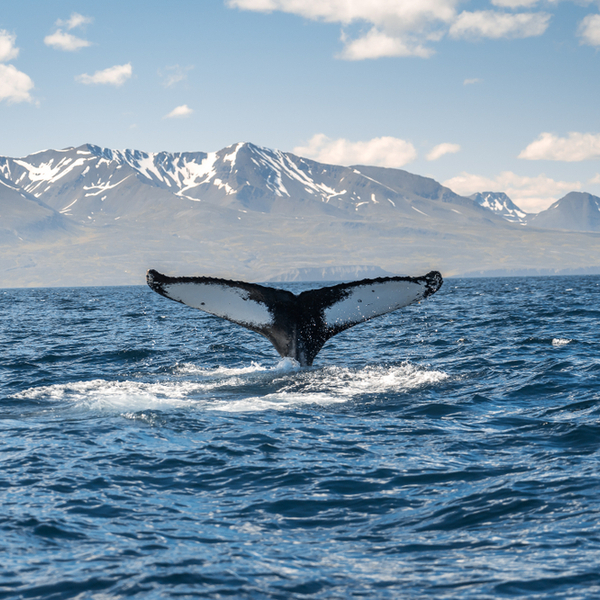 Tours leave from either Húsavík or nearby Akureyri and Elding, who we mentioned earlier, is one of the local operators. So is it worth making the long drive? If you've got the time, we'd give it a big YES. A road trip through Iceland's craggy landscape should really be on your radar anyway. Just look at the extra whales as a reward for all that eye-watering scenery you've had to endure on route.