Pack your thermals, gloves and everything snug. Reykjavik in winter is far from balmy, but getting a bit nippy is a small price to pay to access this winter wonderland. Scampering among a volcanic landscape, covered with a more than generous helping of snow and ice, only adds to Iceland's other-worldly vibe. In the city, chilly strolls are more than balanced out by toasty venues with plenty of indoor fun. Make the most it by lifting some tips from our what to do in Reykjavik in winter rundown… 
Reykjavik in winter
Thick ice coats the pavements, snow covers the surrounding landscape and ethereal green and pink lights dance in the sky. Reykjavik in winter is magical. The land of fire and ice holds plenty of geographical wonders to gawp at. But don't miss the sights found on Reykjavik's streets. Many will want to lure you away to complete the Golden Circle tour. And, we'd never want to put you off. But a Reykjavik walking tour should also be on your list. Expect to see street art, impromptu skating on the city's pond and a sculpture walk by the coast.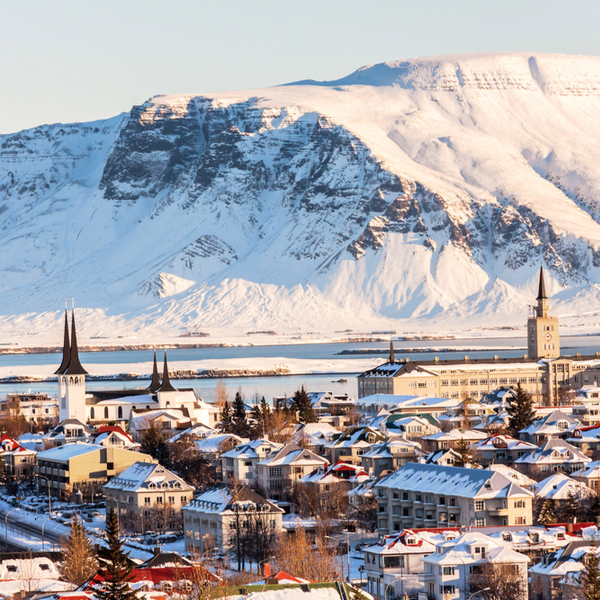 Winter activities
Explore an Ice Cave
In hidden parts of Iceland's glaciers, there are caves entirely made from ice. Which, on the surface, could sound a little basic. But it's only when you've donned your crampons, trekked across the open glacier and got up close to the cave you see the beauty of it. Every shade of blue on the Farrow & Ball colour palette can be found here. And then there's the bubbles. Tiny, glistening pockets of ancient air trapped in the ice are oddly fascinating. Driving across a snowy tundra in a 4×4 monster truck adds a certain something too. Arctic Adventures can get you to the Katla Volcano Ice Cave, along with stops at the Seljalandsfoss and Skogafoss waterfalls. You'll also see plenty of Icelandic landscapes – think volcanoes, glaciers and plains – on route. Expect to pay £165 for the full day tour.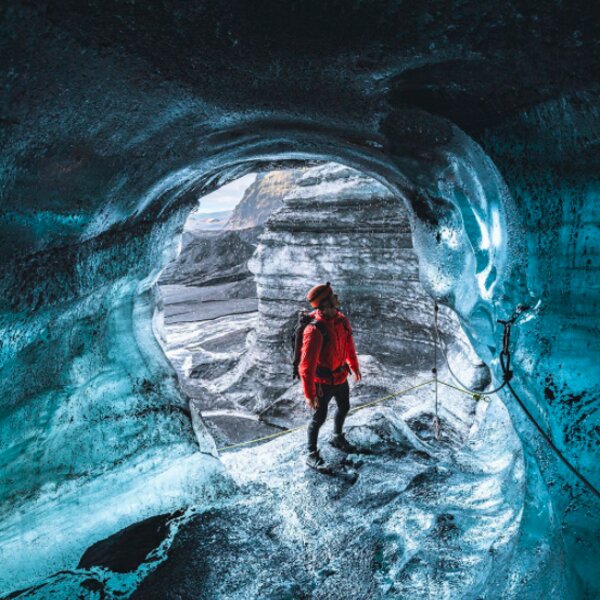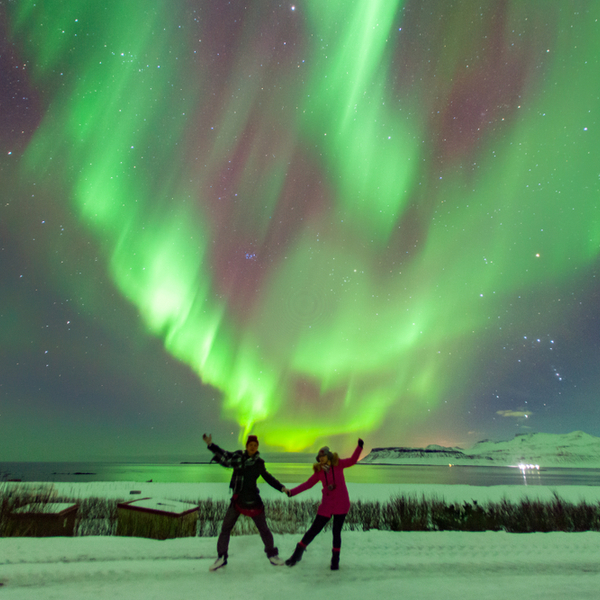 See the Northern Lights
Seeing the Northern Lights in Reykjavik in winter is essential, providing the Aurora forecast is good. Next to spring, it's one of the best times of year to spot the eerie green glow light up the sky. The snow–covered landscape makes an ideal blank canvas for the dancing lights to bounce off. Though, admittedly, standing in wind chill temperatures that plummet into -15 to -20 territory can be a smidge off–putting. Layer up and brace yourself for a spell in the cold and you'll not regret it. Plus, there's no need to fork out on an expensive tour to see them. View them from your hotel window, trot up to the Perlan observation deck for a lofty view or head to the harbour to see the lights over the ocean. For something more central, Lake Tjornin is an easily accessible spot – with calm and reflective waters. We're big fans of finding free stuff to do in Reykjavik – and the Northern Lights needn't cost you a penny. Handy in a city that's famous for being on the pricey side.  
See a show
Deciding what to do in Reykjavik in winter needn't get too complicated. Ice and fire aside, this is still a city like any other. Chock full of culture. With that in mind, we'd gently suggest you catch a show. Feel free to lean towards your usual entertainment preference, but when it comes to grand venues, the Harpa Centre adds a wow factor level the local bars can't match. Expect theatre shows, classic symphonies, jazz and more from Icelandic stars.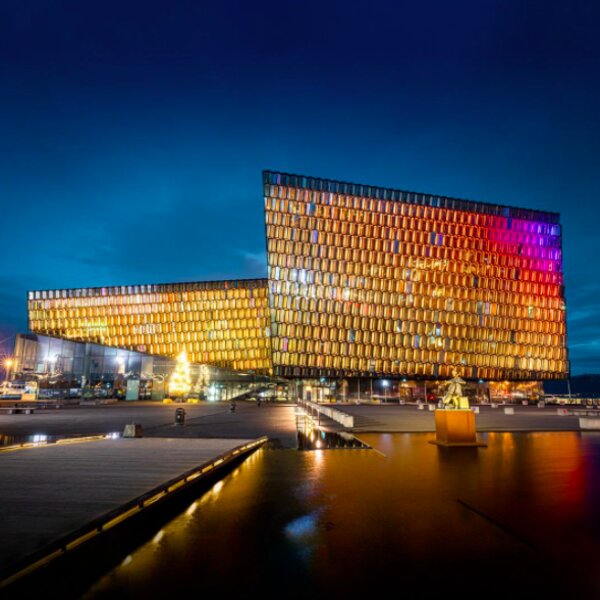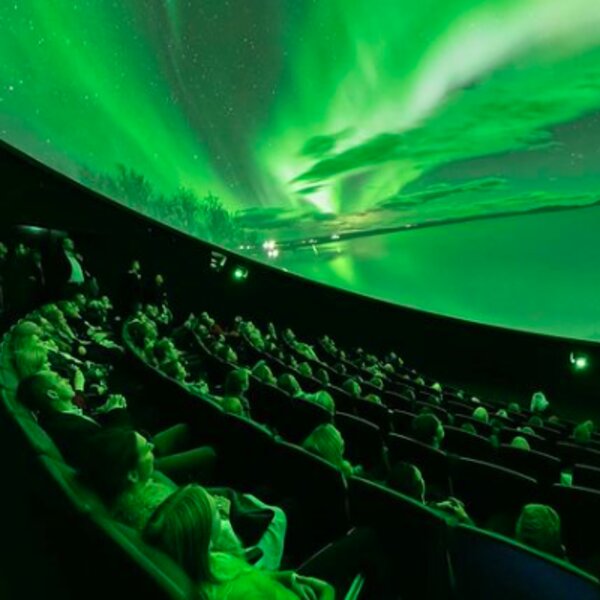 Perlan Planetarium
If the Northern Lights don't put in an appearance, Perlan Planetarium's show gives you a virtual version to enjoy. It's not quite the same – but it's immersive enough to make a decent consolation prize. Learn about the science behind the colours that dance across the sky and make the most of the rest of the exhibitions. Expect most to really go deep into Iceland's intriguing geological make up. Also visiting Iceland in December can see your hopes of whale watching in Reykjavik dashed. If the sea's too rough, Perlan has a virtual underwater tour of the nearby shores to enjoy. They really have thought of everything.
Take a dip in the Blue Lagoon
This is a tricky one. Icelandic types – and tourists – do like to hop into a thermal spring in all weathers. And, the toasty waters make the Blue Lagoon a year round attraction. Yes, it's a bit of a touristy spot, but there's a certain amount of FOMO to be had as soon as you see the promo pics. There's just one problem. The Blue Lagoon isn't exactly a natural thermal spring. The warm waters are from the nearby power station. Which sounds alarmingly hazardous. Fear not, the power station is geothermal, and the waters are holistically beneficial. And, as it's a man-made affair, the spa facilities are naturally on point. A pricey meal in the onsite restaurant and soaking in the mineral rich blue waters aren't to be snubbed exactly. But are they value for money? Expect to pay £33.50 to just wallow in the waters. Everything else is extra.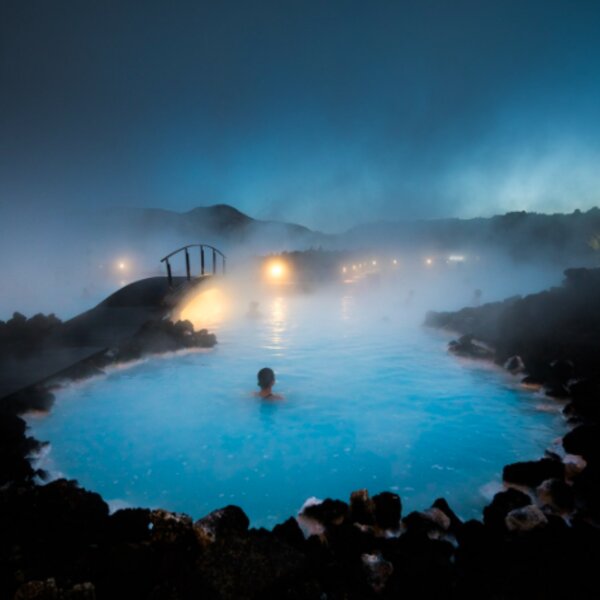 Orbzii tip: If you've made the journey north to Húsavík on a whale watching tour in Reykjavik, see if you can fit in a trip to the Geosea Thermal Baths. A less crowded option than the Blue Lagoon that contains just as many rejuvenating minerals.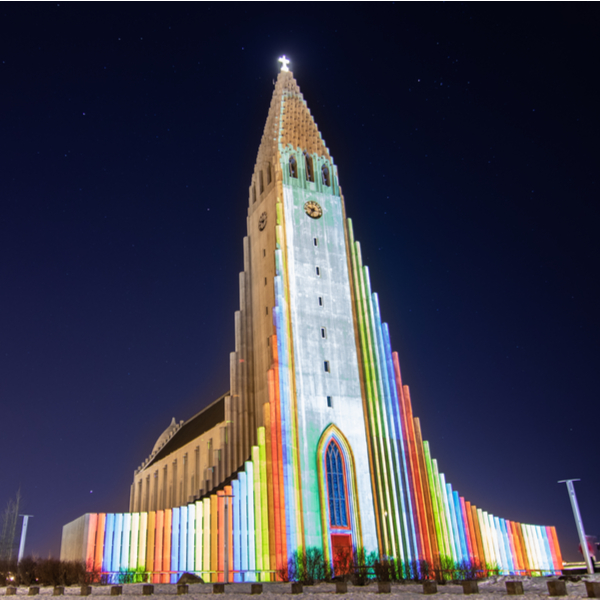 Seasonal shenanigans
It's winter in Reykjavik, which might instantly spark thoughts of a Christmas market or two. And, Iceland does love to put up more than a few Alpine-style huts and get the mulled wine on the go. But, beyond the markets, food stalls and twinkling lights, there are a few winter festivals you might want to fly in for. November's Horror Film festival in Akranes won't be for everyone, but adds a certain spooky touch to the moody landscape. Reykjavik's Iceland Airwaves festival (also in November) is a huge music festival with an eclectic line up, including Bjork, obviously. Visit in February and you'll catch the Winter Lights Festival. Which is perhaps not reason enough to make the trip, but adds a colourful glow to the city.