Whale watching in Vancouver is one of those awe-inspiring experiences that you have to see to believe. Seeing these majestic, otherworldly creatures come up for air, occasionally with the backdrop of the metropolis, is something else, and a constant reminder that no matter how big and smart we think we may get, nature will always be able astonish us. 
Whale Watching in Vancouver: An Overview
Although whales (and other sea-creatures) of all kinds are spottable throughout the year, there's no doubt the height of Vancouver whale watching season is between April and October, with some March's even being fertile for spotting the large mammals. If you go whale watching in Vancouver during this time, you're almost guaranteed to see some. This is also because the industry is incredibly well developed, and competing tours all share information and the location of these magnificent creatures over radio so the incredible experience of seeing them in the wild can be shared by as many people as possible. Although winter visitors may not be travelling to the city when it's the best time to see whales in Vancouver, they may still get lucky, especially if they get out of the city to Vancouver Island.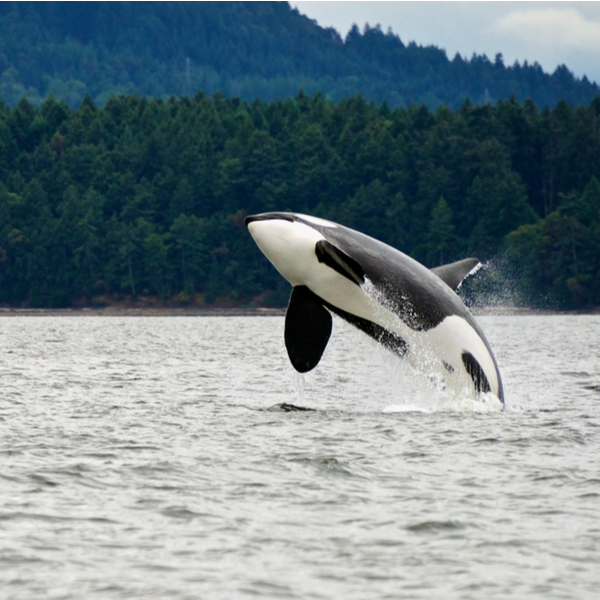 The whales who frequent the area near the coast tend to be comprised of humpbacks, grey whales, minke whales, and orcas, with the latter making more of an appearance as there is a large pod of them living near the coast. The main areas in which boat tours (or kayaks, if you're up for the exercise) go is around the Gulf and San Juan islands. Whales aren't the only creatures, either, with a tonne of other rare and gorgeous sea-loving mammals and birds also easy to spot.  
Whale Watching Tours in Vancouver
There are a whole host of tours that offer some kind of whale watching in Vancouver, and as long as you are going by boat, you're not likely to see much difference between them. However, there are some operators who are more transparent and seem to offer more in the way of making sure they look after the waters that sustain them, which is always a bonus when choosing where to spend your money. 
If you are willing to get off the beaten track, it might even be wise to travel towards Port McNeil, or anywhere on the northern side of Vancouver Island, where there are even more rugged and wild options available, as well as helping the whales to live their lives freely by spreading out the tourism so as not to damage their habitat.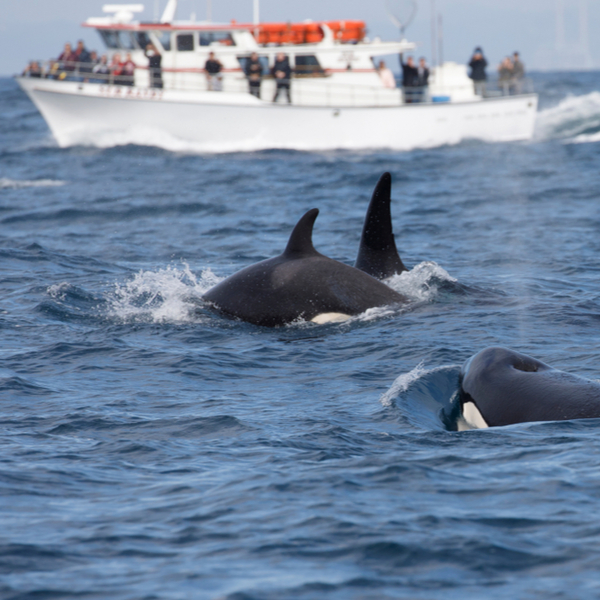 If you are keen to try and swim with whales, you're unlikely to find an operator that would allow that level of liability; no matter how tame and friendly creatures may seem, they are still wild animals, and the ocean can be incredibly dangerous. However, if you are a seasoned wild swimmer, then you might run into some during an ocean swim. If you do, just remember to approach from the side, never the back or the front, and to do so incredibly cautiously.  
The Best Companies for Whale Watching Tours in Vancouver
Prince of Whales
This is one of the best whale watching operators in Vancouver, offering a free tour from any of their three BC locations (Vancouver, Vancouver Island, and Victoria), redeemable at any time of the year, with no expiry date, if you don't spot a whale on their tour. With confidence like that, you know they're a professional outfit, and they make socially responsible whale watching a cornerstone of their business. They also run throughout the year, not just during the main Vancouver whale watching season. 
The Prince of Whales office is easily accessible, on Granville Island in the heart of the city. Their half-day whale watching tour costs CAD 179 (GBP 101) and lasts for three to five hours, depending on weather and how well the whale spotting goes. Aside from the majestic sea-mammals, you may get to see some other incredible wildlife, like bald eagles. The tour guides are all experts, and if the weather isn't ideal there's a heated, dry cabin to retreat to.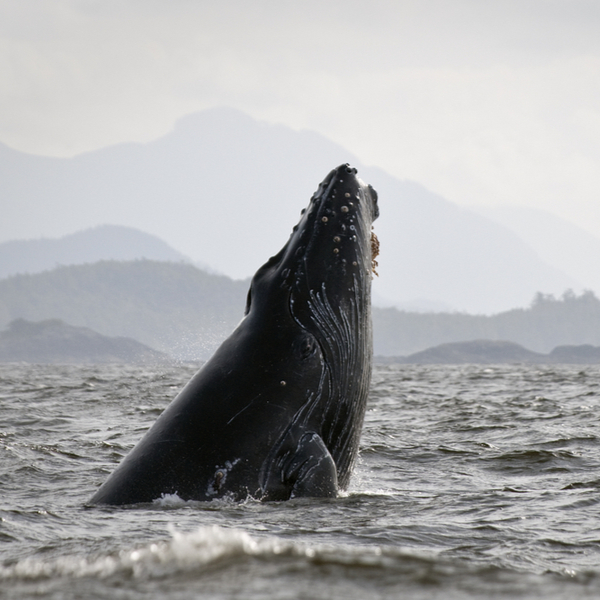 Although tea and coffee are provided, there are only paid snacks on board, and they only accept cash. The boat is not wheelchair accessible, but if you ring ahead adjustments can be made so that everyone can enjoy the tour. The boats are also custom-made to help customers avoid seasickness, although if you are prone to feeling less than stellar on bumpy boat rides it's still a good idea to take an anti-nausea tablet.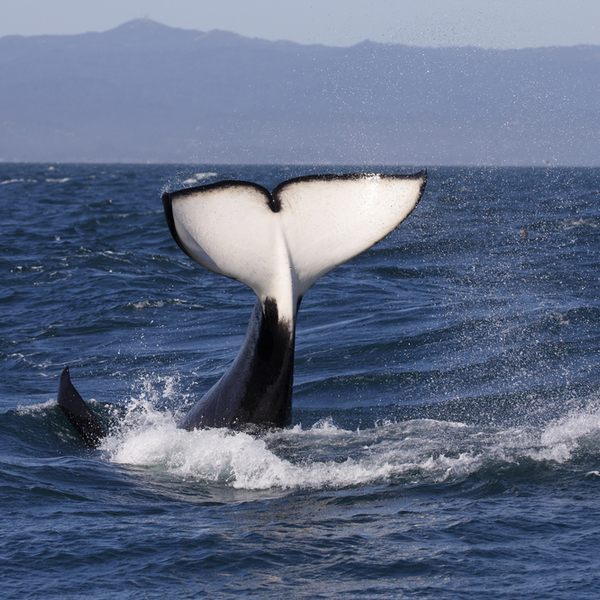 Vancouver Whale Watch
Operating for over twenty years, making it one of the oldest whale watching operators in the city, Vancouver Whale Watch have a well-established set of adventures for potential whale watchers to go on. They, like most operators, use state-of-the-art zodiac boats to avoid seasickness and to cause minimal disruption to the whale pods, who can be disturbed by vibrations that are too strong. They have a strong environmental bent to their work, too, making sure to educate their clients about the importance of conservation while allowing them to learn. 
Unlike many of the other tours they are based slightly out of the city, in the historic fishing village of Steveston. They offer pick-up from nine easily accessible downtown locations for CAD 15/person (GBP 8.50), and have parking available, so getting to the tour is easy enough. This location, although a bit more effort to get to than others, means your tour starts off in a pristine location, so you get untouched nature, for longer. 
Like the other tours, if you don't spot a whale you will be offered a free exchange, redeemable at any time in the future. The three-to-five-hour tour includes all the usual fare, including expert commentary and free water and snacks. One amazing little addition is the giving out of hydrophones so you can hear the whales speak. Their boats vary between open-air and covered, depending on the weather, and a tour costs between CAD 145 and 155 (GBP 82 – 88), depending on the boat. 
Orca Spirit
If you're looking for something a little more special, then this whale watching tour from Orca spirit offers a 35-minute (one way) flight on a seaplane from Vancouver to downtown Victoria, where you start a three-hour, carbon neutral whale watching tour. You can stay for the night, or head back to the city after. 
Unlike the other tours, Orca Spirit only operate during prime whale watching season in Vancouver, so you have to be here between April and May to make the most of it. Aside from the tour and commentary from a certified marine biologist, you'll also get a wildlife identification kit so you can put a name to everything you see. Each fee also includes a small donation towards bringing back salmon to the Salish Sea. The tour costs CAD 465 (GBP 265) for adults and CAD 259 (GBP 148) for kids under 12.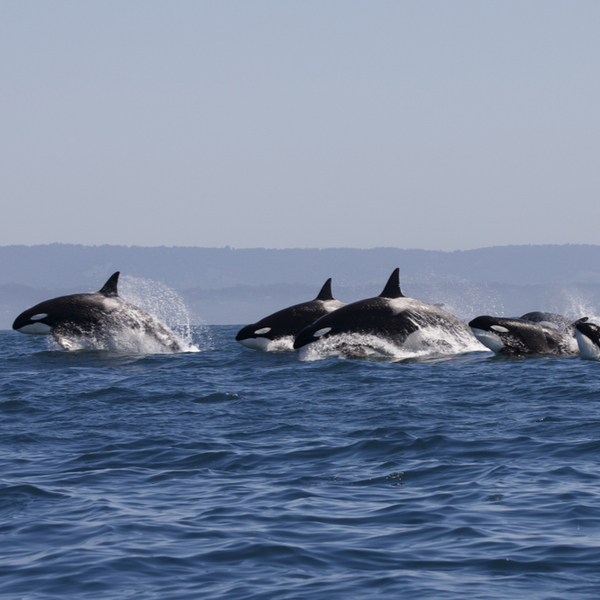 Kids are accepted on this tour, but only over age six, and there is a shuttle service from door to door if you need. You will need to be checked into your flight twenty-five minutes before departure, and there are luggage restrictions. You can also cancel the tour up to 24 hours in advance, so if you are a bit unsure about timings and dates, there's no need to worry.