It wouldn't be a trip to the Lake District without a dip in some wild waters, whether it be the more secluded, deeper Crummock Water, or a more famous spot like Derwent. Pretty much all the lakes in the district are suitable for swimming in, except for Ennerdale Water, Haweswater Reservoir, Thirlmere Reservoir, and Kentmere Reservoire. Some are, understandably, a lot busier, and full of motorboats and other kinds of sailing craft, but these ones will usually have the best amenities around them, so they have their place in the wild swimmer's list of places to swim. If you're keen to take the plunge into wild swimming on your trip, then read ahead: here's our guide to the best Lake District swimming. 
When is Best to Swim?
The most comfortable time to swim in the lakes is from around late March until October, at which point the temperature tends to drop to an uncomfortable level for all but the most hardened swimmers. However, there are a growing number of people and groups who swim all throughout the winter, which isn't something we would advise unless you are in a group. This is because swimming in cold water presents a number of dangers to the uninitiated, including cold water shock, migraine-like brain freezes, chest tightness, dizziness, and even hypothermia if you don't warm up properly afterward.  
If you are heading here in the winter and you want to try your hand at cold open water swimming in the Lake District, there are plenty of local groups to join up with to make sure your experience is both safe and social.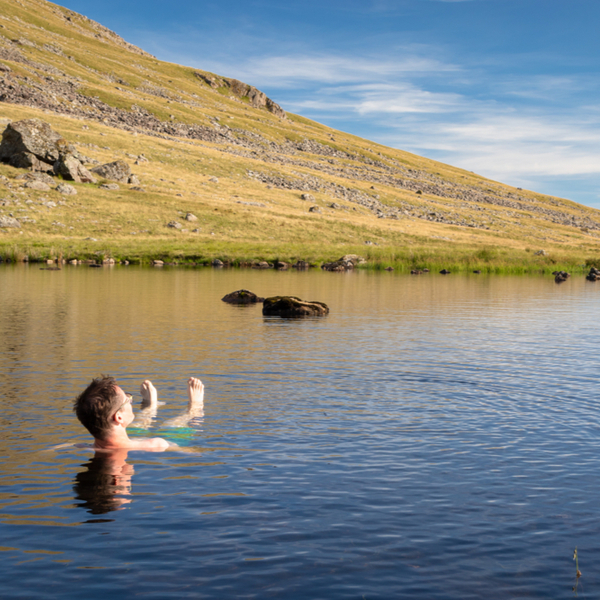 One of our favourites (and one of the most welcoming) is Lake District Open Water Swimmers, who organise swims but have a whole host of members happy to go out most times of the day.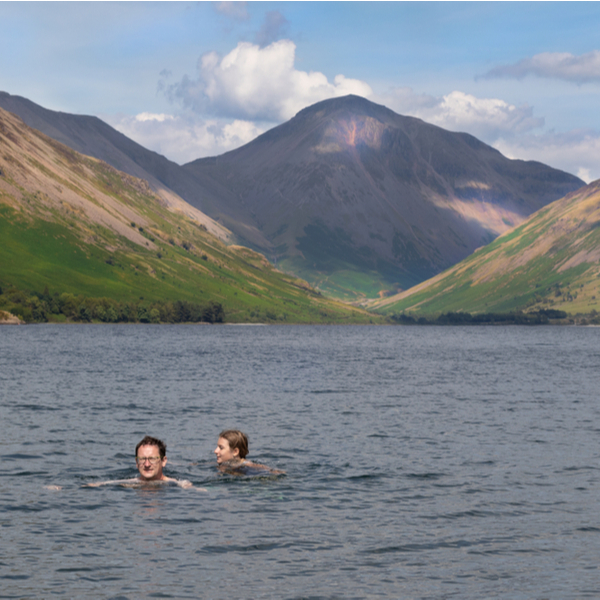 What Time of Day is Best to go Swimming?
The best time to go swimming in the Lake District depends on where you're going and what you want from your open water swimming experience. If you're aiming for privacy and tranquillity while you float around gently like a lotus, then the early mornings are best. However, if you want to catch some sun between your dips and don't want to get too chilly, between three and seven is good. Night swimming is another matter altogether, and best to leave that to the pros!  
What are the Best Swimming Spots?
As discussed, there are a huge number of lakes and tarns open for wild swimming in the Lake District, most of which are easily accessible, whether they be like Windermere with its masses of amenities, or smaller spots that just have some open water and a car park.  
Quiet Swims
Blea Tarn is a gorgeous little body of water that's great for trying tarn swimming in the Lake District. About 7 miles West of the most northern tip of Windermere, it's settled in a little valley, and the hilly scenery is second to none. It's also incredibly quiet, especially compared to some of the other Lake District swimming spots, so if you want some tranquillity with your swim, you should head here.  
Crummock Water is one of the larger lakes at 4km long and 42m deep, but remains surprisingly untouched by many of the tourist swimmers. It's easy to gain entry to the water from the path that surrounds the lake, and there is plenty of parking at nearby villages and some specialised car parks. The swim out to Low Ling Crag is mentioned on many local swim guides, and this is a favourite among the locals for the good water quality and its size, which makes it ideal for long distance swimming.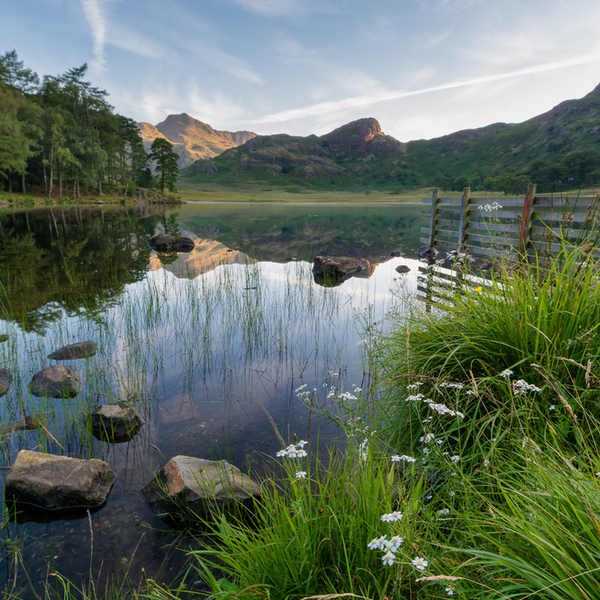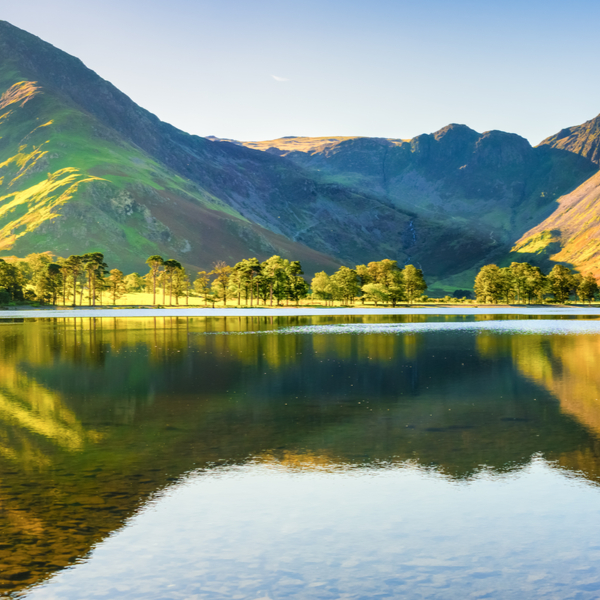 Buttermere is another spot that's a bit less crowded, but no less beautiful, with this National Trust sight often seen as one of the most idyllic parts of the Lake District National Park. This body of water is ideal for Lake District swimming but not so great for children or unconfident swimmers, as it can be quite tricky to get in and out of thanks to deep drops, although there is a bit more of a shallow entry point nearer the village. Parking is available all over the lake, so you'll find plenty of spots to pitch up ready for a dip. 
Our final suggestion for quiet Lake District swimming is Burnmoor Tarn. This shallow isolated body of water is in the shadow of Scafell Pike, and because it's not that deep you might get a chance to spot some small fish where the water is clear. 
There are very few other swimmers here normally, especially during the morning, so if you're looking for a place to relax and take in some incredible views, then this is the spot for you. It isn't directly accessible by car – the closest you can get is Wast Water, so you might have to park there. Alternatively, it's about an hour to walk from Eskdale, where there is plenty of parking. 
Busier Swims
If you want join open water swimming with a little more atmosphere,Windermere is the largest lake in the entire country at over ten miles long and 60m deep and is always popular. It is incredibly accessible, with many easy entry points for wild swimmers, especially near the Ambleside Waterhead, and has stunning views of Scafell Pike and other large hills, so is great for those looking for a swim and a view. 
If you want a nice compromise, then Derwentwater has all the accessibility and amenities of its big brother, but is slightly more secluded. The views are gorgeous: from the water you can see Friar's Crag and the stunning Borrowdale Valley.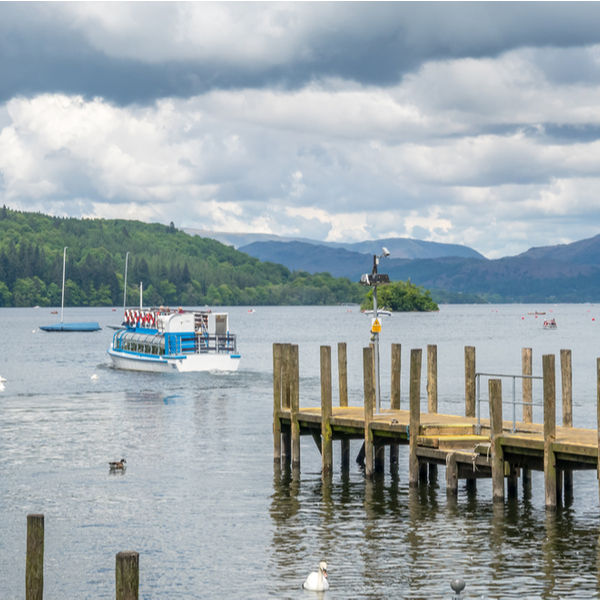 You can get in from a number of spots, as there is a path encircling the entire body of water. Some highlights here are the many little islands that dot the lake and work excellently as distance markers.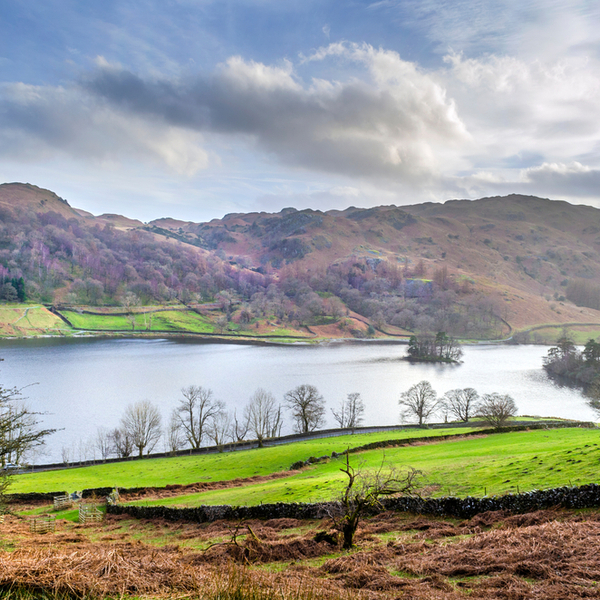 If you're looking for a Lake District swim with the best aesthetic, then we'd recommend Black Moss Pot. This otherworldly spot is fed by a waterfall, and the water is surrounded by sheer rocks. However, the stunning nature of the scenery and the crystal-clear water means it is a popular place to spend the day swimming so expect to see others with the same idea too.  
Rydal Water, despite being one of the smallest lakes in the entire district, is popular to visit and swim in thanks to its connections to William Wordsworth. A short drive or thirty-minute walk from Ambleside, there is a tonne of parking and easy water accessibility, with a flat shore.  
One of the most popular swims in the swim guides here is to Heron Isle, which is only about 50m from the shore. If you come from the Western end of the lake, there are some steps nearby which lead to 'Wordsworth's Seat' – allegedly the poet's favourite view.