When you're deciding between two cities in the same country, travel choices can be tough. And, when it comes to Porto vs Lisbon you could be in for quite the dilemma. Both are beautiful Portuguese spots on the map with plenty of pull to lure in eager nomads keen to clock up the sights. Happily, we've broken the Porto or Lisbon decision down to help you pick between the two. No spoilers here, but you'll be pleased to know, whichever city you choose, you'll never be too far away from a pastel de nata… 
For beaches
Every category in our Porto vs Lisbon showdown is a close call. But when it comes to the coastal contest? Well, picking between the two gets tricky. Both are within very easy reach of Blue Flag sands you'll want to frolic on. So it all really comes down to convenience and a rummage through the minor details. For quick paddles and a hour or two on the sands between sightseeing tours, Lisbon's urban beaches tend to be small, crowded affairs that don't quite give you the luxe beach life you might be looking for. And, although Porto's town beach is a long and sweeping number where you'll never fail to find a spot to call your own, it's a smidge close to the port at the north end. The reality here is, Lisbon has much more to lure you from the beaches into the city, whereas a stay Porto never really puts you in danger of FOMO. Beaches near Porto are exactly that – NEAR Porto, whereas some of the best beaches in Lisbon are over an hour's drive away.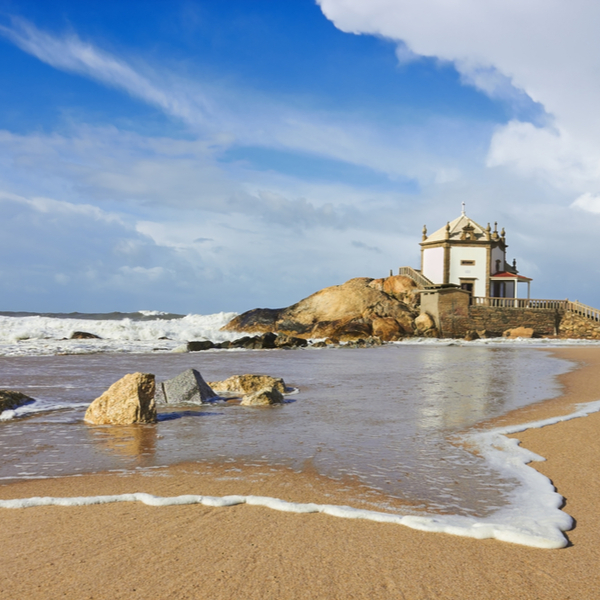 Winner: Porto – for convenient sands that come with everything from top notch facilities to nature reserves and more. 
For activities
Let's face it, if you're looking for a fortnight where the most activity you'll see is the walk between the hotel buffet and your sun lounger, this category matters not a jot. Though, it does pay to know what's on the doorstep if your poolside page turner lacks a little on plot and intrigue. And, both cities will undoubtedly lure even the most committed sunbather to their streets. Porto's views over the Duoro River from the narrow streets of the Duoro Ribeira are reason alone to venture out and explore. Art, culture, parks, views and more are not in short supply. In Porto, attractions are perhaps slower paced than Lisbon – and there's less choice. Which isn't always a bad thing – but if you're looking to pack in the sights, Lisbon really does wow even the most well–travelled city breaker. 
Winner: Lisbon – though the sheer amount of things to do could leave you short on time if you're keen to tick off the must sees. 
For food and drink
Book a stay in Porto or Lisbon and you'll always eat well. Perhaps a little too well. Calorie counting should be shown the door and indulgence is your mantra. The Portuguese pastries are found at every turn and it's almost compulsory to try a pastel de nata whenever you see one. But when it comes to deciding between the two cities, your menu choices extend far beyond egg custard tarts. In Lisbon, expect the traditional Portuguese eats to mingle among international restaurants from seemingly every corner of the globe. A real foodie destination we would never dissuade anyone from visiting. But, and this is where Porto delivers the killer blow, there's a wine region just on the doorstep and the Douro River port houses are too tempting not to visit. And, while Porto's food options keep things local, that's not necessarily a bad thing. It's all too easy on a city break to lean towards familiar foods and entirely miss out on regional cuisine. Not so in Porto. 
Winner: Porto – When you pair the traditional food with the nearby Porto wine region, there really is no contest. 
For the real Portugal
The food and drink category may just have given you a clue of where we might be headed with this one. We can't quite claim that Porto's an unblemished spot unmarred by the hand of tourism – far from it. Though, it has managed to keep more of its sense of self along the way. Yes, you'll still encounter a crowd or two in Porto's iconic landmarks, but you'll also find more Portuguese riches to snuffle out. Lisbon's a little light on the country's famous azulejos, for example. These works of art in tile form do seem to crop up everywhere in Porto. You can hop on a vintage tram in Porto of Lisbon – but one of Porto's takes you on a scenic track with Duoro River views to the beach. Overall, the vibe in Porto just feels like you're mingling among the real Portugal, rather than a cosmopolitan city. 
Winner: Porto – for the traditional touches dotted everywhere around the city. 
For value for money
By some European city standards, it almost doesn't matter which destination you plump for. Porto or Lisbon seem cheap by comparison. But if we're delving into how far your Euros go in each city, there's a clear winner by a decent margin. Porto's food, attractions and accommodation come in at around 10% cheaper than Lisbon. Which, depending on how you like to travel, could be a huge saving. Of course, there's always the option to choose cheaper digs, restaurants and activities in Lisbon – or live it up in Porto. Budget will always have a certain element of personal preference attached, but Porto's your pick if you're looking for a wallet-friendly trip to Portugal. 
Winner: Porto: The 10% margin will always beat Lisbon's pricier offering. 
Verdict: Porto's our clear winner. A taste of the real Portugal, with a huge number of stellar beach options on your doorstep, plus a wine region that any foodie would be happy to revel in. Yes, Lisbon's still a great pick – but Porto more than delivers on every travel lover's must haves.