One essential accessory for making the most of the beaches near Porto? A hire car. Yes, you can have a sunny day on the sands on a town beach, but the best Porto beaches are a small drive away. Public transport's an option – but it's also one that'll unfortunately see you treble your journey time – at least. No ideal when you've an inflatable under one arm and a sizeable picnic under the other. With road trips starting at a trifling 15 minutes, there's really no excuse no to show up on these stellar sands… 
Matosinhos Beach
This Porto beach has a lot going for it. As close to the town as you can get, long, long sweeping stretches of sand and amenities on hand for just about every kind of beachgoer. While the Atlantic waves, bird life and pale sands are scenic, the nearby port – complete with out-sized nautical architecture – does slightly mar an otherwise splendid outlook. Keep to the south of the beach, and the harbour's never going to trouble you too much. There's plenty to see without it. Surfers come here for the breaks that are as popular with local residents as they are with have-a-go boarders trying to master the art. If we had one gripe? The industrial happenings around the harbour inevitably mean the waters are never going to quite attain the coveted Blue Flag we all look for.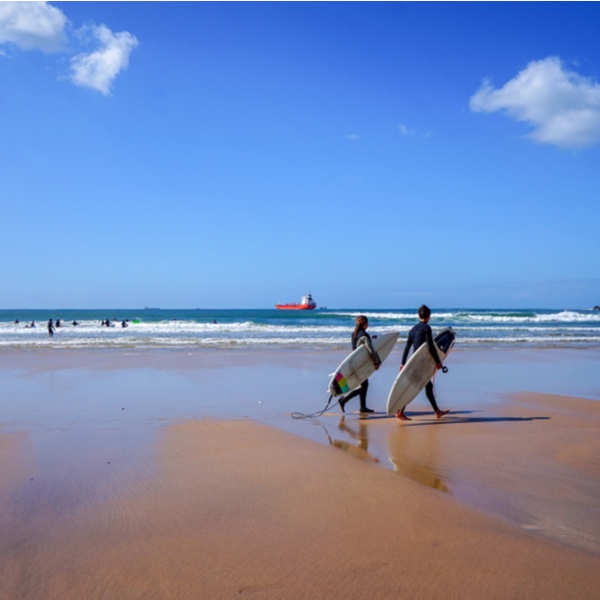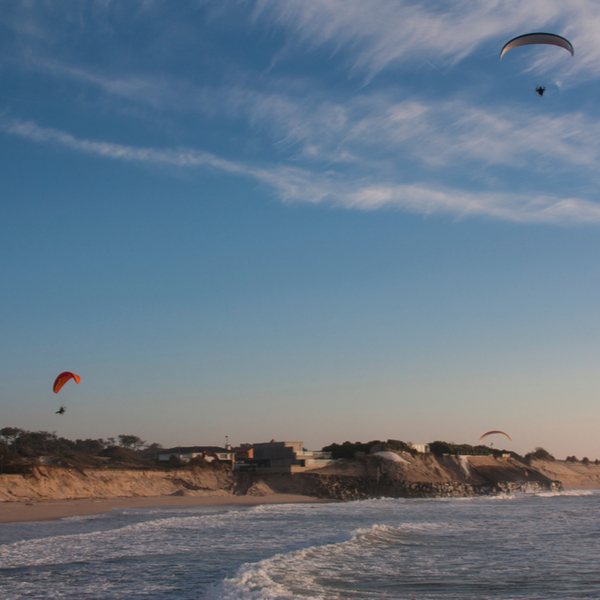 Praia de Ofir
If it's a Blue Flag sands or nothing for you, hop in your hire car and head north. Around 40 minutes from central Porto, Praia de Ofir's got the clean beach seal of approval. But that's only half the battle where coastal spots are concerned. Luckily for Praia de Ofir, it also happens to be one of Portugal's most scenic beaches. Sand dunes, swaying pines and a national park on the doorstep make this one a spot for nature lovers. This is also the spot where the River Cávado meets the ocean – ensuring the waters – and surroundings are about as biologically diverse as it gets. It's all too easy to then dismiss this as a wild, rugged beach that's devoid of atmosphere. But as the sun sets, the nearby cafes and bars bring the party atmosphere to these shores in style.  
Praia de Moreiró - North
Sometimes, all the facilities, water sports and convenience can't lure you away from a stellar sand-strewn spot. In Porto, the beach you're looking for is Praia de Moreiró. Just a 30 minute drive north from Porto, you'll find a fairly un-spoilt beach to relax and unwind on. There's a smattering of facilities – basically a beach bar and a small car park – and little to do but amble the dunes or paddle in the gently lapping waves. The wooden boardwalk that leads down on the sands is serving some major Cape Cod vibes. After that? It's all blue ocean, golden sands and your inner most thoughts. Helpfully, this beach does have a lifeguard in the summer season – letting you swim with a little peace of mind.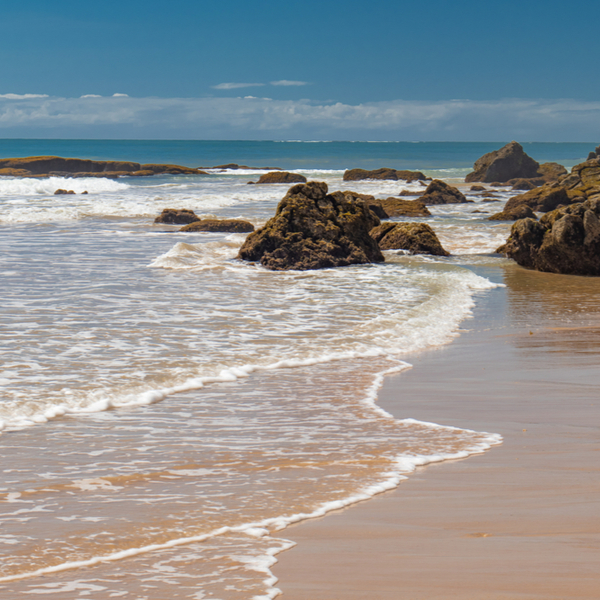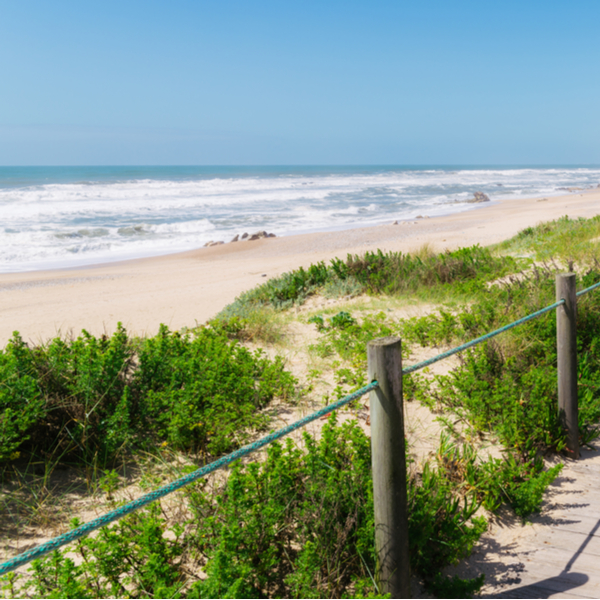 Praia da Granja
Legend has it, Praia da Granja was once the favoured seaside resort among Portugal's aristocrats and royalty. Whether a King or Queen ever rustled up a sand castle or two on this shore might not matter to you, but it does suggest the beach might have something going for it. And, as Porto beaches go, it's not a bad spot to park your beach towel on. The promenade benefits from a few aged but certainly swish villas to peer at – giving the whole area a certain luxe feel. It is a 25 minute drive from Porto, but this beach gets the big thumbs up from us for access. Wheelchair users will find this one of Portugal's easier beaches to enjoy. And, when you add in the essential Blue Flag status, it's shapes up rather nicely – with or without any visiting dignitaries.  
Cabedelo do Douro
Beaches near Porto can suffer a little from being a smidge too thin, especially at high tide. You've no such worries at Cabedelo do Douro. The soft sands you perch on here are part of the vast sandbank that has formed at the mouth of the River Douro. Yes, when you're out on the bank you might feel a little far from facilities, there's plenty nearby to keep even the most restless beachgoers amused. The Duoro Estuary nature reserve is right on your doorstep, with the suitably glittering Afurada marine just a 20 minute stroll to the east. Head south and you're looking at a coastal stroll lined with cafes, bars and a whole lot of beach action to browse. In land, there's a couple of city parks if you'd like to swap golden sands for greenery. The best part? This is all within a 15 minute drive from the centre of Porto.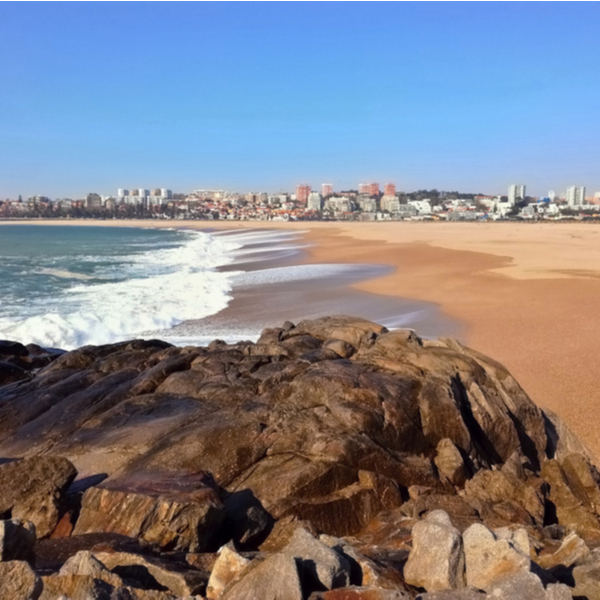 Orbzii tip: While you're on the sandbank, take a peer over at Foz do Douro. It's a rather exclusive part of town where the Porto nightlife has a rep for attracting high end partygoers looking to see and be seen.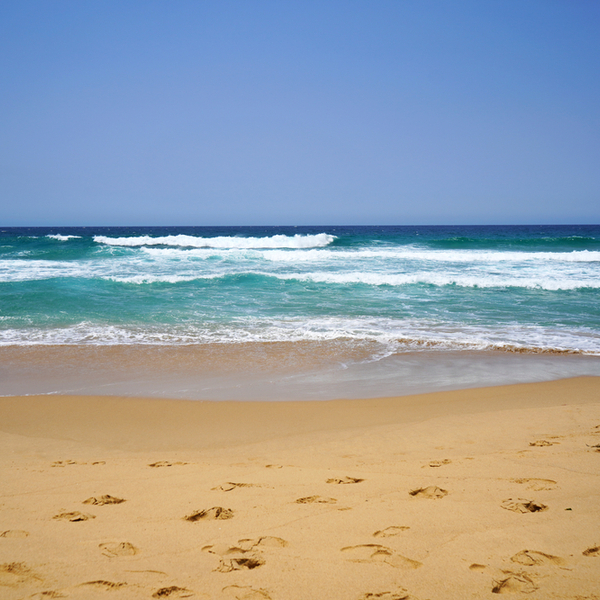 Canide Sul Beach
Of all the beaches near Porto, we think Canide Sul Beach combines the best of everything. A minimal drive to get to the shores (around 15 minutes), vast swathes of sand to frolic on and waves that any surfer would be keen to have a crack at. Those waves might make the waters a tad unsafe for little ones, but they do make a lovely backdrop for a romantic stroll along the beach. If the mere mention of surf-able waves has you furiously waxing your board in anticipation, you'd be right to get excited. The resident surf school here uses the reliable waves to get people of all abilities out on to the water. And, while the surf can get rough, the waters do calm enough to see stand up paddleboarders brave the ocean too. 
Praia de Pedras do Corgo
Porto beach options don't always come with the option to sip Moet & Chandon in stylish surroundings. At Praia de Pedras do Corgo, the Melanina Beach Club is THE place to mingle with Porto's hip and stylish crowd while taking in the gorgeous vista of the beach beyond. Lounge in deckchairs, recline on a cabana or take a seat at the bar. Wherever you sit, just don't miss the rainbow hues of the burger buns. Pleasingly, the beach itself doesn't succumb to any style over substance concerns. Scuba divers will want to suit up and plunge to the depths in search of the WWII submarine scuppered on the sea floor. While plenty of parking and a long and rustic boardwalk to meander make this a gorgeous spot to explore yet more of Porto's coastline.