In Jersey, camping is rather limited. But before you scurry off to the nearest B&B or boutique hotel, it's worth taking a peek into the rather swish options that are on offer. Yes, you can pitch your tent or park your caravan in lush green fields, but three of the four sites we've covered have a swimming pool. Now we've got you slinging your tent pegs in the car quick-sticks, we'll just take a moment to add that there's also the opportunity to do a little glamping in Jersey. Which all aligns rather nicely with the gastro scene, gorgeous golf courses and beautiful beaches. 
Camping
The Palms Campsite - St Ouen
Should we list The Palms in the glamping in Jersey section? Bringing a swimming pool to the party definitely elevates this quiet site above a simple pitch and go option. Small, secluded in place and dog friendly, the list of reasons to choose The Palms goes on. Though, families might want to note that, while children are welcome, there are literally no facilities here for them. Something The Palms takes no hesitation in noting on their website. So perhaps tolerated might be a more suitable phrase? No matter, because there's plenty at the nearby beach to entertain everyone. As the only campsite on the west of Jersey, it has its appeal. Not least because their motorhome facilities are top notch.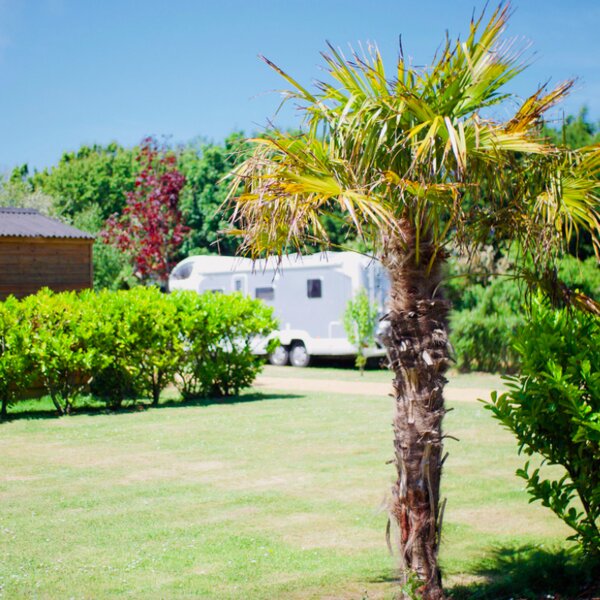 An onsite cafe serving breakfast, lunch and dinner takes the pressure off your camp kitchen and little extras, like (limited) WiFi and a laundry service, are a welcome touch when you're far from home. 
Pitches: Tents, caravans, campervans and motorhomes.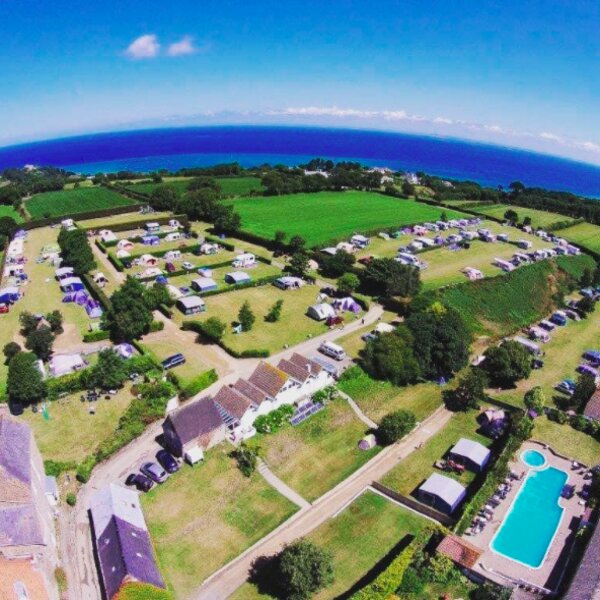 Rozel Camping Park - St Martin
Another site straddling the camping/glamping divide, Rozel Camping Park raises the bar above the high standards already set by The Palms. Here, the WiFi is free and the tents are already set up for you – if you like that sort of thing. Pick the right pitch, and you could be waking up to views over France. Though, Rozel harbour's just a stroll away for more sea views. The family friendly vibes flow from the onsite swimming pool – complete with paddling pool, to the outdoor play area, that's right next to the crazy golf course. The games room completely tips this over into a park that's likely to be at the top of every little one's wish list. The park's shop is your only food option, though restaurants in Jersey are hardly scarce. Two amenity blocks, a coin-operated laundry and a slightly functional looking television room complete the package. 
Pitches are sizeable – with free parking. Though the motorhome pitches aren't quite as secluded as you might find elsewhere.  
Pitches: Tents, caravans, campervans and motorhomes. Plus fully-equipped tents. 
Orbzii tip: Rozel gets extra marks for equipping one of their amenity blocks with an accessible bathroom, which includes a shower – opening up Jersey camping to everyone. 
Jersey Accommodation and Activity Centre - Faldouët
A corner of the camping field at the Jersey Accommodation and Activity Centre is as close to wild camping as you'll get on this island. With a strict ban on sleeping wild – and relatively few Jersey camping options to choose from, means this traditional camping field does get a little cramped at times. But with good reason. Camping on the doorstep of the hostel comes with its benefits. For a start, you've got a long list of activities to have a crack at once you've cooked your breakfast in the great outdoors. Free field sports – boules, badminton, croquet and volleyball, ease you into more adventurous pursuits – such as bushcraft, junior paintball and the mini zip wire. The centre can also whisk you away for some surfing or coasteering, if you're game.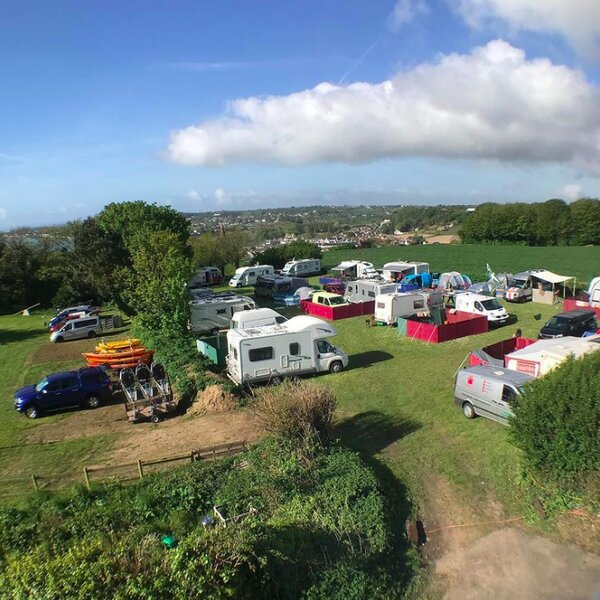 Location wise, the field looks over Grouville Bay and one of Jersey's best golf courses lies temptingly close. The onsite facilities and amenities block might no be über glam, but the sauna, cafe and games room are plus points. 
Pitches: Tents, caravans, campervans and motorhomes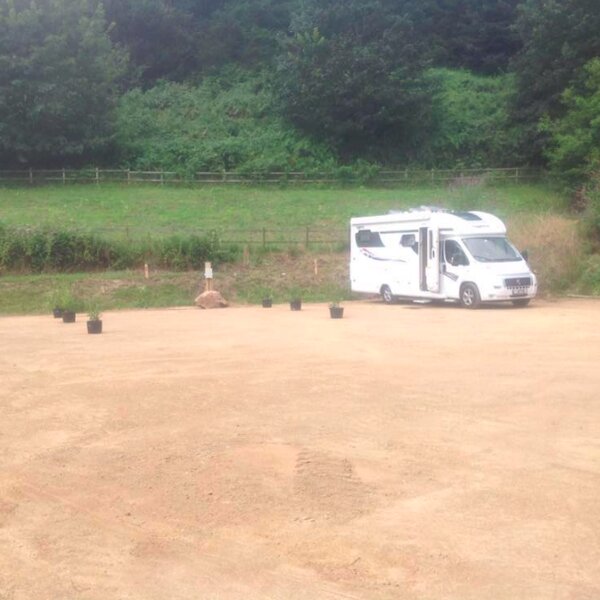 The Hideaway Motorhome Stopover - St Peter
This adults-only, five pitch park is a little basic in every sense. It might be tucked away in the countryside, but it's also close to Jersey's recycling plant. So, what's it doing here? Jersey's a little strict on where you can park your motorhome overnight. Car parks in the south are out – and pulling up in a layby and hoping for the best isn't going to end well. So a pitch – with an electric hook up and running water, at this stopover looks a little better than copping a fine and a rude awakening in the early hours. No toilets, no showerblock – and few other facilities to speak of make this a tricky choice. You can drop off your grey water and toilet cassettes though, so not all is lost. 
Close to some lovely hikes – plus cycling options, and the site does allow dogs (for a fee). Perhaps one for the emergencies only list? 
Pitches: Motorhomes. 
Glamping
Beuvelande Camp Site
Glamping in Jersey? Options are surprisingly thin on the ground for an island that likes the finer things in life. Thank the glamping heavens then for Beuvelande Camp Site. Yes, you can pitch up here with your tent, caravan or motorhome, but it's their yurts, bell tents and safari tents that will get your glamping pulse racing. Cosy up in the vintage vibes of the yurts, embrace the added luxuries- you get a proper mattress in the bell tents – or opt for the full-on king size bed and camp kitchen that comes with a safari tent. If you're an old school camper – that can't quite bring themselves to fully glamp, premium tents come fully set up and include double and single camp beds, taking the hassle out of sleeping under the stars – but keeping all of the best bits.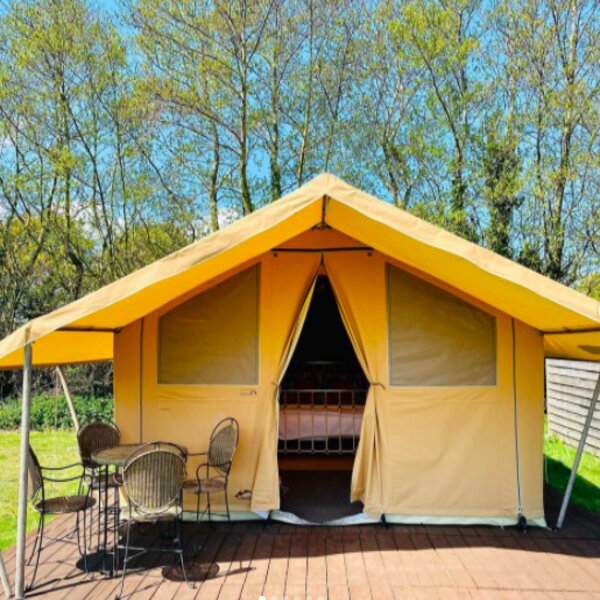 Add in the kids playground, outdoor pool, weekend bingo games and the onsite restaurant and Beuvelande starts to edge towards resort territory. 
Pitches: Tents, caravans, campervans and motorhomes – plus glamping yurts, bell tents, safari tents and more.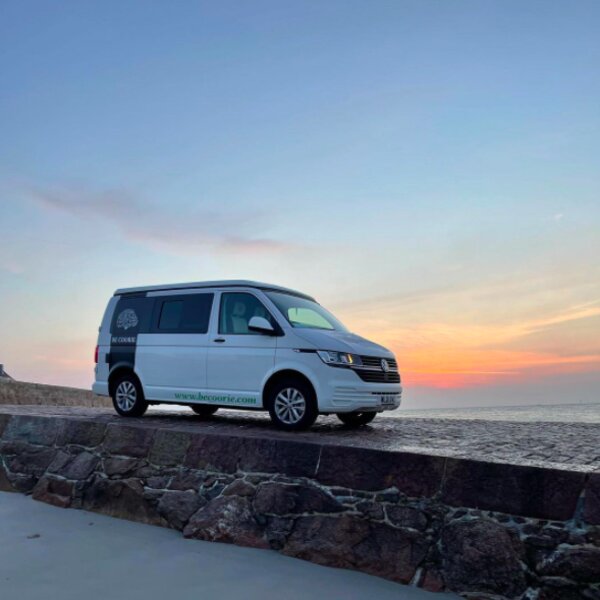 Campervan hire
You can pootle around Jersey in a very vintage – or very modern campervan, thanks to two campervan rental companies. Jersey Camper Hire can kit you out with a vintage VW, that comes fully loaded with classic nostalgia. Packing a lot into a small space, one of their vans comes with a radio, cd player, gas hob, cooker, fridge and space for a family of four. And that's before you've considered hiring the attachable awning. For something a little more up to date, Becoorie have a fleet of 2020 VW transporters. As well as pop up roofs, the vans come with everything from chic interior decor to portable eco-loos, showers and pop up tents. Though the solar panels could be the most attractive add-on. They provide all the power you need to keep your USB devices on the go as you explore. 
Roomier than their vintage ancestors, these vans can sleep 4 adults or a family of 2 adults and 3 little ones. 
Orbzii tip: Unless you've got a camping permit, to hire a camper, you'll need to have a pitch pre-booked with one of the island's main campsites (not including the Hideaway). If you're heading over to Jersey on the ferry with your own motorhome, you'll still need to stay at a designated site overnight.