There's a lot to be said for a fly and flop holiday. You just won't find it said here, because Rhodes just has to be explored. It really is as simple as that. And look, we're not going to tell you that you absolutely HAVE to quad bike through Rhodes to see the best of it. But it really is a thrilling way to see some spots you'd otherwise miss.
Cycling, horse riding, segwaying and even golfing are stellar Rhodes options. But walking the forests, coasts and mountains is by far the simplest and most rewarding way to explore… Here's our lowdown… 
Quad biking
We'll always applaud an adventure company that likes to do things differently. And Rhodes Adventures gets more than a thumbs up from us here. Yes, they could simply set up a quad hire shop and let you quad bike Rhodes in the baking heat. But, instead, they've invested in some nifty Polaris 4×4 buggies. These grabbed our attention for a couple of reasons…
One, the roof. Keeping you out of the worst of the midday sun can only be a good thing. Two, the two-person vehicle keeps couples quadding together – and the side-by-side seating means you both get to enjoy the views. The 570cc vehicles still have plenty under the hood to deliver the adrenaline experience. And now we get to even better news – Rhodes Adventures can lay on a guided tour or you can rent a Polaris and head off to explore off-road Rhodes all by your adventurous selves.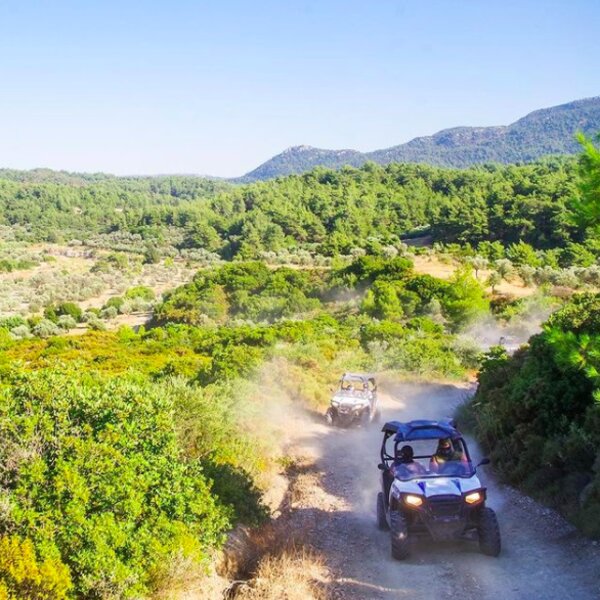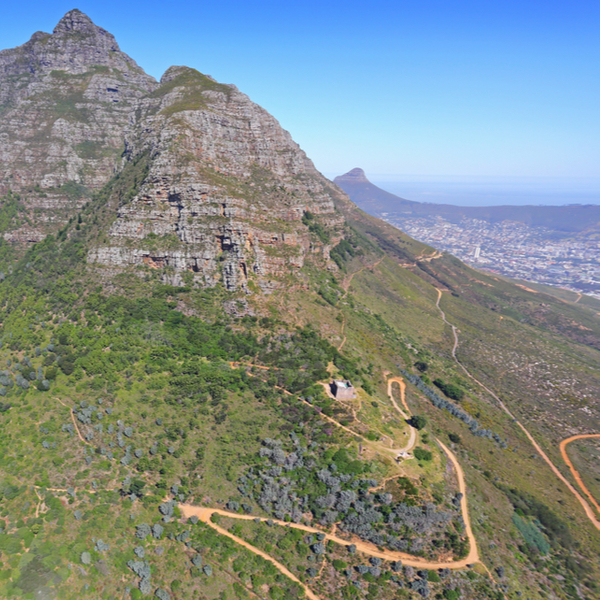 Cycling
If you're happiest on two wheels, abandon all hope of a Rhodes fortnight reclining on a poolside lounger. Why? Two reasons: Quiet roads and smooth, smooth tarmac that will tempt even the most laidback cyclists to hop into their lycra for just one more route. Actually, let's throw a few more reasons into the mix. Technical climbs are up for grabs that peak on stunning mountain tops. 
There's some shady forest routes for the hottest days and views range from the dramatic to glorious with virtually every bend in the road. If you're not quite sold yet, did we mention the cycle hire in Rhodes is comparatively cheap? The final plus point? Unlike popular cycling destinations, Rhodes is a relatively hidden gem – so while you'll not quite be carving out new rides, you will have the back roads and hairpins almost all to yourself.  
Hiking
Hikers, get those laces tied nice and tight, you're going to cover some miles. Coastal paths, forests, mountains and trails are all well and good – but Rhodes has one very special treat in store for anyone prepared to put some leg work in. Every May, the Petaloudes Valley becomes the Valley of the Butterflies. Every surface of the valley becomes covered in an endemic species looking for a place to rest before mating season begins.
Not here in May? The valley is still a stunning walk. Though, if we had to pick just one route? Set a course for the Severn Springs – 3.6km west of Kolympia. We'll not giveaway too much, but this is a special spot with forest walks, lake views and is something of an oasis in the scorching summer sun.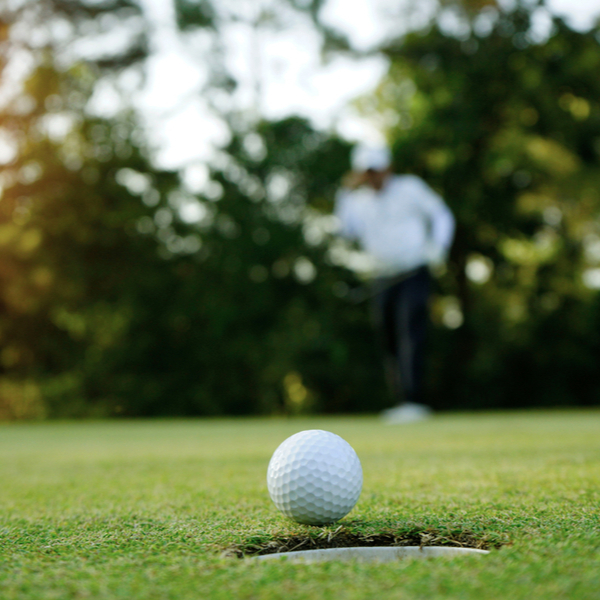 Golf
Unless you count the island's two crazy golf courses, and, for clarity, we really don't, there's just one Rhodes golf course to be found here. And, well, the poor fairways of the Afandou Golf Course really do struggle in the baking heat of summer. This won't be like any other round you're likely to ever play. It's at this point golfers will fall into two camps. The first will jump at any excuse to swing a club and the second will pass this course up in favour of pristine greens. We'll not twist your arm either way.
If you do golf here – be braced for bad lies at every turn, many long par 5s and a course that could really do with a good drink. The plus side? You can hire clubs for €10 and stow away some anecdotes for the 19th hole back home. 
Horse Riding
If you've ever longed to canter across deserted sands, Rhodes might just be the island to do it on. Rocking Horse Ranch is ideally placed just a short trot away from the beach. Once on the shore, you can cavort on the coastline or take a dip – along with your steed. And yes, swimming on horseback is as magical as it sounds. Rocking Horse Ranch's riding coaches offer children's rides – along with suitable horses for advanced and beginner riders of all ages.
For the ultimate horse riding experience, join one of the ranch's sunset rides. Seeing the sun set between the fluffy ears of your steed will stick with you for years to come.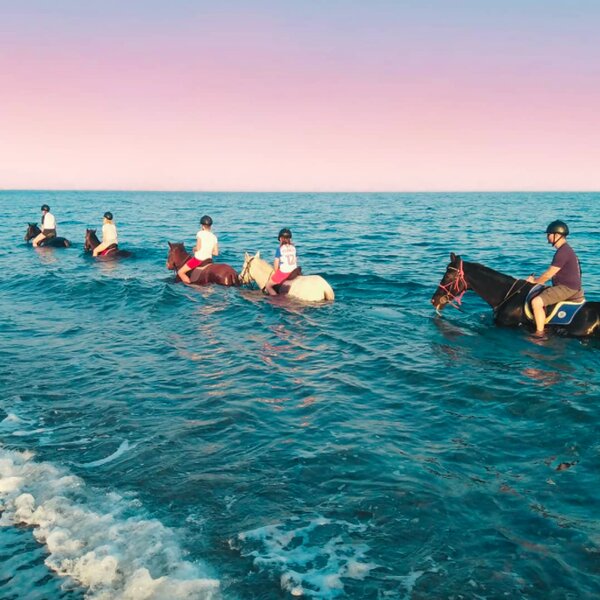 Orbzii tip: While it might not match the beach clubs in Rhodes for luxe surroundings, the stable's beach bar is a great spot for a snack and a post-ride refreshment.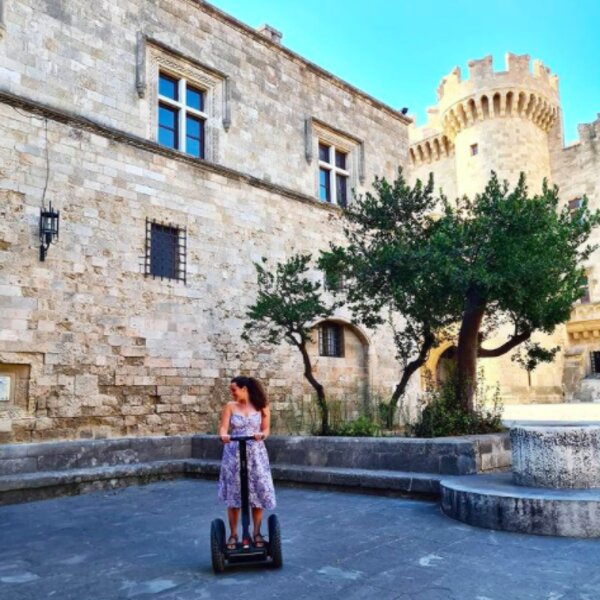 Segway
How on earth did we see cities – with a side order of adrenaline – before the futuristic segway graced our travel exploits? Travelling on foot now seems so… pedestrian? So why not hop aboard a gyroscope-powered vehicle and gawp at Rhodes at speed? The handily titled Rhodes by Segway have a fleet of vehicles – and a choice of tours – to enjoy. Frankly, all three routes are worth your time, but the Old City Route is our pick. It comes in at 2 hours which is about right. Any longer and your attention could start to wane.
In 2 hours you'll cover a lot more cobbled ground than you could on foot – even with the impressive amount of photo stop opportunities. Wend through narrow streets, see the medieval city and learn a thing or two about Rhodes on route.  
Orbzii tip: Note down any Rhodes Old Town restaurants you whizz by during this one. The island isn't short on great eateries, but it's worth having at least one meal in this cobbled and cute part of the island. 
If all of our picks are far too land-based for your holiday leanings, take a look at our round up of the water sports in Rhodes for more island action. 
With so many ways to explore Rhodes on land, there really is no excuse not to get to the island and explore. And, well, the Orbzii app makes getting there so much easier too. Download Orbzii today to book the ultimate Rhodes holiday.